Hey guys and welcome to the Dropshipping Titans Review
Dropshipping certainly seems to be the type of business that many people are looking to invest in nowadays and we can see why.
It is very beginner friendly, easy and simple to execute, you don't have to purchase any products and you can start on a relatively low budget.
There are various ways to do dropshipping, most people use Shopify, there is Sell The Trends and of course.
We have eBay which people don't necessarily associate dropshipping with although you can use it in the exact same way as you would Shopify.
So how did you arrive here on this site?
Maybe someone told you about Dropshipping Titans or did you just come across it whilst searching for dropshipping opportunities?
Whatever the reason, that is not important but what is important is that you decided to do your research first before jumping in feet first.
That is the only way to avoid scams and to find legit opportunities that you can trust.
So, who am I and why should you even listen to me?
My name is Mick and I have created this website to help people like you find your way in what can be a very confusing and frustrating exercise.
We have written over 400 reviews of products and systems, some very good, some ok, some really bad and just out and out scams.
Today, we thought that we would check out Dropshipping Titans as it has been on our list of to-do reviews for a while now.
So if you have questions like "Is Dropshipping Titans a Scam?". "Is Dropshipping Titans Worth it".
Then these are the type of questions that we are about to address and much more.
That way your job should be a lot easier to decide if dropshipping is for you or not.
Moreover, is Dropshipping Titans right for you?
So, let's begin, shall we?
---
[Affiliate Disclosure: The Dropshipping Titans Review has been thoroughly researched from information and testimonials that are in the public domain. This post may contain affiliate links which means we may earn a small commission, however, this won't affect what you pay!]
---
Product: Dropshipping Titans
Founder: Paul Joseph Lipsky
Website: www.dropshippingtitans .com
Product Description: Dropshipping through eBay course
Cost to join: $297
Recommended: Maybe
Summary: I think we are all familiar with eBay but many of you might not realize that you can use eBay for drop shipping.
After all, all eBay is, is one big store.
Dropshipping is a business model where you link customers to the actual merchant or supplier.
That means you don't hold or own any products, all you are doing is advertising the products.
Dropshipping Titans is a training course that teaches you how to use eBay as your dropshipping store.
But is eBay the right dropshipping route or should you use the traditional Shopify e-commerce store?
Dropshipping Titans Review – TOC
What is Dropshipping Titans About?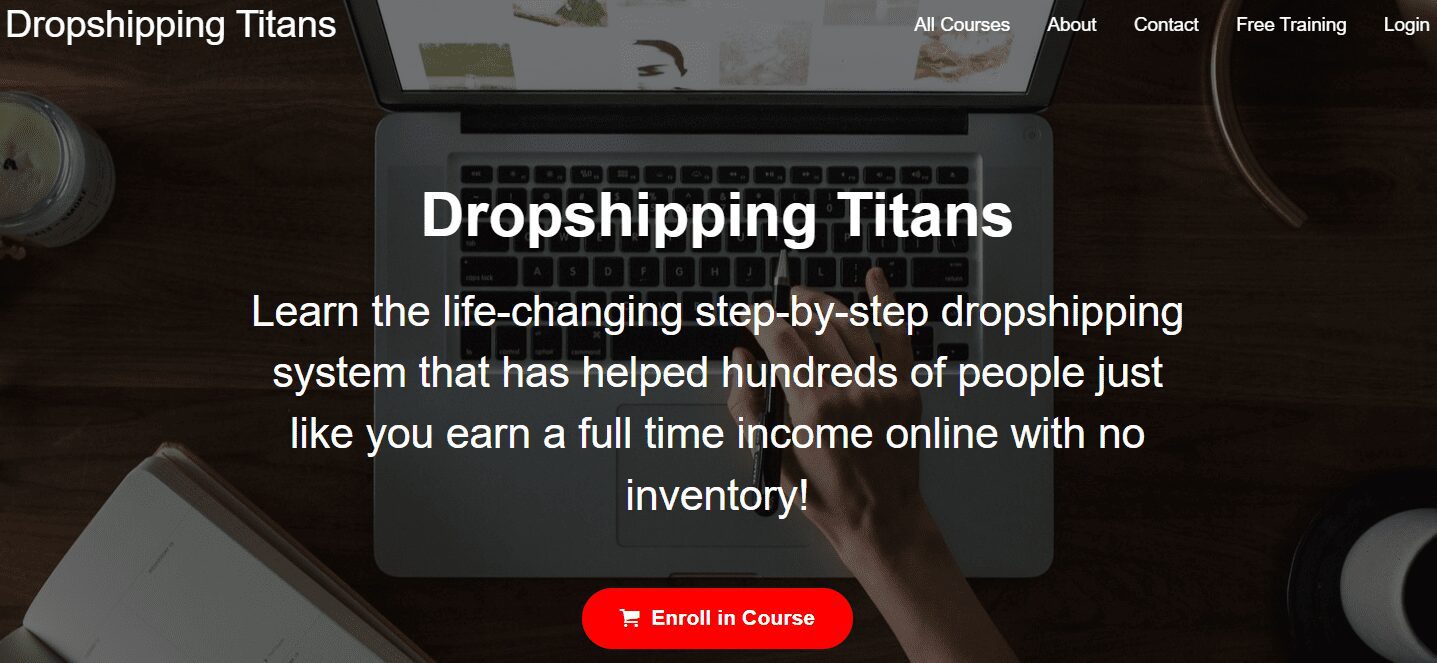 Dropshipping Titans is a training course brought to you by Paul Joseph Lipsky that teaches you dropshipping through an eBay store.
In this course, Paul teaches you how to build a dropshipping business from the grassroots up and laid out in such a way.
That any complete beginner will be able to pick this up.
You will learn things like where to source your products, how to create a website, set up product listings and more…
He uses a different approach when it comes to sourcing products, not like most other drop shippers who are still using products coming from China.
Where products are normally of poor quality, often not what indicated in the product listing with lead times into weeks as opposed to days.
Lipsky uses eBay as he sees this as a place that most people go to rather than look on Amazon or other places for cheaper options.
Considering that he uses Amazon and Walmart products amongst many other retailers to purchase the products from.
What he is doing is marking up those products higher and making a small profit.
Who is Paul Joseph Lipsky?
Paul Lipsky is an online marketer who claims to have made millions using eBay and Amazon to sell products through dropshipping.
He trained and qualified to become a US attorney and whilst working in corporate law decided to look for an additional income.

That is where he came across dropshipping and like many starting online went through many struggles.
But if you stick at it and learn from your mistakes you are sure to come through the other end favourably.
In just over two years he managed to take his business from zero to over $2.5 million in sales.
He's a YouTube influencer and a good place would be to check out his channel with over 93k subscribers and 575+ videos.
Here you can find all sorts of free valuable information and you get a good feel for his teaching methods.
How Does Dropshipping Titans Work?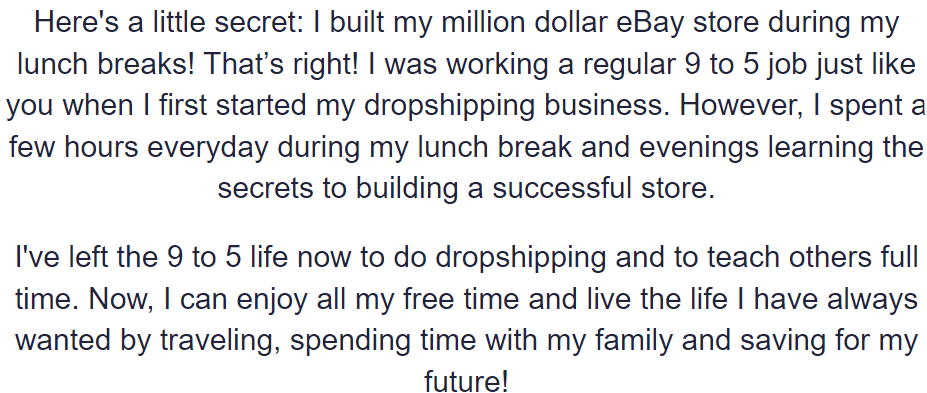 Paul struggled to make sense of this eBay dropshipping model but eventually worked it all out and according to him, this is an exact blueprint of how his business works.
The Dropshipping Titans training course will teach you how to set up your eBay account the right way.
The course will teach you how to find trending products that people are wanting to buy.
Noticed I said trending products!
That means that products only really have a short life cycle so you have to try and make the most sales in that time period.
This means you have to be constantly on the lookout for trending products and the best time is to get in right at the start.
The key is to sell multiples of the products as the margins will be small.
One thing to notice is that any outright sales he talks about is the top line of what that product costs.
So let's say you promoted a drone in your store for $50 and someone decided to purchase that from you.
Now that drone might have cost $45 from Amazon or Walmart which means you are going to make $5 per sale.
You have to sell 1,000 drones just to make $5,000.
What you also have to take into consideration are fees that also have to come out of that $5k.
Paul talks about his three secrets to success which basically are…
That it doesn't have to be complicated to set up a store
Copy what others are doing
Use software to identify top-selling drop shippers.
Now, there is nothing secret about those, it is just pure common sense!
Another major thing I almost forgot to mention was automation and outsourcing.
This is very important because you don't want to be working as you did in corporate business, you need to start taking a back seat.
Letting others do the work while you project manage the workload!
What's Inside The Dropshipping Titans Training Course?
People who tend to do dropshipping usually go down the traditional route with e-commerce sites like Shopify or Sell The Trend.
Those sites are set up specifically for dropshipping which makes it a lot easier to manage your online shop.
eBay is still popular but there are far too many competitors out there offering and producing a better job than eBay.
The training is broken down into 10 modules which come with quite a lot of detail and we can see that a lot of thought has gone into this course.
Module #1 – Your Life Is About To Change
Just an introduction about dropshipping and eBay and how to navigate the course.
Module #2 – Get Your eBay Store Up And Running As Quick As Possible
Paul shows you how to create your eBay store the right way along with how to create eBay listings.
He briefly goes over the business policies and how to set up your Paypal account.
Other than that, that's about it with this module.
Module #3 – Dropshipping Titans Product Research Formula
In this module, Paul gives you his take on how to do product research and since the profit margins are going to be small this might be worth paying particular attention to.
He talks about looking at companies like Amazon and Walmart for products that you could sell for a lot higher price.
What you also need to take into consideration are current trends and what people want but there's not too much of that in this module.
Module #4 – The Perfect eBay Listing
There is nothing that is going to surprise you in this module as Lipsky simply goes on to explain and show you how to list your products.
All basic stuff that you could work out yourself.
There are some restrictions with using eBay which he does cover such as restrictions for new vendors only able to manage a maximum of 10 products.
Module #5 – What You Need To Know Before You List More Products
There is a lot of fluff in this module and can be easily listed in just 6 bullet headings.
This basically means that everything could have been explained in one short video instead of spreading among many.
As a new vendor your limit of products that you can list is set at 10 and to increase this figure you would need to discuss this with eBay.
Get in touch with eBay to increase the item limit
Increase the number of products
Removing the products that aren't selling from the list
Ensure that you receive good feedback
Verification of payments
Ensure you are selling from the USA
We know the course is designed for the complete beginner but even beginners need to be stretched sometimes.
Module #6 – Ensuring That Customers Get Their Orders Fast
Dropshipping only works when you can get the orders to your customers quickly and without any issues.
As in the previous module, this could be condensed into just one video as opposed to stringing it out over 9.
One thing that isn't mentioned in this module is the packaging.
Whichever supplier you use whether it's Amazon, Walmart or whoever the packaging or reference should not be pointing back to the supplier.
Just think about it, if you have purchased from eBay and the products are coming from Amazon.
How naughty to find out that the product that you just purchased could have been purchased from Amazon much cheaper.
I know what I would be doing and that's sending the product back and getting a refund.
Module #7 – Customer Service Hacks
This module goes into what should be common sense.
You should know that you have to treat your customers with respect by ensuring they get their products on time.
Helping the best you can by sending tracking numbers, answering all questions etc.
After all, this goes to better customer relationships and at the end of the day, you are looking for good feedback to improve your rating.
Module #8 – Dropshipping Titan Hacks To Double Your Profits 
In this module, Paul teaches you how to make the most of a sale and how to get free delivery.
In other words, because the profit margins are so small that every little helps.
Module #9 – Housekeeping
In this module, it's all about ensuring that you keep all your finances in order with fees and sales taxes that you have to keep an eye on.
Module #10 – Advanced Topics
There is nothing advanced in this module.
Paul talks about expanding the business and creating another eBay store and looking at forming a limited company.
What happens if your sales are slow, well that could be a multitude of things.
Who is Dropshipping Titans For?
Dropshipping Titans is pretty much for complete beginners who are looking for a way into dropshipping through using eBay.
If you already sell products on eBay then you would be the ideal candidate to purchase this course.
Simply because you would already have an understanding and the learning curve wouldn't be as great.
Is Dropshipping Titans Worth It?
The Dropshipping Titans course isn't expensive therefore does it give value and is this method a viable solution?
Well, after reviewing quite a number of dropshipping courses this is the first one that uses eBay and products from the likes of Amazon and Walmart.
What you are basically trying to do is get someone to purchase the exact same product from you that you can purchase from Amazon.
For a few dollars more than what you would pay on Amazon.
Now many might call this a scam but all he is doing is what all other businesses do all the time.
The numbers that are been thrown about to make you excited about doing this type of business are probably not exaggerated.
But these figures are "Turnover" without any deductions.
So if Lipsky sold $2.5 million over a two-month period the profit margin will be a lot lower than that figure!
He might only be making 2 or 3 dollars per sale on a $20 product.
So do the maths!
($20 / 2) a ($2,500,000 / a) = $250,000
Dropshippers take between 20 and 30 per cent off that total.
$250,000 / 25% = $62,500
Then there is the tax on that figure also which might be about 40%
That works out at $37,500
Don't get me wrong it is still $18,750/per month
This is not to be sneezed at but that figure he mentions will have been his best sales period.
So, if you can produce sales figures like that then the course would be worth it but this is highly unlikely.
Another thing to consider is, do people still purchase new products off eBay without even researching the product first.
I am inclined to suggest not as many as they were and probably why Lipsky created this Dropshipping Titans course in the first place.
You see people nowadays have wised up to so many things online and what might have worked 2,3 or even 4 years ago doesn't work anymore.
Unfortunately when you see any course teaching you a specific method you have to research that method thoroughly.
I'm not saying this is the case with all product owners but you have to tread with caution as the course is very cheap then you don't have much to lose.
Can You Make Money With Dropshipping Titans?
Of course, you will be able to make money with the Dropshipping Titans but it certainly isn't going to be as easy as what Lipsky makes out.
It also depends on what you call money.
A few dollars or a substantial amount and enough for you to stop working for someone else to make them their fortune.
If you are prepared to work hard, follow the course and apply what you learnt into practice then anything is possible.
Dropshipping Titans Cost And Refund
There are 2 payment options available with Dropshipping Titans, you can either pay the full amount of $297.
Or you could spread the costs over three equal payments of $127 which takes your total to $381 which is an additional $84.
Are There Any Upsells With Dropshipping Titans?
There are no upsells that come with Dropshipping Titans, what you see is what you pay for.
Is There a Trial Period Offer With Dropshipping Titans?
There is no trial period with the Dropshipping course.
Does Dropshipping Titans Come With A Refund Policy?
It looks like the 30-day refund policy doesn't come with conditions as we see with so many courses.
But to get a full refund you will need to get in touch with Paul personally and he promises to make it as painless as possible.
Is Dropshipping Titans a Scam?
Technically speaking Dropshipping Titans is not a scam because you are getting value for your money.
But the dropshipping business model is not easy and will take you a considerable amount of time to start seeing results.
So if you are looking for something that all you have to do is push a few buttons and hey presto out pops the money then this is not for you.
In fact, if you didn't already know this but there is absolutely nothing online that will do this for you.
Hard work, persistence, consistency and above all patience is what it will take to succeed in any business not just drop shipping.

Dropshipping Titans Student Reviews 
Whenever you are researching anything you should look for testimonials and reviews if that is at all possible.
More than often especially if it's a training course that hasn't been out long, then you might struggle to find any feedback at all.
That seems to be the case here with Dropshipping Titans.
That usually leaves any feedback other than on third-party review sites usually on the product owner's sales page.
That is where you have to make a judgement call because sometimes those testimonials are fake.
Take for instance the one review we found on Trustpilot that is a little suspicious.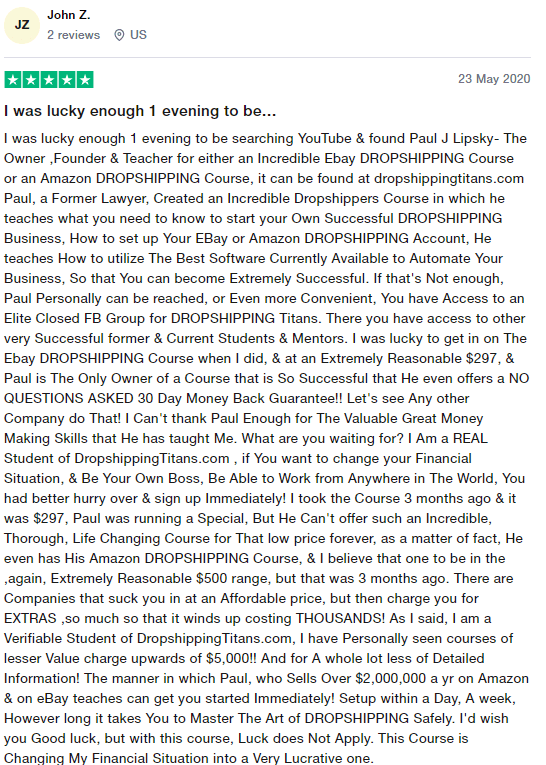 This is a testimonial on the sales page from someone who struggles with English, yet we are to believe they made over $63k in 90 days.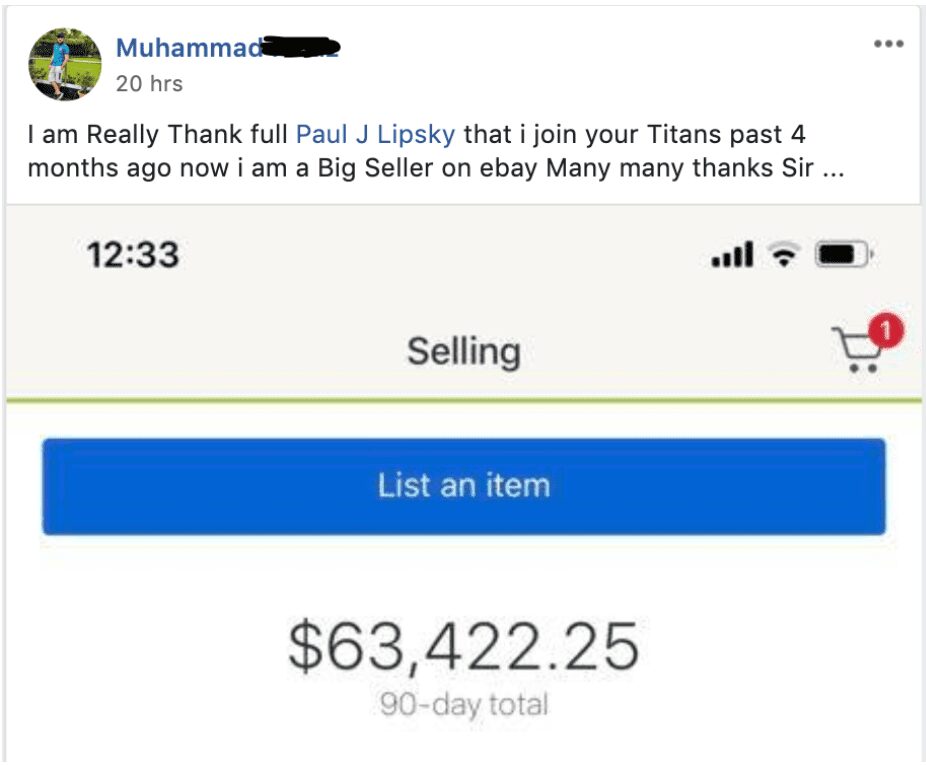 Here is another one of Paul's students who made over $178,000 in 90 days.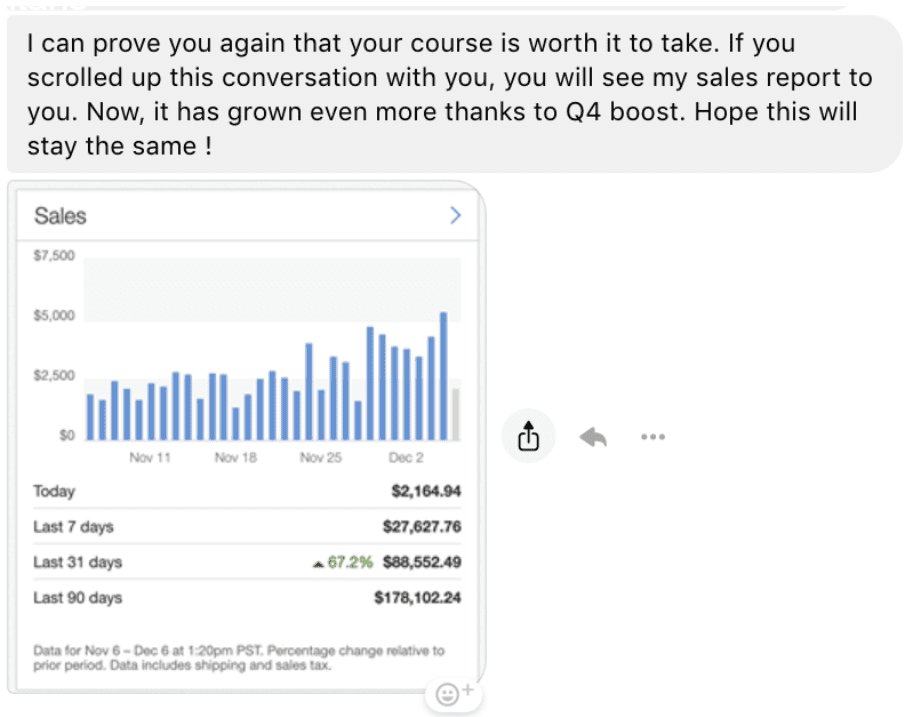 They would be more believable if the figures weren't the chart!
What we Like About Dropshipping Titans
There is nothing that we really liked about Dropshipping Titans and there were so many red flags.
What we Don't Like About Dropshipping Titans
Profit Margins Are Small:
This means you are going to struggle to make reasonable sales and the figures that you are seeing is not profit.
Remember the product that is been sold might only be making 2 or 3 bucks which when you do the maths isn't so great after all.
The Course Is Pretty Basic: 
It's going to be ok for a complete beginner who hasn't a clue about dropshipping but you will need additional training.
People who get into drop shipping do so by using e-commerce sites that specialize in the very business.
eBay has a lot of rules to comply with and is full of restrictions and to get those lifted you have to approach them with no guarantees.
Testimonials That We See On The Sales Page Are Unrealistic:
If students on this course were making sales like they say they are then wouldn't you expect to see reviews all over the internet?
The Course Could Have Been Made A Lot Shorter:
We thought that the course was dragged out a little and could have been made a lot shorter and more compact.
Dropshipping Titans – Final Thoughts!
Dropshipping Titans is a course that you can learn the basics from if you are a complete beginner and looking to move into dropshipping.
Dropshipping through eBay may not be a wise move because of the restriction that eBay place on a new vendor.
There are so many better e-commerce sites out there that are specifically set up for dropshipping like Shopify and Sell The Trend.
The course is very reasonably priced if you want to take a punt at it but it's not something that we would recommend.
If you checked out Paul's YouTube channel I am sure you are going to find all the videos that are in the course there.
After all, there are over 525 videos on his Youtube channel.
Alternative Solution to Dropshipping
It's called affiliate marketing which is very similar to dropping shipping except you don't have to worry about using a digital store.
The principle is the same in that you are the middle person and direct the customer to the merchant except you get paid a commission on a sale.
It also means that you are not restricted and are much more flexible.
Is one of the best ways to create multiple income streams.
I have personally been a member of Wealthy Affiliate since 2017 and the main reason why I was able to leave my 9-5 job.
Just check out the reviews on Trustpilot.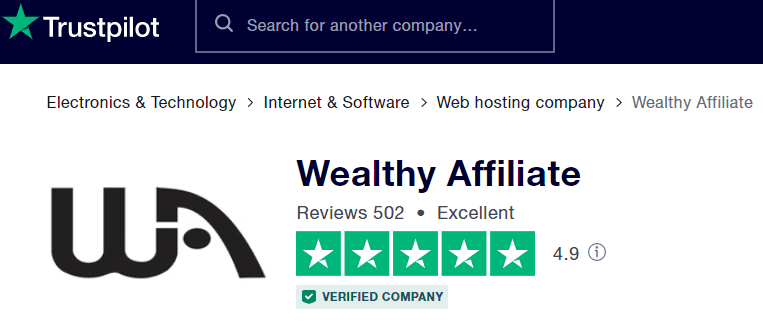 The training platform is a fully integrated one-stop-shop meaning that everything you need to succeed is in one place.
Education and training, Web development, Hosting your website, and a community that cares and is full of experience on many levels…

Dropshipping Titans Review – FAQs
Here are a few questions that we found people asking in the search engines which we thought might help in your decision making.
Is Dropshipping On eBay Still Viable Today?
People do still dropship from eBay however things have moved on somewhat in the last few years and people are moving with the times.
What Are The Main Restrictions With Dropshipping On eBay?
You can only use a wholesaler when you are dropshipping via eBay.
What Happens If eBay Catch You Dropshipping?
eBay allows dropshipping however they have stringent guidelines and if you are found to be breaking the rules.
They could apply all sorts of restrictions like demoting listings, lowering ratings and even cancelling listings and account suspension.
Do I Need Money To Start eBay Dropshipping?
With eBay as a new vendor, you are given a number of free listings which means you will only pay eBay when you actually make a sale.
Is Dropshipping From AliExpress To eBay Allowed?
There are risks with using AliExpress as your supplier as eBay states that generally drop shipping from wholesalers is allowed.
However, AliExpress is not classed as a wholesaler but as another marketplace.
Can I Ship From Amazon To eBay?
Drop shipping from Amazon is not legal on eBay however there are eBay sellers who sell on Amazon by storing the inventory on Amazon which complies with eBay rules.
Feedback, Comments And Subscribe
Ok, guys, we hope you enjoyed this review and that we managed to answer most of your questions.
Remember, if you have anything to add please don't be shy!
Thank you for listening!
Take care!
Stay safe!