Welcome to this Edureka Review. One of the top e-learning platforms for students looking for a change of career and professionals already in the IT Industry.
If you are looking to expand your knowledge, in a particular area within the high-technology arena, then Edureka just may have the answer.
While they may not be the biggest, this review goes into great detail to show you why this company is one of the fastest-growing and could possibly offer the best IT courses online.
The way education is taught to us nowadays has been changing rapidly and we can see this with the many e-learning platforms that are now available.
Whilst the route to that all-important university degree pass is always going to be the same, for many just not reachable and for many reasons too!
E-learning systems give everybody (and not just the chosen few) a level chance of exceeding where they may not have been able to in the appropriate fashion.
With competitors like Udemy, Edx, and Coursera already very popular with online students, Edureka has a lot to measure up to.
Is Edureka a company worthy of your attention and do they live up to all the hype that we are hearing about?
So without further ado, let's see just what Edureka is all about.
---

Product: Edureka
Location: Bangalore, India
Founders: Lovleen Bhatia, Kapil Tyagi, Vineet Chaturvedi
Founded: 2011
Website:  www.edureka.cog
Video Channel: YouTube
Product description: Online education/training platform
Price: $60-$1500 (which covers masters courses)
Recommended: Yes/NO – I find the courses are expensive compared to some other popular e-learning platforms.
Synopsis: One of the few e-learning platforms that specialize in a specific industry niche skill such as IT.
---
Internal Summary and Navigation
---
What is Edureka?
Edureka is an e-learning training platform that was founded in 2011 by Lovleen Bhatia and based in Bangalore, India.
They specialize in the Information Technology industry bringing current technologies to students and professionals alike.
They have a saying, "That they may not be the biggest but they are certainly the fastest growing e-learning platform"
When you are talking about an e-learning platform such as Udemy who have comfortably well over 100,000 courses to choose from, then that is some statement.
They offer high-tech trending courses that come with certificates that are recognized in the real-world.
They also offer post-graduate courses for the ones who really want to step it up a gear and move up the corporate ladder.
All these courses are run by top instructors in their own right.
Courses are brought to you in a live real-time format that suits many.
Industry courses in Cloud Computing, Data Science, Databases, Artificial Intelligence, Mobile Development and even Blockchain. For further information, you can check out the full course list here.
See what the founder as to say here.
---
Who is Edureka for?
Edureka is pretty much for anyone who is or thinking of making a career in the information technology industry.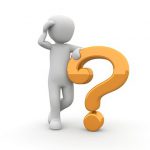 If you are looking to advance your career, then partaking in some of these courses is a great way to do just that.
The information technology industry is always changing, and take it from me coming from the IT Industry, you need to be continually updating your skills to stay relevant, otherwise, you end up been left behind.
Coming from poverty-stricken countries that don't have the backing of local government agencies, its e-learning platforms like Edureka that help people in these countries to better lives.
Courses are specialized which makes them unique but whether the courses are at a standard that would be recognized throughout the industry is another thing.
---
Let's take a look inside Edureka.
Very easy and straight forward to join.
Just enter your email address and mobile number and select the 2 options then hit the sign up button
Then enter a password and hit the start learning button.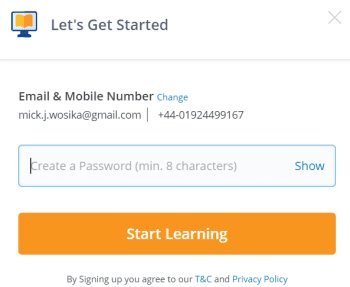 There are 3 different types of training courses available.
Masters
Live class
Self-paced
Most of the courses operate in a live interactive environment where you will feel like actually been on campus.
Experience all the benefits of actually been in class and been taught by experienced professionals in their chosen field.
Take part in the live question and answer sessions and don't worry if you miss a course as recordings will be available to you.
To keep you abreast of your studies there are practical assignments to help reinforce what you have already learned.
If you would like a quick look around then you can by clicking the link here.
---
How to select the Best Edureka Courses
It goes without saying that whenever you have to part with your hard-earned cash, you should be doing yourself a favour by thorough research first.
There are some really good courses to be had on these e-learning platforms but there is also a fair share of sub-standard courses too.
A few steps to help you decide the right course.
Check out the rating of the course and the number of students that have taken the course.
Check through some of the Edureka training reviews from the students
The course curriculum and the course preview
The detailed course syllabus
Student testimonials
Try and find out who is actually taking the course because the course is only as good as the instructor, right?
---
What others are saying about Edureka
Looking at the Edureka reviews, students seem to be more than happy with the overall performance of Edureka online training platform.
Trustpilot records their overall score as 4.7/5.0 which is great.

---
Of course, there are always going to be negative feedback, that's just the nature of reviews.
With only 3% then that's more than enough information to put you on the right track when researching which e-learning training platform to choose.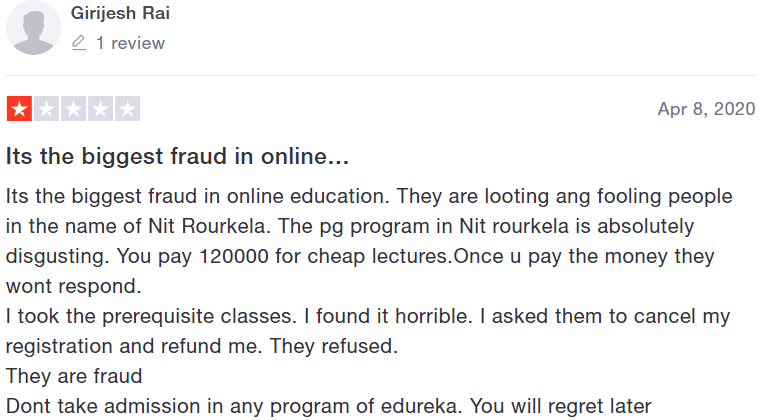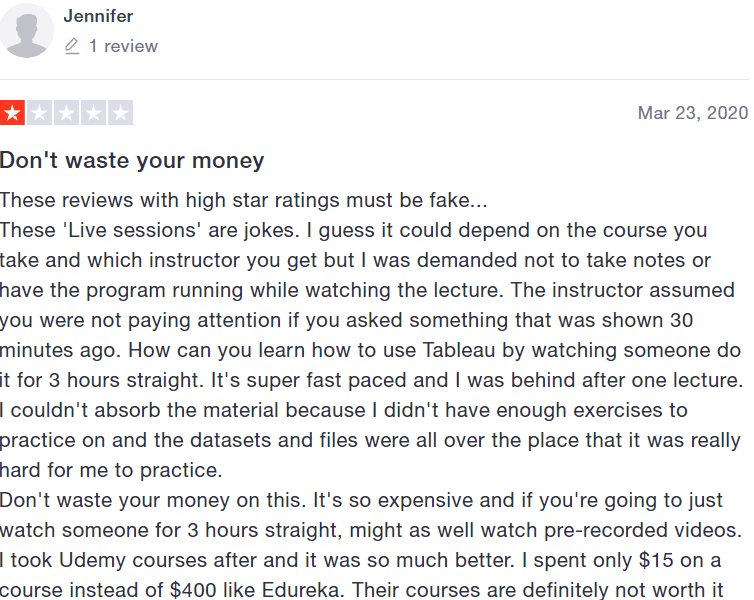 If you like, you can check out additional reviews through this link here.
---
Why not become an Edureka Affiliate

Something to become aware of and that's how e-learning companies like Edureka operate their business.
They operate under the affiliate marketing guise, where anyone can join their affiliate marketing program for free and make a little cash on the side to help on the financial side.
4-Simple steps that you need to know.
Join Edureka's affiliate program on the LinkShare network – joining is fast, easy, and free
Choose the courses you want to promote from the 100's of Edureka online courses that are available.
Then publish content related to the course on your website, attaching your Edureka affiliate links along with custom banners supplied by Edureka.
Once someone clicks on your Edureka affiliate link, then providing the person joins the course, you will be paid a commission, which is anywhere from 1%-15%.


---
Affiliate marketing is a 12 billion dollar industry and if you would like to know-how all the above operates, then I can recommend Wealthy Affiliate, who is a training platform dedicated to this industry.

---
What I like about Edureka
There is a lot I like about Edureka and if the student reviews are anything to go by then an e-learning business to watch out for.
Managed to come up with some of the major positives of Edureka.
Once enrolled you have lifetime access to the course material.
Keep with trends in the ever-expanding IT Industry.
Certificates are recognized throughout the business world.
They offer some of the best IT training courses available online.
Great reviews coming from students, rating as high as 95%.
You have access to a mobile app for when you are out and about.
Course fees on a whole are comparable with their competitors and within most peoples budgets.
---
What I don't like about Edureka
Courses only available for IT professionals.
Noticed that some students are complaining that support could be better.
The IT industry moves so quickly and course updates don't appear to keep up with demand, although they are getting better.
Some students complain that instructors aren't up to scratch.
I hear some students having problems getting refunds.
The software platform could be more professional with a little more flexibility.
When researching a course one of the main areas you would check out first are reviews.
Whilst The Edureka training platform highlights thousands of Edureka training reviews from students to a course, not all those reviews are available for you to read.
That certainly doesn't sit with me nicely.
Edureka free courses are something you won't find here, not like many of their competitors. Maybe they are missing out on something here!
---
Is Edureka Worth It?
All e-learning businesses are going to have issues, but
I think we can agree that Edureka is as good a place as any to move your career in the right direction.
Coming from an IT Development background myself, I can see many areas where there could be some improvements, but I understand that a training platform can't accommodate everyone.
Courses do appear to be showcased well, but a question arises that affordability may only be available to people already in fulltime employment.
The IT industry is always advancing and keeping up with trends has got to be a challenge.
The main reason I left the IT Industry was down to not upskilling and found it difficult due to freelance work I undertook at the time. It doesn't take long to realize that you have been left behind.
Either stay with what you know and be left behind or upskill.
Taking time off and costs were a major concern for me and the fact that I spent more time away from the family, so I choose to find an alternative career path and one I could do from home.
The internet was the obvious choice.
Through some bad experiences, I eventually came across Affiliate Marketing which is a simple business model that anybody can learn.
The beauty about this training platform is that its free to join and nobody is going to ask you for your credit card details either.

---
Feedback, Follow, and Subscribe!
Are you someone who uses e-learning training platforms? Are you just trying to get a feel of what is out there? Any experiences, good and bad that you'd like to share?
I'd love to hear about them.
If you enjoyed this review then why not share amongst your friends.
Need to ask me about anything then feel free to put your thoughts down in the comments section.
Until next time, stay safe!