Welcome to this CBD BioCare Review
Pain is something that we all have to live with, some more than others and whilst medication can help, after a while, it often doesn't.
CBD is all the rage today that can offer help in various ways and CBD BioCare is just one of many companies that can provide this.
So, maybe you have been approached by a friend or a CBD BioCare distributor and you want to know more.
With questions like is CBD BioCare a legit and trustworthy company or are they a scam that you should stay away from.
What you will notice are the number of CBD BioCare reviews that are dotted around with most of them trying to sell you the dream.
These are associates of CBD BioCare and more biassed than what you will find with this review.
As we aren't connected then we can be honest and provide you with a no-holds-barred account of who CBD BioCare really are.
This should give you enough information to take on board making your decision to pursue further or not a lot easier.
So let's stop with the chit-chat and get on with this review.
---
[Affiliate Disclosure: This CBD BioCare Review has been thoroughly researched from information and testimonials that are in the public domain. This post may contain affiliate links which means we may earn a small commission, however, this won't affect what you pay!] 
---
Product: CBD BioCare
Founder: Mathew and Stacey Pitts
Website:  www.cbdbiocare.com
Product description: Direct selling business selling organic CBD Oil and offering business opportunities to marketers through an affiliate program.
Cost to join: FREE but there are 3 additional memberships
Recommended: Maybe
Summary: Since the 2018 farm bill was passed and Hemp-derived CBD oil was made legal in 50 states of the US.
Hemp because the THC levels are lower and can be controlled better than CBD coming from the Marijuana plant.
Since this bill was passed we have seen an explosion of multi-level marketing startups coming on stream.
To try and take advantage of this 10-15 billion dollar industry.
Unfortunately, many of these companies are just trying to cash in with products that are inferior.
So where does that leave CBD BioCare in the grand scheme of things?
One thing is for sure and that is that CBD BioCare is not a multi-level marketing business in the true sense.

CBD BioCare Review -Table of Contents
What is CBD BioCare And Who Are The Founders?
CBD BioCare is a direct selling company providing Hemp-derived CBD products to help in many applications.
Founded by husband and wife Mathew and Stacey Pitts in 2017 and is located in Florida.
Their mission… "is to get CBD into the hands of those who need it the most because we know it can change lives, one bottle at a time."
As the story unfolds and how CBD BioCare was born.
Mathew visited an old school friend who was suffering from cancer at the time and found the only thing that really helped his pain relief was Cannabis.
It was this illegal cannabis (at the time) that helped his friend's pain through those trying times and gave him an appetite for food, whereas normal medication didn't.
What Matthew noticed was that this "illegal plant" helped his friend's family also to cope with what was going to be his friend's last days.
All this was before medicinal marijuana became legal in 2016.
Now, due to businesses like CBD BioCare, this product is helping many people, along with their families to cope with many different types of pain and allowing them to at least have some form of normality back in their lives.
It was at this time that Matthew and Stacey found out about the bi-product of cannabis and how it was helping people throughout the world, but at the time still not legal.
That was until the 2018 farm bill which we have already mentioned.
There has always been mix feeling about CBD oil as it comes from 2 sources, the Marijuana and Hemp plant.
It is keeping a tight grip on which plant the CBD Oil comes from that is the problem.
Current law states that THC which is where you get high, cannot exceed .3%.
THC in the Marijuana plant can be anywhere from 3% all the way up t0 35% and is extremely difficult to regulate.
That is why the farm bill was for Industrial Hemp.
Due to the nature of this ever-expanding industry, unfortunately, it leaves the door wide open for some unscrupulous behaviour, where products out there are not what they may seem.
In desperate times, it would appear that people are prepared to try anything when it comes to pain relief and you can see why, but you have to be careful and research the product first before parting with your money.
With such a high demand for CBD oil products, it would suggest this industry could be a good way to earn some decent money from.
However, the product is just part of the story and we have to consider CBD Biocare themselves, the CBD Biocare product line with their business strategy of how we can make money.
After all, both the product and the business opportunity have to be just right, otherwise what is the point?
We have reviewed many other MLM businesses that are marketing CBD Oil products, so what makes CBD Biocare any different?
Why Aren't CBD BioCare Talking About CBDA?
We are still in the infancy days with CBDA which is the precursor to CBD oil and the source of where the CBD oil comes from.
It is important to note that there are only trace elements of CBD in the plant, whilst there is an abundance of CBDA, in its purest form.
In fact, studies have highlighted that the CBDA present in its raw state is many times stronger than CBD and found that both CBD and CBDA used together could have bigger benefits.
The problem is that once the process takes place to produce the CBD the CBDA dissipates.
However, companies like CTFO have managed to preserve the CBDA through their manufacturing process, and products with both CBD and CBDA combined are been produced and are known to get much better results.
Watch this interesting video that explains it in more detail.
Is CBD BioCare a Pyramid Scheme?
CBD BioCare is not a pyramid scheme per se, well not in the true sense anyway.
Simply because you can still make money by purchasing the products yourself at wholesale and selling them retail.
However, to make a substantial income this way would require that you sold hundreds maybe thousands of products.
This would be extremely difficult to achieve, not unless you had a massive customer base or list which most do not have.
That is why you have to recruit and build a large team and that is when you become part of the compensation plan.
Where bonuses and incentives, like holidays and cars, are gifted on the strength of getting more sales through recruitment.
Which can point the FTC in the direction of maybe a possible pyramid scheme in disguise.
Just for clarity on what a Pyramid Scheme is…
A through and through pyramid scheme would be when the in this case Amare Global wellness partners.
We're getting paid for recruiting others without a product or service.
Sometimes the company would use a product or service to hide behind that had no value at all.
This could be classed as a pyramid scheme in disguise pretty much like a Ponzi scheme but with products.
The FTC or Federal Trade Commission produced a detailed report about MLMs which is an interesting read
You might like to check out this short video…
CBD And THC And The Benefits of CBD
CBD and THC are the 2 elements coming from CBDA and THCA after a heating process that they go through.
Check out this 4-minute video which goes into more details about the differences and the effects between CBD and THC in both plants.
Possible Benefits of Using CBD Oil.
These are just a few of the ways that CBD oil could help you however studies do not confirm that CBD oil should be used as a substitute for medication.
In fact, the FTC is very strict on this and has heavily fined and closed down many companies due to misguided marketing tactics.
If you are taking medication it is always good practice to seek out the advice of your doctor before taking CBD.
However, there have been no cases where anybody has died from directly taking CBD, the problem could be if you stop using your medication.
You have to understand that when any clinical trials are undertaken they use 2 methods, the Placebo and the CBD Oil.
The Placebo as we know is a mind over matter which states that people can overcome their condition if told something like a sugar pill will work.
These are some ways that CBD oil could help…
Anxiety and Depression
Epileptic Seizures
Reduce the symptoms of PTSD
Treat Opioid Addiction
Alleviate ALS Symptoms
Manage All Levels of Pain
Ease Symptoms of Diabetic Complications
Help Protect Against Neurological diseases, like MS, Parkinson's…
Help Arthritis Symptoms
CBD BioCare Products Line
The products are in various applications, creams, chews, gum, full-spectrum, coffee pods, gels, scrubs, oils, sprays…
Which are split across the categories below.
Wellness
Pain Relief
All Natural
Skincare
Petcare
The current best selling products are listed below…
CBD BioCare Sample Bundles – 1000mg * 10 = $124.99
CBD BioCare Sachet Bundle Pain Balm – 500mg = $14.99
CBD BioCare Full Spectrum CBD Oil – 1500mg = $129
CBD BioCare CBD Coffee Lover = $37.98
CBD BioCare CBD Collagen Retinol Cream = $34.99
For a look at the entire range of products, we would suggest heading over to the website.
CBD BioCare Business Opportunity – What You Need to Know
If your interest in CBD BioCare is primarily because of the work from home opportunity then this section is what should interest you most.
How Much Does it Cost to Become a CBD BioCare Sales Representative?
You can join CBD BioCare's affiliate program for free and still make money although you will have restrictions.
There are 3 additional memberships which will give you access to things like a landing page, and a personal URL link which is important for branding.
Basic membership which will cost you $99
The most popular membership is $199 plus 3 products
This membership will cost you $359 plus 7 products
With all these memberships you would have to pay a yearly subscription for the personalized landing page which costs $49.99 starting in year 2.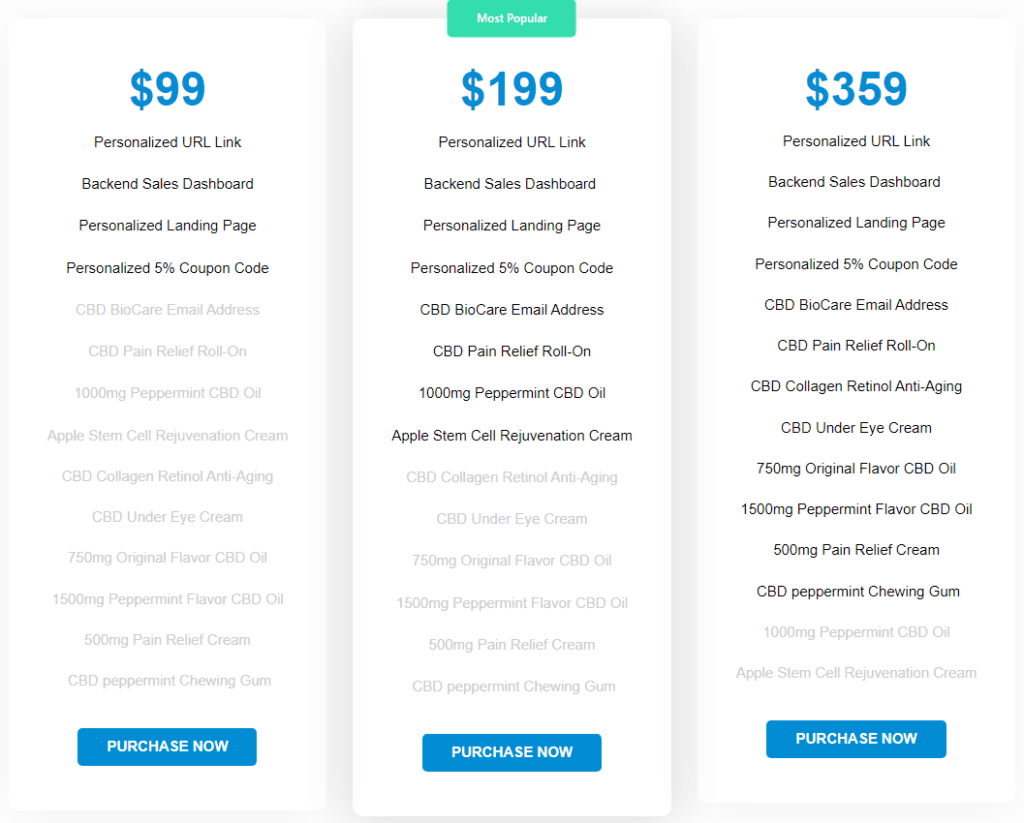 How to Make Money With CBD BioCare
But, the two main ways are always the same…
Purchase the products at wholesale and sell them for a profit
Create a customer base and make a commission when they purchase
As the products are consumable then providing the products do what it says on the label then you should have regular sales.
CBD BioCare Compensation Plan
At CBD BioCare there isn't a compensation plan as this is basically not a true multi-level marketing business which makes them unique.
There is no pyramid structure as such.
There are different levels of discounts which are determined by the number of sales that you make these comes from your referrals.
The payment structure is very simple and based on sales which are accumulative and never start back at zero.
Commissions vary from 20 to 40 per cent.
0-$999 = 20%
$1,000-$4,999 = 25%
$5,000-$14,999 = 30%
$15,000-$24,999 = 35%
$25,000+ = 40%
Are CBD BioCare Sales Representatives Actually Making Money?
This is a difficult question to answer as they do not provide an income disclosure statement.
However, the commission structure is a good one and it all depends on sales and not having to build a team.
What Others Say About CBD BioCare
Due to an exhausting search on the normal 3rd party sites for customer reviews, I found none. I had to rely on CBD BioCares Facebook Account.




Feel free to check out the reviews on the CBD BioCare website if you like by clicking the link here.
It's plainly obvious that I have not managed to find any negative feedback, but are you going to find any, coming from their Facebook Account and their website?
I suggest not, but let's say these are legitimate reviews and there is no reason to suggest any other, then CBD BioCare seems to have something going for them.
Is CBD BioCare a Scam?
CBD BioCare is definitely not a scam as they pay what they say they will to their sales representatives.
All the processes seem to be in place and they have gone to great lengths to ensure they are compliant with laws and regulations.
They have a mechanism so that you can earn an income without the confusion of a compensation plan which is great to see.
Some will say that CBD BioCare is an MLM or even that they are a pyramid scheme but it is very clear neither are the case.

What we Like About CBD BioCare
It Is Free To Join:
If you want to test the waters then you can for free but you will still have to purchase some products for testing.
People Who Are Using The Products Seem To Be Happy:
Most people are happy with the products.
Legit Company Showing Willing To Comply:
As far as companies go when it comes to how they run business CBD BioCare is up there with the best.
They Are Not A Multi-Level Marketing Company:
They tell you this on their website, that they are a direct selling business. there is no pyramid structure like you see with MLMs and no compensation plan.
Income Structure Is Very Straight Forward:
The levels of commissions go up on sales so the more sales that you make the better commission you will get. From 20% – 40%.
The Commission Structure Is Accumulative:
This means that sales are accumulative and do not go back to zero so once you have achieved 30% then that is what you will get from there onwards.
The Website Is Full Of Advice:
As far as websites go with it looking professional this is somewhat lacking but the site is full of useful information.
What we Don't Like About CBD BioCare
No Income Disclosure Statement:
It isn't uncommon to not find an income disclosure statement because at the end of the day the ones that are present all pretty much read the same.
Not Accredited With The BBB:
The Better Business Bureau is a regulatory organisation where you should always look and a place where you will find complaints if there are any.
Interest Is Slipping Somewhat:
As you can see by the image below interest was showing at the time of the pandemic lockdown but since things seemed to have dwindled somewhat.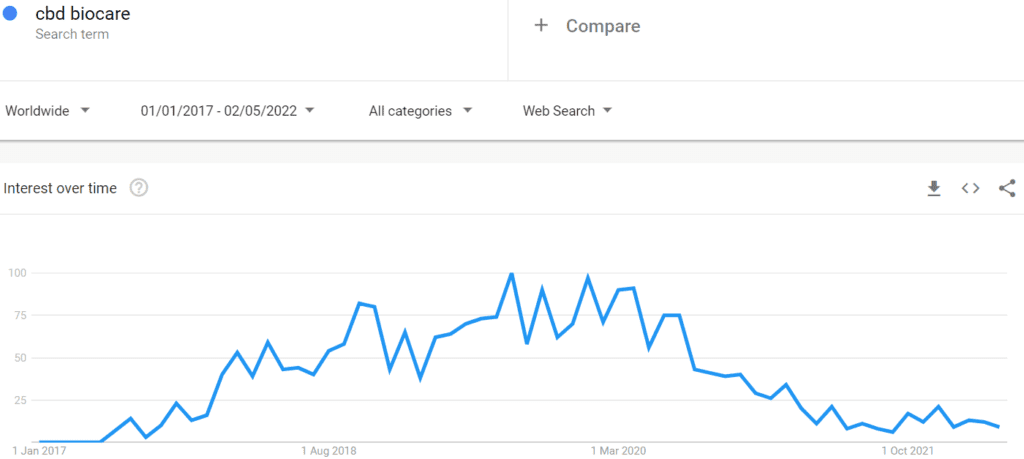 CBD BioCare MLM Review?
CBD BioCare is one of the better companies that we have had the fortune to research and review.
Everything is in place to help comply with regulations and they do come across as a trustworthy company.
The website is full of valuable information which would be a great place to start before making a commitment.
How we Make a Living Online
CBD BioCare FAQs
Some Are Saying That CBD BioCare Is An MLM Can You Explain?
CBD BioCare is a direct selling company where you can make money by finding customers and selling the product.
There is no compensation plan like you get with all MLMs and there are no sponsors as such meaning that you don't sit below one in a structure.
How Much Does It Cost To Become A Sales Representative?
You can join for free and make money by getting others involved.
There are 3 additional memberships which give you more benefits when it comes to your business.
These are $99, $199, and $359 and come with products that you are going to want to purchase to show customers.
What About The Returns Policy?
Any issues that you have with the product you have 14 days from the date of purchase and will refund you if you're not completely satisfied.
Any returns after the time frame will be judged on a one to one basis and if CBD Biocare is at fault then you will still get a refund.
Is There Somewhere I Can Find Out More About CBD? 
The CBD BioCare website is full of information that covers everything that you would need to know about CBD.
This can be found here under CBD 101.
You can also find a bunch of articles here which are worth checking out.
Here you can find information on…
General
Brain
Bones
Joints
Skin
Muscles
Digestive System
Female
Male
Diseases
Lungs
Are There Any Alternatives To CBD BioCare That You Could Recommend?
If you are looking for a decent way to make money which isn't in the style of the MLM business model then CBD BioCare is certainly worth a shout.
You could however check out these alternatives…
Feedback, Comments and Subscribe
Hope you enjoyed this review and that we answered most of your questions.
If you need to add anything just drop us a line below and we get back to you at our earliest convenience.
Until next time, stay safe!