Welcome to this review,  is CBD BioCare a Great Direct Sales Business or an MLM in Disguise?
Since the 2018 farm bill was passed and CBD Oil was made legal in all 50 states of the US, CBD Oil has really exploded into a rapidly growing industry.
With sale forecasts predicted to exceed 15 billion dollars by 2025 we are seeing many startup businesses coming on stream to take advantage of this lucrative market, especially in the multi-level-marketing arena.
Due to the nature of this ever-expanding industry, unfortunately, it leaves the door wide open for some unscrupulous behaviour, where products out there are not what they may seem.
In desperate times, it would appear that people are prepared to try anything when it comes to pain relief and you can see why, but you have to be careful and research the product first before parting with your money.
With such a high demand for CBD oil products, it would suggest this industry could be a good way to earn some decent money from.
However, the product is just part of the story and we have to consider CBD Biocare themselves, the CBD Biocare product line along with their business strategy of how we can make money.
After all, both the product and the business opportunity have to be just right, otherwise what is the point?
We have reviewed several other MLM businesses that are marketing CBD Oil products, so what makes CBD Biocare any different?
For one, could it be that they aren't, in fact, an MLM, but a straight forward direct sales business, which is what they are claiming?
So, let's take a look, shall we?
---
Product: CBD BioCare
Location: Florida
Founder: Mathew and Stacey Pitts
Founded: 2017
Website:  www.cbdbiocare.com
Video Channel: YouTube
Product description: Network marketing business or MLM, selling organic CBD Oil and offering business opportunities to marketers.
Cost to join: Option 1 = FREE                                                                                                                            Option 2 = $99                                                                                                                                Option 3 = $199                                                                                                                              Option 4 = $359
As you can see there are 4 levels of membership available which will be made clearer further on in the review.
Price of products: $17.99 – $159
Recommended: Yes and NO – I can't recommend MLM businesses based on past experiences.
However, you can make money here if you have past experience, but I wouldn't recommend them to any newbies looking to build an online business and make a living from.
Synopsis: Probably one of the better CBD Oil businesses to get involved with.
---
Internal Summary and Navigation
---
What is CBD BioCare and who are the founders?

CBD Biocare is, in fact, a Direct Sales Business and not a multi-level-marketing business, like many are reporting, or that is what they are saying here at CBD Biocare.
Could it be that they are in fact an MLM business in disguise?
They were founded in 2017 by Mathew and Stacey Pitts and located in Florida.
CBD BioCare's mission… "is to get CBD into the hands of those who need it the most because we know it can change lives, one bottle at a time."
As the story unfolds and how CBD BioCare was born.
Mathew visited an old school friend who was suffering from cancer at the time and found the only thing that really helped his pain relief was Cannabis.
It was this illegal cannabis (at the time) that helped his friend's pain through those trying times and gave him an appetite for food, where normal medication didn't.
What Matthew noticed was that this "illegal plant" helped his friends family also to cope with what was going to be his friends last days.
All this was before medicinal marijuana became legal in 2016.
Now, due to businesses like CBD BioCare, this product is helping many people, along with their families to cope with many different types of pain and allowing them to at least have some form of normality back in their lives.
It was at this time that Matthew and Stacey found out about the bi-product of cannabis and how it was helping people throughout the world, and surprised to see that all 50 states had made this product legal.
There as always been mix feeling about CBD oil as it comes from 2 sources, the Marijuana and Hemp plant.
It is keeping a tight grip on which plant the CBD Oil comes from that's the problem.
It's not the Marijuana CBD Oil that is the issue here, it's the THC that can be found in the product, which can be anywhere from 3% all the way up to 35%.
This is where you get high from and the law states it can't be above .3%.
On the other hand, CBD oil, coming from the Hemp plant has only traces of THC and therefore the choice for many.
Here you can listen to a company presentation!
"Our hope is that you not only try our products but that you to fall in love with them as we have. Our desire is that they not only provide the results or the relief you are seeking but that you will share your experience with others so more people can learn about the benefits of CBD." Matthew and Stacey Pitts
---
CBD BioCare Products Line that is on offer
Wellness
Pain Relief
All-natural
Skincare
Pet care
CBD BioCare prides themselves on full-disclosure 
What you get is…
Full Spectrum CBD oil
Whole plant extracted CBD oil
Organically Grown hemp
3rd party testing from the plant through to production
All QR codes link back to a Certificate's of Analysis on all oil bottles
Ingredients clearly stated and explained on the website
Part of and recognized by GMP (Good Manufacturing Practice)
PETA compliant
Products are bottled in FDA facilities
CBD BioCare's Mission to Giving Back
Due to their religious beliefs, they raise and provide money to ministries in South America, known as the "Youth of Christ".
Not only to spread the Christian word but they are also dedicated to developing the younger generation, through education, evangelism and leadership skills.
To support this goal, CBD BioCare generously gives a minimum of 10% of their profits.
I'm all for giving back and therefore I like this generosity.
---
Why aren't CBD BioCare talking about CBDA
It is important to note that there are only trace elements of CBD whilst there is an abundance of CBDA, in its purest form.
In fact, studies have highlighted that the CBDA present in its raw state is many times stronger than CBD and found that both CBD and CBDA used together could have bigger benefits.
The problem is that once the process takes place to produce the CBD the CBDA dissipates.
However, companies like CTFO have managed to preserve the CBDA through their manufacturing process, and products with both CBD and CBDA combined are been produced and are known to get much better results.
Watch this interesting video that explains it in more detail.
---
CBD and THC and the benefits of CBD?
What are CBD and THC?
CBD and THC are the 2 elements coming from CBDA and THCA.
Check out this 4-minute video which goes into more details about the differences and the effects between CBD and THC in both plants.
The benefits of CBD Oil.
CBD Oil nowadays is all the rage and people are turning to this remarkable oil for many illnesses.
I have highlighted a few that CBD is known to help.
Arthritis 
Rheumatoid arthritis and Osteoarthritis are major factors in the cause of disabilities in the US affecting some 50 million.
Studies have been done on animals and found that CBD helped to treat arthritis and relieve inflammatory pain.
Anxiety 
NIDA the National Institute on Drugs Abuse has reported that CBD has been known to reduce the stress of animals with signs of anxiety.
Depression 
Studies noticed that CBD did appear to have benefits over anti-depressant drugs.
In most cases, it takes several weeks for the medication to get into the system whilst CBD oil as an almost instant effect on the person.
It was also noticed that the side-effects from CBD oil were less than the side-effects from inti-depressants.
Cancer Treatments
May help to reduce the symptoms brought on by chemo along with other cancer treatments.
Heart
It is known that the CBD's anti-inflammatory and antioxidative properties may help to reduce high blood pressure, the main concern for heart disease.
MS
Nausea
Sleep disorders


---
It is important to note that the benefits from CBD Oil are dependant on the actual dosage and with that in mind we are all different and react differently and whether too much is not good is another issue.
What you will also notice is that all research conducted with CBD is done on animals and therefore still in its infancy days with regards to CBD and Humans.
---
CBD BioCare Business Opportunity – What you need to know
First and foremost before we get into the business opportunity.
I would seriously read and digest the terms and conditions before joining because it is very plain to me that if you faulted just slightly, they have the right to terminate your membership without warning and any monies owed at that point could be forfeited.
---
Is CBD BioCare one of the few unique businesses involved in the CBD Oil Industry?
Well, it certainly looks like it when you compare the number of MLMs that have rooted themselves.
To become a CBD BioCare Affiliate is pretty straight forward with what appears to be no complicated compensation plan to worry about which I think is great.
However, there are 4 different types of membership and what you don't see on the image below is the free membership.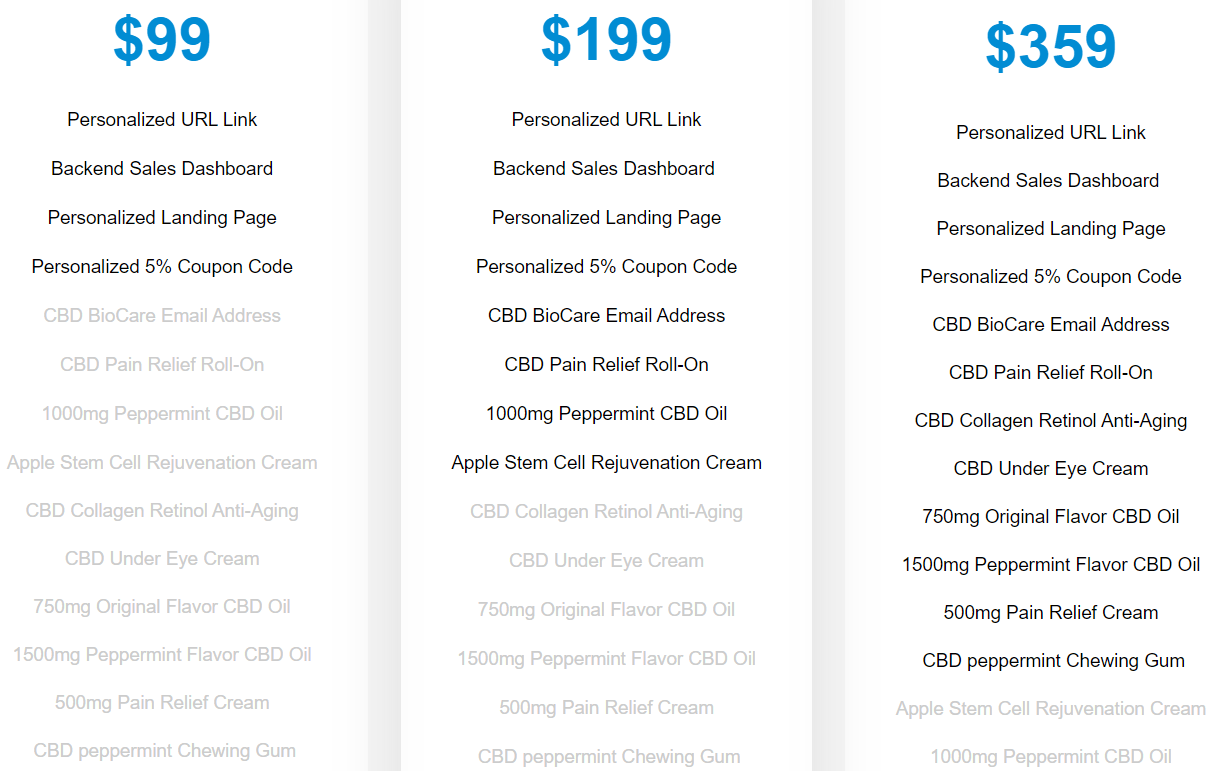 There's a yearly fee of $49.99 to be paid for the use of the landing-page from the 2nd year onwards for the above memberships.
Free memberships
This membership level would be where you needed to be if you had a website already to do your marketing from.
Off course you will still get access to the Back-end Sales Dashboard.
I seriously wouldn't be paying for a landing page, that is for sure.
What every CBD BioCare Affiliate would have access to
Customizable sales-reporting and tracking tools
Generated printable marketing documentation
Network marketing material
Professionally designed marketing videos
Professionally-designed Images to use
How you would get paid
Sales volume are compounded month
to month, meaning you never have to start back to zero. Hit that target, and the commissions are there forever.
Lifetime referrals once a customer as bought.
You would receive a 10% commission on all CBD Biocare wholesale accounts.
10% on all sales only that are generated by referrals you invite to join as a CBD BioCare Affiliate.
To Recap on the volume of sales required.
Receive 20% – 40% commissions based on cumulative sales.
               0 –       $999 = 20%
     $1000 –   $4,999 = 25%
   $5,000 – $14,999 = 30%
 $15,000 – $24,999 = 35%
$25,000                        = 40%
Get your marketing strategy right, and you could be earning some really big money.
---
What others say about CBD BioCare
Due to an exhausting search on the normal 3rd party sites for customer reviews, I found none. I had to rely on CBD BioCares Facebook Account.




Feel free to check out the reviews on the CBD BioCare website if you like by clicking the link here.
It's plainly obvious that I have not managed to find any negative feedback, but are you going to find any, coming from their Facebook Account and their website?
I suggest not, but let's say these are legitimate reviews and there is no reason to suggest any other, then CBD BioCare seems to have something going for them.
---
What I like about CBD BioCare
Free to join
I love the fact that it would cost you zilch to join.
All their products are claimed to be Organically Grown
3rd part testing
From growing the plants, through to the manufacturing process.
Certificate of analysis
All the Oil bottles come with QR codes that relate directly back to the COA.
GMP (Good manufacturing processes)
They comply with the working standards conducted by GMP across the whole process, from plants through to manufacturing and distribution.
PETA compliant
People for the Ethical Treatment of animals and therefore no animal testing on their products.
There's no GMO (Genetically Modified Organism)
Ingredients are clearly highlighted on their website
---
What I don't like about CBD BioCare
Products I find Expensive
Similar products can be found quite easily if you shop around.
No income disclosure
This is something that doesn't sit well with me.
Not accredited by the Better Business Bureau
MLM Or Direct sales and distribution?
OK, they claim not to be an MLM business, but does the fact that they don't have a compensation plan mean just that?
Who knows, because I couldn't find anything regarding the recruiting of others to join, although it does state that you would get 10% on referral sales only.
Satisfied customer reviews
What's the first thing that you should do before you purchase anything?
Yes, you got it, look at reviews, and not reviews that are directly linked to the company through Facebook or on their own website.
Lack of 3rd party reviews is not good.
Website
What do they say about first impressions?
The website is pretty dated and could do with a good overall to bring them into the 21st century, but once again, that is me looking in and seeing what I see.
---
Is CBD BioCare a Worthy Business to get involved with?
I'm always going to sit on the fence when it comes to any MLM related business, purely based on past experiences. All bad!
However, that doesn't mean that CBD BioCare isn't a reputable business to take a punt on, after all, you can join for free, so why not?
I see so many CBD BioCare reviews out there stating is CBD BioCare a scam, and I categorically have to say they are far from it.
I find companies shady whenever they won't disclose incomes, and there is a good reason for this, but you know what? Maybe it's just me that is over cautious.
Where I am today in all of this!
Instead of calling it a day after trying to make a living through MLMs, I decided to stick around and research further ways and came across Affiliate Marketing.
Such an easy business model that anybody can learn, but it's all about finding the right training, and I think I did with Wealthy Affiliate.
Why not do it the right way and create a business that you can call your own and take what you are passionate about and make a ton of money in the process.

---
Feedback, Comments and Subscribe
Well, the end of another CBD MLM review and if you are here then you are obviously thinking of maybe joining.
Maybe you already are a CBD BioCare affiliate and just interested in what others have to say.
Maybe you have had a bad experience and would like to share with my readers?
Want a chat about anything?
Feel free to leave your feedback in the comment section below.
Until next time, stay safe!