Welcome to this HempMeds review
Since the forced lockdowns,

many people have used that time at home constructively looking for additional ways to make an income.
If you are looking for a way to make some extra money and don't want to become part of multi-level marketing business.
Then HempMeds might be what you are looking for.
Just as a reminder before we get started, is that we are not associated with HempMeds in any way.
That means that this HempMeds review is going to be an honest account without any of the BS.
In the next few minutes, you will know more about who HempMeds is, their products, pros and cons and whether they are worth investing in.
With that said, let's get started.
---
[Affiliate Disclosure: This Hempmeds Review has been thoroughly researched from information and testimonials that are in the public domain. This post may contain affiliate links which means we may earn a small commission, however, this won't affect what you pay!]
---
Product: HempMeds
Founder: Michelle Sides
Website: www.hempmedspx.com/
Product Description: A direct selling company manufacturing hemp-derived CBD products
Cost to join: Free
Best For: Experienced network marketers
Recommended: Maybe
Summary: It's a refreshing change to see a company like HempMeds that offer a way to make money but without all the hassles.
Of trying to build a large team, train and motivate them in the hopes that they can do the same and in return make yourself some money.
However, at least with a traditional MLM, the possibilities are endless with regard to the amount of income you can make.
This means that you are going to have to sell a hell of a lot of products to make yourself an income with HempMeds.
HempMeds Review – TOC
What is HempMeds?
HempMeds is a direct selling company that came onto the scene in 2012 and is based in San Diego, California.
They provide an extensive range of CBD products that will cover a wide range of applications.
They also have offices in Mexico, Brazil and Puerto Rico and are a subsidiary of Medical Marijuana Inc.
Just like Kannaway who we have reviewed in the past.
Medical Marijuana claims to be the first cannabis company in the US way back in 2009 as well as a whole lot of other firsts.
They were the first true pioneers of the CBD Oil industry and have led the way for others to follow.
HempMeds offer a way to make some extra money without all the complexities of an MLM.
They even provide wholesale and private labelling solutions, so if you were thinking of opening a retail outlet this could be the answer.
After all, how many CBD oil retail outlets do you know of?
Who is Michelle Sides?
Michelle Sides is the founder of HempMeds and is also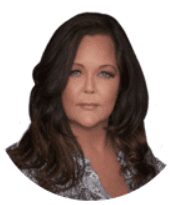 one of the board members at Medical Marijuana Inc.
She has also a law degree and is a member of the Florida bar that specializes in corporate and real estate matters.
Other than that, there isn't a great deal of information on the internet about her.
Is HempMeds a Pyramid Scheme?
HempMeds is not a pyramid scheme as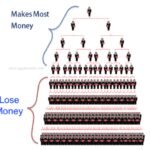 true pyramid schemes do not sell products and services.
HempMeds has an extensive range of CBD products that you can make money by just selling to friends and family.
HempMeds is not an MLM and therefore excludes them from the pyramid-style business structure.
Just for clarity on what a Pyramid Scheme is…
A pyramid scheme is when a distributor is getting paid for recruiting other people to join without a product or service.
What can often happen is that the company do have products and services but they don't have any real value and are only there to disguise.
What is actually going on, this could be what is normally called a pyramid scheme in disguise.
The FTC compiled a report about the performance of MLMs which you can read here.
You might like to check out this short video…
HempMeds Products Line
There is certainly an extensive range of CBD products on offer at HempMeds.
The products are the most important aspect of any business venture and you have to be certain that the products are what they say they are.
Otherwise, how can you be expected to sell the products to prospective customers?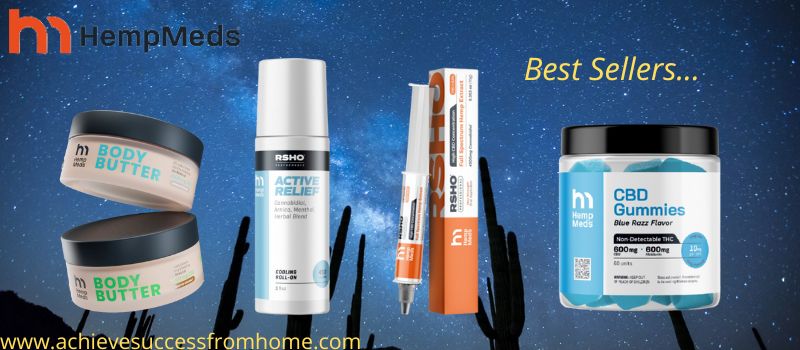 Here are a few of HempMeds best selling products…
New CBD Body Butter 8oz ($24.99) – A hydrating body butter that helps to rejuvenate dry skin. Non-greasy and leaves the skin looking radiant.
CBD Roll-On Active Relief ($51.00) – Helps to cool down and soothe stiff muscles, expertly formulated with 450mg of CBD, Arnica and Menthol.
Designed for physically active adults specifically athletes and is triple lab tested to ensure the product is of high quality.
RSHO Maximum Strength 10G Pure CBD Oil 4500mg ($309.00) – The highest concentration of full-spectrum CBD oil available through HempMeds. With 45% CBD oil per weight.
CBD Gummies by HempMeds ($59.99) – 60 gummies per jar with a total of 1200mg per jar. Helps to relieve the stress of chronic pain and promotes a healthy lifestyle.
You can check out the full range of products here on their website.
You might like to check out some similar companies offering similar products…
HempMeds Business Opportunity – What You Need To Know

There is a way to make money with HempMeds but it isn't the traditional MLM way, all the same, this section might be of interest.

How Much Does it Cost to Join HempMeds?

This is free to join and become an affiliate however you are going to want to purchase some products to show customers and to test yourself.

These range from $19 all the way up to $309

How to Make Money as a HempMeds Distributor

As an affiliate, you could promote HempMeds products in several ways…
Through social media
Through a website by creating useful content
Create an eCommerce store and take advantage of wholesale
For every sale you make you will receive a 15% commission.
You can find some products that offer a 30% discount but to take advantage of this requires that you sign up for the auto-ship program.
HempMeds Compensation Plan
As HempMeds is not a multi-level marketing company then in this case there is no compensation plan which does away with the complexities.
That means you don't have to recruit and build a large team which is a constant battle within the MLM business model.
Are HempMeds Distributors Actually Making Money?
Without an income disclosure then this is a hard question to answer.
But what we do know is that affiliate marketing can be a very lucrative business model but will take hard work and patience.
Can You Make Money With HempMeds?
Absolutely you can, affiliate marketing is a tried and tested business model where being done correctly can be very rewarding.
After all, this is what we do with the website that you are currently on now.
What About The Monthly Costs at HempMeds?
As an affiliate marketer costs are nowhere near what they would be with a multi-level marketing company.
There are no monthly sales quotas that you have to achieve just to stay active as a distributor.
The two important methods as an affiliate are how you intend to market the products.
There is the paid marketing method which is another learning curve and could end up costing you dearly.
Whereas, and this is what we recommend, would be the free method and SEO or search engine optimization.
It takes time but once it starts to work then it continues to work 24/7.
You could however use the free method through social media but this can be time-consuming.
Truth in Advertising
There is nothing to report on the TIA database and even a look at the parent company Medical Marijuana doesn't chalk up anything.
This would be deemed a good thing.
Is HempMeds a Scam?
HempMeds is not a scam as they produce a large range of products that people are happy with.
The company is legit and comes from good stock being that Medical Marijuana Inc was the first company in the US to market and sell CBD products.
The products seem to be within most people's budgets also.

What we Like About HempMeds
They Are Not A True MLM :
HempMeds are a direct selling company however they are not running as a multi-level marketing business.
They Can Provide A Wholesale Solution:
They offer a wholesale solution across the raw and refined CBD spectrum so if you were thinking of opening a store or supplying a store this could be for you.
Private Labeling Solution:
Private labelling is essential if you were thinking about going down the retail route with personal branding which has to be key here.
The website provides a whole lot of education to brush up on knowledge across the CBD oil industry.
What We Don't Like About HempMeds
Not Accredited With The BBB:
They are a member of the Better Business Bureau but do not have a rating as of yet.
Competition is always going to be a big issue here since there are literally hundreds of companies popping up.
From the traditional MLM through to the high street companies where you will find costs a lot cheaper.
Trending Is On A Downward Spiral:
It is always a good thing to take a look at Google trending, this shows the level of interest that people are showing in the company.
As you can see interest peaked in 2018 around the time that the 2018 farm bill was passed but since then has dropped off.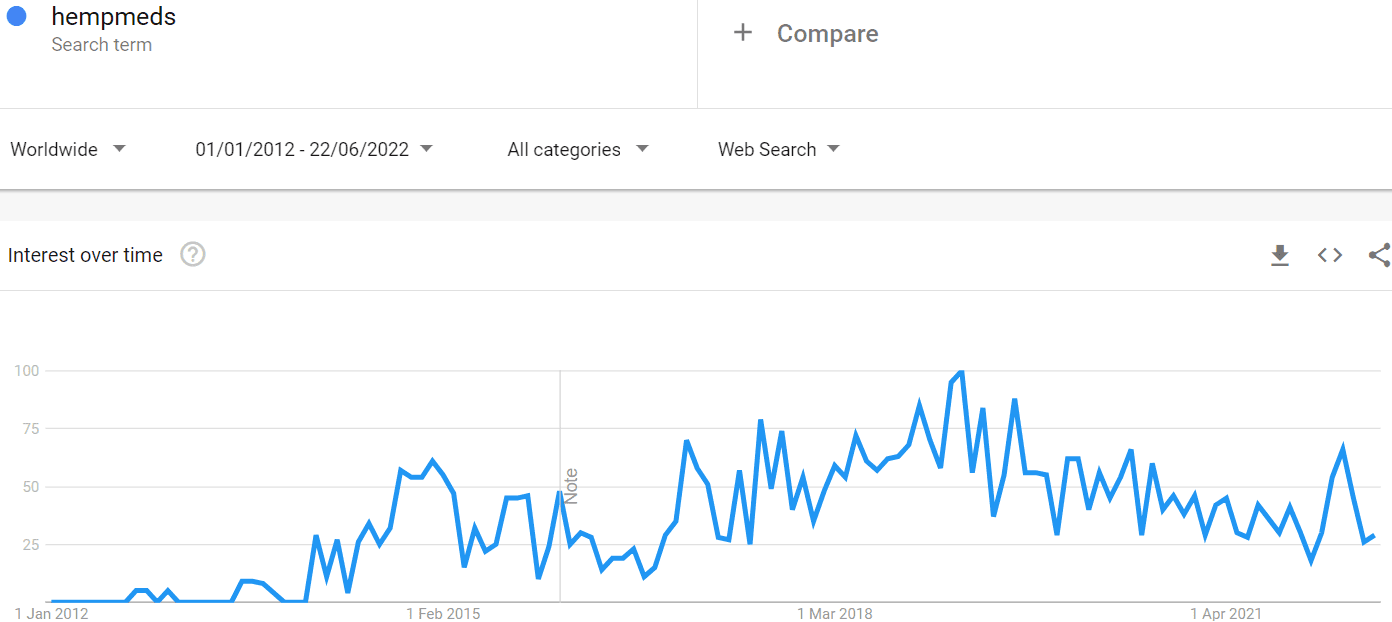 HempMeds Review – Final Thoughts!
Ok, so HempMeds isn't a traditional multi-level marketing business which is great because you are not under constant pressure to build a team.
This is ok in some respects, it just means that your next big hurdle is the competition that you are going to meet.
People have so many choices nowadays and the first thing people will do is head straight over to Amazon for comparison.
How we Make Passive Income?
Making passive income is what everybody wants to achieve where the business runs itself 24/7.
Affiliate marketing is probably the best business model for helping you achieve this but it is not a quick fix.
Meaning that it is going to take hard work, dedication, consistency and patience.
If you are looking for guidance then hit the link below.
Wealthy Affiliate has been helping millions since 2005 and is one of the best training platforms for complete beginners.
Don't take my word for it, just head over there now and check out the website, it won't cost you a dime and no credit card details are required.

HempMeds Review FAQs
People are asking all sorts of questions in the search engines, these are just a few that we thought might be of interest.
Is Hemp The Same As CBD?
No, the process for creating CBD oil requires the use of leaves, stalks, and flowers from the hemp plant.
These contain a higher more potent concentration of CBD.
Hemp oil comes from the seeds of the plant.
Is Hemp Stronger Than The Marijuana Plant?
The main difference between the 2 plants is that the THC levels are higher in the Marijuana plant which is not good for government regulations.
Whilst the CBD in the hemp plant is more potent which is a good thing.
Can You Drive On CBD?
A recent study that was published by the American Medical Association found no evidence that CBD affected drivers.
Having said that, if it's your first time ingesting CBD then it would be wise not to drive until you were certain as it can affect different people in different ways.
Is It Ok To Drink Alcohol While Taking CBD oil?
There are no reports stating that doing both at the same time is unsafe however there are some side effects that you should be aware of.
This is no different to mixing any type of medication.
Can You Take CBD Oil With Blood Pressure Medicine?
If you are on medicine to control your blood pressure then it would not be wise to replace this with CBD.
To be on the safe side you should always consult your doctor.
Feedback, Comments and Subscribe
Well, we are coming to the end of another CBD oil review that is becoming more and more popular nowadays as people look for pain relief.
Hope you enjoyed it and that we managed to address many of your questions as before, if you have anything to add please do so below.
Until next time, stay safe