Welcome to my Love CBD Review
There is no getting away from the popularity of CBD oil, and a choice for many when it comes to pain relief.
People are even taking to CBD oil as an alternative to the medication that they are currently on which is not advised.
Love CBD is one of the first companies to manufacture and sell CBD oil products and one of the most trusted in the UK.
The popularity of CBD also means that people have a wider choice and can be difficult to ascertain which products are legit and which aren't.
All the signs are looking good for Love CBD but in the next few minutes, you will know more about the company.
The products and whether it might be worth becoming a member of their affiliate program and making yourself some money.
Even maybe turning it into a business.
So without further ado, let's get right into this review and see whether they are as good as they say they are.
---
[Affiliate Disclosure: This Love CBD Review has been thoroughly researched from information and testimonials that are in the public domain. This post may contain affiliate links which means we may earn a small commission, however, this won't affect what you pay!]
---
Love CBD Review – Summary
Product: Love CBD
Founder: Phil Culbertson
Website: www.lovecbd.org
Product Description: Hemp CBD oil affiliate marketing company
Cost to join: Free
Cost of Products: £5.99 – £99.99
Best For: Experienced network marketers
Recommended: Maybe
Summary: Love CBD are one of the first companies in the UK to get involved with CBD oil.
There has been a lot of controversy around CBD oil with as many as 45% of companies having their products randomly tested.
Were found to be lacking in the amount of CBD that was supposed to be in the products.
So it's important you do your own research first and hopefully, this review can help in your decision-making.
If your interest in Love CBD is because of a way to make an additional income then you might like to take a look at the link below.
Love CBD Review – Table Of Contents
What is Love CBD?
Love CBD is a direct-selling company manufacturing and selling a range of high-quality CBD products.
They come in various forms, such as oils, capsules, balms, liquids for vapes and even come as tea.
They were founded in 2014 at the very start of the Hemp CBD oil industry boom, are a family-run business and are based in Suffolk in the UK.
They have a policy to create high-quality products at a price that is affordable to everyone.
The Hemp that is used is grown in Europe without any dangerous chemicals and pesticides.
This is evident when you look at the ingredients and find that there are only cannabis and olive oil present.
When you are researching CBD oil products to find the best quality products you should be looking for no chemicals present.
This is often difficult to establish as most companies do not publish the entire range of ingredients on their website, but Love CBD do.
Finding the right products in the UK can be a difficult task as there are so many brands and in the UK it is not very well regulated.
In fact, you don't have to look very far to find random checks by various organisations stating that what it says on the labels isn't accurate.
But times are changing and things are getting better so it would appear we are moving in the right direction.
Who Are The Founders of Love CBD?
Philip Culbertson is one of the founding members of Love CBD along with his brother Daniel Philip Culbertson who sort of takes a back seat.
Philip is also one of the founding members of the Cannabis Trades Association too.
He also has a number of years of experience working with cannabis and whilst they do not hold an organic certificate.
They do employ traditional methods for cultivating plants.
Other than that there isn't a great deal of information about him.
Is Love CBD a Pyramid Scheme?
No, Love CBD is not a pyramid scheme and the simple answer to this is that Love CBD is not a multi-level marketing company.
They are a direct selling company and they do have an affiliate program which you can become part of and make some money.
But there isn't a compensation plan and therefore no pyramid structure.
Just for clarity on what a Pyramid Scheme is…
A pyramid scheme is when a distributor is getting paid for recruiting other people to join without a product or service.
What can often happen is that the company do have products and services but they don't have any real value and are only there to disguise.
What is actually going on could be termed a pyramid scheme in disguise.
The FTC compiled a report about the performance of MLMs which you can read here.
You might like to check out this short video…
How Does Love CBD Work?
Love CBD market its own products through its website as well as word of mouth and this can be seen through TrustPilot.
They do provide an affiliate program for anybody who wants to earn some money and maybe even turn it into a business.
This helps in reducing marketing costs and helping to spread the word and to reach a wider audience.
Love CBD Products Line
The products are the most important thing here after all this is why you are here and whether you want to make some money or not is another thing.
The products are grown without any nasty chemicals and are as organic as they could be even without a certificate to prove this.
Some of the products hale from the Netherlands where industrial hemp is grown which is some of the best products around.
Such as the "Dutch CBD Oil" brand and is suggested that for those new to CBD oil then this would be a recommended product to get started with.
Below you can find Love CBD's best sellers…

800mg CBD Entourage Oil Spray (£48.99) – Made from broad-spectrum CBD in a 20ml bottle. This comes with .12ml of CBD oil per spray.
The entourage effect is a term created by an Israeli scientist called Raphael Mechoulam who is the man who discovered CBD.
Love CBD Balm (£13.99, £22.99, £59.99) – This comes in 3 sizes 10, 30 and 100-gram jars. 
As well as the balm containing extracts of cannabis, it also contains hemp seed oil and terpenes.
Comes with various oils, like coconut, beeswax, shea butter, grapeseed and rosemary which can only be good for the skin.
Starter Bundle (£24.99) – Great value to get you started which comes with 30 Dutch CBD capsules, 10g of balm and a box of hemp tea.
Love CBD Double Strength Entourage Capsules (£34.99, £59.99) – Comes in either 30 or 60 capsules with strengths of either 600mg or 1200mg.
Made with broad-spectrum cannabis and are vegetable capsules with no gelatine.
2000mg CBD Entourage Oil Spray (£99.99) – 20ml per bottle and made with broad-spectrum cannabis.
The range of products is categorized as…
CBD Oils
Hemp Tea
CBD Capsules
CBD Balm
E-Liquid
To take a look at the full range of products and a full description along with COA (certificate of analysis) we suggest heading over to their website.
You might like to check out some similar companies offering similar products…
Love CBD Business Opportunity – What You Need To Know
For anybody who is interested in marketing and selling Love CBD products, this section may be of interest to you.
How Much Does It Cost To Become a Love CBD Affiliate?
It is 100% free to become an affiliate become you will need to purchase some of the products to test yourself and show customers.
Products range from £5.99 – £99.99.
How To Make Money As A Love CBD Affiliate
As an affiliate, it is all down to how you promote the products.
When you apply to become an affiliate at Love CBD, they ask for your website URL and they want to know how you are going to promote the products.
There are 2 methods that you can adopt, the free or the paid method.
We would always recommend the free method using SEO or search engine optimization.
To do this effectively, you would need a website and write content targetting keywords that people are keying into the search engines.
This takes time but once you start to find traffic this will continue 24/7.
There is a standard 15% commission on every product you sell and a 2.5% commission for referring others to the program.
Love CBD Compensation Plan
As this is not a multi-level marketing company then there is no compensation plan to consider.
Are Love CBD Distributors Actually Making Money?
This is a hard question to answer as there is no income disclosure present on their website.
Can You Make Money With Love CBD?
Yes, you can but you will need to know how to market the products effectively.
The ones who excel in an opportunity like Love CBD are the ones who have a large following and who know how to market effectively.
If you are new to this then we can help which we mention a little later in this Love CBD reviews.
What About The Monthly Costs At Love CBD?
Depending on which method you use for promoting the products will determine what your monthly outgoings are going to be.
If you go down the free marketing method then your outlay is going to be minimal.
However, if you are impatient and looking for a quicker turnaround then you might decide to pay for traffic which can be expensive.
It costs as much as you are prepared to spend although a guideline would be somewhere in the region of £50 – £150 a month.
Of course, you will have to purchase some products for your customers as well.
What Others Say About Love CBD
Love CBD has some excellent feedback on Trustpilot based on nearly 5,000 reviews.
Here are just a few recent reviews for you to see.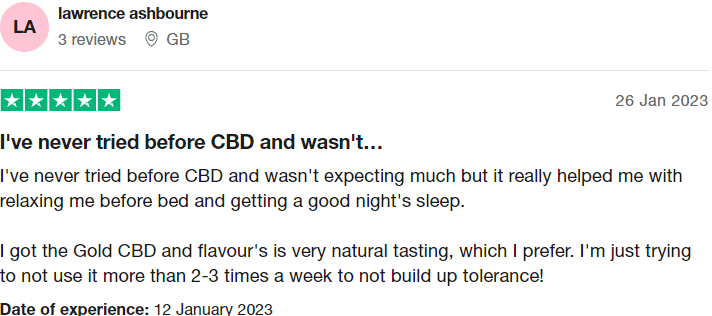 Is Love CBD a Scam?
Love CBD is definitely not a scam as they have a range of products that many people love.
The products come from industrial hemp that is grown in Europe and are free from chemicals.
The products are very reasonably priced and start from £5.99 and expect to pay as high as £99 for the most expensive products.
This however is their most potent CBD product.
Many people are just using Love CBD for their products and are not interested in making money on the side by introducing other people.
What we Like About Love CBD
Great Feedback:
As you can see by the image below, Trustpilot gives Love CBD a great rating based on the number of reviews that you can see.
This is unusual for a CBD oil company.
Confirmation Of Lab Reports:
You can access the lab reports on the website to check out the validity of the products and the strengths of the CBD oil present.
Free Shipping Within The UK:
Any products that you order will be sent free of post provided you accept the second-class post.
Member Of The Cannabis Trades Association:
Love CBD is a member of this UK organisation and the co-founder is on the board of directors.
Products Are Exempt Form Chemicals:
All the products are grown without using any pesticides or fertilizers and whilst they don't offer an organic certificate.
They are as organic as you will get them.
What We Don't Like About Love CBD
Competitive Industry:
The CBD industry is a competitive industry as there are so many options out there especially if you are looking at hopefully turning it into a business.
The CBD oil industry has really taken off since the 2018 farm bill was passed and will continue to do so well into the future.
Analysts forecast that the CBD oil industry may rise from around $6 billion in 2022 to anywhere near $50 billion by 2028.
This means competition for anybody who is thinking of joining one of the affiliate programs and turning it into a business.
Interest In The Company As Dwindled:
We can see that interest peaked in 2019 which makes sense because of the 2018 farm bill but is tailoring off.
This is probably down to the number of CBD oil companies that there are today.
Love CBD Review – Final Thoughts!
With all things considered, Love CBD products are of high quality and are all-natural.
The products may not be the cheapest out there compared to other brands but what do they say, "you get what you pay for".
Just heading over to TrustPilot will tell you that the products are extremely well received with a 97% rating with 6,000+ reviews.
That alone should give you enough confidence to at least research Love CBD further.
They offer different delivery methods that come by way of capsules, balms, sprays and even liquids that can be used for vaping.
That means you should be able to find the right product for your individual needs.
If you are worried about getting high, then there is no need as the THC levels in the UK by law have to be zero.
What we would recommend is consulting your physician before you decide to replace any medication that you are currently on.
There is a way to make some money through their affiliate program and if that interests you then you might like to continue reading the next section.
How we Make Passive Income?
If you are looking for a way to make some additional income then starting a business as an affiliate marketer has got to be one of the best ways.
This is a great way to make multiple passive income streams and if it's a budget that concerns you this method is probably the best.
If you have a passion for something like an interest or hobby then why not turn that into a business?
Wealthy Affiliate has been teaching affiliate marketing since 2005 and has seen well over 2 million people come through its doors.
Everything is under one roof with hundreds of hours of training, support that can't be beaten and all the tools you would ever need.
Check it out for yourself, it won't cost you a dime and you won't even have to give out your credit card details either.

Love CBD Review FAQs
People are asking all sorts of questions in the search engines and we pulled a few that might be of interest.
Is Love CBD Any Good?
Love CBD provides high-quality chemical-free products that people love and the products are at a reasonable price.
Is Love CBD Organic?
All the products at Love CBD are organic and can be verified on their website with the COA (certificate of analysis) that you can find under the lab results tab.
What Is Entourage Oil? 
Entourage is a science term that was created by an Israeli scientist and the person who discovered CBD.
It is the current flagship product at Love CBD and has been since 2015.
Cbd Oil Police Drug Test Uk?
If you consume CBD oil products that come from the hemp plant then you should not test positive because the THC levels are almost zero.
However, if you are using CBD oil products that come from the Marijuana plant then that could be a different outcome.
As the THC levels could be as high as 30%.
Is It Legal To Take CBD At Work?
The 2018 legislation that came in regarding hemp, states that hemp it is not a controlled substance.
However one of the active compounds might flag up a positive result.
It has been known that random tests in the workplace have been conducted and as a result people have lost their jobs.
Feedback, Comments and Subscribe
Ok Guys, hope you enjoyed this Love CBD review and that you got some benefits from it.
If there are any questions you'd like to ask then feel free just to ask away.
Thank you for your time!
Stay safe!