Is The MasterClass a Scam? Absolutely not!
But an e-learning experience like no other
platform we have come across or reviewed on this site before.
The e-learning industry has really exploded in recent times and makes it so much easier for everything to self-educate.
MasterClass.com is one of the highest-profile e-learning platforms around at the moment.
This MasterClass experience is one that many will cherish especially if your favourite celebrity happens to be one of the instructors.
But is this all hype and just a bit of a novelty?
That is why you are here and in the next few minutes you will have enough information to decide whether it is or not.
Well, let's see, shall we?
---
[Affiliate Disclosure: This MasterClass Review has been thoroughly researched from information and testimonials that are in the public domain. This post may contain affiliate links which means we may earn a small commission, however, this won't affect what you pay!]
---
Product: MasterClass, formerly Yanka Industries Inc
Location:  San Francisco, California
Founders: David Rogier and Aaron Rasmussen
Founded: 2014
Website:  www.MasterClass.com
Product description: An e-learning experience brought to you by people at the top of their craft across the celebrity world.
Price: Paid annually @ $205.00 in the US or £168.00 coming from the UK
Recommended: Maybe
Summary: Learn from the best in their field.
Whether it's films and Martin Scorcese through to Phil Ivy the best poker player in the world.
You have to commit to a year but that entitles you access to everything that is available on the training platform.

MasterClass Review – Table Of Contents
What is MasterClass?
MasterClass is an e-learning platform, founded in 2014 under the name Yanka Industries, Inc by David Rogier and Aaron Rasmussen and located in San Francisco, California.
In 2015 they dropped the current name of Yanka Industries, Inc and adopted their current name MasterClass when their website was published.
Within just a few months of starting they had around 30K student sign-ups.
The number of courses available as of this review comes to a little over 140 and therefore you'll find it very niche.
However, the quality of the courses at MasterClass.com is one of the best I have seen when compared to other e-learning platforms.
Maybe that is because the celebrity instructors may be exposing themselves and teaching you their secrets.
When MasterClass talk about their instructors as being at the very top in their profession, that's exactly what you are getting across multi-industry sectors too.
Let's see what the CEO and co-founder David Rogier has to say in this short video.
Who is MasterClass For?
In my personal opinion MasterClass is not for everyone.
It's not like taking a course at Udemy or eDX where you can come away with a specific skill and in most cases a certificate that is recognized in the business world.
No, not all.
What you are getting at MasterClass is an opportunity to sit and watch someone like Martin Scorcese give you an overview of what filmmaking is all about.
In the case of Daniel Negreanu, one of the best poker players ever, he gives you an insight into how to play the game the right way.
You are going to pick up some things that you could take away and apply, but eh, are you going to be able to play the game like him after, I would say not.
It could be that you would love to listen to the writer Dan Brown go through his process before writing a book because I know I would,
Then I think $200 for the year's membership for listening to just this one class for me would be worth every penny.
If you are looking for inspiration then go ahead and give it a go.
It really boils down to what you are looking to get out of MasterClass.
If you want to see who is and who were instructors then check out the Wikipedia link here.
What About The Cost of The MasterClass Membership?
MasterClass costs are very straightforward.
There is a single fee for a course which is $90 in the US or £85 coming from the UK.
But I can't see why anybody would use this payment method considering a few pounds or dollars more gives you complete access for a full year.
What you are paying for is what they call a MasterClass All-Access-Pass, which gives you full access to the entire catalogue available, and of course, any additional ones added.
This is an annual membership which will cost you around $200 if you are in the US or £170 coming from the UK.
A little steep maybe if there is only the one course that you were interested in, but if your interests cover a variety of subjects then I think it is probably worth paying for.
Is There a MasterClass Free Trial Available?
There was indeed a free trial available but that was removed in 2018.
So, if you come across a website offering a free trial then I would just click straight out because it no longer exists.
However, what you could do is take advantage of the 30-day money-back guarantee and if you didn't like what you saw, then just cancel your subscription.
Another Thing to Watch Out For Are MasterClass Discounts
Especially MasterClass student discounts.
If you come across any websites offering promotional or discount codes for students then remember to click out because they too don't exist either.
Mind you, MasterClass do offer special promotional offers throughout the year which in the past has being, a 2 for 1 offer, which means you could gift someone a year's subscription which is sort of cool.
At this current moment, this or any offer for that matter is not available.
How to Join MasterClass
That's straightforward, you just fill in the onscreen form with your credit card details for the MasterClass all-access pass.
Just Who Are The MasterClass Instructors?
As of this review, there are around 149 courses and in this section, we have pulled out a few just to give you an idea of what you get for your money.
MasterClass Daniel Negreanu – Talks Poker
Daniel Negreanu is probably one of the most successful poker players living today, with tournament earnings of around $32 million, and if he can devote over 7 hours of video discussions then you'd better be listening.
After this MasterClass class, you probably aren't going to be able to play like him, all the same, you might learn something though.
38 video lessons – 7 hours and 40 minutes
Ron Finlay – Talks Gardening
Ron Finlay is commonly known as the Gangsta Gardener.
For those into their gardening, then you have probably heard of him, better known for growing fruit trees and vegetables on a piece of wasteland between his house and the street, which was illegal at the time in Los Angeles.
Created a movement and managed to get the law changed but since then has become famous for other things. Unbeknown to me though, until now!
10 video lessons – 2 hours ad 7 minutes
MasterClass Kelly Wearstler – Talks Interior Designing
Kelly Wearstler's career took off in the '90s redesigning posh hotel interiors with her over-the-top approach in places like The Beverly Hills.
From there she took her craft all over the world and now is an interior designer to the stars.
17 video lessons – 2 hours and 13 minutes
MasterClass Neil DeGrasse Tyson – Scientific Things
Neil Degrasse Tyson, and no, he's not Mike Tyson's father but an Astrophysicist hailing from Harvard, and one of the most popular figures in modern-day science.
A little outspoken amongst the science community and they usually are when trying to convince people who only see things in black and white.
13 video lessons – 2 hours and 14 minutes
MasterClass Chris Voss – Art of Negotiation
Chris Voss is a former FBI negotiator and businessman.
If you are looking for some negotiating skills may be to use in business or your everyday activities and not how to talk a terrorist into surrendering, then maybe he's the one for you.
18 video lessons – 3 hours and 4 minutes
MasterClass Gordon Ramsay – Talks Cooking
Gordon Ramsay is known more famously for swearing continuously rather than being a top chef.
Nowadays you just can't get away from this fella. He's all over your TV showing you how he takes bankrupt restaurants to successful businesses in just 3-4 days. Yes, I know, he amazes me too!
This apparently is his 2nd crack at MasterClass, obviously through popular demand or maybe he needs the money.
15 video lessons – 4 hours and 13 minutes
MasterClass Martin Scorsese – Talks Film Making
Martin Scorsese, who hasn't heard of him? With films like Goodfellas, The Aviator, The Departed, and The Wolf of Wall Street.
All great movies and a lovely person. I'm sure you film buffs would love to listen to him.
30 video lessons – 4 hours and 35 minutes
MasterClass Natalie Portman – Talks About Acting
Natalie Portman began her acting career at the age of 12 and received her first Oscar by the time she'd turned 30.
Shows you how she adapts to new characters through her own personal techniques.
20 video lessons – 2 hours and 37 minutes
MasterClass Penn & Teller – Talks About Magic
Penn & Teller are great technicians in the art of magic and who doesn't love magic.
Started in the '70s and provide a comedy element to their magic act.
17 video lessons – 2 hours and 52 minutes
MasterClass RuPaul – Self-expression and Authenticity
RuPaul is better known for being a drag artist.
Shows you that it doesn't matter who you are and where you come from and that the 2 important things are that you have to accept and love yourself if you want to get on in this world.
16 video lessons – 2 hours and 1 minute
Just a taste of what you are getting for your money and there are many more to choose from.
I think the MasterClass all-access-pass is very good value for your money and find it quite amazing that someone has managed to convince A-lister celebrities to give something back for a relatively small entrance fee.
Relatively cheap compared to many online e-learning platforms that are currently available.
What Others Are Saying About This MasterClass Experience
It doesn't matter if you have the best website or program available, you are always going to have a mix of good and bad. It comes with the territory!
Looking at the MasterClass reviews on TrustPilot, they get a great rating, mind you there are a few that spoil things a little.

A mix of some of the MasterClass reviews which you should find interesting.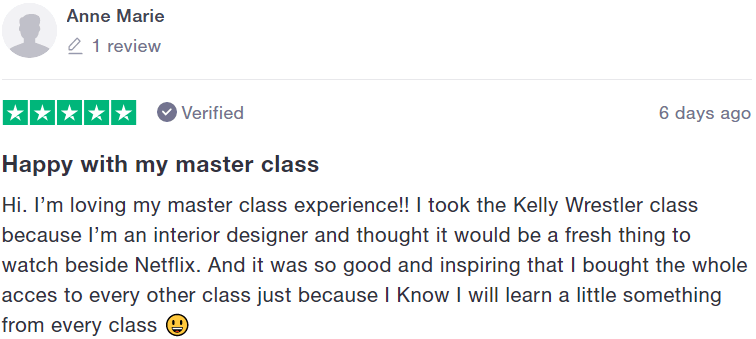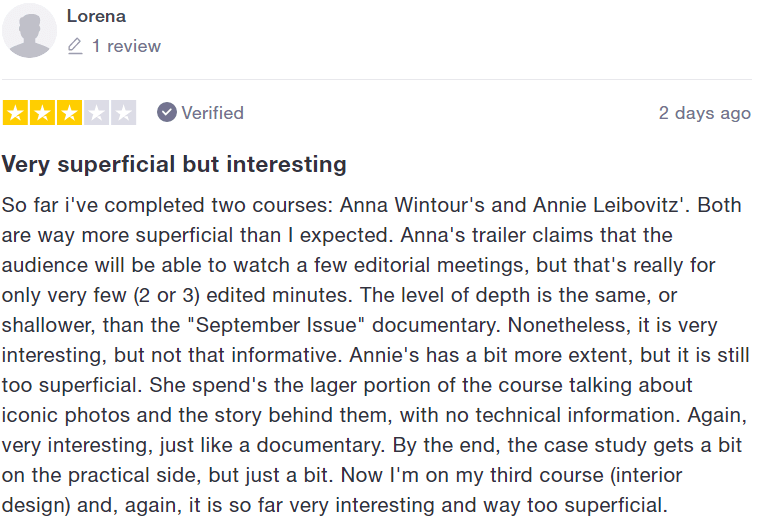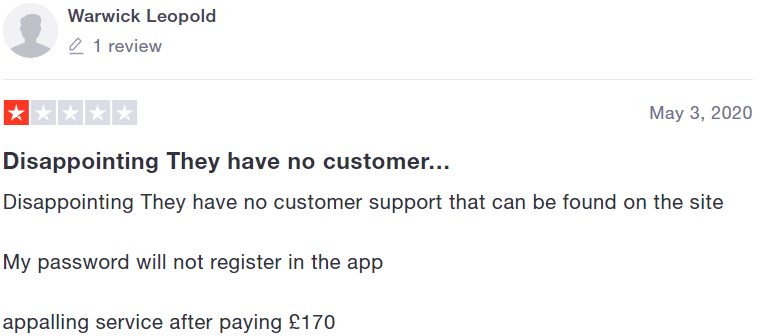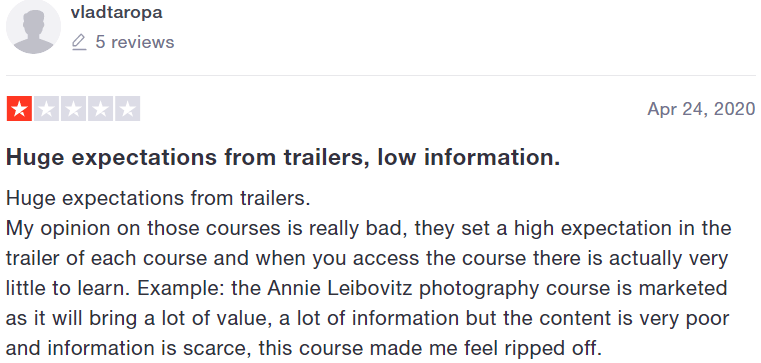 There do appear to be many complaints about charges to people's credit cards.
One or two you can accept as mistakes but this doesn't appear to be the case.
Head over to Trustpilot to find out yourself.
Why Not Join The MasterClass Affiliate Program
MasterClass operates its business under the affiliate marketing guise, where anyone can join their affiliate marketing program for free and make a little cash on the side to help on the financial side.
In order to do this, you need to become a member of ShareASale which are an affiliate marketing network.

A very good commission rate also.
Promote MasterClass.com on your website and could be a tidy earner.
Get 10 new members to join the MasterClass membership and your commission is…
10 new members * 43.16 = $431.16 (commission)
Not bad for doing very little!
4-Simple steps that you need to know.
Join the MasterClass affiliate program on the ShareASale network – joining might take a day or two.
Choose the courses you want to promote from the MasterClass training platform.
Create your content to promote the Master Class online courses, and publish the content on your website, attaching any MasterClass affiliate program custom banners.
Once someone clicks on your MasterClass affiliate link, then providing the person joins the course, you will be paid a commission.
If you are looking for guidance in this area then we would recommend Wealthy Affiliate.

The MasterClass PROs and CONs
Here we've come to this section where we get on our high-horse and slate this training platform, but nothing to bad-mouth here as what you see is what you get.
PROS
Celebrities are at the top of their craft.
Production in bringing these courses to the public is top-notch.
Lengthy courses with some covering 7+ hours.
The course structure is professionally thought out.
Mobile app.
CONS
Customer service could be better.
May have a problem when cancelling your subscription.
A little expensive if there is only one course that you are interested in.
Not accredited with the BBB, in fact, they currently have a B- rating
So is MasterClass Worth it Then?
Personally, for me, I am not a celeb chaser so I won't be joining but many people will love this format.
If there are only one or two courses that take your fancy, then it is going to be expensive but if you are a celebrity follower.
Then you might find it interesting going through the entire catalogue and that is the only way we think you are going to get value.
I can certainly see that there would be interest though.
I was a little taken back and quite surprised when I'd heard of MasterClass, that it was run by Celebrities at the very top in their craft, and that each course didn't come with a much higher price tag.
I have to praise the owners for making this training available for everybody and not just ones who can afford it, so yes for me MasterClass is worth it.
The only problem we have are the payment complaints which you have to be aware of.
However, I think the owners of MasterClass have not thought this through and missed a trick here.
I can see people paying for the MasterClass all-access pass but what I can't see them doing is extending their membership beyond a year.
There simply aren't enough courses to justify this because it is not going to take you long to go through the entire Masterclass database.
There is only a certain amount of times that you are going to want to watch the same course, right?
If it's wealth and security you are looking for, without all the trappings of finding a job first, having to get up early and travel to the job, struggle to work your way up the ladder, put up with all the crap, and only take holidays when they let you.
What about you calling the shots and creating your very own online business from your home.
You'll learn everything you'll need to know about affiliate marketing from creating a website, marketing, hosting, 100s of hours of training including weekly live training, security and backup, 24/7/365 support and an awesome community and much much more.

MasterClass Review FAQs
How Much Does MasterClass Cost?
The annual membership is $180 and allows you access to the entire catalogue of classes and any new classes that are added.
All paid-up members get access to TV and mobile apps, downloadable workbooks and high-definition videos.
Is MasterClass A Gimmick?
MasterClass is a legitimate company and offers a unique experience for people to latch on to their favourite celebrities.
Some might find it a gimmick but the classes will give you a close insight into what that professional is all about.
Can You Get MasterClass For Free?
Unfortunately, MasterClass does not offer a free trial however there is a 30-day full money-back guarantee.
Which is more than enough time to get a feel for what you are paying for.
There is no monthly membership and none planned which is unfortunate because members may only be interested in one or two of the courses.
How Long Does A MasterClass Last?
The courses last between 2 and 6 hours with lessons lasting only a few minutes each.
Why Do Celebrities Do MasterClass?
Celebrities aren't doing this for the sake of it, they are getting paid a significant amount for their time.
Who Owns MasterClass?
David Rogier is the founder of MasterClass.
Feedback, Follow, and Subscribe!
I'm sure you'll agree is a very different online training platform and maybe one that you had never heard of before.
Thinking of giving it a whirl or have you already been a member then tell us what you thought about it.
Have any questions at all just put them in the comments section below.
I reply to all my reader's comments.
Until next time and stay safe.