Welcome to this Investment Dominator Review
If you didn't already know Investment Dominator is a Real Estate project management system to handle both property and vacant land deals.
Which was initially the first of its kind that covered both.
What that tends to do is drive the cost of the software and whilst there is a hefty initial installation fee, the monthly fee seems reasonable.
There are 2 ways to purchase this software which I'm sure you already knew.
Purchase the software as a standalone system or purchase Jack and Michelle's land flipping course.
Where the costs are included with 4 months' membership fees taken care of.
We are here to try and help you make that decision so without further ado, let's get started.
---
[Affiliate Disclosure: This Investment Dominator Review has been thoroughly researched from information and testimonials that are in the public domain. This post may contain affiliate links which means we may earn a small commission, however, this won't affect what you pay!]
---
Product:
Investment Dominator
Founders: Jack and Michelle Bosch
Website: https://investmentdominator.com
Product Description: Real estate customer management system
Cost to join: $2,196 then $197 a month
Recommended: Maybe
Summary: Investment dominator was developed by Jack Bosch and his development team to complement their land flipping course, the Land Profit Generator.
It's unique in that it covers both Real Estate business models, property and vacant land purchase and sales.
Now if your business is purchasing and selling houses then this software would be ideal but have you considered doing both?
If flipping land hasn't really captured your attention then you might like to check out this review we completed recently.
Investment Dominator allows you to store and track everything pertaining to both property and land deals.
It consolidates the whole buying and selling process into a logical flow from start to completion.
What is very unique about the Investment Dominator is that it comes with 3 specific websites to help in the whole process, which we will talk about later.
They allow the client to upload the relevant information without any interference from themselves.
Investment Dominator Review – TOC
Who is Jack and Michelle Bosch From Investment Dominator?
Jack and Michelle Bosch are 2 people who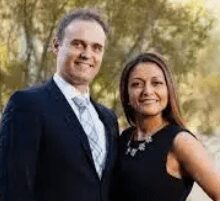 came to the US in the late '90s from Germany and Honduras with nothing but a dream.
That was the American dream.
After studying and passing their MBA they spent several years working for Fortune 500 companies.
But realised they were been underpaid for the amount of time and effort they devoted to their jobs.
So much so that they started looking at different ways to make money and Real Estate was high on their agenda.
Not buying and selling houses as the whole process was complex and time-consuming but purchasing and selling vacant land.
What they called "Flipping Land" had a quicker turnover and with a lot less complexity than buying and selling property.
As a result of the Land Profit Generator course, Investment Dominator was born.
How Does Investment Dominator Work?
Investment Dominator was initially developed around land purchasing and sales as there was no other software on the market to handle this.
They did however incorporate property purchases and sales to cover both Real Estate business models.
Here you will find 4 videos explaining how Investment Dominator works, just click on the video to play.
For further details, you can find the user guide here.
What You Get With The Investment Dominator
The Investment Dominator is a system that benefits everybody, whether you are a buyer looking for property or land.
Through to sellers who are trying to sell their property or land.
You get access for up to 10 users – With the default user being an admin
3 websites come with the system – Which is unique with this type of real estate software.
Buying website – This website enables the seller to add all the relevant details about the house or land that is for sale.
Optin website – Used to enter prospected buyers and their contact details. Crucial for future sales.
Selling website – This would be used to attract property and land buyers and a place where you can store all the history of deals that have been done or under contract.
Unlimited file attachments – Where important documents like maps, pictures of the property, affidavits and any other useful information that makes selling the property or land easier.
A buyers list – is what you will be maintaining and is very important for future deals. Prospective buyers can access the buyer's list via the landing page on the website.
Integration – with other software such as Aweber, Quickbooks, WordPress and many more.
Task manager – Set various tasks if you have a team that you work with.
Accelerated onboarding process – This is to help subscribers benefit from using IDS. Here you can find tutorials that show you the important functions available. They even hold monthly live training calls where an open Q&A is available.
World-class online support – Other than the FAQ section you can create a support ticket with a lead time of no longer than 1 working business day.
Is Investment Dominator a SCAM?
Investment Dominator is definitely not a scam but a legit piece of software that many are using with success and this can be seen in their Facebook group.
With Investment Dominator you have sort of got 2 for the price of 1 with the system covering both property and vacant land deals.
Investment Dominator was only released to the public due to their vacant land flitting course.
Whilst the system is available as a stand-alone system meaning you don't have to purchase the land-flipping course.
We think the costs are a little extreme, especially as the setup cost will take you back $1,999.
If you were considering purchasing Investment Dominator then we think It is probably worth you joining the land flipping course for $2,597 which includes Investment Dominator.
What we Like About Investment Dominator
Nowadays you can find a number of

similar CRM systems that work in a similar fashion but Investment Dominator covers so much more and gives users much more flexibility.
The system comes with 3 websites that handle the whole process flow and makes them stand out amongst their competitors.
Data is stored in the Cloud so that means you don't have to worry about data loss if and when your computer crashed.
Jack and Michelle Bosch are genuine people and this is noticeable within their private Facebook group where they are both active answering questions.
What we Don't Like About Investment Dominator
Overall we thought Investment Dominator

is a well-thought-out system that covered pretty much everything that a real estate business would require to function.
We thought the system was expensive with the initial setup costing you $2k.
However, as we mentioned earlier you could pay for the Land Profit Generator course which includes Investment Dominator.
That might be an option.
Investment Dominator Review – Final Thoughts!
Systems like Investment Dominator are required to be able to function as a business.
We could see that there was a lot of thought that went into this system and whilst there are other CRMs out there that do a similar job.
The 3 websites which handle the whole process is what made this product stand out for us.
It also means that you as a business owner would not need to create your own website and choosing your own domain makes it unique to your own business.
How we Make Passive Income Online
If it's a cost-effective business opportunity that you are looking for then have you considered affiliate marketing?
Where
You don't have to purchase any stocks
You don't handle any customer orders, and therefore
You don't handle shipping
You don't handle returns and
You can market any product or service you like
Take a look and see what you think, you have nothing to lose but so much to gain and besides it won't cost you a dime to check out.
If it isn't for you then just walk away, but you won't know until you have tried!

Investment Dominator Review FAQs
What Is Investment Dominator?
The Investment Dominator CRM is a real estate management system specifically developed for Investment Dominator.
The system will help to automate and streamline your realtor business.
What Is The Cost For Investment Dominator?
There are 2 membership options…
Monthly membership…
Basic $97/month
Pro $197/month
Or you can pay upfront for the year which can save you $367 and that will cost you $1,997.
Who Is The Investment Dominator Made For?
Developed by real estate investors and for anyone who is thinking of venturing into the real estate business.
Feedback, Comments and Subscribe
Hope you got some benefit from this Investment Dominator review and as before any questions please drop them below in the comments section.
Until next time, stay safe