Welcome to the Million Dollar Renter Review
Today we are going to be taking a look at Sean Rakidzich who is also known as the Million Dollar Renter and is famous for the Youtube series, Airbnb Automated.
So, if you are an Airbnb host or thinking of becoming one then it might be worth listening to what Sean has to say.
But you might think, who makes him an authority in the Airbnb industry?
Well, that is why you are here today, to find out!
But before we do, we'd just like to make a little disclaimer, that we are not related or associated with Sean Rakidzich in any way.
So, rest assured that we are not here to try and sell you anything or to get paid for this review.
We're here to provide you with details about who Sean Rakidzich is and whether.
You should buy any of his programs or take any of his advice for that matter.
Therefore if you had any doubts about who Sean is or whether the Million Dollar Rental is a scam, then these next several minutes with tell you.
So, let's get started.
---
[Affiliate Disclosure: This Million Dollar Renter Review has been thoroughly researched from information and testimonials that are in the public domain. This post may contain affiliate links which means we may earn a small commission, however, this won't affect what you pay!]
---
Million Dollar Renter Review – Summary
Product: The Million Dollar Renter
Founder: Sean Rakidzich
Website: www.rakidzich.com
Product Description: Airbnb rental arbitrage coach and mentoring programs
Cost to join: $46.00 – $7,176

Recommended: Maybe
Summary: Sean likes to think he is an authority on anything related to Airbnb and you can see why.
After all, he is a very well-established Airbnb host with in excess of $200k in revenue each month with his rental arbitrage business.
So I guess then that gives him the right to be a spokesman for the industry and besides many people do listen to him, just check his Youtube channel.
But maybe he is recently better known for making a claim "Airbnbust will destroy 90% of host's incomes"
So, what's going on and should you listen to what he say's before jumping in feet first and getting stung?
There is no getting away from the fact that the lockdowns with Covid have made a big impact not just on Airbnb but all businesses in general.
Many of the smaller businesses have been left on the wayside.
So is starting an Airbnb business through rental arbitrage really a business you should get involved with, well let's see, shall we?
Million Dollar Renter Reviews – Table Of Contents
Who is Sean Rakidzich And What is he Famous For?
Sean Rakidzich is a real estate investor who has built his empire through rental arbitrage.
Which is basically renting properties that you do not own and sub-letting them out to other tenants.
But more on that a little later.
He is regarded as one of the top experts in his field and a person to whom thousands are listening to.
Over the years, he has managed to build a thriving business across eight cities and amass over 150 rental units through this method.
Which brings in well over $200k each every month and all without owning a property. Yes, you did hear that right?
In the last couple of years, he has managed to fully automate his business to the point that he could take a year off and focus on the better things in life.
He is an authority on short-term rentals and owns the Youtube channel  Airbnb Automated with a collective audience of well over 230K.
With over 500 videos providing a host of free information to the Airbnb community.
He is also the founder of Venom Marketing Group, Media Press Promotions, Lighthouse Automation and Basilisk as well as The Million Dollar Renter.
Now, if you are familiar with Sean and his YouTube channel then you may have come across a recent video.
Where he is discussing…
Is the short-term rental market on Airbnb dead in the water and are hosts falling by the wayside in their droves?
Well if you check the reviews on third-party websites like Trustpilot then the ratings are terrible but does that mean that Airbnb is dead or at the very least dying?
Continue reading to find out…
What Training Courses Does Sean Rakidzich Provide And Costs?

Sean Rakidzich provides 4 courses through his Million Dollar Renter website that are split into segments each guiding you through the various steps required to get your Airbnb up and running.
Airbnb MBA 2.0 – FREE
This is a completely free course about Airbnb and rental arbitrage.
Which includes…
The business model
Picking your property
Furnishings and getting the property ready
Making sure you stand out on the Airbnb platform
Pricing and how to get bookings
Managing the property
Scaling the business
This course has hours of content and is well worth checking out first before you dive into any of the paid courses.
Closers Crash Course 
This course teaches you all the basics hence "crash course" but you have to apply and schedule a call. Depending on the information you give will determine how much the course will cost.
Get started
What you need to know before you get started
Market research
Free market research, Airbnb host growth hacking
Where to find properties
Do I need a website
Script Introduction
Script for single-family apartments
Script for multi-family apartments
How to negotiate deals in person
5 different ways to rent out an apartment even if you have bad credit
Closers crash course workshop
Course documentation
Around 160 hours of content is with this course
We found that Cracking Superhost comes as part of the Closers Crash Course and possibly getting it through this route may mean you paying less than the cost below.
Cracking Superhost – $7,176
If you pay for this course then you get the Closers Crash Course as well.
In addition to Property Acquisition training, you will learn all there is to know about setting up and getting your property ready for listing on Airbnb.
Setting up your property
Optimizing Photography
Going live, maximising your listing and customer service
Optimizing your listing for maximum profit
Pricing Strategy
Becoming a Superhost
Scale and Automate
Resources
Past Coaching Calls
You can check out the full itinerary here.
The Pricing Masterclass – $630
This is a 2 hours course where Sean teaches you his pricing strategy or dynamic pricing through a multi-calendar and if you don't have one he will show you how to get one.
Due to competition and seasonal bookings, you may notice a dip in bookings and through this course, Sean shows you how to avoid this.
Upsell Course – $486
This course came about due to the Covid pandemic and the lockdowns where most landlords saw massive losses with their rental businesses.
Sean teaches you how to upsell to the tenant which can add an additional $400 a month to each unit.
Can You Pay With Instalments?
As far as we can see you will have to pay for the courses in full.
Are There Any Upsells or Any Additional Expenses to Take Into Consideration?
There are always additional costs to take into consideration such as hosting a website, paid marketing, email autoresponder, and tracking software just to mention a few.
But over the course of time, you will probably add tools and services to help grow the business.
Is There A Free Trial?
There is no free trial.
Is There A Refund That Comes With The Million Dollar Rental Courses?
There is a refund policy which applies to all the training courses but you have to apply through email and within 14 days.
There is one stipulation and that is you haven't to view 20% or more of the course content and there are no exceptions to this rule.
Million Dollar Renter – What is Airbnb Rental Arbitrage? 
Airbnb rental arbitrage is a simple and basic method of generating an income where you do not even own the property yourself.
I would take the term simple and basic lightly as there still would be a lot of work to get the business up and running and in profit.
But basically, it is where you as the landlord would find properties in the ideal location and negotiate with the property owner a contract.
Where the owner agrees to allow you to rent from him and sub-let it out to other tenants.
So, why would the owner even consider such a transaction when he could do this himself?
Good question…but there are many reasons why a property owner would agree on such a transaction.
But the main reason as we can see it would be that the investor would be held accountable for the maintenance and upkeep of the property.
Meaning that any renovations and fees would be taken care of by the investor saving the owner a potential fortune.
Rental arbitrage is a very good business model if you don't have the money to invest.
It's a little like borrowing money from the bank except you are borrowing a property from an owner.
But by looking at how Airbnb is performing and the terrible feedback from past and present tenants you have to address these issues and give the tenant an experience they won't forget.
That's if you want to strive in the Airbnb short-term rental market.
There is no point in renting the property from the owner and putting it straight onto Airbnb.
You will have to spend thousands on renovations, local and Airbnb fees and cleaning etc
With the costs of everything going up, it is unavoidable.
That's why we are seeing rentals at almost double what they were 5-10 years ago.
But if you are prepared to make the effort then I don't see any reason why this wouldn't be a viable business.
What is Sean's Airbnb Automated?
You have to agree, there are far too many of these real estate investment programs that charge an absolute fortune whereas Sean's Airbnb Automated provides all this information for free.
We have just recently reviewed Humza Zafar's Airbnb Acclerator which is a mentoring and coaching program about Airbnb rental arbitrage but with a hefty price tag.
The Airbnb Automated Youtube channel teaches you everything you would ever need to know about Airbnb, literally everything and the best thing is, it's FREE.
You can find all sorts of information including his own personal experiences from starting to where he is now.
Over 225,000 people can't be wrong.
You will find information on all the important things that you would need to know, such as…
Local regulations and laws regarding short-term rentals in the area
How to list the property on Airbnb so that it doesn't infringe on any laws and the necessary licenses and permits that may be required.
How many guests are allowed on the property and would this incur additional fees?
What length of stay is allowed as you will find restrictions in certain locations.
How will the property be cleaned and maintained and does it have all the amenities?
Plus so much more…
The Million Dollar Rental – Is Airbnb Rental Arbitrage Legal?
Rental arbitrage through Airbnb is perfectly legal but to ensure it stays this way you have to ensure that you know about the local laws and regulations and that you comply.
In the US all the states have their own set of rules and regulations so if you are thinking about branching into several of those cities you need to check first.
We have heard many hosts have been heavily fined for not complying.
Related Business Opportunity: Investment Dominator
What is Airbnbust All About?
We are seeing a lot of speculation in the media lately, especially on the internet about whether we are in the midst of the great Airbnbust.
To put it another way, some people are claiming that there is a bubble in the housing market in particular Airbnb and short-term rentals.
Which is happening straight before your eyes.
Many landlords are voicing their opinions on social media like Twitter and Facebook as well as Quora and Reddit forums.
Where they are seeing their Airbnb business which was at around 80% occupancy, drop and in some cases all the way down to zero.
This is more than likely due to the economic crisis that we find ourselves in and whether this is just a temporary issue or long-term is unclear.
Market Watch wrote an article on this which you can see here.
What is Happening in 2023 With Airbnb And Short-Term Rentals?
Since November 2021 when the share price peaked at $204
where it is now at $116 that's a massive swing but what does that mean for Airbnb?
Well according to the management at Airbnb, they are hopeful that the business will continue to climb but they would say something like that.
But to do so would require some major changes.
If you looked at Airbnb about 5 years ago you would see a massive reduction in prices to what you are seeing today.
If you head over to third-party sites like Trustpilot then you will notice that the ratings are low and the reviews in general are terrible.
I guess that the big influx of people becoming Airbnb business owners doesn't help.
Especially since the majority are just not providing good quality accommodation but still trying to screw the customer with rent hikes.
For Airbnb to continue there need to be some radical changes, especially in the management to ensure that the properties are what they say they are.
This is certainly something to consider if you are seriously thinking about getting into the Airbnb short rentals market.
What do The Students Think About The Million Dollar Renter?
We couldn't really find any third-party reviews and testimonials however we did manage to find a few from the Million Dollar Renter website.
Million Dollar Renter – PROS And CONS
PRO
Sean Rakidzich is a knowledgeable person who has taught thousands of others to succeed in what is a competitive industry:
Airbnb rental arbitrage is a great way to build a business without owning a property and can be extremely cost-effective:
There are refunds that come with the courses:
CONS
You will need brilliant communications skills:
Airbnb is a competitive industry:
It will be difficult to find just the right property in the right location not to mention to persuade the property owner what your intentions are:
Verdict – What we Thought – Is Million Dollar Rental Legit? Is Airbnb Automated a Scam?

So, we come to point of the review where we ask the all-important question that is on everybody's mind.
Is Million Dollar Rental Legit and is Airbnb Automated a Scam?
On both accounts, we have to say yes and no.
Yes, the Million Dollar Rental is legit and no, Airbnb Automated is not a scam.
Sean is a well-sorted guy who knows his stuff and you have to understand that he is giving away vital important information for free.
While he does know his stuff he also makes it sound like it's just a walk in the park which it isn't.
There is a lot of research to take into consideration before you even think about which business model you are going to take.
With Airbnb prices almost double what they were several years ago, you have to stand out which is going to take a considerable investment on your part.
It is no longer a matter of just sticking property of Airbnb and hoping for the best, those days have gone.
With all the money you have to plough into the property just to get it ready means your rental price will be high.
This means more competition but more importantly, people are going to start looking at hotels again.
But for the ones who are prepared to go that extra mile then it could still be a viable business in 2023.
But if costs are an issue and you want a business opportunity where you get started for very little investment then you need to look at affiliate marketing.
In comparison, there are no risks and this can be done anywhere you like, if it's a fully passive income then this is definitely one of the better ones.
Continue to read if you want to know more…
Is Affiliate Marketing a Better Way to Make Money Online Right Now?
Affiliate marketing is regarded as a simple business concept that anybody can learn but finding the right mentor and training can be difficult.
Wealthy Affiliate is a training company who have been around since 2005 and in that time has seen over 2.4 million people come through their doors.
They provide comprehensive training at an affordable price and you can even join for free to see if this really is what you want to do.
There is a very supportive community that brings all levels of experience to the table and is prepared to share this with anyone.
There is a high-paying affiliate program for anyone who wants to take part (not compulsory) that can provide you with a great income where you get invited to a fully paid 5-day Las Vegas trip.
You have access to a vast education database with live training all the time.
If you are looking for a 100% passive online business where you can work when you want then this is it.
Just check out the reviews on Trustpilot.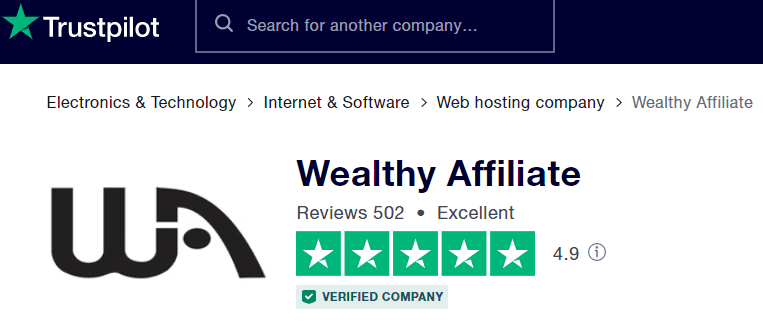 The training platform is a fully integrated one-stop-shop meaning that everything you need to succeed is in one place.
Education and training, Web development, Hosting your website, and a community that cares and is full of experience on many levels…

Million Dollar Renter Review – FAQ
Here are a few questions we found people asking in the search engines, hope that can help.
Is having an Airbnb business a good investment?
According to statisticians, investing in Airbnb in 2022 overall was profitable with it continuing to be so into 2023.
Those that are interested in a short-term rental business should not give up.
How is Airbnb doing in 2023?
Over the last few years, we have seen big increases in short-term rental prices which the economic situation hasn't helped.
But, the company predicts that prices will go down in 2023 as customers will be looking for accommodation which gives more value for less money.
How to earn 6 figures in six months on Airbnb without owning a property?
Here are 7 suggestions…
Rental arbitrage
A short-term rental property manager
Co-host to an Airbnb host
Join a vacation rental franchise
Become an Airbnb consultant
Start an Airbnb cleaning service
Host an Airbnb experience
What are the biggest problems with Airbnb?
Some of the most common issues Airbnb hosts will have to deal with are local laws, regulations, unmanageable guests, parties, not knowing your market and finding better guests…
How do I start an Airbnb business without any money?
To be perfectly honest with you, no matter what business you decide to start you will need a certain amount of capital.
However, starting an Airbnb short-term rental business can be done relatively cheaply.
We have seen people start this type of business by applying for as many credit cards as they possibly can, but to do that would require having a good credit rating.
Feedback, Comments And Subscribe
Hope this Million Dollar Renter review helped you guys and that we managed to address some of the questions you had.
If you have anything to add then please leave a message in the comments section below.
Once again thank you for your time, take care and stay safe!