Welcome to this Ryan Dossey review and his Create Cash Flow program.
A coaching program and online community for budding real estate entrepreneurs as well as experienced real estate investors.
With so many courses and mentorships to choose from it can get a little difficult to find the right one as there are so many bad ones about.
First impressions look good but you will know a lot more when you have finished reading this review.
But, before we get started, we'd just like to make a small disclaimer that we aren't associated with Ryan Dossey or his Create Cash Flow (CCF) program in any way.
Rest assured we won't be pitching or trying to sell you anything but you will know all there is to know about Ryan and his CCF program.
So let's get started.
---
[Affiliate Disclosure: This Ryan Dossey Review has been thoroughly researched from information and testimonials that are in the public domain. This post may contain affiliate links which means we may earn a small commission, however, this won't affect what you pay!]
---
Ryan Dossy Review – Summary
Product: Create Cash Flow
Founder: Ryan Dossey
Website: www.apicalamz.com
Product Description: Real estate investing – Create Cash Flow booklet
Cost to join: As much as $12,000/year

Recommended: Maybe
Summary: Ryan Dossey's Create Cash Flow course is a 12-week online self-study program.
The course is pretty expensive with you paying up to $12,000 which you won't be aware of until you have had a phone call from a salesperson.
He also mentions that you should have access to $3,000 on a monthly basis for your marketing, which all seems over the top.
But his method of marketing isn't through using methods like Google or Facebook ads, no he believes sending out mail is the best way.
He takes this a step further, all the mail has to be written by hand.
Just imagine sending out 2,000 letters at $1.5 per letter and making 1-3 sales "maybe".
Sound like a lot of work to me.
Alternative Business Opportunity: If you are looking for a business opportunity which doesn't come close with regard to costs and risks.
Then affiliate marketing is a much better way.
Ryan Dossey Review – Table Of Contents
Who is Ryan Dossey?
Ryan Dossey is a real estate entrepreneur who
started his working life selling car warranties after he dropped out of school at 17  years of age.
After getting married in his early twenties he quickly realised that a $17k wage was not going to provide for him and his wife.
It wasn't until he came across a book called "Rich Dad Poor Dad" by the author and entrepreneur Robert Kiyosaki.
So, like many, he headed over to the internet for answers and came across the forum BiggerPockets where he got the idea for real estate investing.
His first year wasn't so successful with only 6 deals but in the following year and subsequent years, he consistently been able to close between 70 and 90 deals.
He is also the founder of ballpointmarketing.com, a company that provides postcards and letters for sending out to prospective clients.
He's also the owner of Christopherellynhomes a company that is fully staffed and handles wholesaling and flipping operations.
Not to mention Call Porter which is an answering service for investors.
He claims to have made a $9 million rental portfolio in just 2 years and all through using direct mailing.
His company, ballpointmarketing is responsible in 2020 alone for helping over 500 investors to scale their businesses.
You have to adapt to this environment and adjust accordingly, especially with the ups and downs of the economy.
CCF teaches you this plus a lot more.
What You Get With The Create Cash Flow (CCF) Program?
The actual training program that Ryay provides is based over 12 weeks which comes with videos and tasks that you have to complete.

Each week you are provided with between 4 and 6 short videos that will take you through the steps you need to know.
Below is a list of products and services that Ryan uses to handle the flow of the business.
Monday.com: A cloud-based project management system that will help you manage your business tasks.
Investor Carrot: This a system specifically for the real estate investor that Ryan uses for developing and maintaining his websites.
Ballpoint Management: This is a company owned by Ryan and provides direct mail marketing material to send out to prospective clients.
Call Porter: This is another company owned by Ryan and is like a call centre to handle all issues that real estate investors might have.
RESimpli: Customer relationship management system that tracks all your leads and enables you to communicate with them.
Slack Gold: This is like a forum where you can communicate with like-minded professionals.
These tools are recommended by Ryan and I guess you will have to use them to get the most benefit from the training.
As you will see, they all come as memberships and additional costs are involved.
Related Business Opportunity: The Land Geek
Costing Information
Whenever you start a new business the costs involved can put people off and even with an initial cost there are always more costs involved.
The cost of joining Create Cash Flow will fluctuate from one person to the next and it's only when you have had your personal telephone that you will know the true costs involved.
We notice by talking to others that you can expect to pay as much as $12,000 a year.
Not to forget that Ryan recommends that you have at least an additional $3,000 per month for marketing.
This will be made up of around 2,000 mailshots that you will be sending out and that's why Ballpoint Marketing was created.
Can You Pay With Instalments?
we are not sure but maybe this is something you can approach when you receive your telephone call.
Are There Any Upsells?
No, they aren't but you will need further funding for the additional services that Ryan recommends that you use.
Is There A Free Trial?
Unfortunately, there is no free trial.
Is There A Refund?
We couldn't find any mention of a refund but this is something that you could bring to the attention of Ryan when you have your phone interview.
Related Business Opportunity: EYL University
Is Ryan's Create Cash Flow Program Worth The Money?
Like all business ventures, there are no guarantees that you are going to be successful since 95% of business owners fail in the first 5 years.
Do we think that Ryan Dossey's Create Cash Flow program is worth the money?
If you look at the vast number of reviews and testimonials from people who did decide to take Ryan's training they are mainly of a positive nature.
Paying out as much as $12,000 a year along with $3,000 a month just for marketing does seem very expensive.
According to Ryan then that would be $48,000 along with all the other tools and services, you are probably looking at $50,000+.
That's before you even make a deal and remember even if you are as successful as Ryan you still have to maintain that amount of deals consistently on a year-to-year basis.
We know that all it would take is a stock market crash, war or some other economic disaster to really put a dent in this business.
Related Business Opportunity: Digital Real Estate Secrets
Is Direct Mail Still a Great Way to Market in 2023?
People are so wrapped up in using Bing, Google and Facebook ads for marketing their products and services.
Direct mailing did seem to take a bit of a back seat due to the online methods but with direct mail, you give the personal touch.
Which is what most people still want.
Changes in the way that direct mail is executed can lead to a better response and more sales.

Ryan Dossey swears by direct mail and the main reason why he has had so much success over the years and the reason why he created Ballpoint Management.
This is to help business owners choose the right postcards and letters to send out.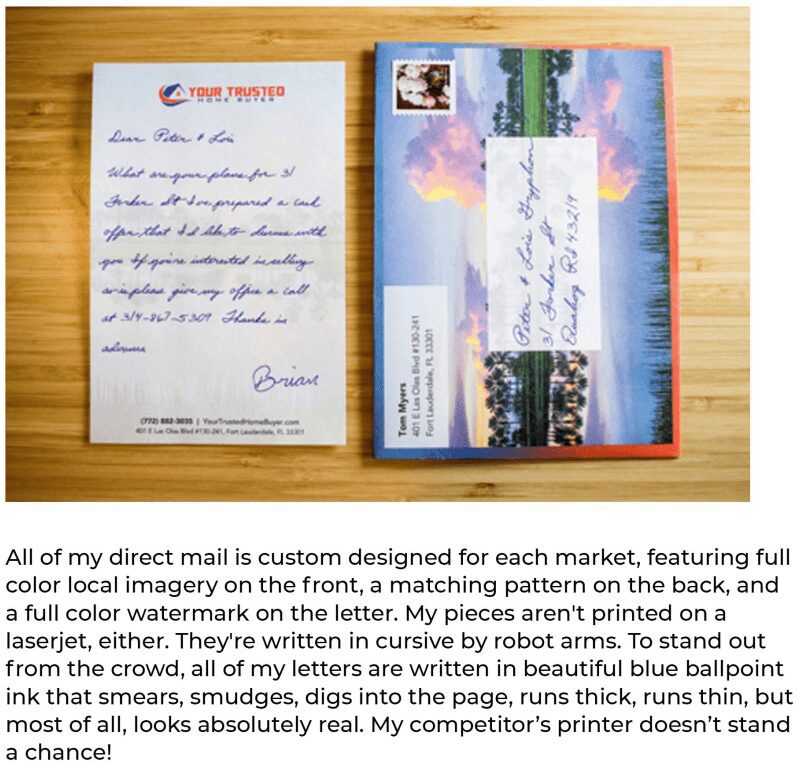 I mean who is going to manually create 2,000 letters to send out?
Nobody, right?
Related Business Opportunity: Investment Dominator
Is Ryan Dossey And Create Cash Flow a Scam?
To be honest we could only find positive reviews and testimonials and the ones that were negative were down to the cost of the CCF program.
There is nothing online to suggest that Ryan Dossey or his Create Cash Flow is a scam.
He is known by many as an established real estate entrepreneur who closes between 70 and 85 deals every year.
Ryan doesn't follow the crowd and has his own methods and ideas and often goes against what is typically taught in the industry.
That tells us he isn't afraid to step off the line and think for himself.
Create Cash Flow Reviews And Testimonials
There are a lot of positive reviews and testimonials on Ryan's website which you can view here.
However, we couldn't find any third-party reviews or testimonials online which is a bit of a bummer.
What we Like About Ryan Dossey And His Create Cash Flow Program
Ryan Dossey Is Legit: We can see this by the number of positive reviews and testimonials that we came across online.
Plenty Of Reviews About: You can find many reviews and testimonials that are mostly positive.
What we Don't Like About Ryan Dossey And His Create Cash Flow Program
Far Too Expensive: To become part of Ryan's program if you accepted all his recommendations would be looking at a yearly budget of $50k+.
Now we know that all it's going to take is maybe 2-3 deals to maybe break even and possibly profit but you will have to maintain and increase deals on a regular basis.
You Have To Adapt To The Social Climate: All it takes is for an economic disaster like a Wallstreet crash which does appear to come around every 15-20 and this could have a major impact on your business.
Unethical Wholesalers: People are always looking for shortcuts and quick money and investing in real estate is getting more and more popular.
However, what tends to happen is that many are putting properties under contract without the required investment and hoping for an end buyer.
This makes it a lot harder for investors with the money to actually close deals.
Conclusion – What we Thought About Create Cash Flow by Ryan Dossey
Ryan Dossey is a rags-to-riches story who didn't have it all his way.
From dropping out of school he nearly ended up doing the 9-5 in the police force, if it wasn't for the Bigger Pockets website who knows where he would be?
However, the costs involved we thought were excessive and therefore we thought that not many would participate in the CCF training program.
He is passionate about helping others which is a great thing and as we said we couldn't really find anything negative about him.
Is There a Better Way to Make Money Online That You Would Recommend?
Affiliate marketing is regarded as a simple business concept that anybody can learn but finding the right mentor and training can be difficult.
Wealthy Affiliate is a company that has been around since 2005 and helped over 2.3 million to start their first online business.
They provide comprehensive training at an affordable price and you can even join for free to see if this really is what you want to do.
With a supportive community that brings all levels of experience to the table so there really is no reason to get stuck.
You get access to a high-paying affiliate program that can provide you with a great income and even get invited to a fully paid 5-day Las Vegas trip.
You have access to all the tools and education you would ever need and only you can fail.
If you are looking for a 100% passive online business where you can work when you want then this is it.
Just check out the reviews on Trustpilot.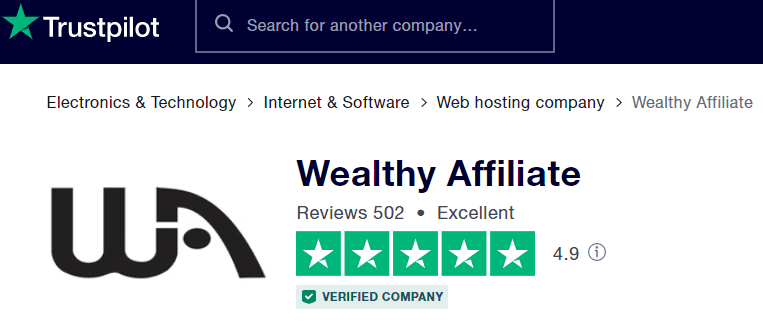 The training platform is a fully integrated one-stop-shop meaning that everything you need to succeed is in one place.
Education and training, Web development, Hosting your website, and a community that cares and is full of experience on many levels…

Feedback, Comments And Subscribe
Thank you for your time and for reading this Ryan Dossey Create Cash Flow review.
If you have anything to add then please leave a message in the comments section below.
Take care!
Stay safe!