Hey Guys, welcome to the Franklin Hatchett Savage Affiliates review
If you are looking for a way to make money online then affiliate marketing is one, if not the best and easiest business model to learn.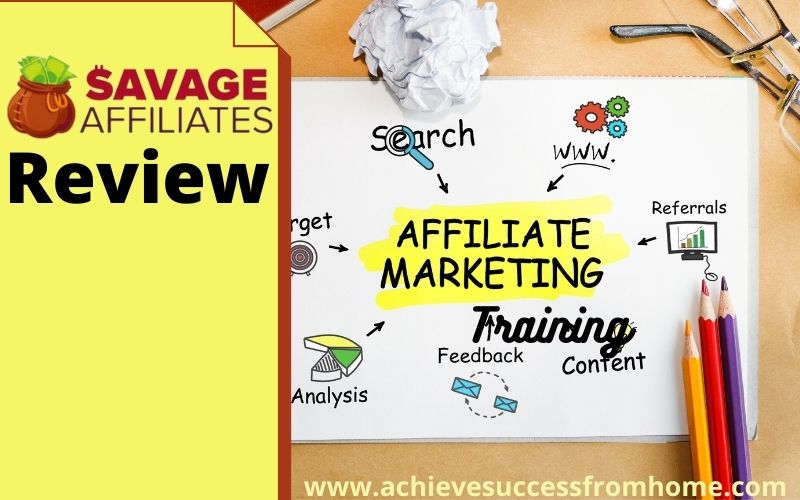 After all, that is what we do and that is what Franklin Hatchett teaches you in Savage Affiliates.
So, if you are thinking is Savage Affiliates a scam, then let me stop you there and tell you, no it isn't but a very legit training course.
In the next few minutes you will know everything about this program, the costs, the owner, can you succeed as an affiliate marketer and more.
Just before we get started we would like to mention that we aren't associated with this training or the course creator in any way.
That means we aren't getting paid for this Savage Affiliates review.
What you will get and what we promise is an honest and unbiased review.
So that you can decide whether to pursue this training course further or not.
Ok, let's begin
---
[Affiliate Disclosure: This Franklin Hatchett Savage Affiliates Review has been thoroughly researched from information and testimonials that are in the public domain. This post may contain affiliate links which means we may earn a small commission, however, this won't affect what you pay!] 
---

Product: Savage Affiliates
Founder: Franklin Hatchett
Website: www.savageaffiliates.com
Product Description: Affiliate marketing training course
Cost to join: $197 (Standard course), $297 (Super)
Recommended: Maybe
Summary: Savage Affiliates is a course that teaches affiliate marketing to anyone looking to make a massive change in their lives.
It doesn't matter whether you have previous knowledge or absolutely no experience at all because anybody can learn this.
However, don't think that by purchasing this course and completing it that you will be instantly earning money because you won't.
Just like any business, no matter what it is, takes a lot of hard work, consistency, drive and above all patience and plenty of it.
We see far too many start off with the right intentions, then when things aren't happening quick enough they give up. Don't let that be you!
Of course, you can try and work it all out yourself by watching YouTube videos but take it from me the likelihood is that you will fail, we did.
Finding the right training platform is crucial to you having any success and can be difficult with so many scams out there.
Affiliate marketing is a great business model and here is another more advanced training platform that you might like to check out.

Savage Affiliates Review – TOC
What is Savage Affiliates About?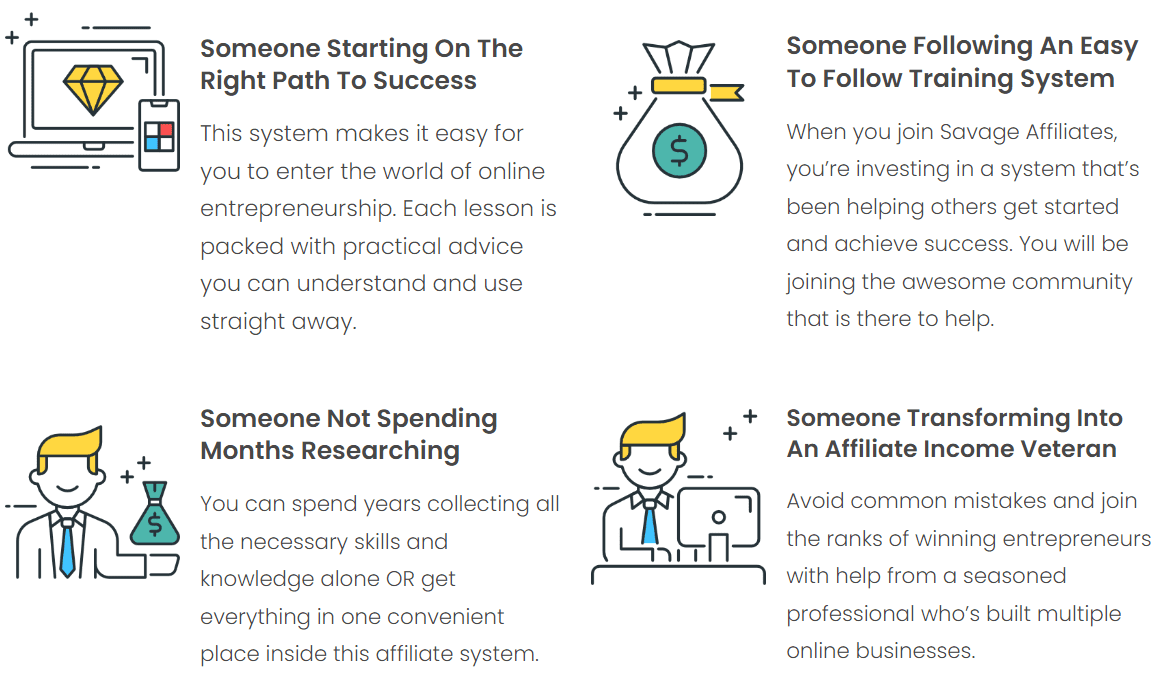 The Savage Affiliates is an online training program that came onto the scene in early 2018 by the popular marketer, Franklin Hatchett.
Since it came onto the market in early 2018 the training courses have had a few facelifts where it is currently known as Savage Affiliates 2.0.
The course teaches you how to create an online business from the grassroots up.
From an interest of yours, through to creating a website, to creating content, promoting affiliate products to getting paid.
Affiliate marketing is a very simple business model which you can start for very little money, in fact, today I think it costs us around $1.40/day.
You might not have realized but when you purchase anything online it is highly probable that you went onto an affiliate marketer's site.
We all do it when we are reviewing products and when we come across something that we like, like an article.
There is the likelihood of a link to a product or service attached to the article and when we click and pay for that product or service.
The affiliate marketer will get paid a commission.
That's it and it doesn't affect what you are paying, in many cases you might be even getting a better deal.
All you are doing as an affiliate is to connect people who are looking for advice to the merchant and your job is over.
There are no customer orders, products, delivery or returns handled by you because everything is handled by the merchant.
Franklin Hatchett's Savage Affiliates course teaches you how to do all this providing you have the right attitude.
Then there is no reason why you wouldn't succeed.
The beauty about running an online business like this is that once you have it up and running and find traffic, it works 24/7.
One thing you need to know is that there is no programming or technical ability required and only requires a desire to succeed.
Who is Franklin Hatchett?
Franklin Hatchett is a New Zealander and the creator of several online programs with Savage Affiliates being his most recent addition to the list.
He is also responsible for Ecom Elites and Affiliate Atlas Blueprint which we believe has now closed down.
He started his online journey in 2012 by creating small niche websites which made him some money.
But nothing compared to when he started promoting ad campaigns on Facebook for affiliate products and services, that was until the program closed down.
However, what really ramped things up was when he decided to create a YouTube video and it went viral.
This is when he realized that he was onto something and because of his YouTube channel many class him as a YouTuber.
As of this review, you can find over 450,000 subscribers to his YouTube channel where he gives away free information in over 400 videos.
If you have any doubts about who he is or what he's about we would suggest checking out his YouTube channel.
Or maybe take a look at the free affiliate marketing training. which is a shortened version of Savage Affiliates.
One thing you will notice throughout the course is that he recommends a lot of products of which he makes a sizeable commission.
Take ClickFunnels for instance, he was awarded not too long ago for making $1 million commissions just on promoting this one product.
But that is exactly what an affiliate marketer would do, in Hatchett's case works very well because of the number of followers.
For more information about him and his journey, you can find this on his blog, OnlineDimes.com.
What do You Get With Savage Affiliates?
Savage Affiliates is a course that is broken down into 11 modules that covers everything you will need to know to create a passive online business.
There are over 30 hours of video content and once you become a member you have access to the private Facebook group.
Where you can find a lot more useful content and share ideas amongst the other members.
Included are weekly Q&A sessions as well as lifetime updates.
Below is a brief look at what you will get…
Module #1 – – Starting The Foundation
This is the start of your affiliate marketing journey and Frank basically discusses what affiliate marketing is in a way that is easy to understand.
This business model isn't difficult to understand but when you break down all the elements then it can get a little confusing for some.
Take it from me, if you can read, follow instructions and write then you can do this!
Frank is very good at explaining things in a manner that is easy to understand.
Module #2 – Finding A Niche That Is Profitable
It all starts with a niche, an idea, hobby, or interest because this is what your online business will be about.
But it isn't just a matter of choosing a hobby or interest of yours because it has to be a niche where there's money to be made.
There is a certain amount of research to do first and Frank explains this in detail.
There are literally thousands of niches that you could choose and particular attention to this area because this is what will give you a solid foundation.
Module #3 – Creating Your Website
Bill Gates is famous for many things but a quote of his, where he said "If a business is not on the internet, it won't be in business very long!".
In this module, Franklin focuses on just how important a website is if you want to make an impact online.
It is clear that you don't need a website to make affiliate marketing work but if you are talking long term then you definitely do.
Module #4 – Funnels And The Importance Of Them
Funnels are an important part of affiliate marketing and work more when you have a series of products.
All they are is a way of promoting many products and services and they work on the premise that if/when someone buys then you can offer additional products.
In this module, Hatchett shows you how to create high converting sales funnels.
Module #5 – Email Marketing
Email marketing is a way to build another passive income stream which is something that takes time to achieve.
It works where you promote offers normally something for free with the intention of getting others to subscribe to your email account.
This can be looked at as a separate asset but over time when you have thousands of subscribers could also be worth thousands of dollars.
Module #6 – Using Clickbank Products To promote
Clickbank is an affiliate network where anybody can sign up for free and promote any products you like.
It looks like this particular module Hatchett seems to be excited about but we have mixed views on using this network.
Clickbank was a place to go to a few years back now but there are many similar networks that are much better.
What you find with Clickbank is that there are a lot of products that aren't worth bothering with because of low quality.
Hopefully, he will teach you how to find the best products to promote.
Module #7 – Using Amazon Associates
Amazon, as we all know, is the biggest retail shop anywhere and here you can find millions of products.
Of which you can promote and make commissions.
In this module, you will learn how to use Amazon as your main or one of your main sources to promote products and services.
Module #8 – The Importance Of Using SEO
SEO or search engine optimization is the method to use if you don't want to pay for marketing.
SEO is all about ranking your content within Google and this module covers the best methods and strategies which will also save you a ton of money.
Module #9 – Learning How To Use Paid Traffic
It is obvious, that to get quicker results you would use paid traffic but this can be costly if you don't know what you are doing.
This particular area is like a minefield because this is where you can find many scammers just after your money without giving you any value at all.
In this module, you will learn the importance of paid traffic and how to go about doing it the right way.
Module #10 – Using Free Traffic
There are many free sources that you can use and some are better than others but get it right and traffic can convert like crazy.
Franklin shows you which free traffic source he uses and which ones he has had the most success with.
A clue here would be YouTube and creating videos to promote your campaigns which he covers in-depth.
Module #11 – ClickFunnels Marketing
If you pay for the higher of the 2 memberships then you will learn how to use ClickFunnels to create high converting funnels and landing pages.
Module #12 – Launch Jacking & Web Hosting Blueprint
This module covers launch jacking which basically is taking advantage of other affiliate product launches.
He also goes into detail about web hosting offers and as an affiliate how to take advantage of them.
Who is Savage Affiliates For?
Savage Affiliates is for anybody who is looking to start a business in affiliate marketing.
If you have been looking long enough then you will know there is an enormous number of programs that promise results.
With probably 97% of them aren't worth your time and simply do not work.
Savage Affiliates is not the best affiliate marketing course but hey you are always going to find something you don't like about any course.
However, the course is affordable and should appeal to many.
They teach the strategies required to make money online such as SEO, free traffic, paid traffic and even social media traffic.
How Much Does it Cost to Join Savage Affiliates?
There are many courses online that claim to teach you affiliate marketing with their done for you systems.
They come normally with several upsells which can cost hundreds and they just do not work period.
With Savage Affiliates, there aren't any upsells and the course is very reasonably priced.
However, there are essentially 2 courses…
Standard priced @ $197
Super prices @ $297
The second package comes with some additional more advanced strategies.
There are some additional costs that Hatchett recommends that you will need to get the most out of the training.
This will cost you somewhere in the region of $150/month
ClickFunnels ($97/month)
Aweber (free for the first 500 subscribers then $30/month)
Bluehost (hosting which is around $3/month)
Keyword research tool ($20 – $40 a month)
Paid Ads ($75 – $150 a month)
Often these costs are not spoken about by the product owners and for good reason.
Is Savage Affiliates a Scam?
Savage Affiliates is definitely not a scam.
It's a legit training program that is priced extremely low as of this review and will appeal to many who are on tight budgets.
If you are looking for an all-singing and dancing training platform that teaches everything about affiliate marketing.
Then you need to take a look at the above image for basic and advanced strategies. You can find everything at your disposal there.
Hatchett does try and steer you down various routes to purchase additional products like ClickFunnels which costs $97/month.
Which is not recommended for beginners!
Plus others, all of which he makes commissions on, in fact, he won an award for making over $1 million in commissions with ClickFunnels.
We do not like and agree with Clickbank which is one of the affiliate networks that he promotes in his course which is full of garbage nowadays.
It was one of the first networks and used to be the best, nowadays there are many other better networks that you can use.
Another thing we don't see is reviews from current or past members who are having success.
Ok, you can find some on his website but they don't really count because you simply aren't going to find anything negative there.

What we Like About Savage Affiliates
The Course Is very Reasonably Priced
Good Course That Covers Most Of The Aspects Of Affiliate Marketing
Franklin Hatchett Seems To Know What He Is Talking About
What we Don't Like About Savage Affiliates
Member's Reviews Can Not Be Verified
Hidden Costs Which You Are Only Going To Know About After You Join
Savage Affiliates Review – Final Thoughts!
As far as affiliate marketing courses go we think this is a pretty good one especially at the current price which we understand is discounted at 60%.
If it was priced at its normal price of $497 and $697 then we probably would have to have a rethink about recommending it.
There is a short version of this course that you could take first just to see whether this is the route you want to take.
If Franklin Hatchett Savage Affiliate course doesn't appeal for whatever reason.
You might like to take a look at Wealthy Affiliate a training platform that is far more advanced.
If that interests you then please continue to read.
How we Make Passive Income Online
In 2017 I had no idea what affiliate marketing was.
Once I had researched the business model I realised it could be the method that we had been looking for.
I did try to work it all out myself through watching YouTube videos but ended up going noway very fast.
It wasn't until I came across Wealthy Affiliate and that was quite by chance that's that things started to move in the right direction.
Everything that Savage Affiliates teaches you is taught at Wealthy Affiliate but so much more.
Without a doubt, this is the best place for complete beginners to learn affiliate marketing.
Don't worry, we aren't going to ask you for any money as it's free with no credit card details asked for.

Savage Affiliates FAQs
We have put together a few answers to questions that you might find yourself asking.
Is Savage Affiliates Worth The Money?
We believe the course is very well priced and cover many of the affiliate marketing aspects and would be a good start for complete beginners.
Is Franklin Hatchett Legit?
If you want to get a feel for whether Franklin is legit or just head over to his YouTube channel where you can fings bags of free information.
That covers many ways to make money online and not just affiliate marketing and he does come across as a genuine person who's willing to help others.
Is There A Refund Policy?
There is a refund policy that covers the first 30 days but that comes with a few stipulations listed below…
The member…
Has logged into the training platform at least once
Has watched at least 50% of the training
Has joined the private Facebook group
The member has to at least start one of the following…Their Website, YouTube Channel, Blog or Funnel
A confirmation has to be sent via email.
Realistically, How Much Money Would I Need To Start?
A good estimate of what would be required on a monthly basis after you had paid for the membership would be around $150/month
Are They Any Alternatives For Learning Affiliate Marketing?
There are plenty of affiliate marketing courses out there that you might like to take a look at…
Feedback, Comments and Subscribe
Hope you guys enjoyed this review and you got some benefit from it.
If you have anything to add then don't be shy and drop us a line below in the comments section.
Thank you for reading and stay safe.