Hey Guys, welcome to the
Rockzfx Academy review
An education platform that teaches you how to trade forex online.
In recent times there appears to be an explosion of business opportunities regarding trading the markets.
The biggest problem you are going to find is that most of these opportunities are just not worth your time.
Why is that you might ask?
Simply because most of the ones running these platforms have failed at trading themselves.
They feel that the best way to make real money is to create some sort of training package and create a membership site.
So, where does RockzFX Academy sit amongst many of these training sites?
Well, straight off the bat quite promising with the number of positive things that we can see that's been said.
Before we get started we'd just like to make it clear that we aren't associated with the RockzFX Academy in any way.
That means you will get an honest account of what this Forex training course is all about.
So that you can make a decision whether to pursue this further or not so let's get started.
---
[Affiliate Disclosure: This Rockzfx Academy Review has been thoroughly researched from information and testimonials that are in the public domain. This post may contain affiliate links which means we may earn a small commission, however, this won't affect what you pay!] 
---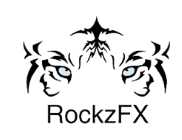 Product: Rockzfx Academy
Founders: Tony Rockall and Galin Shirzadegan
Website: www.rockzfx.com
Product Description: Trading education platform
Cost to join: £99/month or £597/lifetime
Recommended: Maybe
Summary: According to the reviews that you can see around the internet then you have to agree that they must be doing something right.
According to what we have read, RockzFX Academy is very well received by most people and looking at this tells us they are new to trading.
So, what you have here is an education platform that teaches Forex trading in a simplistic way that most people can understand.
It is a little on the pricey side if you go down the monthly membership route but the lifelong membership is probably ok for what you are getting.
There are no refunds once you make a commitment which might not be for everyone.

Rockzfx Academy Review – Contents
What is the RockzFX Academy About?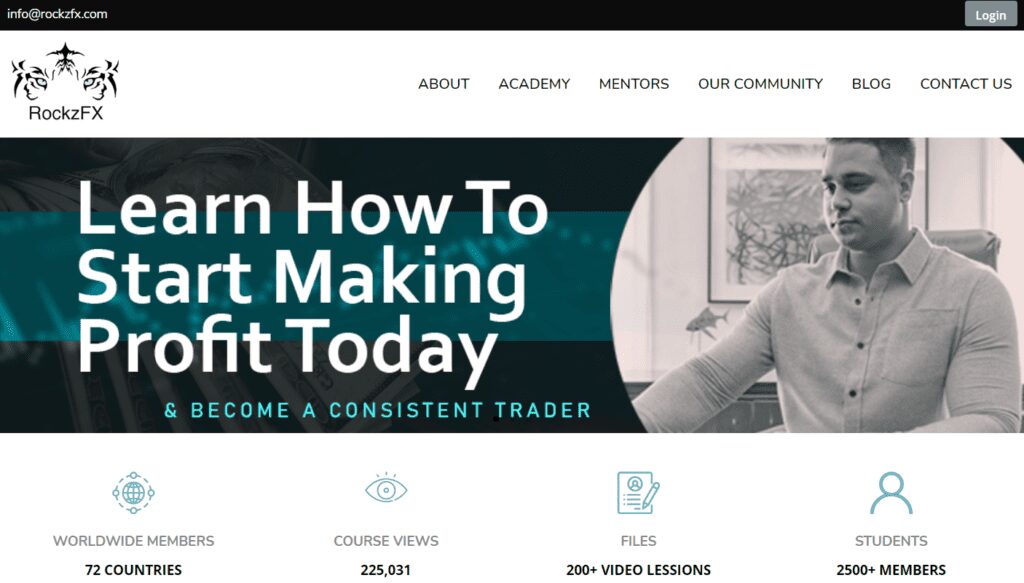 RockzFX Academy is an education platform teaching methods in how to trade Forex.
The website came on stream in 2019 and they are based in London which is in the UK.
They offer 2 memberships, either monthly or you can pay for a lifetime membership.
They also offer a 5-day course which will appeal to people who have a certain amount of experience in trading.
They have quite a big following on Instagram which as of this review were 65 thousand with plenty of reviews that you could check out.
Even have a YouTube channel with 248,000 subscribers and 232 videos so we'd suggest maybe checking out some free training first.
If you take a look at some of the videos you get a good feeling that he's not trying to paint himself as some guru promoting products that you often find.
But who is in charge here?
Who are the Founders of the RockzFX Academy?
If you check the company details at companies house then you will find Tony Rockall and Galin Shirzadegan as the founders of RockzFX Academy.
In fact, it was Galin Shirzadegan who was registered first as one of the directors of a company called BANU BY GALIN LIMITED.
Which has absolutely nothing to do with trading as it's a business in the fashion industry and has been around since 2014.
Other than that there really isn't any information online about the two of them.
This means we are unable to dig deep to find out their credibility as traders.
Who is the RockzFX Academy for?
Really trading is for people who are serious and looking for long term gains.
People who are in it for the long haul.
If you are looking for a get rich quick scheme then trading is definitely not for you.
We see that all the time especially with Bitcoin.
You need to have a reasonable amount of capital, especially in Forex trading because the returns tend to be small.
You also have to be prepared to lose your entire investment.
What do you get when you join RockzFX Academy?
The training regardless of whether you join as a monthly member or as a lifetime member you get the same training.
So you aren't going to benefit by signing up for the lifetime membership.
There used to be a 5-day intensive course but that now seems to be part of the 2 memberships.
The training course includes…
Over 100 hours of on-demand video
Which include over 134 lessons
Downloadable resources
There's a private member's area
Access through either PC or Mobile
Master trading
Bonuses
Weekly live trading sessions
Trading spreadsheet to keep track of trades
A trade management tool
Documentation
Resources to help you decide…
There is certainly a lot of content to go through and is going to take a lot of time to really take in and absorb the information.
Mentorship…

If you need any help on a one to one basis then there are the RockzFX Academy mentors which will cost you £100 for an hour and a half.
Providing they have the knowledge and can assist you in your trading journey then could be a good thing.
However, we do feel that this should be included with the membership fee because it is going to be hard enough.
For people on the budgets that they are already on.
One other thing and that's are you going to be ok about spending this sort of money when we don't know just how competent these mentors really are.
It would be nice to have their full names attached so that we could check out their credentials after all they might just be reading from boards.
How much does it cost to join RockzFX Academy?
There are two memberships currently available…
The monthly Elite Pack which is currently £99
Lifelong which is currently £597
Now if you are a little unsure then obviously you probably go for the monthly pro pack membership.
However, if it is something that you think that you will benefit from then remember to upgrade to the lifelong membership.
Otherwise, it is going to cost you £1,188 for the year.
The lifelong membership of £597 doesn't seem too bad but we would certainly not be shelling out £1,200 a year for this training.
RockzFX Academy FAQs
Is RockzFX Academy Worth The Money?
We wouldn't suggest paying for the monthly membership but the lifelong membership we do think is worth the money.
Is There A Refund Policy In Place?
If you decided to go for one of the RockzFX packages then unfortunately there aren't any refunds available.
Can We Trust The Product Owners?
This is something that you are going to have to decide for yourself.
If you take a look at all the positive reviews then that would suggest that you can trust the product owner.
Having said that we couldn't find any proof of who Tony Rockall is or whether he has experience as a trader.
Not Sure Whether RockzFX Academy Is For Me?
This training course is for anybody who wants to learn how to trade the forex markets.
What Is The Procedure For Canceling My Membership?
There are two options available, either email info@rockzfx.com or you can message the admin through the Slack private community.
This has to be done before 48 hours from your next monthly payment.
Do I Need A Live Account When I Become A Member?
No, you don't.
Everybody will probably start off with a demo account first until you get a little confident and a little knowledge behind you.
Is There An Alternative To Trading That You Can Recommend?
There are many opportunities online in trading but you have to be careful and research them thoroughly.
Many of them are under the MLM business model which we would advise staying away from.
Check out BlueEdge Financials here.
RockzFX Academy Member Reviews
One thing there is no shortage of and that is positive reviews as can be seen below on Trustpilot and Instagram.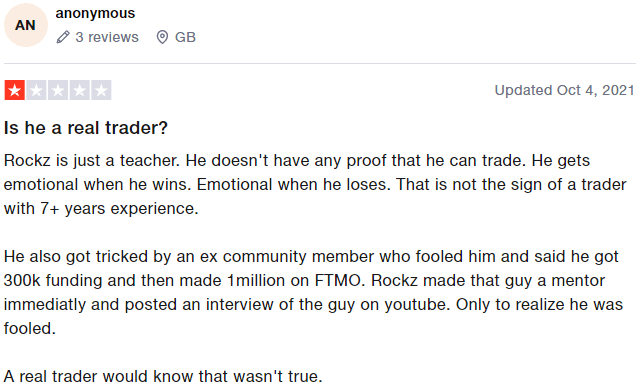 There are a lot of reviews on their Instagram account.
Is RockzFX Academy a Scam?
Is RockzFX Academy a scam? We think definitely not!
There are more than enough positive reviews around to give you the confidence to move forward with this training if that is what you want.
The founder who comes under the name of Rockz seems to know what he is talking about and isn't your typical "guru".
You know the ones we mean, flaunting their wealth just to get a sale.
There is none of that here and seems a genuine person who wants to help people in what can be a very volatile industry.
The course seems pretty comprehensive and covers a lot which isn't for traders who already have some experience.
As a whole, we don't believe the course is overpriced but why not check out the YouTube channel first.
What we like about RockzFX Academy
Comprehensive Training Platform:
We thought the course covered a lot about Forex trading and was very well received by most people.
Trustpilot had almost 5 out of 5 stars with over 500 reviews which is very unusual, in fact, some might even say a little suspect.
Course Was Reasonably Priced:
We could see value in the course paying for it monthly but a one-off payment for a lifetime membership is pretty good.
What we don't like about the RockzFX Academy
The Founder And Mentors Couldn't Be Verified:
We couldn't find any past experience in trading either from the founder Tony Rockall or his mentors.
This disappointed us especially when someone is paying £99 for a one-on-one consultation.
The RockzFX Academy Review – Final Thoughts!
Transparency is key when you are researching anything and whilst there is an abundance of free stuff on the YouTube channel.
Where you can pick up a lot of tips and tricks, however, he doesn't go into any of his personal details about his trading accounts which is a little disappointing
However, they do have people from over 70 countries who have taken their offer of training up.
According to the website the course has been viewed over 225k times which is quite impressive.
An Alternative to RockzFX Academy for Making Money Online?
The best way to make money online today in 2021, in our opinion is affiliate marketing.
I am sure you probably haven't even considered this, I mean why would you when you are interested in trading currencies.
The best training platform to learn affiliate marketing is Wealthy Affiliate.
If you have a passion for something then creating an online business around that passion has to be the most fulfilling thing to do.
Here are some sources that might interest you.
The best community with over 800k members who are just willing to share their experiences with you.
Just take a look at what others have to say here.

Feedback, Comments and Subscribe
Ok, guys, we hope you enjoyed this RockzFX Academy review and that we managed to answer most of your questions.
Any questions, feel free to put them down in the section below and we will get back to you.
All the best and stay safe.