Welcome to my Seller PRO Academy Review
Amazon as you probably know is the biggest supplier of goods to the consumer in the world.
But, did you know that you can use Amazon as your retail shop and let Amazon handle all your customer orders?
So for a fee Amazon will store your products in one of their fulfilment depots and handle the entire order management, even delivery and returns.
This course is specifically designed to teach you how to sell through Amazon and how to scale your business.
In the Seller Pro Academy review, you will find everything that you need to know about the course.
That way you will have a better idea of whether this course is for you or not.
So, without further ado, let's get right into this and see what you think.
---
Affiliate Disclosure: The Seller Pro Academy Review has been thoroughly researched from information and testimonials that are in the public domain. This post may contain affiliate links which means we may earn a small commission, however, this won't affect what you pay!]
---
Product: Seller Pro Academy
Founder: Jonny Bradley
Product Description: E-commerce course in Amazon Fulfilment
Website: www.sellerproacademy.com
Price of product: 997.00 euros or $1,200
Recommended: Maybe
Summary: Seller Pro Academy is an extensive course covering a vast array of subjects and there is a lot I like about it.
Setting up and running an Amazon fulfilment business is no easy task and whilst many may think the course is quite expensive it really isn't.
However, you have to take into consideration the substantial investment that would be required to get this off the ground.
Somewhere in the region of $5000 – $10,000.
This course is based on just 1 product type so you'd better get it right from the off.
There are many ways to make money online and this method is not only expensive but difficult to get right.
Everything has to click especially the source of where you purchase the products from.
Many I know purchase container loads from places like China but with no guarantees as to when they'll be delivered.
Remember costs for using Amazon as a fulfilment warehouse have to be considered.
Overall, I see this as a risky and expensive business to take on and why I recommend affiliate marketing.
Simply because the costs are minimal, with no overheads, no products to purchase, no order management as this is done for you, no refunds, and no delivery costs.
With an Amazon FBA business, you are carrying stock which is money tied up, until you have sold it!
If you are looking for a better way that will cost you nowhere near the amount required to set up an Amazon fulfilment business.
Where success stories are in abundance then check out the link below.
Seller Pro Academy Review – TOC
What is Seller Pro Academy About?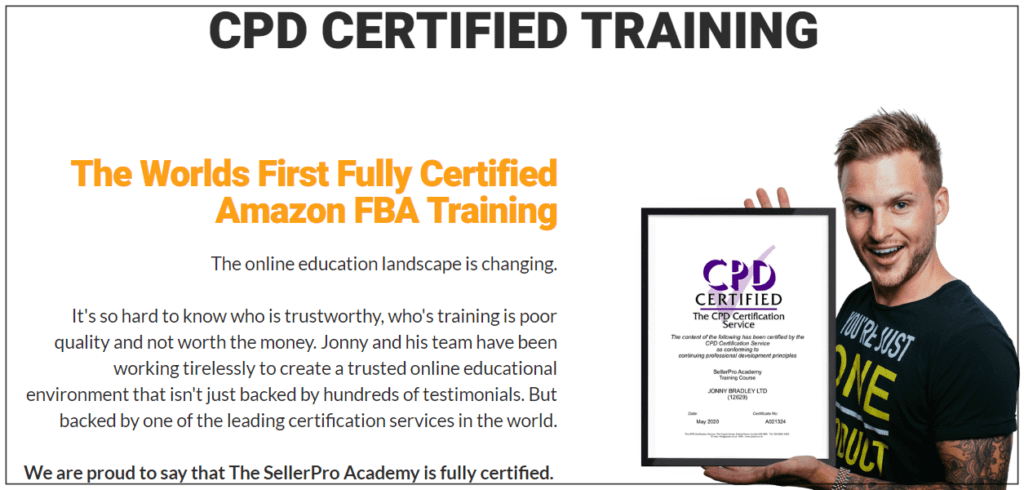 Seller Pro Academy is a comprehensive e-commerce course that teaches anyone how to set up and run an Amazon fulfilment business.
There are 19 modules with over 100 lessons that come with the course along with four bonus's but we shall get into that a little later on.
The course creator is Jonny Bradley who comes with good credentials and is known amongst his peers as the #1 Amazon FBA mentor in the United Kingdom.
The course is all based on rebranding and what he calls a 1 product strategy.
Obviously, the big thing here is choosing a product that everybody is going to want to buy.
But don't worry because the course goes into great detail about this.
This is an important decision and shouldn't be taken lightly because getting this up and running is going to take several thousand dollars.
Who is Jonny Bradley?
Jonny Bradley is a British guy who used to work for Apple in sales whose job was to train sales representatives on how to handle customers.
However, he came across Amazon FBA whilst working his 9-5 job and due to his success moved into this new career full-time.
Hence where we are now with Seller Pro Academy which as far as I can see has been quite successful.
This is noticeable by the number of positive testimonials that can be found online.
Known as the #1 Amazon FBA mentor, he has helped thousands to achieve success in this difficult business sector.
Where many are having success as 5 and 6-figure earners.
He has a YouTube channel with over 40k subscribers
I like the fact that what you see is what you get, especially with a one-on-one-skype call to find out if this is right for you or not.
How Does Seller Pro Academy

 W

ork?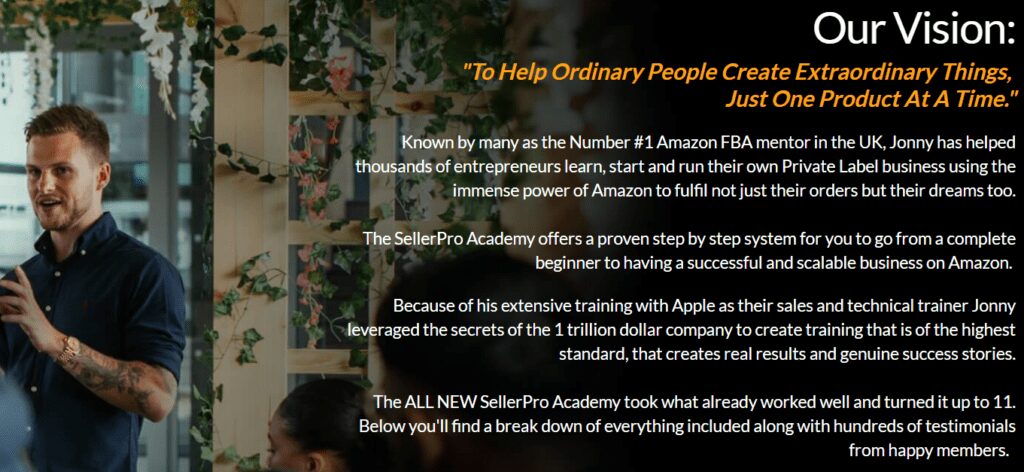 As I briefly mentioned earlier, this course is for anybody serious about building a business online using Amazon to run your business.
Amazon holds all your stock, handles order management and delivers to the customer.
The course is broken down into modules that clearly take you through the steps that you need to succeed in this competitive business world.
Like selecting the right product, how negotiating and sourcing the products, and everything about rebranding and setting up your own private labelling, through to replenishment of stocks.
I think you'll agree that the course is pretty thorough.
With 19 modules plus bonuses which we will be covering in a moment.
Seller Pro Academy Features And P

ricing

Seller Pro Academy as of this review is 997 euros or around $1,200.
This is a very unique approach to becoming a student of the course in that you have to endure a live Skype call from Jonny Bradley himself.
By taking this call, it will mean that you are serious about starting this business and this is the time to get your questions answered.
I definitely like this and it tells me that the product creator is not a fly-by-night scammer like you see all over the internet.
We have listed the course schedule below with a brief description of what is in each module.
Don't forget the bonuses that come with this course which are tagged onto the end of the main training course.
Main Course Schedule
Module 1 – Introduction / 3 Lessons
Here is an introduction from your mentor Jonny Bradley and how to benefit from this course and join the 10k and 100k clubs.
Module 2 – Success Habits of 100k Club Members / 4 Lessons
All about learning the right mindset to succeed in getting you to the 100k members club and what it takes.
Module 3 – Support Resources / 7 Lessons 
For this training course to run efficiently you need good support, and this is usually something that is missing in most courses.
This module goes into detail about how and what's available.
Module 4 – Required Foundations / 1 Lesson
How to set up your Amazon FBA business is vital to your success.
This module covers what you will need to do ready for your journey to begin.
Module 5 – Customer Dynamics / 6 Lessons 
Something Jonny brings to the table is how the customer behaves coming from working for Apple.
He has a unique approach to this, which is what you will be learning.
Module 6 – Product Discovery / 12 Lessons
Finding the right product that your customer is looking for is what is going to drive your business.
He covers 4 main techniques to find those products that your business is going to sell.
Module 7 – Creating Irresistible Offers / 5 Lessons
Learn how to promote product offers and market research.
Module 8 – Sourcing and Negotiating / 21 Lessons 
Sourcing your products and negotiating the right price is extremely important.
Get it wrong and you are in for a rough ride.
Sourcing products from other countries like China where the costs are going to be low but what about the language?
What about shipping costs which are going to eat into any profits?
Learn all this and more and one of the most important modules of the course.
Module 9 – Creating an Addictive Brand / 12 Lessons
All about branding and how to create a brand that your customer is going to love.
Learn what the 10k and 100k members do.
Module 10 – Amazon Seller Account Setup / 8 Lessons
Learn what it takes to get your product on Amazon ready for the launch.
Module 11 – Creating High Converting Product Images / 11 Lessons
Nowadays images and visuals are what the consumer is looking for.
Learn what works and what doesn't and how to create those eye-catching images which convert well and will help towards your success.
Module 12 – Constructing a High Converting Listing / 11 Lessons
Learn all about what optimization means and how to conduct search engine optimization to outperform your competition.
Module 13 – The Product Launch / 11 Lessons
Once everything is in place then you should be looking at your product launch.
This module covers the different types of strategies that you can adapt and tailor for your own business requirements.
Timelines are very important.
Module 14 – PPC Overview / 8 Lessons
PPC or pay-per-click is an important strategy, when not done right can be very expensive.
Without traffic, people won't see your offers and your business will be dead in the water.
Learn how to promote your offers through the Amazon advertising platform.
Module 15 – Foundations | FBA Ads Strategy / 12 Lessons
Creating your ad campaigns in the correct manner is very important.
Learn keyword research to find out what people are keying into the search engines.
Keywords are how your offers will be found.
Module 16 – Build | FBA Ads Strategy / 7 Lessons
Learn how to optimize your ad campaigns through bids and competitor analysis.
Module 17 – Accelerate | FBA Ads Strategy / 8 Lessons
Once you have your campaign ready learn how to speed up the process by focusing on certain areas to achieve the best performance.
Module 18 – Business as Usual / 7 Lessons
Learn what it takes to manage your FBA business on a daily basis.
Module 19 – Completion / 1 Lesson
The final word from Jonny Bradley and completion of the course.
What about the bonuses that come with Seller Pro Academy
Bonus 1 – VIP Email Support with Jonny Bradley.
Bonus 2 – Private Mastermind Group
Bonus 3 – FBA Specialist Support Consultant
Bonus 4 – BI-Weekly Strategy Calls
The fact that you have access to Jonny Bradley's private email is a big plus for me.
Who is Seller Pro Academy

F

or?
Seller Pro Academy is for people who are serious about running an online business with Amazon.
FBA or Fulfilment by Amazon can be a very lucrative business and this is not something that should be taken lightly.
You will need to make a big commitment because there will be a substantial investment if you want this to work.
To become successful at making money online is difficult and Amazon FBA will be very challenging.
However, many are having big success through this course and there is no reason why you can't yourself.
Is Seller Pro Academy

a SCAM or LEGIT?
It's nice when you come across a product where you aren't struggling with positive things to say.
Seller Pro Academy is a legit course but not for everyone you are only going to find people who want to make a difference interested.
People who have the capital to invest.
This is not some course that has come straight off the likes of ClickBank or WarriorPlus, it's a serious course for serious people.
There are no guarantees that you will succeed like there are with anything challenging in life.
A big commitment is required and therefore if you are only going into this halfheartedly then I wouldn't bother.
There are many ways to make money online with high earning potential that cost very little as opposed to something like Amazon FBA.
Something like affiliate marketing can be lucrative without all the costs and pressures of running an Amazon Fulfilment Business.

Seller Pro Academy Student Reviews

?
When you are researching anything first and foremost you look for reviews and testimonials which are third-party.
In other words anywhere other than the actual site, in this case, the Seller Pro Academy website.
That way you can at least trust the reviews to some degree but often it is not possible either because the course is new or not that popular.
That is what we have here in this Seller Pro Academy so the only reviews and testimonials are from their website.


Here you can check out a lot more students who are having success with Seller Pro Academy.
What we Like About Seller Pro Academy
Overall I did like this course but many might be put off by the price tag.
However, if you are serious about making a life-changing decision like having your own business then you have to invest in yourself.
Jonny Bradley Is A Genuine Person:
Jonny is a legit and very successful 6-figure a-year earner with this business model.
What he learnt himself he now teaches to other prospective entrepreneurs and they are seeing similar success as Jonny.
It doesn't get much better than a one-on-one skype call with Jonny himself to see if this business would be right for you.
Extensive course: 
The course covers everything that you would need to know to become a success as an Amazon FBA business owner.
The course is one of the better courses that we have seen on Amazon FBA and the first certified Amazon FBA training in the world.
What we Don't Like About Seller Pro Academy
If you are interested in something like this then you will need a big initial investment and with no guarantees that you will succeed.
Expensive:
There are a lot of expenses to take into consideration which you will not be aware of initially.
The course fees, sourcing and paying for stock, shipping costs, setting up and paying Amazon to handle most things.
Have To Be Constantly Active With This Business:
This isn't a business that you can just sit back and watch the money come rolling in.
There is a lot to learn and it isn't going to be plane sailing.
Seller Pro Academy Review

: Final Thoughts!
Overall I do like this course and if I wasn't already involved with my affiliate marketing business then something I might have seriously considered.
The course is full to the brim with great information.
However, competition in this business model is high.
This type of business is definitely not for the fainthearted.
However, if the costs are too much then you might like to take a look at a business model that many are having success with.
A training platform that since 2005 has been producing successful people, with over 2 million who have come through their doors.
Mind you, this is not a "Get-Rich-Quick-Scheme" and will take a lot of hard work, just like Seller Pro Academy but very rewarding.
Helping thousands to live a laptop type of lifestyle.
Alternative Solution to Amazon FBA
It's called affiliate marketing which is very similar to dropping shipping except you don't have to worry about using a digital store.
The principle is the same in that you are the middle person and direct the customer to the merchant except you get paid a commission on a sale.
It also means that you are not restricted and are much more flexible.
Is one of the best ways to create multiple income streams.
I have personally been a member of Wealthy Affiliate since 2017 and the main reason why I was able to kiss goodbye to my 9-5 job.
Just check out the reviews on Trustpilot.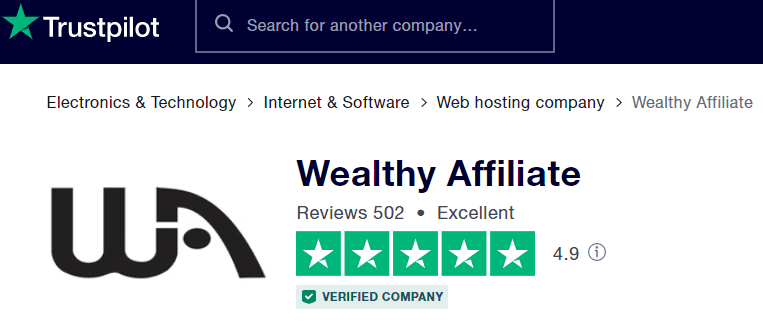 The training platform is a fully integrated one-stop-shop meaning that everything you need to succeed is in one place.
Education and training, Web development, Hosting your website, and a community that cares and is full of experience on many levels…

Seller Pro Academy – FAQs
Here we found a number of questions that people are asking in the search engines and thought they might be of interest.
What Is Amazon FBA?
Fulfilment by Amazon is a business process that allows Amazon to manage your entire order management process.
You do this by renting warehouse space and ensuring that inventory is always available.
Once an order has been created in your store or website this triggers a response from Amazon who picks, packs and delivers the order.
What Is Amazon's FBA Fees?
It all depends on the category of the product and the size and weight so the percentage fees can vary from 6% to 20%.
What Is The Difference Between Amazon FBA And Dropshipping?
The major difference between Amazon FBA and dropshipping is that drop shippers don't own the product and act as a middleman.
Whilst in Amazon FBA you do own the product and you have to keep stocks replenished at the Amazon warehouse.
Is Amazon Dropshipping Easy?
Amazon is a straightforward and simple process however it is not a business you can master overnight.
There are a lot of things that you have to get right and at the end of the day, it's all about margins and volume of sales.
Is Amazon FBA Still Viable In 2022? 
If you look at 2021 Amazon's revenue had hit $469 billion which was up from the previous year of $386 billion.
Almost 25% of that revenue is made by third-party sellers.
If you take a look at the image below you can see just how popular Amazon FBA has grown since 2015.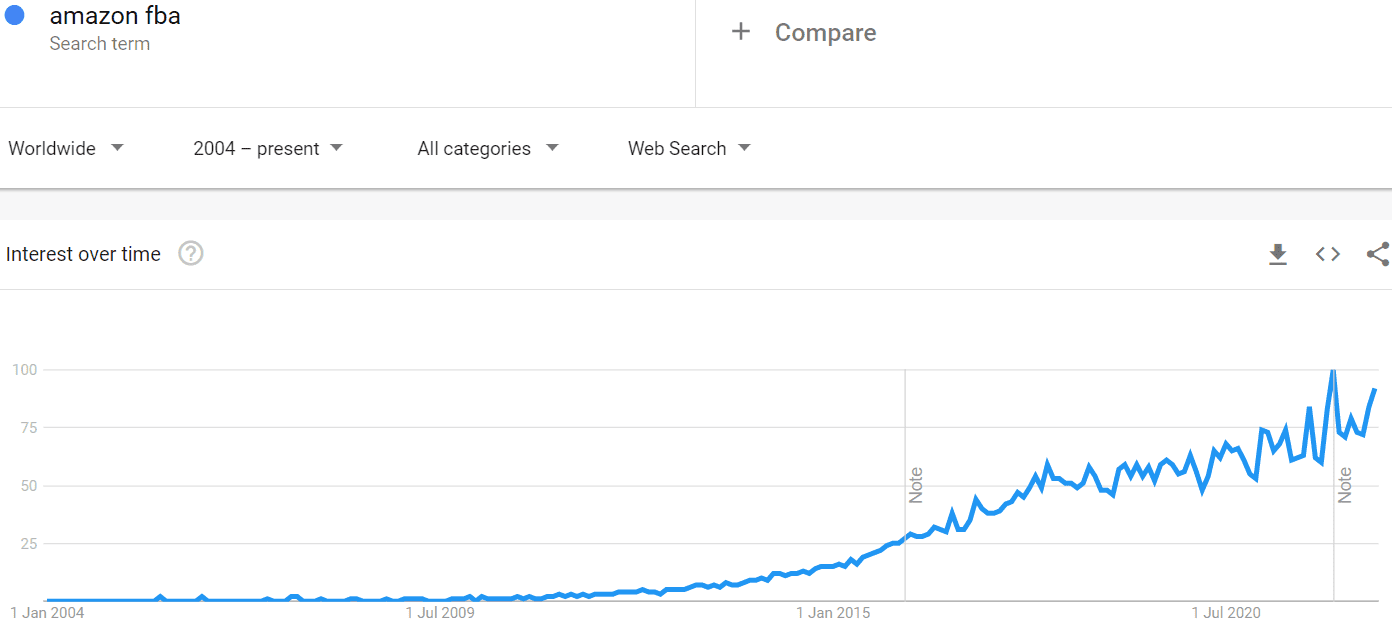 How Much Money Do I Need To Start An FBA Business?
You can find that some people start off with less than $1,000 whilst some have over $5,000.
The more money you have to invest means that you have made a conscious decision to go all in.
How Long Is The Training At Seller Pro Academy?
There are over 20 modules with a total of 20 hours of content and whilst you should be able to go through the entire course fairly quickly.
You will need to go through each module several times to ensure that you can fully understand what you have been taught
Feedback, Comments and Subscribe
Well, I seriously hope you got something from this Seller Pro Academy review and answered hopefully all your questions.
However, if you do have any questions for me Seller Pro Academy related or other, then please add them to the comments section below.
Until next time, stay safe.