Welcome to this PPC Shortcut Review
Without traffic, you ain't going to make money with your marketing campaigns and there are 2 ways to solve this issue.
You either pay for traffic or you get it for free.
When we talk about free traffic then I would be referring to SEO or search engine optimization.
This takes time because you have to do keyword research and target keywords that people are keying into the search engines.
However, because you are impatient then paid traffic would be the right course of action, but this can be very expensive if you don't know what you are doing.
As a newbie to the make money online niche, you probably won't know very much and that's where PPC Shortcut comes in.
The owners at PPC Shortcut claim that they have you covered with their done for you marketing ads that are tailored and ready for launching with Google and Bing ads and for as little as $5.
That may be the case but in my experience with paid advertising, I can tell you that it has cost me a lot more and that's why I focus primarily on SEO.
I'm sure you have come across many PPC Shortcut reviews where they are making claims that this system is the best thing since sliced bread.
Most of those claims are from affiliate marketers who are trying to sell you the product and make a commission in the process.
Having said that, we are not affiliated with PPC Shortcut in any way and what you will get is an unbiased review.
So, let's get right into it.
---
[Affiliate Disclosure: This post may contain affiliate links which means I may earn a small commission if you purchase anything through one of the links. However, this will not affect what you pay!]
---
PPC ShortCut
Product: PPC Shortcut
Founders: David Cassar and Wayne Crowe
Product Description: PPC (Paid Per Click) done for you ad campaigns ready to load into Google and Bing Ads
Website: www.ppcshortcut.com
Price of product: $13 as of this review, with a number of upsells.
Recommended: No
Summary: The owners of PPC Shortcut claim that they can get you started with your ad campaigns for as little as $5.
That may be the case, but the problem with paid traffic is that $5 is not going to get you much exposure to prospective customers.
Like all traffic methods, there are no guarantees that you will get any sales at all.
When you pay for traffic you are paying for a certain amount of clicks and once those clicks have expired then that's the end of your marketing campaign unless you add more to the budget.
What you are hoping for is that someone clicks on your ad campaign and then clicks through to the sales page and then enters their details and clicks to purchase.
That's a 3-way process and on each process, they can decide against purchasing which means a reduction in your number of clicks.
Granted paid advertising can get you quicker results but you need to know what you are doing otherwise it can be a costly exercise.
Why I recommend SEO, which takes longer but when it starts to work it does so continuously and the best thing about it is that it's free.

---
If you are sick and tired of SCAMS, Pyramid schemes, MLMs, recruiting, having to purchase stocks, haggling family, friends and customers. Looking for a proven method of making money online, then check out my #1 recommendation. 
---
Internal Summary and Navigation
---
What is PPC Shortcut about and who are the Founders?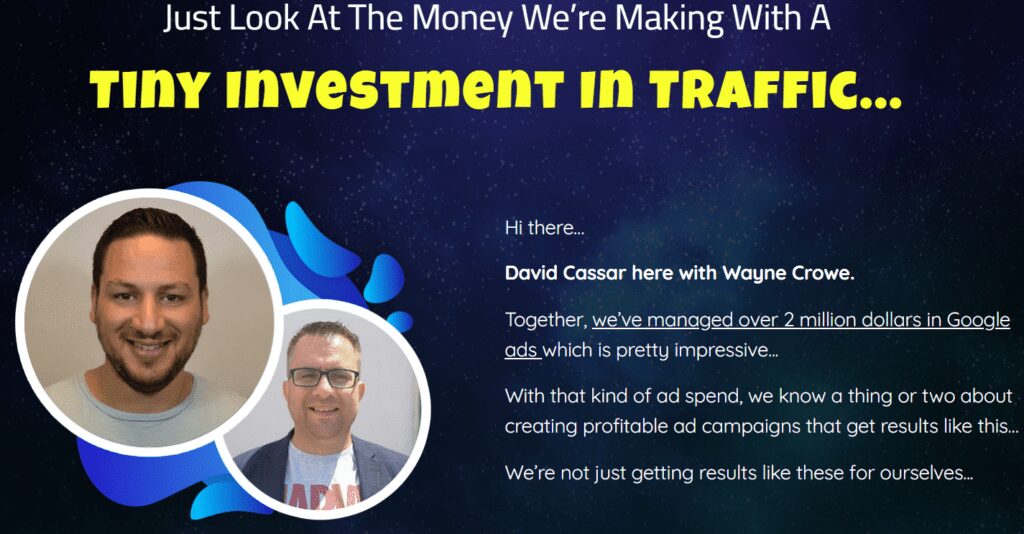 PPC Shortcut is a complete done for you system that allows you to select one of the fifteen ad campaigns that have been specifically created for your ad campaigns.
That means that all the keyword research has been done so that the campaigns only target low competition high converting keywords that people are keying into the search engines.
They claim that no experience is needed although in my experience there is always something that you need to know to make it all come together.
Now, the owners come from similar backgrounds and have been involved with paid advertising for some time now.
So you would expect them to know what they are talking about, right?
Who is Wayne Crowe and David Casar?
Wayne Crowe is an entrepreneur who has been involved with digital marketing for a number of years and started from his bedroom with a £25 investment which he turned into £150k a month.
One of the businesses he is currently involved with is Solo Ads, which is another form of paid advertising.
Where you pay for traffic from someone else's email list and this is something I do not recommend.
Nobody knows how genuine these people in the lists are except for the owner and how current or up to date the lists are.
David Cassar comes from a similar background as Wayne but not as experienced.
He does however create products around affiliate marketing and can be seen in places like WarriorPlus and Jvzoo.
For this project, they decided to team up and help people looking to get into affiliate marketing.
---
How does PPC Shortcut

W

ork?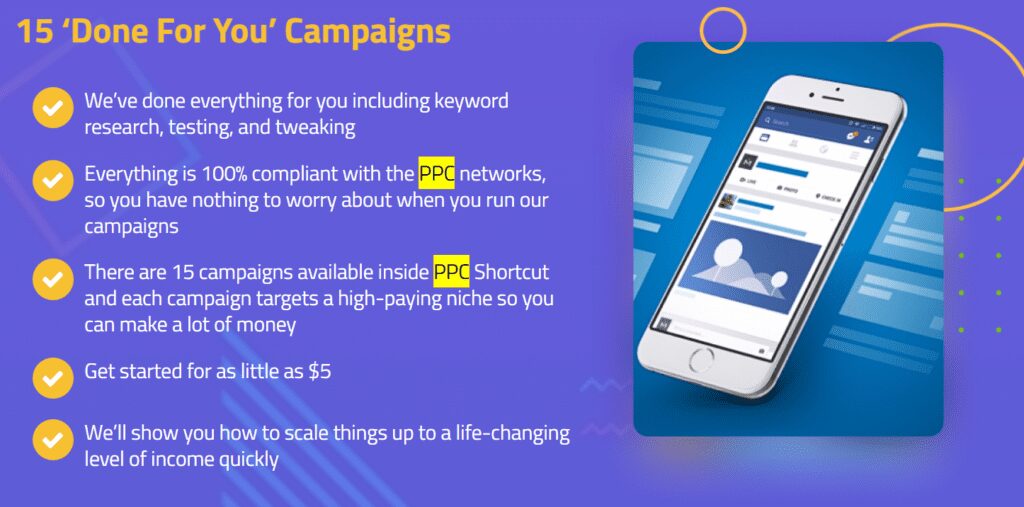 According to the instructions, it is as easy as 1, 2, 3
Just follow the training that comes with the system.
You log in to the system, select a ready-made ad campaign and sit back and wait for the money to start rolling in.
If things were that simple then I wouldn't be here reviewing this product to help you, because I would be sunning myself on a beach somewhere.
So how does PPC Shortcut actually work?
What the owners have done…
Keyword research to find the right product
Writing the ad copy
Creating the ad campaign online
Testing the campaign to ensure it performs well
Tweaking the campaign to make sure it makes a profit
The owners have spent time selecting the products that they think will make you a ton of money from places like Clickbank, Jvzoo and WarriorPlus.
These if you didn't already know are affiliate networks where you can find a ton of products to promote.
They have found this out by doing all the keyword research for you and created the Ad Campaigns ready for uploading to one of the ad marketing businesses, such as Google or Bing ads.
Google and Bing along with Facebook ads are probably the 3 most trusted sites for paid advertising.
Select one of the 15 ready-made campaigns and upload it to one of the paid advertising sites.
The owners claim that they can get your ad campaigns off the ground for a minimum of $5 which sounds great right?
Once the campaign starts to make a profit, then you upscale meaning that you add more money to the budget.
Sounds pretty straight forward right?
---
PPC Shortcut Features and P

ricing
The product comes with 3 bonuses and a bunch of upsells that you may or may not require, but it is understood that this system will work without them.
You pay a one-off fee of $13.00 which includes…
PPC Shortcut Step by Step Training valued @ $297.00
15 Done 4 you Campaigns valued @ $1497.00
PPC Shortcut comes with 3 bonuses
Bonus 1 – Live training to get you started valued @ $297.00
Bonus 2 – Private Facebook Group valued @ $49.00
Bonus 3 – Traffic Sources Guide valued @ $57.00
That's $2,197.00 of affiliate marketing training for $13.00, which is a great price just for the training alone.
Don't forget the Upsells and Downsells that also come with PPC Shortcut
2 done for you bridge sites priced @ $27.00
30 additional campaigns priced @ $37.00
PPC kit for building out campaigns priced @ $97.00
4 live instructional masterclasses priced @ $147.00
New split testing software priced @ $297.00
Of course, you don't really need to purchase the upsells but you might feel that the entire system may not work without them.
---
Who is PPC Shortcut

F

or?
Most people you talk about in the affiliate marketing world will tell you that paid advertising is the best and quickest way to see returns.
But, it is a balancing act that you have to keep an eye on.
You have to pay money to make money.
Take this example; I have just watched a video where an affiliate marketer brags that he made $152k in 2 months from 1 product, well that was the title of the video anyway.
You find out that his marketing costs were $110k but he still made $42k.
This is what upscaling is because any profit he made he ploughed straight back into his advertising.
PPC Shortcut is for anybody who wants to see results fast and according to the owner's, anybody who has zero experience in affiliate marketing.
One of the main reasons why people fail in affiliate marketing is because they don't see results quick enough.
The quickest way to see results is obviously through Paid Advertising and whilst the owners of PPC Shortcut claim that this is easy, let me tell you that it isn't.
There is always something missing from the puzzle and getting people (who don't know you) to click on an ad that lands in front of them are probably not going to work 9 times out of 10.
---
What I like about PPC Shortcut
Whilst I am not a believer of these "done for you" systems, simply because I have tried them in the past, but more importantly I like to be in full control.
Low price
The product as of this review is only $13.00 and therefore if you were interested in affiliate marketing and getting some training then I'd probably give it a try.
I wouldn't pay for any of the upsells but just take on board the training that comes with the product.
If you were to follow through and try some of the campaigns then just be careful with your advertising budget.
Money-back guarantee
A 30-day money-back guarantee is always a good thing and gives you a little confidence but I wouldn't leave it to the last day to ask for that refund.
There is a very good chance that your email won't be seen until after the cooling-off period expires.
Remember that the upsells if you purchased any wouldn't be included in the refund.
---
What I don't like about PPC Shortcut
With these "Done-For-You-Systems" they all promise to make you rich in just a few hours but take it from me this will never happen.
Hidden costs
It doesn't matter which product it is there are always going to leave out the real cost of the product and unfortunately you don't find this out until you have made a purchase.
Where are the great reviews?
Reviews are what allows you to decide whether to purchase something or not but which ones do you trust?
Most reviews that you can find are from affiliate marketers trying to sell you the product for a commission.
Unconfirmed income results 
It is so easy to fabricate an income payment on the internet but people still fall for this type of marketing.
Any income claims should be taken lightly unless of course, they can back up their claims which in most cases they can't.
---
Is PPC Shortcut

a SCAM or LEGIT?
I wouldn't exactly call PPC Shortcut a scam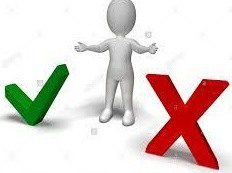 because if you knew what you were doing then I'm sure you could make some money.
What seems to be the problem here is these products are always aimed at the complete novices, because you would never see an experienced affiliate marketer using them.
Their claims that you could be earning money on the very first day are unrealistic expectations.
These products come under a category of a "get-rich-quick-scheme" and they don't work although vendors still use this type of marketing.
Marketers like David Cassar and Wayne Crowe are very good at what they do but whilst these products are initially cheap to purchase, the sales funnel is designed to empty your wallet.
---
PPC Shortcut Review

: Final Thoughts!
PPC Shortcut is no different to all the other similar products that we have reviewed and all seem to follow a similar pattern.
I have tried several of these systems in the past and didn't have any success at all and they left a bitter taste.
More so that I nearly decided to call time on trying to make money online.
I am not saying you won't make any money with PPC Shortcut but the amount you make will not be what they claim you will.
However, give this product to an experienced marketer and I'm sure they will be able to make it pay.
Having said that, I can recommend a product where they teach you everything you would need to know about affiliate marketing.
It's free, with no credit card details and there are no upsells.
However, this is definitely not a get rich quick scheme and takes a considerable amount of effort on your part.
But, if you are serious about creating a successful online business then take a look at these active members and see what you think.

---
Feedback, Comments and Subscribe
Hope you enjoyed this PPC Shortcut review and if you are reading this then I can assume you did.
If you have any questions please add them to the comments section below and I will get right back to you at my earliest convenience.
Until next time, stay safe.