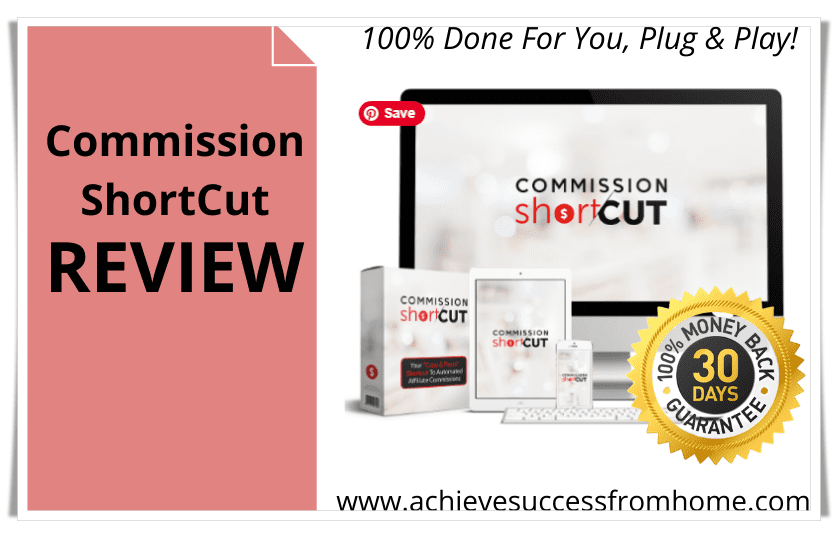 Welcome to this Commission Shortcut Review
Are you looking for a way how to make money online and thought you'd check out yet another DFY (done for you) system that claims you can make between $200 and $300 in daily commissions.
A very bold claim and if that was true then we are talking around $6000 a month.
I know that you want to believe these claims because I was in that position not too long ago but you have to be very careful because many are not what they seem.
Any promise of a monetary value should be the first red flag that should get you to stop in your tracks and rethink.
I always tell my readers, research the business opportunity first and don't be taken in by the low-cost buy-in because you will be hit with upsells once you are in.
I can see here, by doing your due diligence first will help you to make the right decision.
I'm sure you are aware of the many reviews out there promoting Commission ShortCut but most are from affiliate marketers trying to sell you this product.
However, I am not associated with this product in any way and therefore you can expect an unbiased review.
So, without further ado, let's get right into it.
---
[Affiliate Disclosure: This post may contain affiliate links which means I may earn a small commission if you purchase anything through one of the links. However, this will not affect what you pay!]
---
COMMISSION SHORTCUT
Product: Commission Shortcut
Founder: Glynn Kosky uses the alias "Superwarrior" on WarriorPlus
Product Description: This is a  done for you affiliate marketing system, that claims to be able to speed up the make money process.
Website: www.commissionshortcut.net
Price of product: $35.95 – Commission shortcut Lite, $39.95 – Commission shortcut pro + several upsells
Recommended: No
Summary: Commission Shortcut claims that just by pressing a few buttons and using copy and paste that you can be earning money from the very first day.
Let me give you a reality check.
There are no easy ways to making money online because I have tried several of these money-making schemes in the past and all they did were turned me against the industry until I realized there was a better way.
This type of opportunity is always aimed at the complete newbie who is looking for an easy way to earn money online.
The reality of it all is that you might make some money but no-way near the amount that they are telling you on their sales page.

---
If you are sick and tired of SCAMS, Pyramid schemes, MLMs, recruiting, having to purchase stocks, haggling family, friends and customers. Looking for a proven method of making money online, then check out my #1 recommendation. 
---
Internal Summary and Navigation
---
What is Commission Shortcut about and who are the Founders?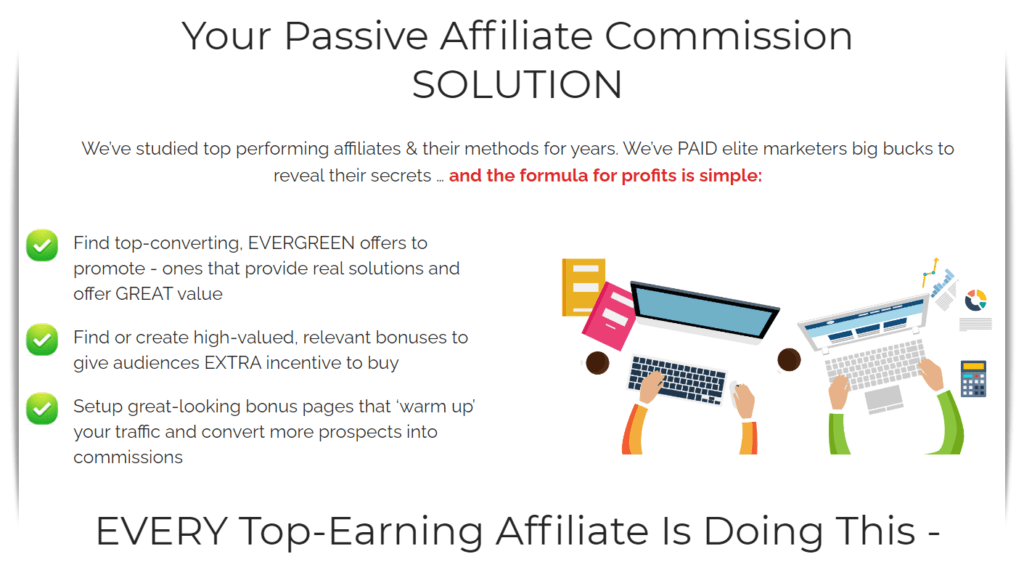 Commission ShortCut is a done for you affiliate marketing system that claims to help you make a couple of hundred bucks on a daily basis.
One thing these done for you systems have in common and that's they all claim to have automated the whole process to make consistent commissions.
All you have to do is copy and paste and you are onto your own automated cash machine.
I wish it was that easy.
I am not saying wholeheartedly that they won't work, but what I am saying is that you need to have a certain amount of knowledge first.
These products are not for complete newbies, but one thing you won't find and that's experienced affiliate marketers using them.
What the owners say…
"You don't need any skills or previous experience to make this work – Just login, then enter a few details for LIFE-CHANGING commissions on any promotion"
Who is Glyn Kosky?
Glynn is a very popular internet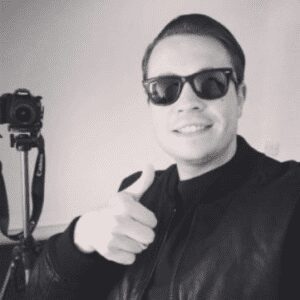 marketer who since 2013 decided to focus his attention on the digital marketing arena.
An entrepreneur who loves travelling and claims to have helped many thousands of budding online marketers to earn money online.
Just a quick look at WarriorPlus and I can see he has been busy with the number of products that he has brought to market.
Especially, in 2020 alone he brought 16 products to help people who are looking for a way to make money online.
Although I have to credit his work ethics, you have also to question these products and how good they are seeing you can't find creditable reviews about them.
---
How does Commission Shortcut

W

ork?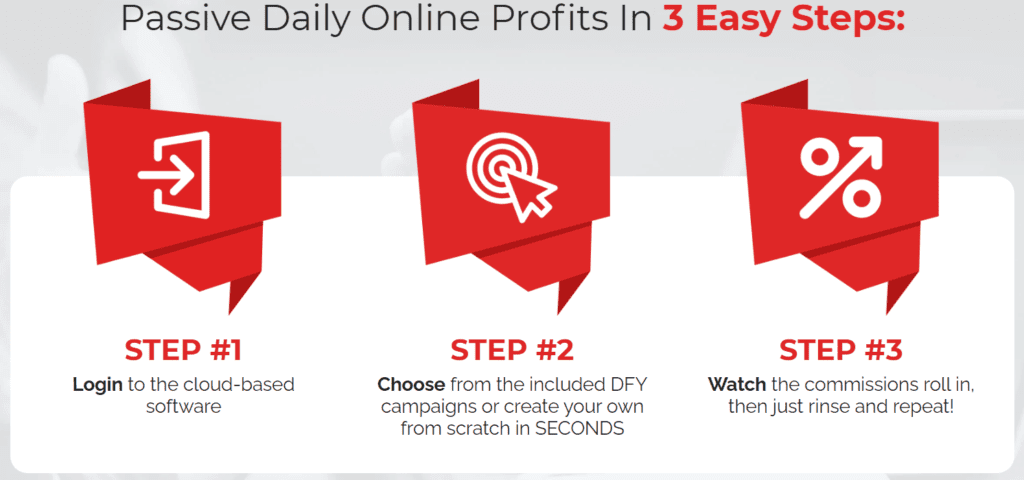 Whenever somebody mentions the word easy in the make money online niche it often means the opposite.
Well according to the sales page, once you have purchased the product and become a member there are only 3 steps that you need to take.
Login
Choose one of the 14 done for you campaigns or create your own
Watch the commissions come rolling into your bank account
Everything is automated and therefore everything is duplicated also.
That means whoever purchases this product will be using an identical system that other members will be using, which means you are not unique.
In today's affiliate marketing scene it's all about been unique and giving more to the people, and in doing so means you will stand out amongst the crowd.
Check out this Commission Shortcut Demo
What about Traffic?
The one major flaw with Commission Shortcut is that they do not explain in detail how you are going to find traffic.
Without traffic, you can't make any sales.
Traffic can be found in 2 ways, by using SEO which is search engine optimization or PPC which is pay-per-click.
The scope of Commission Shortcut doesn't cover SEO which is the best way, it is free but it takes time.
They do mention using a free method which is posting into Facebook Groups, and whilst you may pick up the odd sale, Facebook would not be something that I would recommend.
However, that only leaves paid traffic which is also beyond the scope of Commission Shortcut and let me tell you that this is where it can become very expensive if you don't know what you are doing.
---
Commission Shortcut Features and Pricing
There are 2 systems on offer here.
Commissions Shortcut Lite
Commission Shortcut Pro
What you will notice in the above image is that both prices are for the same product, Commission Shortcut Lite.
However, the one on the right should be the "pro" version… Not very professional!
What else you get is…
Cloud-based software valued @ $497.00
Premium hosting valued @ $297.00
14 done for you campaigns valued @ $197.00
Over 50 email swipes valued @ $997.00
Over 100 premium give away products to promote valued @ $797.00
Step by step video training valued @ $147.00
What about the bonuses that come with Commission Shortcut Pro?
Private Facebook support group valued @ $197.00
Live master training with Mr X valued @ $997.00
Quick start checklist valued @ $147.00
Master traffic valued @ $197.00
That's a whopping $4,470.00 value product all for less than $40
If I had developed a piece of software that cost just short of $5k I can tell you this, I would be selling it for more than $40.
Don't forget the Upsells and Downsells that also come with Commission Shortcut?
These are not mentioned on the sales page and the first time you will hear about them is when you realize that the system isn't working and for it to work you need some additional help.
You will also receive regular emails promoting these additions but also other products that you might be interested in also.
There is 1 front-end followed by 6 upsells…
C/S – Gold ($47-$67) – Premium Version of Software
C/S – Platinum ($47-$67) – Conversion Boosting Tools
C/S – Titanium ($47-$67) – Triple Thread Traffic
C/S – Diamond ($97-$147) – Facebook Pixel Tools and Training
C/S – Automated Traffic Flow ($197-$297)
C/S – License Rights ($197-$297)
So what you thought you were buying into wasn't explained like it should have been.
These are hidden costs and this is when you will feel that you have been conned, but they will make you feel that the system won't work without them.
So, a bargain system that you have purchased for $40 will suddenly become around the $700 mark and we haven't touched base on what it is going to cost you for "Paid Traffic".
---
Who is Commission Shortcut

F

or?
Like always, the owners tell you that this product is for anybody who has very little or no experience at all in affiliate marketing.
This often means people that don't really want to get their hands dirty and do not want to learn how affiliate marketing works.
But, they also go on to say on the sales page that it depends on how much experience you have which is a little contradicting when they say one thing but mean another.

Why is that you may ask?
Simply because people are looking for an easy solution to making money online and not too long ago I was that person as well.
The strange thing is, all these "Done for you" systems are aimed at the newbie, the complete beginner hoping to find the magic button.
They make claims that affiliate marketing is easy and that they have found the solution.
Let me stress, that image came from their sales page which sort of implies that they are part of the 5% that are making the real money.
They might be up there but let me tell you if you bought into this product you ain't going to make a penny unless you have a good grounding in how affiliate marketing works.
---
What I like about Commission Shortcut
These "done for you" systems are something that I do not recommend simply because I have been down this road and tried them but you have to give Commission Shortcut some credit where its due.
Money-Back Guarantee
Having a money-back guarantee is sort of a pre-requisite when it comes to promoting products on WarriorPlus which is where Commission Shortcut is promoted.
However, if you are not happy with your purchase then I would sooner rather than later contact support to get your money back.
The reason for this is that your email might be ignored so that the cooling-off period lapses.
A Legitimate Owner
Something that you come across all the time is the missing of important information such as who the owners actually are.
With Commission Shortcut, this is not the case when you actually get into the sales page.
He also has his own website that you can look at to confirm this.
---
What I don't like about Commission Shortcut
Hidden costs
This is a biggie for me, where the owners should be upfront with all the additional costs but unfortunately, this is something that you will have to live with.
Where are the great reviews
For a product that claims that it can make you $6000 a month don't you find it a little weird that there aren't positive reviews all over the internet.
The ones you can see are from affiliate marketers promoting the product.
Unconfirmed income results 
There is no way of confirming the income claims so this is something that you are going to have to go with or not.
I know just how easy it is to create a bunch of images to fake what I am earning.
---
Is Commission Shortcut

a SCAM or LEGIT?
As much as I'd like to call this a scam,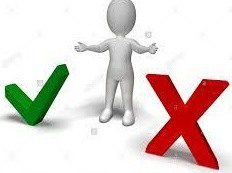 this is just something I can't do but the methods the owners do adopt when promoting their products are something I do not adhere to.
I'm sure you will make some money but it won't be what the owners claim.
What you find with all these types of systems is that they are promoting a "get-rich-quick-scheme" and that is something you shouldn't be looking for because quite simply there isn't one.
Marketers like Glynn Kosky are very good at what they do but these products are designed to empty your wallet and with a disclaimer, they cover their tracks.
If you take a look at WarriorPlus where you will find many similar products, you will see that Glynn (under the alias of "SuperWarrior") brings to the market between 1 and 2 products each month.
Well, he did for 2020 and you have to question why?
Simply because the products aren't that good which can be seen by the legitimate reviews that are not there to see.
---
Commission Shortcut Review

: Final Thoughts!
Commission Shortcut is no different to all the other similar products that we have reviewed and all seem to follow a similar pattern.
They leave out important information to try and trick you into a purchase and it's only when you are a member that you realise this.
Follow your instincts because I'm sure you have heard the term, "If it looks too good to be true, then it probably is"
I have been in your shoes and tried these systems before and that's how I know they don't work but some proper training and who knows.
I guess we probably all have to go down this path first before we realize that making money online isn't easy and that there aren't any shortcuts.
Finding the right training can be difficult to find because there are so many to choose from.
However, one I use has helped me to leave my 9-5 job, which also helped these people here to do the same.
I know that you are probably thinking that I have reviewed one product only to try and con you into my garbage product and you are right to think that way, besides that's exactly what I would have thought.
But, this could be just what you are looking for which is free to join, with no credit card details, no spamming you and definitely no BS.
What you see is exactly what you get. Only you can fail!
---
Feedback, Comments and Subscribe
Thank you for reading this Commission Shortcut review and if you are reading this then I can assume that you did enjoy it.
Hope I have shed a little light on what it takes to make money online and that isn't quite as easy as what some say.
Maybe you have already tried Commission Shortcut and would like to share your experience or you just have a question, then please leave then in the comments section below.
I read all my readers comments and certainly will reply back to all of them at my earliest convenience.
Until next time, stay safe.