Hey Guys, the question here today Is Modere A Pyramid Scheme
Well, before we go any further then no Modere is not a pyramid scheme but there is a little more to it which we shall be discussing a little later.
Many people are looking for that youthful look and many are prepared to go to great lengths.
That is why health and wellness is a multi-billion dollar industry which just keeps growing year upon year.
Can Modere provide you with the answers and that's why you are here today?
To see if Modere is a pyramid scheme or a scam that you should stay away from.
I'm sure that you have come across several Modere reviews before you found ours which are from affiliates promising you the dream.
Be careful because many are associates trying to get you to join and one thing we aren't going to do.
Is pitch or try to sell you anything, however, we will give you an unbiased, honest account of who Modere is and what they stand for.
That way you will know whether they are a legit business or just another MLM to stay away from.
In the next few minutes, you will have all the hard facts which should put you in a better decision-making position.
Let's begin.
---
[Affiliate Disclosure: This Modere Review has been thoroughly researched from information and testimonials that are in the public domain. This post may contain affiliate links which means we may earn a small commission, however, this won't affect what you pay!] 
---
Product: Modere
Founder: Robert Conlee
Website: www.modere.com
Product Description: Manufacturing and selling nutritional products in the health and wellness industry MLM
Cost to join: $39.99
Best For: Experienced network marketers
Recommended: Maybe
Summary: The number of products at Modere is extensive and covers a wide area.
As they are an MLM they also have a work-from-home opportunity for anybody who wants to make some residual income.
Before we get into this Modere review we'd just like to mention that there are a lot of mixed feelings about both the products and the business.
Which we will get to a little further into this Modere review.
This all goes towards credibility and once that starts to slide then it is only a matter of time before people will cotton on to this.
Modere Review – Table Of Contents
What is Modere About?
Modere was originally called Neways and only in recent times have they gone through a rebranding process.
Founded in 1992 by Thomas and Leslie Mower.
Thomas moved on to create Sisel International, another direct selling company in the health and wellness industry.
Modere is a multi-level marketing company that manufactures and sells an array of products mainly in the health and wellness industry.
For the most part, Modere produces products in the health and wellness sector along with environmentally friendly household products.
The products are typically high-end meaning that they are expensive and with a sprinkling of bad feedback which all goes against them as a reputable business.
Modere was acquired in 2013 by Z Capital Partners LLC, a private equity firm.
They operate in over 20 countries throughout the world and claim to serve a community of over 1 million customers and social marketers.
Who Are The Founders of Modere?
The original founders of Modere were as we have just mentioned Thomas and Leslie Mower but that was when Modere was Neways.
Since rebranding and moving in a different direction that accolade is down to Robert Conlee who took over the reins in 2012 as CEO.
In 2018 the board appointed Asma Ishaq as the new CEO to take over from Robert Conlee who moves up to the chairman position.
She comes from the Modere Collagen Sciences division as Chief Industry Relations Officer.
She already has a wealth of experience with co-founding the skincare company Jusuru International.
Who Modere acquired back in 2017.
Is Modere a Pyramid Scheme?
We mentioned earlier that Modere is not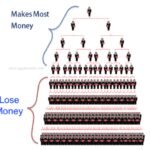 a pyramid scheme because Modere Social Marketers are not getting paid solely for recruiting.
They are paid on the basis of their team members selling the products.
You can however join as a preferred customer and purchase the products at a discounted price and sell them at retail to make some money.
It is still questionable and they could still be deemed as operating their business as a pyramid scheme in disguise.
Just for clarity on what a Pyramid Scheme is…
A pyramid scheme is when a company's affiliates or in this case social marketers would be paid for recruiting.
Where there wasn't a product or service.
Sometimes what you can find is that the company would have products or services that had a little value which they may use to hind behind.
This is not the case with Modere as they do have legit products but it can still be questionable.
At the end of the day, this is all played out through the compensation plan and may or may not be worded correctly.
This is just like a Ponzi scheme but with a product, now if the products were bad then they might come under a pyramid scheme in disguise.
You might like to read a report from the Federal Trade Commission here.
You might like to check out this short video…
How Does Modere Work
Modere works pretty much like all other MLMs with obviously slight differences which are all down to the compensation plan.
Companies in general (non-MLM) have enormous budgets for their marketing campaigns.
But with an MLM they can spread that cost amongst their affiliates or in this case social marketers.
In exchange, Modere Social Marketers have the potential to earn themselves some money working from home.
With the intention of building a large team and can help in selling the products.
A win-win situation for both
Why You Will Struggle With Modere
We are not just talking about Modere here, this is about MLMs in general and whilst their products might be great.
Two important things that always let the side down are that the products are expensive and the work-from-home opportunity.
Let's take a look at what happens leading up to the launch of an MLM.
There are 2 launch dates!
The journey begins with a start date and you and I are not invited, not unless you are an experienced network marketer.
You are probably not aware that some network marketers are actually paid to join in this case Neora and yes that does happen.
This helps to create the foundation of the company moving forward and ready for when the actual main launch.
It is important to start in this manner due to the life expectancy of an MLM which is 5-10 years.
Sustainability is very important and to keep the engine moving people have to be recruited and that's why there is always an emphasis on recruitment.
The biggest mistake that you can make when joining an MLM is choosing the wrong sponsor.
You need someone who is experienced and who is prepared to share with you everything they know.
But how do you know this?
Unless you know the sponsor then you don't and that's why people sort of search out the top earners.
If you are unfortunate to choose the wrong sponsor which isn't difficult because they are so many.
Then, unless you are experienced then you will struggle which is the reason why between 50 and 70 per cent leave within 12 months.
Not only that but around 99.78% do not earn enough to replace a full-time job with an average income of around $2,000 to $3,000 for the year.
Don't believe me then please do your own research thoroughly!
Now if you are happy with those stats then all we can say is good luck.
MLMs always start off with a lot of interest because the best time to get involved is right at the beginning.
Once interest starts to slip which could be for many reasons, like lawsuits, poor quality products, too expensive, and people struggling.
Then people will struggle to recruit and all sorts of underhanded tactics are applied.
Once recruitment slows down then we see the founders looking for investment from "Angel Investors" to keep going.
Eventually, they will default on the debt because there is no money coming through and the company will go into foreclosure.
That is if they haven't already been close down by the Federal Trade Commission.
But, you know what? The marketers at the very top in the .22% will still be earning the megabucks and a few million less isn't really going to matter.
This is the short version of this documentary and the full version can be found on YouTube.
If you have a passion and you clearly do with your interest in Modere, then why not take that passion and build your very own business.
It really isn't that difficult and if you want to know more then please continue reading.
Modere Products Line
There is an extensive range of products provided by Modere which fall into the various categories…
Lean Body System – Shakes and weight loss pills…
Collagen Sciences – Creams, shakes, supplements, chews…
Personal Care – Hair, Body, Skin…
Health and Wellness – Weight management, Anti-aging…
Household Care – Kitchen, Laundry…
Vitamin Angels – Charitable donations
Modere Business Opportunity – What You Need To Know
For anybody looking to take Modere to the next level then this is the section for you.
How Much Does it Cost to Become a Modere Social Marketer?
To become a social marketer it will cost you $39.99 which is an annual fee and for that, you get…
Up to 15% discounts, loyalty rewards, customer marketing program, personal website, virtual office tools and training plus more…
At this stage, you are able to purchase packs although it is not compulsory…
XM launches pack – $359.99 – $659.99
Basic packs – $159.99 – $199.99
How to Make Money as a Modere Social Marketer
As a Modere Social Marketer, there are 2 main ways that you can make money.
Purchase and sell the products yourself
Build a team by recruiting other people and making commissions from the sale of your team
Recruiting is key here if you really want to give yourself a chance.
There are other incentives, such as bonuses, cars and holidays which are all part of the compensation plan.
Modere Compensation Plan
Compensation plans are often confusing to most people and that is why we don't go too heavily into them.
After all, who says that we are getting it 100% right, what is common is that they use a binary system which basically lays out your business for you.
In this case, Modere uses a uni-level binary system and there are 11 ranks to climb, obviously the higher the rank the better bonuses and perks.
Here's the Modere compensation plan in pdf format or sit back and watch it explained by a Modere Social Marketer.
Are Modere Social Marketers Actually Making Money?
If you take a look at the income disclosure that we found on the Modere website which is for the 2020 period.
You can clearly see by the "per cent of total commission earners" column that 99.34% do not earn enough to replace a full-time job.
If you are looking for confirmation then check out what the Federal Trade Commission has to say here.
Is Modere a SCAM?
Is Modere a scam? Absolutely not!
The company has had a long and successful life even prior to the re-branding from Neways.
Overall the product does appear to be well-received however, we are still seeing a lot of unsatisfied customers.
They have been accredited with the Better Business Bureau since 2018 and the reason is probably down to how they have handled complaints.
Talking of complaints, over the last 3 years over 200 complaints reported which is a little on the high side.
At the end of the day, it is down to what your goals and aspirations are and whether you want to earn a few dollars.
Or are you looking for a life-changing opportunity?
If the latter then we would suggest not going ahead with their work-from-home business opportunity.
Use a passion of yours and something you love to create a business of your own which isn't difficult but at least it will be "your" business.

The Truth in Advertising
The Truth in Advertising is a  great place to go when you are researching companies because any dirt and you can be sure that it is on the TIN database.
There are a few issues regarding the income claims that TIN has reported on which make for some interesting reading.
What we Like About Modere
Becoming a member of the Direct Selling Association is no easy task because the company has to go through a vetting process.
A good place to check the certain credentials of a company is to look at the Better Business Bureau.
Since 2018 they have had an A+ accreditation which shows that they are moving in the right direction.
If you take a look at the graph below, this is an indication of the level of interest which has been shown in the company's career path.
This is people showing interest in the Google search engine and as you can see a steady growth which first peaked around the lockdown period.
Then it dropped and now is on the incline which is an indication that things may be moving in the right direction.
It is always a good thing to see companies providing help to underprivileged people.
We see Modere is committed to the charitable organisation Vitamin Angels where they are providing vitamins to help undernourished children and women.
What We Don't Like About Modere
I think we have covered this important issue earlier in this review pretty well, all the same, we thought it needed to be mentioned here.
It is hard enough competing with other companies offering similar products but when you see the Modere founders.
Selling the products on Amazon then certainly doesn't sit right with us.
Products are expensive but that is what you will find with any MLM company.
One thing that is not made clear is how much it is really going to cost you to run and maintain your Modere business.
To stay active as a Modere Social Marketer you have to maintain a minimum sales volume which is a combination of your sales plus your teams.
This often means the social marketer has to purchase stock themselves.
Not to forget marketing costs, email marketing…
Modere Review – Final Thoughts!
Nutritional supplements are with us to stay which means you are spoilt for choice.
It is clear that Modere products are expensive for what they are but why to choose products from a company that most people have not heard of.
Rather than some reputable companies that have been doing this for years.
There are no real claims that these products do what they say they will and even the reviews can't be trusted.
It is obvious that it's the home-based work from opportunity, the reason why people are interested.
But I think we have made a good enough claim that Modere as a business opportunity is not the right move.
If you are still interested in Modere, please become a preferred customer and test out the products first, do not believe what others tell you.
How we Make Passive Income?
I think it is pretty clear that we are not a lover of the MLM business and not because of any unhanded doing.
But because we have tried them in the past and wasted a lot of time trying and besides we are not salespeople and we hated recruiting.
Especially when we had no faith in the business in the first place but that was before we had a clue what we were doing.
In our opinion, affiliate marketing is a much better business model which allows for so much more flexibility.
You can promote anything you like
No products to purchase or stock
No sponsor to answer to
No customer orders to handle which includes no shipping or returns…
No recruiting which means no cold calling and no rejection
Get started for less than $0.64
This business allows us to currently earn a mid to high 4-figure monthly figure.
We can provide you with the opportunity, the rest is down to you.

Modere FAQs
How Much Does It Cost To Become Modere Social Marketer?
As of this review, it will cost you $39.99 to join and become a Modere Social Marketer.
This is a yearly fee which will be automatically paid for when the time comes.
What Is A Smartship?
This is a program that is provided by Modere that allows orders to be automatically sent and is a way to take advantage of certain discounts.
Be aware that many complaints are from customers and social marketers who were put on Smartship without then knowing about it.
How Much Does The Shipping Cost?
Shipping costs are based on the weight of the package and the type of service that you select.
They offer Standard which is a 5-7 business working days, a 2-day and 1-day service.
Does Modere Ship Outside The US?
The control of orders and where they are shipped is website controlled meaning that if you created an order through the .com site.
Then they can only be shipped within the US.
Canada: www.modere,ca or www.modereglobalshop.com
Australia: www.modere.com.au
Japan: www.modere.co.jp
Europe: www.modere.eu
New Zealand: www.modere.co.nz
India: www.modere.co.in
Can You Explain The Refund Policy To Me?
Modere provides a 30-day full refund guarantee on all of the Modere products minus shipping costs.
This is from the date that you received the order and only one order per package.
Returns should be sent to the following addresses…
US – Modere Returns Department, 588 S 2000 W, Springville, UT 84663
Canada – Modere Returns Department, 4240 Harvester Road, Unit 2, Burlington ON L7L0E8
Percentage Of Customers As Opposed To Social Marketers?
This is a question that is often asked before someone decides to become a Modere Social Marketer.
Your first step should be to become a preferred customer first to test out the products and there is around 85% to 15% in favour of the customer.
Feedback, Comments and Subscribe
Ok guys, thank you for being patient and hope we managed to answer most of your questions.
As before if you have any questions don't be shy and drop us a line below.
Until next time, stay safe