Hey Guys, welcome to this Zallevo Review
Could it be that you have been approached by a friend or family member, maybe even a Zallevo Wellness partner?
Telling you about this amazing company and that they are helping many to improve their lifestyles.
Maybe you saw their marketing campaigns on social media and you wanted to know more and see whether this is a legit company or not.
Well, you are certainly in the right place and in the next, five or ten minutes you will have enough information.
To decide on your own merit whether to pursue this company further or not.
With that said, let's dive right in.
---
[Affiliate Disclosure: This Zallevo Review has been thoroughly researched from information and testimonials that are in the public domain. This post may contain affiliate links which means we may earn a small commission, however, this won't affect what you pay!]
---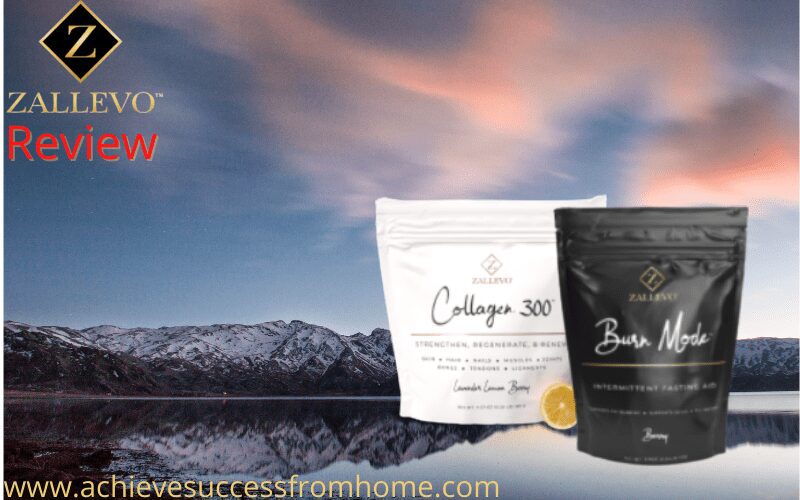 Product: Zallevo
Founder: Brandon Broadwater
Website: www.shopzallevo.com
Product Description: Health and supplements MLM
Cost to join: $39.95 plus there is a monthly membership fee
Best For: Experienced network marketers
Recommended: Maybe
Summary: The multi-level marketing business model is a very popular one but before you jump right in there are a few things that you need to know.
For starters, they are popular because people do not do enough research first and listen to what others tell them.
Zallevo distributors who you talk to are not going to tell you that over 90% do not make enough money to replace a job now, are they?
Whilst those figures are high, they are high because people do not go into these ventures with the right mindset.
You need to know that to have any sort of success with Zallevo requires that you commit for 2-5 years so we are looking for a long-term commitment.
Any business no matter what it is will take a lot of hard work and an MLM is no different.
Zallevo Review – Table of Contents
What is Zallevo?
Zallevo is a relatively new business which was founded in 2020 by its founder and CEO Brandon Broadwater.
Through advancements in nutraceutical science and nutrition, they have come up with quality formulations.
To add to your favourite drink to help the body achieve longer and lasting elevated health to your well-being.
There is a work-from-home opportunity for the ones who are looking to take Zallevo to the next level.
Listen to what the founder Brandon Broadwater has to say…
Who is The Founder of Zallevo?
That accolade is down to Brandon Broadwater.
A person who studied to become a radiologist but ended up moving into business and entrepreneurship.
By the time he was 30 had already become a millionaire through the help of several successful businesses he had founded.
Is Zallevo a Pyramid Scheme?
Zallevo is not a pyramid scheme and the reason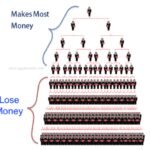 we know this is because you can earn money without having to recruit others.
However, if you want to give yourself a better chance of earning some real money then recruiting is what you have to be good at.
But, you still can't get away with the fact that Zallevo could be a pyramid scheme in disguise.
Let me explain.
Just for clarity on what a Pyramid Scheme is…
A pyramid scheme is when a distributor is getting paid for recruiting other people to join without a product or service.
What can often happen is that the company do have products and services but they don't have any real value and are only there to disguise.
What is actually going on this could be what is normally called a pyramid scheme in disguise.
The FTC compiled a report about the performance of MLMs which you can read here.
You might like to check out this short video…
Success is Rare With Zallevo
It depends on what you read because there are various posts out there saying one thing or the other, such conflicting information.
After reviewing hundreds of these MLMs we have a good grasp of where things lie.
We know that all MLMs are very similar when it comes to the number of people who are having success and who aren't.
Over 90% and nearer to 99% do not earn enough money to be able to say goodbye to a full-time job.
With over 50% and nearer to 70% that do not hang around and leave within the first 12 months.
To give yourself some sort of chance not just in MLM but in any business, you have to make a full commitment for at least 2 years.
Otherwise, you are setting yourself up for failure.
How Does Zallevo Work?
Zallevo operates like any other multi-level marketing company where they use distributors to spread the word and reach wider audiences.
This helps companies like Zallevo save on their marketing budgets and in return pay their distributors.
A sort of win-win situation!
The key to your success is recruitment and building a large team, but before that, you have to be convinced the products are what they say they are.
Zallevo Products Line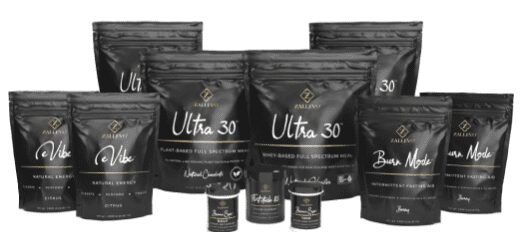 There are 4 bundles that you can choose from to make some make discounts…
Basics Collection – Subscribe = $197 or one-off purchase = $230
Essentials Collection – Subscribe = $297 or one-off purchase = $350
Ultimate Collection – Subscribe = $497 or one-off purchase = $600
Ultimate Duo Collection – Subscribe = 987 or one-off purchase = $1,200 
The product range is not extensive as you can see below…
Collagen 300 – Member $87.95 or one-off $109.95
Ultra 30 Chocolate Whey – Member $57.95 or one-off $67.95
Ultra 30 Vanilla Whey – Member $57.95 or one-off $67.95
Ultra 30 Chocolate Plant – Member $57.95 or one-off $57.95
Ultra 30 Vanilla Plant – Member $57.95 or one-off $67.95
eVibe – Member $36.95 or one-off $42.95
Burn Mode – Member $45.95 or one-off $45.95
Fortitude 85 – Member $44.95 or one-off $51.95
Biome Sync Daily – Member $54.95 or one-off $63.95
Biome Sync Trim – Member $64.95 or one-off $74.95
Zallevo Shaker Bottle – Member $14.95 or one-off $14.95
Full a full description along with all the formulations we would suggest heading over to the website.
You might like to check out some similar companies offering similar products…
Zallevo Business Opportunity – What You Need To Know
For the entrepreneurial-minded then this is the section that should interest you the most.
How Much Does it Cost to Become a Zallevo Wellness Partner?
There is an annual fee which is currently $39.95 which will be renewed automatically.
Zallevo is a membership site which means that you will have to pay a monthly fee which is down to the 3 memberships below…
Zalleva Standard – $14.95
Zallevo Premium – $19.95
Zallevo Premium Duo – $25.95
The 3rd membership is for when you and your partner decide to join whilst the 2nd membership is what most tend to go for.
Where you have…
Unlimited number of contacts
Events calendar
Contests
Coaching
Resources and email campaigns
View hot prospects
Detail user activity statistics
Tracking and notifications
Back office advanced reports
How to Make Money as a Zallevo Wellness Partner
There are the 2 main ways of making money with Zallevo which are highlighted as 1 and 2.
Retail commissions based on wholesale-retail
Residual commissions are based on sales from your team or downline
Various bonuses through the compensation plan
Zallevo Compensation Plan
The compensation plan is how you get paid and are often complicated but it does look like the one here at Zallevo is pretty straightforward.
Like with all plans there is a ranking system which means the higher you climb the more bonuses and perks are available to you.
Ambassador
Mentor
Premier Mentor
Elite Mentor
Silver Leader
Gold Leader
Platinum Leader
Servant Leader
Servant Leader 1 Star
Servant Leader 2 Star
Servant Leader 3 Star
Servant Leader 4 Star
Valiant Servant Leader
As you can see there are 13 different ranks and to stay active at that level you have to maintain a number of PVs.
You can check out the compensation plan here or listen to the founder go over it in the Youtube video below.
Are Zallevo Wellness Partners Actually Making Money?
Unfortunately, there is no income disclosure statement on the Zallevo website which doesn't give us much to go on.
But you are in luck because we have reviewed hundreds of these MLMs and they all have something in common.
That the very top 1% is where the main earners are with between 90% and 99% that do not earn enough money to replace a job.
With as many as 70% that do not hang around to see in their 2nd year.
Can You Make Money With Zallevo?
Of course, you can earn with Zallevo however it just depends on how much income you are looking to make.
To really stand any chance of succeeding you have to fully commit which could mean 2-3.
We know if you have never been involved with an MLM before that you aren't going to know whether it would be the right move or not.
What About The Monthly Costs at Zallevo?
Something that won't have been talked about much by your sponsor is the monthly costs.
The three main things you need to be aware of are…
Membership/monthly based on the popular one – $19.95 * 12 = $239.40
There is an active status that you have to maintain to say at the rank you have achieved.
PV or personal volume a month = 200PV
Now, there is no mention of what the value of PV is but a good guideline would be 1 PV = $1.
That means that unless you can sell the products to customers then you will have to purchase the value in goods just to stay active.
200PV = $200 * 12 = $2,400
There are monthly marketing costs to take into consideration as well although you will be told to post links on places like Facebook.
Take it from me to create a big team then this is certainly not the way to go.
That means you would have to take advantage of paid marketing to allow what it is you are marketing to a wide audience.
We would suggest between $50 – $100 a month = $600 – $1,200
Membership = $239.40
To stay active = $2,400
Marketing = $600 – $1,200
Total for the year is – $3,239.40 – $3,839.40
Is Zallevo a Scam?
Is Zallevo a scam? Absolutely not!
However, you will find a number of disgruntled people who did try to succeed with Zallevo but fell short of any expectations.
These are the ones who you will see labelling Zallevo as a scam.
What we did find out as part of our research is that the company is legit and is supported by the founder who has bags of experience.
The products are well received by people who use them and the compensation plan looks solid and not over-complicated.
At the end of the day it should be all about the products and if you are considering Zallevo, check out the products yourself first.
If you are not happy with the products then how are you supposed to sell the products to customers? You aren't now, are you!
If you are looking for a much better solution without the costs with as much flexibility as you like…

What we Like About Zallevo
Very Expensive To Stay Active:
Unless you know how to recruit and build a team then you are going to have to rely on selling the products yourself.
Just to stay active as a member is going to cost you $2,400 not to mention the additional costs with the membership and marketing costs.
What We Don't Like About Zallevo
Not Accredited With The BBB:
The Better Business Bureau is a place we look which gives us some stats on a company and how they are performing.
Unfortunately, Zallevo isn't even registered with the BBB.
 It's Difficult To Make An Income:
You have to be 100% dedicated which means not going into this venture with an "I'll give it a go" attitude because you are setting yourself up for failure.
What Happens When You Have Exhausted Your Social Circle:
What happens when you join an MLM is that they teach you to recruit all your friends and family which is a no-no if you value their friendships.
Other than that, they will teach you to post links on social media which might pick up one or two customers.
But you have to learn how to use paid marketing to stand any chance of success.
They Are Not A Member Of  The DSA:
They are not a member of the Direct Selling Association which is another organisation to check when you are researching MLMs.
Becoming a member is not easy as you have to go through a vetting process which many companies fail.
To find out how popular a company is you can look at a tool that Google provides, Google Trends.
Unfortunately, to find out one way or the other there wasn't enough data stored.
Zallevo MLM Review – Final Thoughts!
Ok, you should have enough information to make an educated decision about whether this company is one to pursue further or not.
We always recommend checking out further reviews to get a better feel of what Zallevo is all about.
Overall, Zallevo is a decent company providing good products but in most cases, with an MLM it isn't about the products.
It is always about the compensation plan which makes it almost impossible for a complete beginner to succeed.
If you want to know what we do for a living then please continue to read.
How we Make Passive Income?
We believe that affiliate marketing is by far the best business model for making money online for many reasons.
With an MLM it is never your business because what happens when/if the business closes down, you are left with nothing.
It could have been 3 or 5 years that you have worked to build this so-called business and all of a sudden it is gone and you have to start all over again.
That would never happen with an affiliate marketing business.
You can promote any product or service you like
You do not have to purchase or stock products
You do not have to answer to a sponsors
You do not have to recruit
You do not need to handle customer orders, shipping or returns
All you have to do is connect the customer with the merchant and your job is pretty much finished.
If you have a passion or love for something, then why not turn it into a profitable online business.
We can provide you with the tools, the rest is down to you.

Feedback, Comments and Subscribe
Hope you guys enjoyed this review and that we were able to answer most of your questions.
If you have anything to add then feel free to add your comment below and we will get back to you.
Until next time, stay safe