Welcome to my Agency Unlocked Review
A training platform created by Neil Patel is designed to take any small business to a higher level by scaling traffic.
In other words, he claims that this 5-week course will help increase your traffic enormously otherwise he will give you your money back.
If you know anything about online marketing then you are sure to have come across Neil Patel so you would think he knows what he is talking about.
If you know anything about developing or running an online business then you will know without traffic you don't have a business.
By the time you have finished this Agency Unlocked review, you should have a better understanding of whether this course will work for you or not.
Let's begin.
---
Affiliate Disclosure: The Agency Unlocked Review has been thoroughly researched from information and testimonials that are in the public domain. This post may contain affiliate links which means we may earn a small commission, however, this won't affect what you pay!]
---
Agency Unlocked Review – Summary
Product: Agency Unlocked
Founder: Neil Patel
Website: www.agencyunlocked.com
Product Description: Digital marketing training platform

Cost to join: $1,495.00 for annual subscription
Summary: We could all do with more traffic for our online business and there are a number of courses out there that claim to help.
Many of them are a fraction of the price that Neil Patel charges for his Agency Unlocked so why should you need to pay this amount?
Agency Unlocked Review – TOC
What is Agency Unlocked?
Agency Unlocked is a digital marketing course based on 6 weekly training modules that cover the various traffic methods that are available to you.
Such as traffic generation, conversions, content marketing, social media, paid advertising and teardown week.
Finding the right traffic is key to any success you have and Neil is an expert at finding traffic through those methods.
This course is more focused on the social and emotional experience of the clients and doesn't dwell too much on the technical aspect.
Who Created Agency Unlocked?
Neil Patel is the person behind Agency Unlocked who hails from the UK.
He has had an enormous amount of success online due to the vast campaigns that he has been running over the years.
Two businesses that spring to mind that he's responsible for are Crazy Egg and Ubersuggest.
He's also the author of many books and articles and you can find a host of free stuff that he generates through his Youtube channel on a frequent basis.
For instance, let's take a look at his Youtube channel, with over 1.1 million subscribers and over 57 million views.
So he's a person who people go to for valuable information.
He hasn't had it all his own way though, as like many successful business persons, he has had his fair share of misfortunes.
But you know what, he didn't dwell on things, he picked himself up and came back and now you can find multiple blogs making millions.
How Does Agency Unlocked Work?
Agency Unlocked is a 6-week digital marketing course that teaches the fundamentals of how to find traffic and earn money in the ever-expanding digital marketing world.
The main goal is finding traffic and he discusses and shows you the best methods that he uses himself.
He talks about how to turn those site views into paying customers by producing content that people love.
He also covers paid traffic and how best to do this through Facebook ads.
You can also find him or his team on weekly Q&A sessions where any questions that you have can be answered.
What You Get With Agency Unlocked?
As we have already mentioned, there are 6 modules which are based on 6  weeks of training.
Module #1 – Traffic Generation
Here you will learn all the basics of digital marketing and how to increase your traffic without spending money on ads or writing content.
In this module, Neil teaches you all about conversion rates and how to double them.
Which lends itself to email marketing, and using various influencers as well as review sites to increase your potential.
Module #2 – Conversions
In this module, Neil teaches you how to increase your client base by not increasing traffic.
The importance of using the right CTA (Call to action) and the strategies he has used for remarking old campaigns.
Module #3 – Content
Content is key and in this module, you are taught the best way of doing this through keywords and ranking high in Google.
Module #4 – Social Media
A major part of finding traffic is through social media and there are right and wrong ways of going about doing this.
In this module, Neil shows you how to take advantage of social media by interacting with your followers, visuals and posting the right content.
Module #5 – Paid Advertising
This module is very important and you aren't going to want to miss this as this is an area that can cost you a ton of money if done in the wrong way.
This is the quickest and most effective way of finding traffic if you know what you are doing.
Module #6 – Teardown Week
This module is all about recapping, what you have achieved so far and where to go from here.
Bonuses
There are 2 bonuses that come with your purchase.
Live training is brought to you by his marketing coaches and a private Facebook group where you can discuss things with other members.
Agency Unlocked Costs
The course will cost you annually $1,495 which we find quite expensive but he does say that you should be able to make that amount back within 4 weeks.
I am not sure just what to think of that!
Can You Pay For Agency Unlocked With Installments?
No, the annual payment has to be paid upfront.
Are There Any Upsells?
No, what you see is what you pay for.
Is There A Free Trial?
No there isn't a free trial.
Does Agency Unlocked Come With A Refund?
Neil makes a very bold claim that if you do not get at least 10 thousand visitors to your website on a monthly basis he will refund your money.
Is Agency Unlocked a Scam?
No, Agency Unlocked is definitely not a scam.
Neil Patel is not going to provide any such course on a scam basis not after it has taken him years to get where he is today.
If you have listened to or read any of his content which is all free training and there is a lot of it, then you will know what I mean.
If you take a look at his Facebook Group, there are currently over 500 members who trusted him and paid for this course.
However, we can't see too much activity there.
One thing is for sure and there is no certainty whether paying for such a course will help you make money at all.
At the end of the day, there are many courses out there that do the same thing and more for a fraction of the cost of Agency Unlocked.
Alternative Solution:
If you really want a training course that offers many times more and knocks Agency Unlocked out of the park and for a fraction of the cost then check out my free training below.

Agency Unlocked Customer Reviews 
Unfortunately, we couldn't find any real feedback from past and current customers.
This is a little disappointing, to say the least.
What we Like About Agency Unlocked
Neil Patel Is A Legit Market:
He is a well-regarded marketer with millions of followers offering free advice to anybody who wants it.
Think of a subject and key that into the Google Search Engine and more than likely you will find a post by him.
What we Don't Like About Agency Unlocked

There is an enormous number of courses online with many of them nowhere near the cost of Agency Unlocked and offering the same.
On the other hand, there is an enormous number of similar courses that are more expensive and should not be gone anywhere near.
The saving grace is that Neil can be trusted and at the end of the day, that's what it is all about, trust and there isn't much of that online.
With this course, you will have to renew your membership on an annual basis which will be done for you automatically if you don't cancel.
Not sure this is fair and even if the $1,495 was for a lifetime we still don't think it would be worth it.
Lack Of Any Feedback From Current And Past Students:
This is never a good sign and for a person like Neil Patel, you would have thought there was an abundance of positive feedback.
No Activity In The Facebook Group:
There has not been any activity on his private Facebook group which sort of denotes that maybe this course is no longer active, so be aware of making a commitment and paying for it.
There Are No Guarantees In Life:
It doesn't matter who it is who claims that a course will help you to achieve success with your business.
If you do not apply what you are been taught then don't expect to see results.
That's why when you listen to "gurus" like Neil Patel you need to do so with an open mind and weigh up everything.
What we Think About Agency Unlocked
After all, Unlocked Agency is a digital course that will help you if you apply what you are been taught.
For anybody new to the digital world we would suggest not paying for something like this until you have at least found your footing.
This is not some magical piece of training where everything will be done for you, no, you'll have to apply everything.
For sure, Neil Patel is a master of his craft but listening to bold claims like increasing traffic two-fold, reducing ad costs and increasing conversions is a little over the top.
We are sure that you can find everything that you can find in Agency Unlocked on his Youtube channel.
Now for someone who offers training and Q&A on a weekly basis and doesn't appear himself, we find that a little offputting.
After all, the course is expensive and he should make the effort.
Another thing we don't like is the automatic renewal which most people are going t forget and there is no clear understanding of how to cancel the membership.
For a person like Neil Patel, I'm afraid we expected more and this certainly wouldn't be a course we'd recommend.
If you are looking for a training platform that knocks Agency Unlocked out of the park and doesn't cost anywhere near as much.
In fact, you can join for FREE and see whether this might be for you or not then please continue to read.
What we do For a Living
It's called affiliate marketing which is very similar to dropping shipping except you don't have to worry about using a digital store.
The principle is the same in that you are the middle person and direct the customer to the merchant except you get paid a commission on a sale.
It also means that you are not restricted and are much more flexible.
Is one of if not the best ways to create multiple income streams.
I have personally been a member of Wealthy Affiliate since 2017 and the main reason why I was able to kiss goodbye to my 9-5 job.
Just check out the reviews on Trustpilot.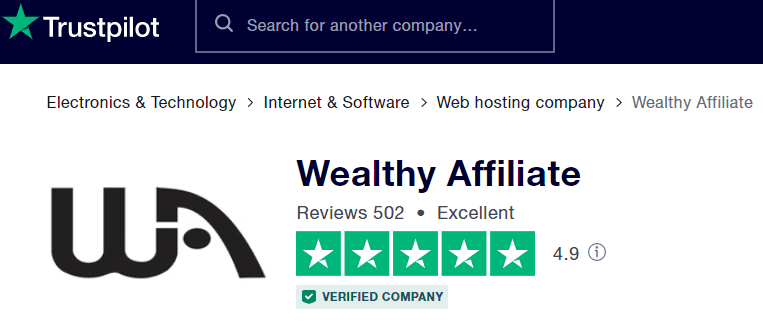 The training platform is a fully integrated one-stop-shop meaning that everything you need to succeed is in one place.
Education and training, Web development, Hosting your website, and a community that cares and is full of experience on many levels…

Feedback, Comments And Subscribe
If you enjoyed this Agency Unlocked review then feel free to share it on social media.
Thank you for your time!
Take care!
Stay safe!