Welcome to my Capital Syndicate Review 
A training program created by Lee Arnold, who claims to be able to get you up and running quickly with a passive income.
You may have seen the advertisements on social media or even received an email from Lee himself and thought you'd research it further.
So today we are going to shed some light on this program and hopefully answer a few questions you might be asking yourself.
With so many "so-called" opportunities online it is often difficult to know which are legit and which aren't.
That's why we created this website, to help people like yourself to find your way in this very confusing niche.
We would like to mention first that we are not affiliated with Lee Arnold or his Capital Syndicate in any way.
This basically means that what you will get is an open, unbiased account of everything associated with this online opportunity.
If you would like to browse this site later, you are sure to find something of interest considering we have reviewed over 400 programs and systems.
Let's begin!
---
Affiliate Disclosure: This Capital Syndicate Review has been thoroughly researched from information and testimonials that are in the public domain. This post may contain affiliate links which means we may earn a small commission, however, this won't affect what you pay!]
---
Capital Syndicate Review Summary
Product: Capital Syndicate
Founder: Lee Arnold
Website: www.capitalsyndicate.com
Product Description: Real estate financing
Cost to join: $97
Recommended: Maybe but beware of the sales call and the upsells
Summary: Basically you will be working as an employee of Lee Arnold and building his pot of gold whilst you are making commissions, that is if you are successful at finding investors.
On the surface and listening to Lee he makes it sounds so easy but if he didn't then would anybody even look at this opportunity?
The whole point of finding an online business should be to work for yourself and create it passively, right?
We are part of an affiliate marketing training platform and if you need to know more just click on the link below, it is 100% free.
The Capital Syndicate Review – TOC
What is The Capital Syndicate About?
The Capital Syndicate is a finance program created by Lee Arnold where he teaches you a method called "Private Money Brokering".
Many people will not be familiar with this term so we'll try and explain it in a simplistic way.
Basically, you are learning how to find investors in real estate who need money for their next project and refer them to Cogo Capital.
Which is Lee Arnolds investment company and if the referral is successful then you will receive a commission.
You are basically a middle person who does all the hard work in finding these real estate investors.
How much commission you make is all based on what the investor borrows.
As part of this program, Lee claims that he will give you access to his network of personal funding partners.
That way you are able to get funds for your own real estate investments, well that's the theory anyway.
Making money by lending other people's money sounds great but in reality, is it really that easy? Lee Arnold seems to think so.
Lee claims there is a "closed-door" group of Americans just siphoning the profits off a $71.5 BILLION private lending industry.
Related: Digital Real Estate Secrets
Who is Lee Arnold?
Lee Arnold is the founder of The Capital Syndicate as well as a licensed broker, author, mentor and international speaker.
He has been involved for many years as a real estate investor, helping investors to broker investment deals.
He has also been featured by Forbes, Market Watch, The Business Week and the Boston Globe and also lends his time to several financial companies.
As a major player in his field, he leverages the relationships of investors through companies that he and his team have grown.
Companies like Cogo Capital and Lake City Servicing work alongside each other to broker deals.
He also has The Lee Arnold System Of Real Estate Investing company that primarily offers education in this specialized niche.
Arnold has been involved in this industry for over 20 years and has a passion for helping others, therefore if this is something that might be of interest I would suggest doing further research.
If you want to know more about Lee you can do by heading over to his personal website here.
Related: The Land Geek
What Do You Get With The Capital Syndicate?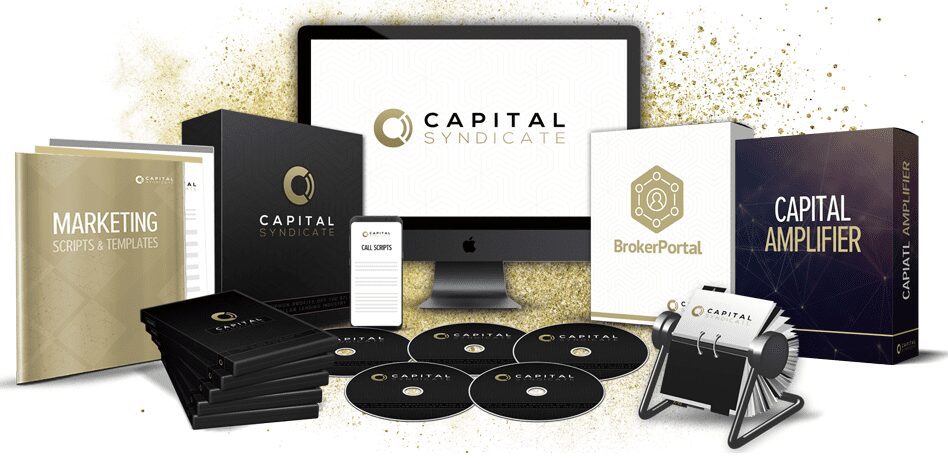 As it is an online course, the Capital Syndicate training is covered across 5 videos which cover the various topics of private money brokering as well as real estate investments.
Whilst many may think that the number of videos may not cover in any great depth I can attest that they do.
Alongside the video training, you will get access to a whole bunch of tools, scripts, legal documentation, plus many other resources.
Lee also promises you his own list of private lenders that you can use for any referrals that you manage to bring into the company.
Module #1: – The first module is an introduction to the Capital Syndicate training program and the private money brokering sector.
Here Lee will gloss over the entire training course and show the benefits of what he has learned as a private broker and why you can benefit.
Module#2: – In this module, you will learn the role of a private money broker and what it entails.
You will also learn who the various players are in the investment market such as the actual investors, the private money brokers and of course the private money lenders themselves.
Module #3: – In the third module Lee looks at the various methods that are available to you both offline and on to find investors.
He goes into email marketing and social media where it is all happening nowadays.
But don't discard like paying for ads in certain magazines, this is a method that still works today.
Module #4: – In module four Lee covers how to convert leads and turn them into actual clients.
Here you will be taught how to approach potential clients and just what to say and what not to say to them and mistakes you must avoid when closing the deal.
Module #5: – In the final module Lee discusses the entire process of private money funding and how you get paid.
As well as real estate and the process you have to go through to close which also includes the mistakes that you have to avoid.
Related: EYL University
Capital Syndicate Costs And Refunds
Something that you should be aware of is opportunities where the actual costs are not stated and that's the case here with Capital Syndicate.
There is nothing on their website and you just know that it is going to cost you dearly!
In order to find out you will have to arrange a call with Lee Arnold's team so expect some high sales negotiations.
We do know through talking to people who have invested that it will at the very least cost you $97 just to join.
But, based on that call and your situation it could end up costing you as much as $10k so beware.
Even at the entry level which will cost you $1,164 for the year, you aren't going to be privy to the full training and that is for sure.
At the end of the day, you are going to be Lee's lackey and you will be paying for the privilege.
Can You Pay For The Capital Syndicate With Instalments?
No, you can't, the full amount will have to be paid upfront.
Are There Any Upsells With The Capital Syndicate?
There are upsells but the first you will get to know about these is when you are on the sales call.
Is There A Free Trial With The Capital Syndicate?
There is no free trial with the Capital Syndicate.
Are There Any Additional Costs We Should Factor Into The Capital Syndicate?
There are always additional costs that you will have to factor into any business, such as marketing costs, email marketing, website etc
Does The Capital Syndicate Come With A Refund?
At the present, there is a refund but you have 30 days to decide whether this is for you or not.
Related: Investment Dominator
Is The Capital Syndicate a Scam?
No, we don't think that Capital Syndicate is a scam or that Lee Arnold is an untrustworthy person.
This can be seen by the number of positive reviews that you can read online.
But would we recommend this is a good way to create an online business?
We would have to say no but that is because we like to be in control and with Lee Arnold at best you are an employee.
That and the fact that the cost of joining such an opportunity is not displayed anywhere on the website.
You will have to listen to a salesperson's pitch over the telephone and some of these salespeople are extremely good at what they do.

Capital Syndicate Student Reviews 
Reviews are very important when deciding on whether to pursue an opportunity, in fact, they are important for anything in life.
Often, when we are reviewing a program we struggle to find any resemblance of what you might call a review.
But here we managed to find a number of external Capital Syndicate reviews.
We found them on a forum through BiggerPockets which you can check out here.
We did however find a whole bunch of reviews on Trustpilot referring to Lee Arnolds System Of Real Estate Investing, which is one of Lee's earlier programs.
The Capital Syndicate – PROs
We couldn't really find anything positive to say about this program as it does appear to be flawed on many levels.
However, we did find a number of positive reviews for Lee Arnolds System of Real Estate Investing on Trustpilot.
The Capital Syndicate – CONs
This Could End Up Costing You Dearly: 
What we mean by this is that there is no mention of how much the course will cost you on the website and the first time you will be aware of this is when you get on a call with Lee's team.
We know from talking to people that this could end up costing as much as $10k.
You Are Working For Someone Else:
The reason I left my permanent role was to work for myself which is what affiliate marketing allows me to do.
Becoming a member of this Lee Arnold training course means you will be tied into a permanent role.
It also means that you will be doing all the hard work to boost Lee's bank account.
It's Going To Be A Hard Sell:
Trying to sell anything no matter what it is will take a lot of time because people are very cagey and more so with all the scams out there.
Whilst Lee does mention that you could be up and running in as little as a month we just know that is untrue.
People need to warm up to you…Trust you before they even contemplate accepting anything you have to say and that is a natural process.
The Final Verdict For The Capital Syndicate!
At the end of the day, the choice is yours whether to pursue this opportunity or not and whilst this isn't a scam it isn't something we would consider.
There are much better and cheaper ways out there for making money online and this website is packed with many that we would recommend.
This course initially is to teach you how to be a middle person, finding clients for Lee Arnold and his team.
Depending on how much money the client secures will determine how much commission you will make.
It sounds like a lot of leg work for very little reward to me.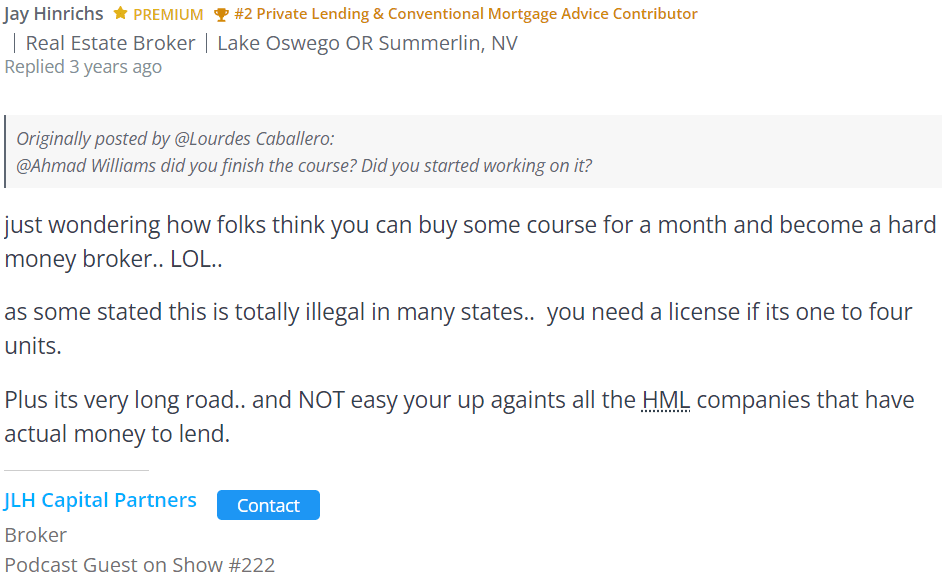 There is no way that anybody can start making money through any program within a month, it just won't happen.
You should be looking at months rather than weeks.
A big red flag is when anyone claims that you can be making money within a few weeks and something you should be wary of.
For anybody who might be interested, I have been part of a training platform since 2017 and the beauty of it is that it is FREE to check out.
I explain this in the section below.
What we do For a Living
It's called affiliate marketing which is very similar to dropping shipping except you don't have to worry about using a digital store.
The principle is the same in that you are the middle person and direct the customer to the merchant except you get paid a commission on a sale.
It also means that you are not restricted and are much more flexible.
Is one of if not the best ways to create multiple income streams.
I have personally been a member of Wealthy Affiliate since 2017 and the main reason why I was able to kiss goodbye to my 9-5 job.
Just check out the reviews on Trustpilot.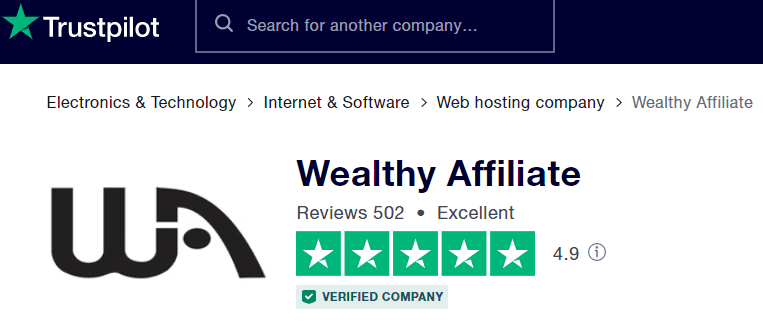 The training platform is a fully integrated one-stop-shop meaning that everything you need to succeed is in one place.
Education and training, Web development, Hosting your website, and a community that cares and is full of experience on many levels…

Feedback, Comments And Subscribe
That just about wraps it up for the Digital Syndicate review and hope you enjoyed it.
If you have anything to add please don't hesitate to ask!
Thank you for listening!
Take care!
Stay safe!