Welcome, so What is the Commission Hero and will it provide you with an income within the next few weeks?
If you spend any time on social media
as we do then you are sure to have come across the Robby Blanchard webinar.
Where he claims to be able to teach you a foolproof method to earn you as much as $1k a day.
Well, we thought it was about time that we took a look for ourselves!
That's all very nice and achievable and if that's what has sparked an interest, then you thought you'd check it out and see for yourself.
I mean who is Robby Blanchard anyway? Is the Commission Hero a scam? Does Commission Hero even work? Is Robby Blanchard a scam?
All valid questions and the type of questions we will be addressing in this Commission hero review.
But before we get started, there is one important thing that we need to address.
That is we are not associated with Robby Blanchard in any shape or form and definitely not getting paid for this review.
Not like many other Commission Hero reviews, I'm sure you will have come across whilst doing your research.
Most of them are biassed and trying to sell you his training course and in the process make a tidy commission.
In this review, I have dug deep to find out everything you'd need to know about Commission Hero and Robby Blanchard.
That way you should be able to come to your own conclusions as to whether this course is right for you or not.
So let's begin, shall we?
---
[Affiliate Disclosure: The Commission Hero Review has been thoroughly researched from information and testimonials that are in the public domain. This post may contain affiliate links which means we may earn a small commission, however, this won't affect what you pay!]
---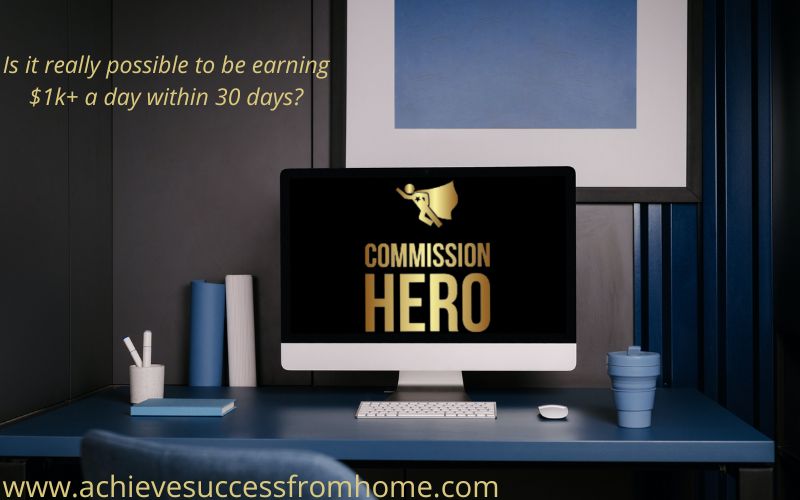 Product: Commission Hero
Founder: Robby Blanchard
Website: www.commissionhero.com/home
Product Description: Affiliate marketing course
Cost to join: $997
Recommended: Maybe
Summary: If you have looked long and hard for a way to make money online.
Then you are sure to have come across many courses like Commission Hero.
Using the Clickbank affiliate network as a source for where to find products to promote.
Using Clickbank may have been the place to go a number of years ago to find quality products but nowadays it is a very different thing.
Don't get me wrong, you can still find some quality products but you have to be very selective and do your homework.
But don't despair, because there are several other affiliate networks that you could also use for finding quality products.
The method that Robby Blanchard uses to promote the products is through Facebook ads which is ok and less costly than let's say Google Ads.
But many people are having issues regarding affiliate marketing and promoting products on the social platform. More on that later!
Alternative Solution:
This is a training platform that teaches affiliate marketing which was designed around the complete beginner.
It is a platform I have been a part of since 2017 and will continue to do so for the foreseeable future and it doesn't cost a dime to look at.
A fraction of the cost of Commission Hero and produced thousands of successful affiliate marketers since 2005.
The Commission Hero Review – TOC
What is The Commission Hero About?
The Commission Hero is a training course that teaches affiliate marketing to complete beginners.
It's a training course that is not too dissimilar to the many courses we have reviewed, that use Clickbank products.
Just out of curiosity, if you go to the Clickbank marketplace you can find the Commission Hero.
Promoted as "The Ultimate 3-Step System To Generate thousands of Dollars Every Day"
In fact, if you listen to the Robby Blanchard webinar he mentions how he can teach you to earn $1000 a day.
He also goes on to tell you "It's honestly, not that hard to do!"
Now, if it was that easy then everybody would be doing it and therefore you have to understand.
That this is only a sales pitch which you should take at face value or with a pinch of salt.
Another important fact to notice is the gravity score for Commission Hero on the Clickbank Marketplace.
Is 2.6 which basically tells us that the course isn't that popular.
In fact, when you select a product from Clickbank you use gravity to find popular products to promote and we put a minimum gravity=30.
If you go to Clickbank now and select Gravity of 30 as the minimum then the results brought back are not that many.
So why are affiliate vendors still plugging away at Clickbank as the best place to find quality products? It is certainly a mystery to us!
We are not trying to badmouth this product, we are just making you aware of a few things, that's all!
Who is Robbie Blanchard?
Robby Blanchard is the brainchild and creator of the Commission Hero who was supposedly the number one Clickbank affiliate.
Which should tell you there that he knows what he is talking about.
But does he, because all that title is for are the number of sales for that particular product.
If you want to know more about who Robby Blanchard is or about any Robby Blanchard courses then head over to his personal website.
Whilst you are there why not check out the Robby Blanchard free training before making a commitment.
So if you had any doubts about whether Robby Blanchard was legit or not, sleep safely in knowing that he is.
Prior to having success online, he was a struggling gym owner who needed to find a way to increase memberships and revenue.
So he turned to the internet for answers, in particular, social media and Facebook, where he got his idea for the Commission Hero course.
On Facebook, he learned how to use marketing ads to find customers for his gym and now the gym is a thriving business.
Fast forward to today and he is now teaching other like-minded people how to make money online through his 3 step training course.
If you are looking for further confirmation that Robby Blanchard is legit check out his Youtube channel.
How Does Commission Hero Work?
Robby uses what he calls a simple approach that people consistently overcomplicate.
There are no websites used except for a landing page which is a 1-page website and there is no content to write and no email marketing either.
He cuts to the chase and teaches you how to find profitable Clickbank products, and how to create landing pages and Facebook Ads.
He uses a 4 step approach…
Find a quality product on Clickbank or any other affiliate network
Create a webpage or sales funnel which essentially is the same thing
Find traffic or customers through Facebook Ads
Make commissions
The big thing here is selecting the right products in ClickBank and getting the right level of traffic.
Those two are key to any success that you might have.
Everything has to be just right, the offer, landing page and the right customer, get that right and you should be in the money.
If you'd like a little help understanding the whole process then take a look at how affiliate marketing works.
What do You Get With The Commission Hero Training?
There are 9 modules that come with Commission Hero which also comes with a load of bonuses too which we have tagged onto the end.
Module  1 – An Introduction To Commission Hero
The first module is an introduction from Robby of who is and how he got to where he is today.
Furthermore, he will give you an introduction to what affiliate marketing is and what you can get from this Commission Hero course.
Module 2 – Choosing The Right Offers
The most important aspect of affiliate marketing is finding the right product to promote.
In this module, Robbie will show you how to select the right product and the steps you need to go through, with Clickbank the main focus.
As Robbie is the #1 affiliate at Clickbank then that should give you confidence that he can set you on the right path.
Module 3 – Finding Your Ad Image
Choosing the right image can make the difference between a successful ad campaign and one that falls short of expectations.
Here Robby explains which images will work and which won't and even suggests maybe seeking out help on 3rd party sites like Fiverr.
If you are new to all this then it might be worth seeking out help like this but over time you will learn what works and what doesn't.
What you are looking for is something that visually looks stunning without going over the top.
Module 4 – Creating Your Landing Page
Once you have selected the right product to promote and the image you need to create your ad campaign.
To do this you would create a landing page, which basically is a 1-page website.
There's a focus on using ClickFunnels to do this bearing in mind that this doesn't come cheap, starting at $80/month.
Module 5 – Setting Up Your Facebook Account
This is where Robby's experience lies since it is Facebook that turned around his failing gym business.
There are many traffic sources you could use but Facebook is probably the best for flexibility, costs and trust.
Having said that though you have to play the game and abide by the Facebook rules otherwise you could find your account deleted.
Robby suggests a cost of between $10 and $20 a day which equates to $300 to $600 a month.
Module 6 – Setting Up Facebook Pixels
Facebook pixels are nothing new but they can be very helpful in tracking your campaign.
All it is is a piece of code that you would add to your landing page which keeps track of what is happening when your ad campaign is running.
Module 7 – Tracking Your Campaign
There are a whole lot of statistics that come with the Facebook pixel which will be alien to most people especially if you are a beginner.
Robby explains in this module how to make sense of this data so that you can get the best out of your campaigns.
You have to keep an eye on your ad campaigns and understanding the pixel data will allow you to make changes to improve the results.
Module 8 – Scaling 
Once you have tweaked your campaign and it starts producing revenue and you are happy with the results.
You have to keep the ad campaign running by increasing the budget to increase the flow of revenue which scaling is all about.
Module 9 – Ninja Tactics
Module 9 is coming to the end of the course and here Robby shares some of the tactics that he has learned over the years.
Some of those tactics are various strategies that he used for his business, improving your Facebook page and how to deal with account closures.
Hopefully, if you have taken on board everything that Robby has taught you then you should be on the road to success.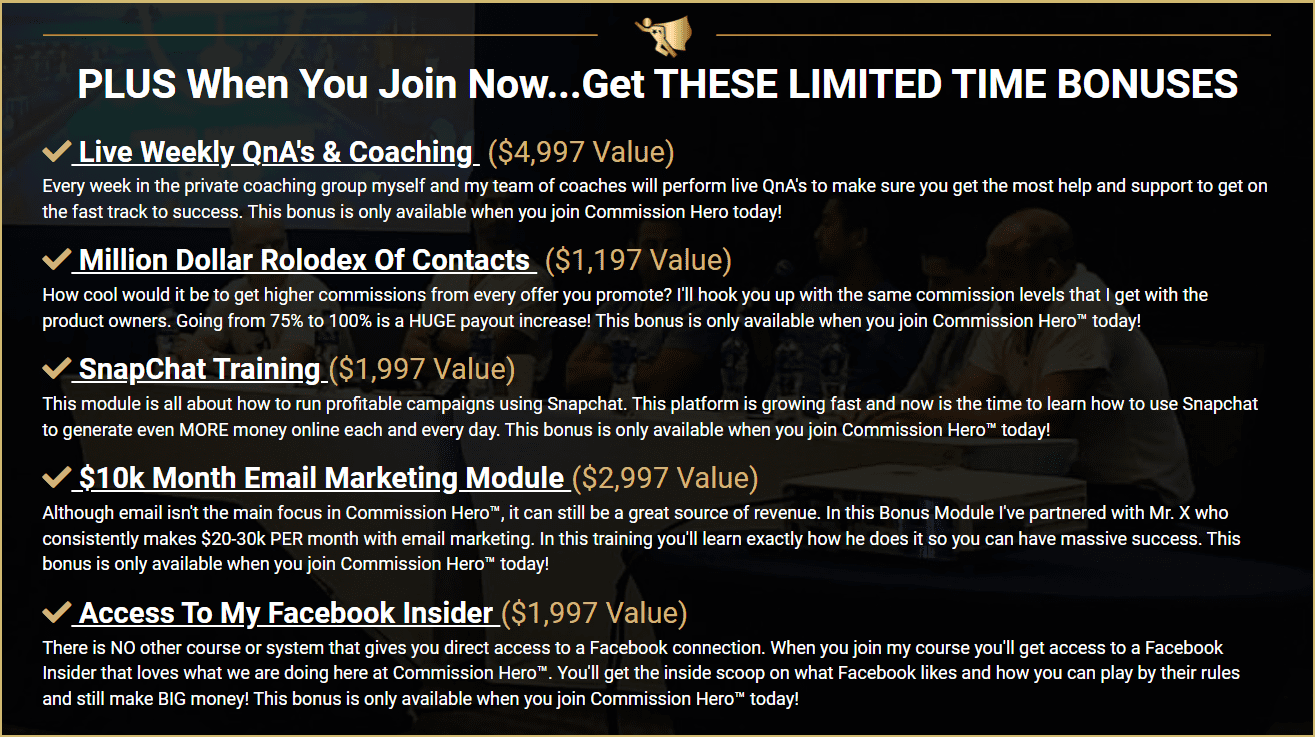 Who is The Commission Hero For?
The Commission Hero is for anyone who is looking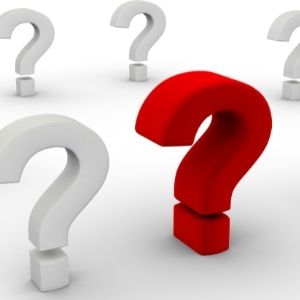 for a better life and one that will give you back your freedom to live life as intended.
The course was developed with the complete beginner in mind but you are sure to find more experienced marketers there too.
Paying $1k for a course where there isn't a refund policy in place, then you'd better be sure that this is the business for you.
It is a hard decision to make when you have no clue whether what you are getting into will be a success or not.
You could look at the no refund policy as a good thing which should weed out the ones who aren't fully committed.
If you are thinking of joining then ensure your mind is in the right place and make a full commitment otherwise I would give this a miss.
Do not expect to be making big money overnight and thinking that way is a recipe for disaster.
Remember you will need a budget between $300 and $600 a month and don't forget to factor that into your sales revenue.
Commission Hero Price
Commission Hero will cost you $997 which is a one-off payment and you can pay it over 2 equal payments of $597 which takes it to $1,197.

There are other costs to take into consideration also like…
ClickFunnels – $970.08 – $2,970/year
Facebook Ads – Based on $10-$20/day –  $3,600 – $7,200/year
The overall total for the year based on what we are told by Robby Blanchard would come to around – $5,567.08 – $11.167
Here are a few similar courses that you might like to check out but do not discard Udemy…
Taking Action Online (Recommended)
Is The Commission Hero a Scam?
Commission Hero is definitely not a scam but does it deliver on the claims of what Robby Blanchard say's.
You definitely get a feeling that this course will deliver but without any 3rd party reviews then how are you to know?
The thing that lets this training down is the fact that Robby uses Clickbank products and we have very little faith nowadays in Clickbank.
Granted you will be able to find some quality products but not many, not to worry because nobody says you can't use other affiliate networks.
But saying that, Robby is/was the #1 Clickbank affiliate but is he going to suggest certain products to promote, maybe, but I guess not.
So is Commission Hero legit and we have to say maybe and is Commission hero worth it and we have to disagree there?
If you want a full-blown training course that has everything, all the tools, hosting, keyword tools, education, community, 24/t help and support…

What Others Say About The Commission Hero
What we really can't understand with a popular training course like Commission Hero is the lack of real 3rd party feedback.
But a quick look at the Facebook groups tells us there are over 12k members and surely a large portion you would think are having success.
Of course, you can find testimonials on Robby Blanchard's website but these can't be verified.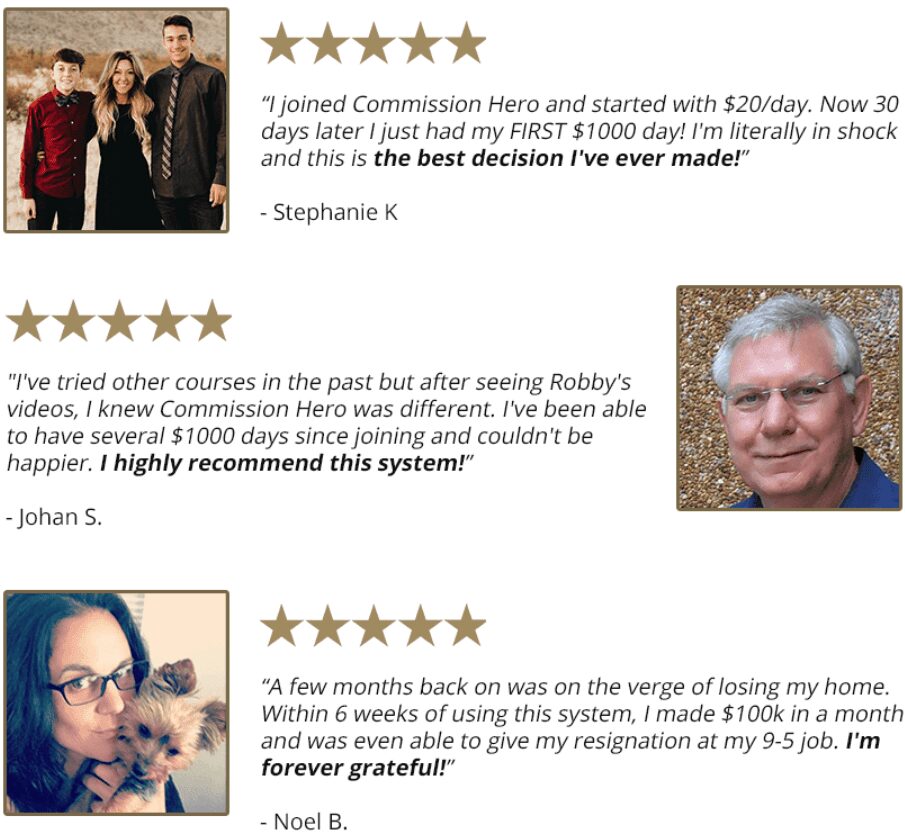 I did however come across a review site where I found many disgruntled members and here are just a few of them.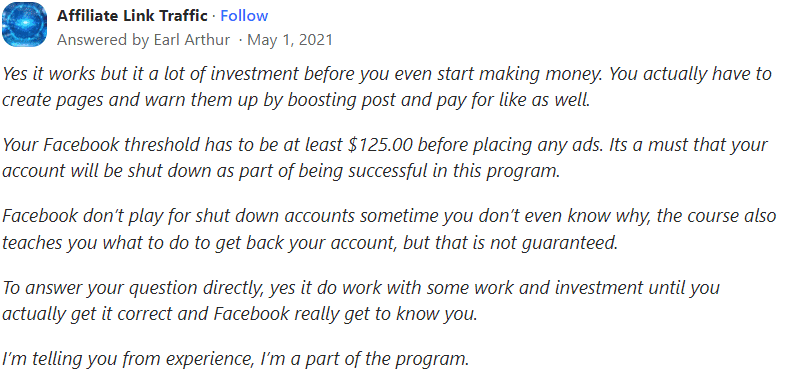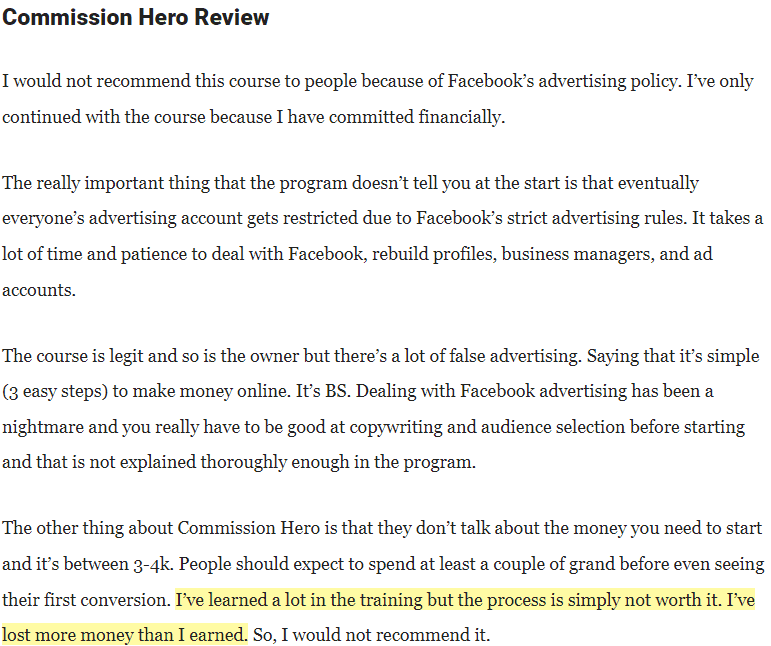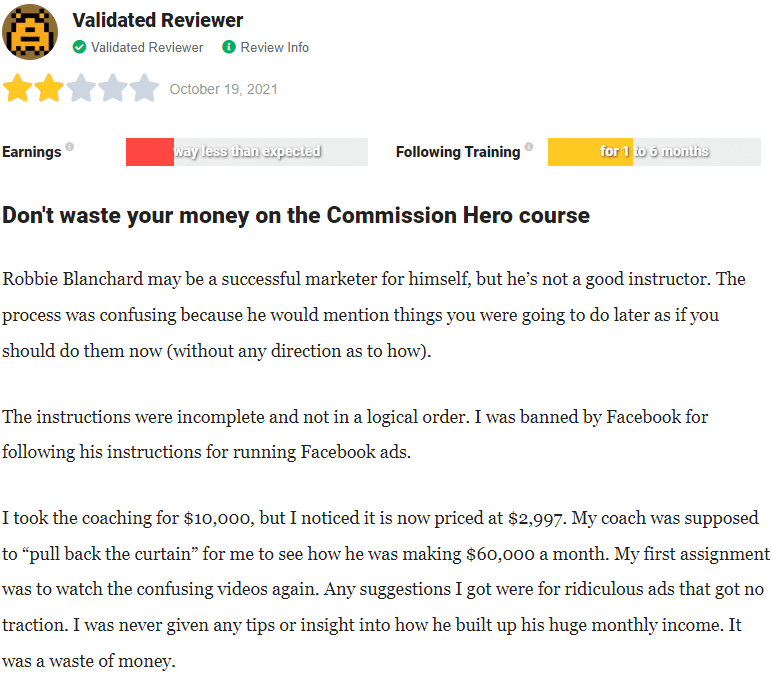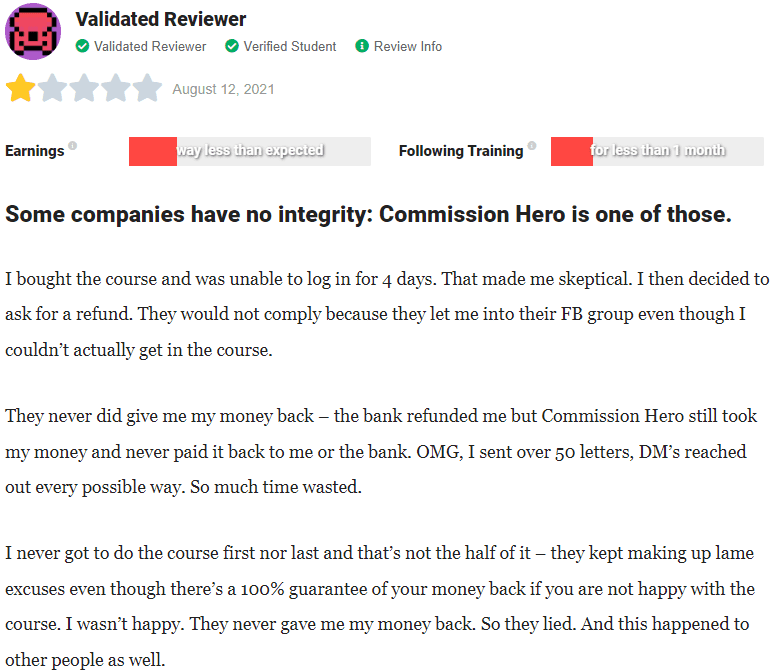 We found a few comments on two popular forums which you might like to look at too.
The Commission Hero Review – PROs
Robby Blanchard is a legit and experienced marketer with a track record.
Affiliate marketing is a tried and tested method of making money online.
You should learn a lot about Facebook marketing.
There Are Useful Bonuses That Come With The Training.
The Commission Hero Review – CONs
Clickbank products are of poor quality and you will struggle to find quality ones.
Far too expensive and there are much better alternatives out there.
Hidden costs that are not spoken about will take your initial investment into the thousands.
Products you promote that are not good you have to lie about.
Affiliate marketing is not easy and will take months rather than weeks to see any success and by that time you will have spent hundreds if not thousands already on Facebook ads.
Lack of support when you need it.
What happens when you get banned by Facebook which many are doing nowadays.
There is no emphasis on building a brand which is what you should be aiming for in the longer term.
Many affiliates who are having success are actually promoting Commission Hero itself and not from Clickbank products.
The Commission Hero Course Review – Final Thoughts!
Just before we wrap this Commission Hero review we'd just like to mention a few things.
Initially, when we started reviewing Commission Hero, we had big hopes but as always if you look deep things start to unravel.
We had to look far and wide for feedback from past and present students and we found quite a few which were more negative than positive.
We managed to add a few to this review and these did hit a nerve because at the end of the day unless you can find reviews then how are you able to make a judgement call?
But, with any training product or system, there are faults no matter how good they appear to be.
It doesn't matter what course you intend taking you have to make a full commitment otherwise what is the point?
The problem I see here is the costs that people aren't aware of and besides.
When someone is telling you that you'll be earning $1k+ a day within 30 days as Robby does then what do you believe?
What you should always do is research any product or system extremely thoroughly and that is the only way to avoid losing money.
If you had access to the costs like you have now, then would you even consider it?
The costs are extremely over the top but hey don't despair because we have an alternative that knocks Commission Hero out of the park.
Commission Hero Alternative – How we Make Passive Income Online?
Affiliate marketing is, without a doubt, one of the best business models for making money online.
However, there are ways of executing this and Commission Hero does it one way whilst Wealthy Affiliate does it another.
Creating multiple passive income streams is what we all adhere to and Robby Blanchard's system doesn't allow you to do this.
Because you have to keep feeding the marketing budget whereas in my method you don't because they specialize in SEO.
Just check out what TrustPilot has to say?
The training platform is a one-stop-shop meaning that everything you need to succeed is there.
Education and training, Web development, Hosting your website, and a community that cares and is full of experience on many levels…

The Commission Hero Review – FAQs
Is There A Payment Plan?
According to the sales page, they do not offer a payment plan however aren't 2 separate payments of $597 a payment plan?
Is There A Refund Policy?
Unfortunately no there isn't a refund policy so make sure that this is really what you want to do, with plenty of research like you are already doing.
How Long Will It Take Me To Be Up And Running?
We have seen results from current students and this is all down to the level of experience you already have.
Some students are up and running with their ad campaigns in just a couple of days while some take several weeks.
It all depends on how dedicated you are and having the right mindset which unfortunately this course does not cover.
How Much Extra Capital Is Required?
Apart from your initial fee of $997 you only have to worry about paying for traffic and however much you'd like to spend is up to you.
But a guideline for newcomers is between $10 and $20 a day so that works out at $300 – $600 a month.
Can I Do This And Get Paid If I Live In Any Country?
According to Robby, yes you can, provided you have a bank account.
Well, that is not exactly true as ClickBank is banned in many countries.
How Many Hours Should I Put Into This Business?
If you are serious about this then provided you don't have to hold down a full-time job then you will want to put in as many hours as you can.
According to Robby, you should be able to allocate 2-3 hours a week to complete the course.
But serious members should be able to put in a few hours a day.
What Kind Of Support Will I Get?
When you join you get access to their own private Facebook group where you can ask questions and hopefully get answers.
There is currently over 12k members but just how good this is for getting answers to important questions is something we do not know.
If there is a bunch of beginners then they really probably aren't going to be able to answer or probably don't want to answer your question.
The course relies on you watching the modules several times and therefore only get in contact if it is really necessary – support@robbyblanchard.com
How Does Robby Blanchard Make Money?
If you read through the review you will know that he started a gym business and it is currently doing very well.
He also promotes products and services relating to relationships and dating along with his baby, the Commission Hero.
If you take a look at Commission Hero alone based on the 12k members in the private Facebook group, that alone brings in nearly $12 million.
Feedback, Comments and Subscribe
Anyway, guys, thank you for your patience and for taking the time to read this Affiliate Triad review.
We hope you found the answers to your questions and that the review helped you to make the right decision.
If you have anything to add please drop us a line below.
Take care!
Stay safe!