Hey guys and welcome to my Dropship Formula Review
The internet is literally bursting at the seams with dropshipping courses and with so many to choose from can be a bit of a nightmare.
Maybe you are here because of a recommendation from a friend or maybe you were just researching various ways to make money online.
Whatever the reason, it doesn't really matter but what does, is that you decided to research the subject first before jumping straight in.
Spending some time researching can end up saving you time and money but more importantly, the only way to find legit opportunities.
Dropship Formula has only recently been brought to our attention and thought we'd take a look and see what all the fuss was about.
Before we get started though, we'd just like to mention that we are not associated with Simon Vernon or his Dropship Formula course.
This means that you can be sure that this will be an honest review, with all the facts and whether it could be a good investment for you.
So if you have questions like…Is Simon Vernon a scam artist or is Dropship Formula a scam or a legit investment?
Then those questions will be answered plus many more so that you can decide for yourself whether to move forward with this course or not.
But before we get started, who am I and why should you listen to me?
My name is Mick and I created this website to help people like you find your way in what might be seen as a minefield of opportunities.
With around 94% of which you should stay well away from.
So rest assured we are here to help you in any way we can and any questions you have you can add at the end of this review.
---
[Affiliate Disclosure: This review has been thoroughly researched from information and testimonials that are in the public domain. This post may contain affiliate links which means we may earn a small commission, however, this won't affect what you pay!]
---
DropShip Formula Review – Summary
Product: DropShip Formula
Founder: Simon Vernon
Website: www.dropshipformula.co.uk
Product Description: High Ticket Dropshipping course
Cost to join: From £595 – £2695
Recommended: Maybe
Summary: Dropship Formula focuses on selling high-ticket products as opposed to low-ticket items.
This is a method that doesn't tend to be used as much due to the expense when starting out and the risks that can be involved.
The advantage to this way of dropshipping is that your profit margins are not affected as much which enables you to benefit more.
On the negative side, any returns could damage the business and eat into the profits severely.
It's a great way of running a drop shipping business especially when you are in profit which wouldn't take too long.
But it is all down to finding the right niche and product which obviously the Dropship Formula course will teach you.
Moreover, the course is not cheap and may be out of most people's budget.
DropShip Formula – Table Of Contents
What is DropShip Formula About?
Dropship Formula is a training course created by Simon Vernon that came onto the scene in January 2019.
The course is different to other dropshipping courses that we have reviewed in the past as it focuses on using high-ticket items as opposed to low-ticket.
Meaning expensive products which are more difficult to sell!
Whilst the course is available to people throughout the world Simon uses the UK market as a source to find and promote high-ticket products.
Very wise as I think China has had its day selling crappy and inferior products.
So it is ideal for anyone coming from the UK but that doesn't mean that people outside the UK are exempt from this Dropship Formula course.
The course comes by way of 8 modules and over 120 lessons, that teach you everything about high-ticket dropshipping.
That comes with many bonuses which we will discuss a little further in this Dropship Formula review.
There is a free webinar which Simon offers to anyone, to give you a better idea of his teaching methods and what is involved.
This might be a good place to get started so you can see whether this particular business model is for you or not.
Who is Simon Vernon?
Simon Vernon is the person behind the Dropship Formula training course although that wasn't what he intended to do after leaving school.
In fact, after leaving school with very little in the way of academic qualifications was all set for the 9-5 grind working in a warehouse.
In 2000 he bought his first computer and set out to try and make some money online.
He did and just about enough to leave his job and travel to Thailand where he spent the next 6 years.
After coming across the dropshipping business model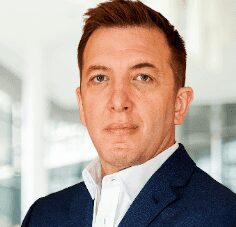 realised this was what he wanted to do.
So he enrolled on Anton Kraly's Drop Ship Lifestyle course but realised as it was for the US market felt that it wasn't a good fit for the UK.
However, he did manage to alter the method for working in the UK and decided to create the Dropship Formula where we are today.
Simon does have his own Dropship Formula YouTube Channel which doesn't have a great number of subscribers.
However, it is full of student testimonials giving their take on the course and how they are performing with their dropship businesses.
The only problem with testimonials is that they could be from anyone so you have to be a little objective when looking.
Complimentary Review: Drop Ship Lifestyle by Anton Kraly
What's Inside The DropShip Formula Course?
The course is split into 8 modules which are packed with lessons and laid out in a format that is easy to understand and follow.
We have listed them below with a brief description of what's inside to give you a better understanding.
Module #1 – Finding Your Niche 
In this Dropship Formula module, Simon gives a brief introduction to the actual course and then straight into establishing a successful niche.
There are around 90 minutes of video content included in this section that covers…
Niche markets
Target markets
Brand awareness
Price points
Niche ideas
Niche validation
One thing to point out is that "Niche Validation" only comes with the Premium and Ultimate memberships.
Module #2 – Creating Your Demo Website
In this module, Simon goes into creating a demo site for you to send to suppliers which consist of around 40 demo products.
The products on this demo site are not for sale but are filler products to show prospective suppliers so that they get a better feel for who you are.
Once you have arranged a working relationship then those fill products can be replaced with your approved products.
Module #3 – Finding Suppliers
Finding the right suppliers is key here especially as you are using high-ticket products where returns could affect your revenue substantially.
This module covers how to approach suppliers and the different tier levels.
You will learn just what to say when you approach suppliers through scripts that have been generated.
Due to the nature of the product that you will be using, it will be worth spending some time researching each supplier thoroughly.
You will be looking to build a good relationship with the supplier as this could be a long working relationship.
Module #4 – Developing Your Actual Website
In this module of the Dropship Formula course, there are nearly two and a half hours of content here.
Which is split into 10 sections covering site optimization, discount codes, Shopify settings and Shopify Apps and how to manage customer orders.
There's a section on sitemaps and setting up Google Analytics to monitor traffic and people's behaviour.
Module #5 – Conversions And Optimization
In this module, there are nearly 3 hours of content going into building trust and social proofing that leads the better conversions.
Email marketing is covered in this section with an insight into using Justuno or Klaviyo which are best suited for e-commerce.
Module #6 – Google Ads Ecommerce
Everything you need to know about Google Ads is in this module which is split into 3 sections.
Google Ads Introduction – 2 hours of content
Google Shopping Campaigns – 148
Google Search Campaigns – 191
Here there are over 7 hours of content covering everything about Google Ads.
To view the entire 8 modules in more detail head over to the website.
You also get workbooks that are filled with useful information…
Contacting Suppliers
Handling Supplier Rejections
Policies and Pages
Plus a whole lot of bonuses to help your business development…
Business Setup Basics
Bing Ads For Ecommerce
Fraud Prevention & Protection
Hiring And Managing A Virtual Assistance
Hot List Of Negative Keywords
24 Hour Mastermind Group
BiWeekly Live Q & A Sessions
Drop Ship Formula Shopify Theme
212 Profitable Profit Ideas
Complimentary Review: Drop Ship Unlocked by Lewis Smith
Who is DropShip Formula For?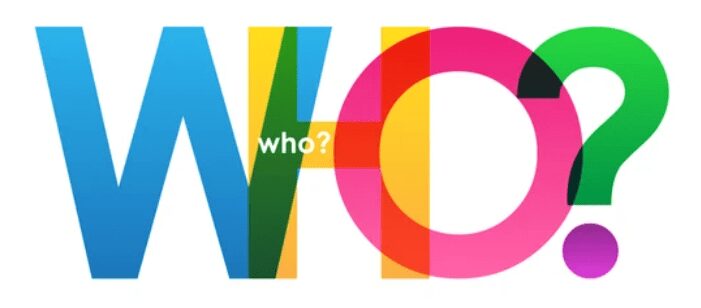 The Dropship Formula is for anybody who is looking for a complete career change however don't expect this to happen overnight.
It is going to take a lot of hard work, determination and above all plenty of patience.
If you listen to the actual webinar Simon Vernon mentions that the course is ideal for complete beginners but we have reservations about this.
Having said that though some of his students claim they had absolutely zero knowledge so you have to make that judgement call.
Can You Make A Living With DropShip Formula?
Providing you have the right mindset then for sure you can make money with the Dropship Formula course.
Dropshipping has always been popular especially since sites like Shopify came to fruition back in 2006.
As you see by the image below and it became more popular at the time we were going through lockdowns.
The beauty of dropshipping is that you can start this business on a relatively low budget.
DropShip Formula Cost And Refund
We have seen a few Dropship Formula reviews where there has been a few changes that have taken place.
They have even added a new membership with "Core" however this will only give you the basic course features.
You really do need to be taking advantage of either Premium or Ultimate, especially if you are serious about this type of business.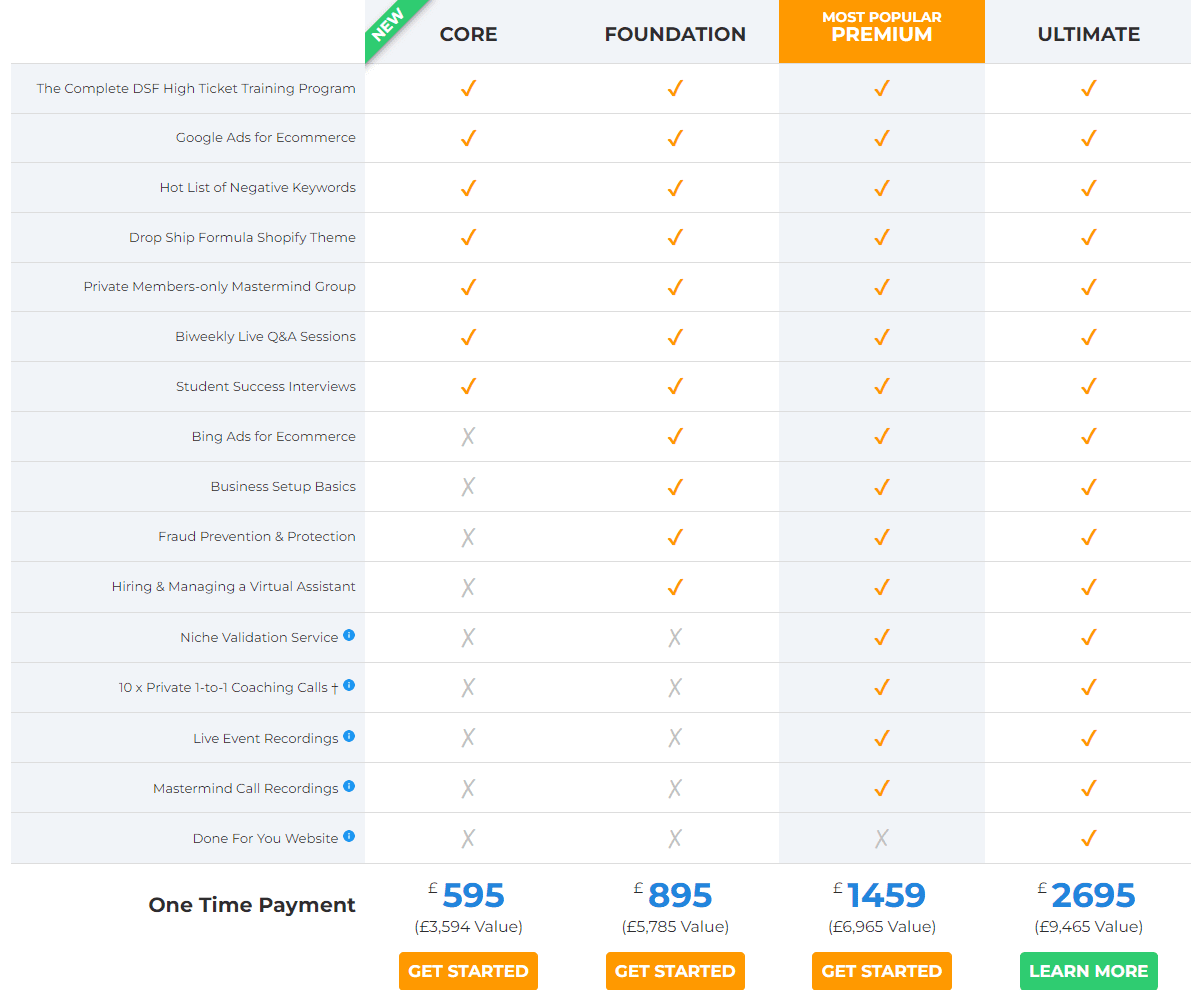 Are There Any Upsells With Dropship Formula?
There are no upsells with Dropship Formula and pretty much what you see is what you get.
Are There Any Payment Options With Dropship Formula?
Unfortunately, there are no payment plans available for Dropship Formula but what they have done?
Is to partner with PayPal which provides what they call PayPal Credit.
This allows you to spread the costs over a 4-month period at 0% interest but you'd need to check the small print for if you went over that period.
To qualify you would also need to have a good credit rating so maybe head over to Experian to find out, besides it is free to check.
Are There Any Hidden Costs With Drop Ship Lifestyle?
If you purchase the Core or Foundation course which does cover all the basics they don't come with niche validation and coaching calls.
Which you may need to consider!
There are startup costs which are unavoidable with any new business.
Web hosting with Shopify – £22/month
Data feed app for sending data to Google -£3.75
Domain name – £20
You will need money upfront for products £300 – £600
Paid ads – £300/month
Rather than pay upfront for the products, you could delay delivery until the payments are cleared which is a workaround.
Does The Dropship Formula Come With A Refund Policy?
There are 2 ways of getting a refund with the Dropship Formula.
The first one is a 14-day cooling-off period which enables you to cancel the course and get your money back provided you haven't started the course.
Or you could take advantage of the 30-day money-back guarantee but to qualify there are a few stipulations.
You must prove that you have done the following…Selected a niche, Built a website, and completed supplier research.
Provided they are happy with this and that they can't help out in any way then you may get your money back.
Here are a few similar courses that you might like to check out but do not discard Udemy…
Udemy – How I Created A 7-Figure Dropshipping Business
Is DropShip Formula a Scam?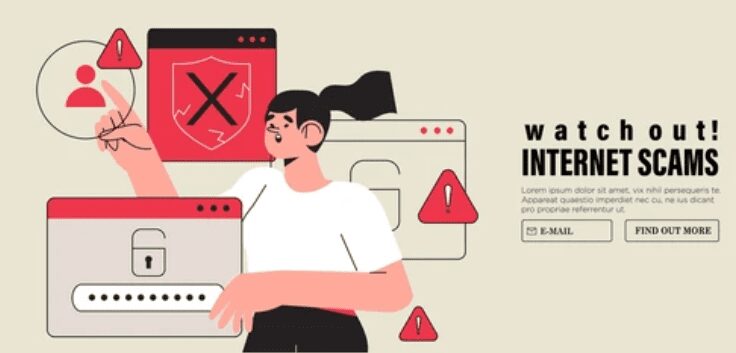 Dropship Formula is definitely not a scam but a very well-laid-out comprehensive course that many seem to be having success with.
Granted it is still early days yet, but there does appear to be a large percentage of people having a lot of success.
It's hard enough trying to sell low-cost items to people who don't know you and therefore a little concerned that high-ticket is going to be even harder.
But saying that, it is not going to take many sales to ramp up your business revenue.
One thing that we definitely think is a big plus is that with high-ticket items the competition is not going to be great.
Not like conventional dropshipping where you are using low-cost items that everybody will be using.
There are some hidden costs, but that is unavoidable when you are starting a new venture like this.

DropShip Formula Student Reviews 
You can find a lot of testimonials on the Dropship Formula website which can't be verified however we have no reason to suggest that these are fake.
We have checked out testimonials on 3rd party sites and couldn't really find any negative feedback.
The negative feedback we did find was regarding the confusion about the refund policy.
Trustpilot gives an excellant rating of 96%.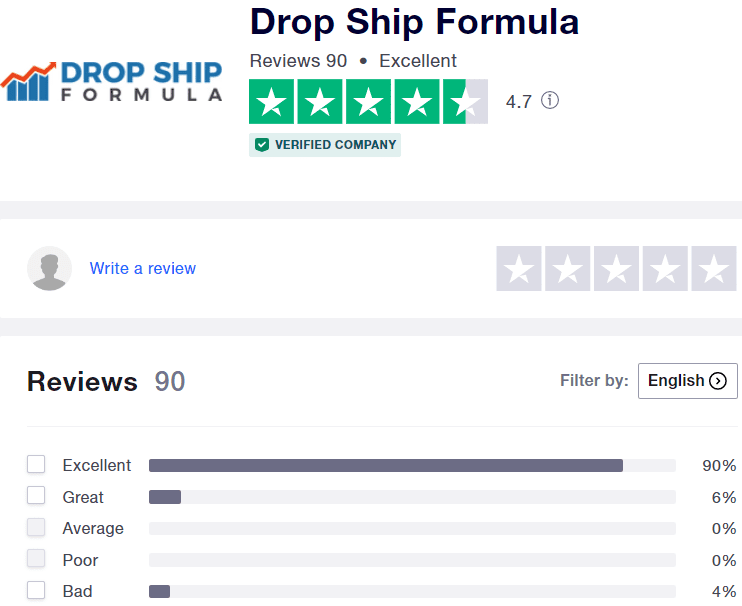 Additionally, you could check out the Dropship Formula YouTube Channel for confirmation.
Here's the link to student reviews on the Dropship Formula website.
DropShip Formula – PROs
Not A Popular Dropshipping Method: The dropshipping courses that we have reviewed tend to be using low-cost items which makes sense because of less risk.
However, get the niche, product and supplier right and you could be in for a killing.
The whole course is based on using products that are £300+ which brings me to this. All you have to do is sell 1,000 in a month for a return of £300k
There Is A Refund Policy: This has been changed to include a no questions asked 14 days cooling-off period.
This is in addition to the normal 30-day money-back guarantee that does come with stipulations.
Simon Vernon, The Product Owner Is Legit: We have checked various third-party sites to confirm that Simon is a legit and experienced person.


The Course Is Very Comprehensive: We found that the whole course includes a lot of detail and covered many aspects of this business model that we haven't seen in similar courses.
DropShip Formula – CONs
The Course Is Expensive. We accept that many will not want to risk this amount of money especially has the refund comes with conditions.
However, we expect only serious people to be interested.
This Course Is Based On Using Google Ads: We are not an advocate of using paid ads but unfortunately, this is the way to go with drop shipping.
Google Ads for us is an expensive option and there is a mention of using a minimum of £300/month which in Google Ads terms is not that much.
Possibly Not For Complete Beginners: Ok, we see some of his students who claim to have zero knowledge and that might be right, but we aren't seeing any income claims either.
As a first venture into making money online, this is a big step and you should consider this very carefully.
High Ticket Dropshipping Is A Difficult Business Model: This is probably why you don't see this type of dropshipping taught.
Don't expect to see big returns within the first few months and the longer it continues the more costs and the more desperation can set in.
You do really need to have a few thousand in reserve for this to happen.
Dropship Formula – Final Thoughts

Hopefully, we have given you enough information to make a decision on whether to move forward with Dropship Formula or not.
If you are seriously considering this course then take your time and carry out further research before making that all-important decision.
This is not some fly-by-night course and should be taken seriously because at the end of the day, the decision is yours and could be life-changing.
We have mentioned that it may not be suitable as a first venture into making money online but if you are confident then why not go for it?
If I was considering moving into dropshipping then high-ticket dropshipping would be the way I'd go.
But, this is a decision you have to make and all the best with that!
Remember that you will need a few thousand as a contingency to take you through the first 3 – 6 months, maybe longer.
The Dropship Formula course by Simon Vernon is definitely worth considering.
But if it's costs that are bothering you then you might like to check out what I do for a living in the next section.
Dropship Formula – Alternative Solution
After careful consideration, we decided that affiliate marketing was the best way for us to build an online business.
Not too unlike drop shipping really where you are the middle person but get paid for commissions and there are no overheads to take into consideration.
It's one of the best ways to create multiple passive income streams.
I have personally been a member of Wealthy Affiliate since 2017 and the main reason why I was able to kiss goodbye to my 9-5 job.
Just check out the reviews on Trustpilot.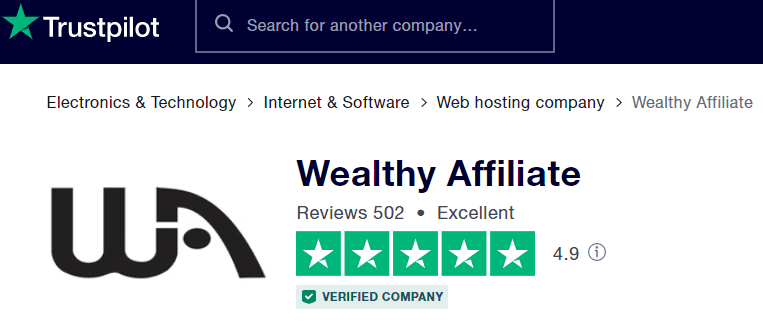 The training platform is a fully integrated one-stop-shop meaning that everything you need to succeed is in one place.
Education and training, Web development, Hosting your website, and a community that cares and is full of experience on many levels…

The DropShip Formula Review – FAQs
In this section, we have managed to dig out some questions that people are asking about the course in search engines. Hope this will help!
How Much Is The Dropship Formula Course
There are 4 pricing points when you join Dropship Formula.
Core – £595
Foundation – £895
Premium – £1459
Ultimate – £2695
Is Dropship Formula Worth The Money?
It depends on how much you want success in dropshipping but we are seeing a lot of people who are happy with the course and seeing success.
What Kind Of Dropshipping Is The Dropship Formula Focused On?
Like most other dropshipping courses that focus on selling low-priced products which are difficult to maintain margins.
Whereas the Dropship Formula course teaches you how to promote and sell high-ticket products and services in the £300+ range.
How Long Does It Take To Get My Store Up And Running?
According to Simon and the team at Dropship Formula, it could take between 3 and 4 weeks if you are prepared to work hard and put in the time.
Although on average it takes around 6 to 8 weeks for most people.
I Am A Complete Newbie, Is This Right For Me?
The course is designed for people who have absolutely no knowledge at all with the course's easy step-by-step instructions.
You get everything you would need including tools and expertise on many levels.
 I Already Have A Dropship Store, What Can Dropship Formula Do For Me?
They have a unique and advanced approach to market research as well as advertising and onboard suppliers that can be implemented in your store.
Is All The Content Available Straightaway?
From the point of joining and paying your fee, you have access to everything and you are able to work at your own pace.
How Long Do I Have To Complete The Course?
There are no time limits and this is all down to each individual.
Work as fast or as slow as you want and as there is lifetime access then this will not be an issue.
Is It Worth Dropshipping In 2023?
Yes, if you are looking for a cost-effective business opportunity then dropshipping is still worth looking into.
The level of interest that is shown nowadays has increased exponentially.
What Percentage Of Dropshippers Are Successful?
It depends on what you class as being successful because what you think maybe be successful someone else may not.
There are figures going around in the 10 to 20 per cent range which is very good if those figures are correct.
Feedback, Comments And Subscribe
Hope you enjoyed this Dropship Formula review by Simon Vernon and that we managed to answer most of your questions.
Maybe you have been a student in the past or maybe you are still and would like to share with us your experience.
Thank you for listening!
Take care!
Stay safe!