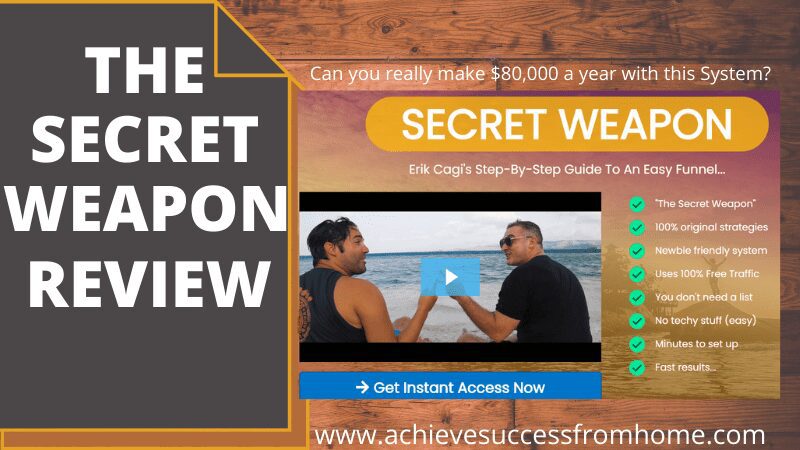 Welcome to
The Secret Weapon Review
Was it the "Secret" in the title that got you here or just curious as to whether this product will be showing you something that nobody else knew about?
Whatever the reason, you are definitely in the right place?
Here we are with yet another product promoted on WarriorPlus by Brendan Mace but this time it looks like a joint venture with 2 of his affiliate marketing friends that help out from time to time.
Affiliate marketing is probably the best and easiest business model that anyone can learn and that's probably why there are so many products out there related.
These products are aimed at the newbie trying to work out how this all works, but all these products do is set you up for failure and once you've tried a few and found this out, then they leave a bad taste in your mouth.
I'm sure this isn't the first site you have been on as there are plenty of the secret weapon reviews around promoting this product with one aim in mind, to make a sale and commission.
However, we are not associated with this product and only here to show you both sides of the coin so that you have a better idea of whether this might work or not, so let's dive right in.
---
[Affiliate Disclosure: This post may contain affiliate links which means I may earn a small commission if you purchase anything through one of the links. However, this will not affect what you pay!]
---

Product: The Secret Weapon
Founder: Brendan Mace, Jono Armstrong, Eric Cagi
Product Description: DFY Affiliate Marketing
Website: www.fuegosecrets.com
Price of product: $12.95 + Upsells
Recommended: No
Summary: It would appear that all these gurus do nowadays is re-package the last product with a few minor changes here and there.
The Secret Weapon lures newbies in through the promise of earning $217.00 a day without doing anything.
It's only after you have signed up for this product that the hidden costs hit you and you realise to make this work, it is going to cost you dearly without any guaranteed results.

---
If you are sick and tired of SCAMS, Pyramid schemes, MLMs, recruiting, having to purchase stocks, haggling family, friends and customers. Looking for a proven method of making money online, then check out my #1 recommendation. 
---
The Secret Weapon – Contents
---
What is The Secret Weapon about and who are the founders?

The Secret Weapon is an Affiliate Marketing system that is a joint venture between Brendan Mace,  Jono Armstrong and Eric Cagi although this method is the idea of Eric Cagi.
"This method is NEW, fast and you won't spend a dime out of your pocket for traffic"
I find those claims pretty outrageous because these are the claims I see over and over again.
It can only be fast if you use PPC (Pay-per-click) advertising so I'm not sure just what traffic source they will be using, but all will be revealed a little later.
Who is Brendan Mace, Jono Armstrong and Eric Cagi?
Well, they are very popular product creators who are extremely successful at what they do.
From time to time they get together in joint ventures to bring you products like The Secret Weapon and can be found all over affiliate networks like WarriorPlus, Jvzoo and Clickbank.
---
The Secret Weapon

prices and features 
The standard price for The Secret Weapon comes in at $12.95 and if there is anything "secret" about this product, it has to be the number of upsells that you'll come across which you don't find out about until its too late.
OK, these upsell's you don't have to purchase but you will feel obliged to because they come across, that unless you purchased them the product won't work.
DFY Templates $37.00
High Ticket Commission $197.00…How to find that high ticket product.
365 Limitless Traffic $197.00…WOW, unlimited free traffic for a year.
Easiest System Ever $157.00
Resellers Rights $97.00
So now your $12.95 product has suddenly turned into an expensive trip to the bank for a whopping 700 dollars.
---
What comes with The Secret Weapon purchase 
There are a series of videos explaining the whole affiliate marketing process.
The first video comes to you from Jono Armstrong where he introduces you to the Secret Weapon system.
Followed by a short video by the creator, Cagi who takes you through the whole system process via a flowchart.
Followed by 12 training videos from the guy on building your own money-making systems from the ground up:
The tools of the trade.
In this short video, Eric Cagi goes through the resources and tools that you would need to make this work.
He mentions products like InstaBuilder for creating landing/squeeze pages.
Leadpages for building your website.
ClickFunnels for creating sales funnels.
Autoresponders like Aweber and GetResponse for email marketing.
ClickMagick for tracking your campaigns.
How to Choose the right offer to promote.
Where Cagi takes you through the selection processing for finding the right offers to promote.
He uses WarriorPlus as an example but as we know the level of products on here are below par for quality.
Your free course / Crafting.
Cagi explains how important a high converting landing page/squeeze page is and guides you through the design element.
This is what you use to capture the details of your leads or subscribers into your email list for future promotions.
Creating that great "Thank you" page.
Here you are shown what it takes to create an effective thank you page.
Overview of the special Opt-in page.
A high converting opt-in page is very important for building your email list in preparation for future success.
Creating your special Opt-in page.  from here down need editing
Now you know what a high converting opt-in page is, now is the time to get right down and create one.
Adding re-targeting pixels.
A great marketing method that keeps your brand in front of the traffic that leaves your website without purchasing anything. In other words, traffic that has bounced.
Around 2% of web traffic converts on the first visit, retargeting is a way of trying to grab the additional 98% or a large portion of it.
Putting together an email follow-up sequence.
Email marketing is a whole new ball game and relies on many things to keep your subscribers interested, but more importantly, you don't want them to unsubscribe from your list.
Creating an email follow up sequence can be extremely difficult to get right and relies on a lot of testing.
Cagi, guides you through the process and shows you what works for him.
Free traffic from Facebook.
This video tries to explain how to target free traffic from Facebook groups.
A little spammy for my liking and a complete waste of your time.
If you were to use Facebook for marketing your campaigns then I would invest some time in learning about Facebook paid advertising. It doesn't need to cost you an arm and a leg to test the waters.
Solo Ads.
Now, this is a method that I am totally against.
You pay someone to put your campaign in front of their list with no clue that they are actually doing so, but more importantly what quality of leads do you expect to find.
There is no secret here that Solo Ads can and will cost you a fortune, so remember your budget needs to be very healthy.
How to set up ClickMagic for tracking campaigns.
ClickMagic is a great tool for keeping track of your marketing campaigns but this doesn't come cheap.
Using Bing advertising for traffic.
If you had the budget and were thinking of going down the Pay Per Click route then Bing would be my preference rather than using Google or Solo Ads.
That said, you would still need to have a healthy budget and need to know what you were doing.
This video goes into detail on how to create a profitable campaign using a free coupon that is normally for first-time users.
---
What about the bonuses that you get as well
Shaggy's 9K Secret Weapon case study valued @ $197.00
Bonus 1 $1952.80 in 48 hours case study valued @ $497.00
Bonus 2 Emergency Cash Booster valued @ $397.00
Bonus 3 Traffic Power Pack valued @ $897.00
That's a further $1,988.00 of affiliate marketing training modules for free.
---
How does The Secret Weapon

 

work?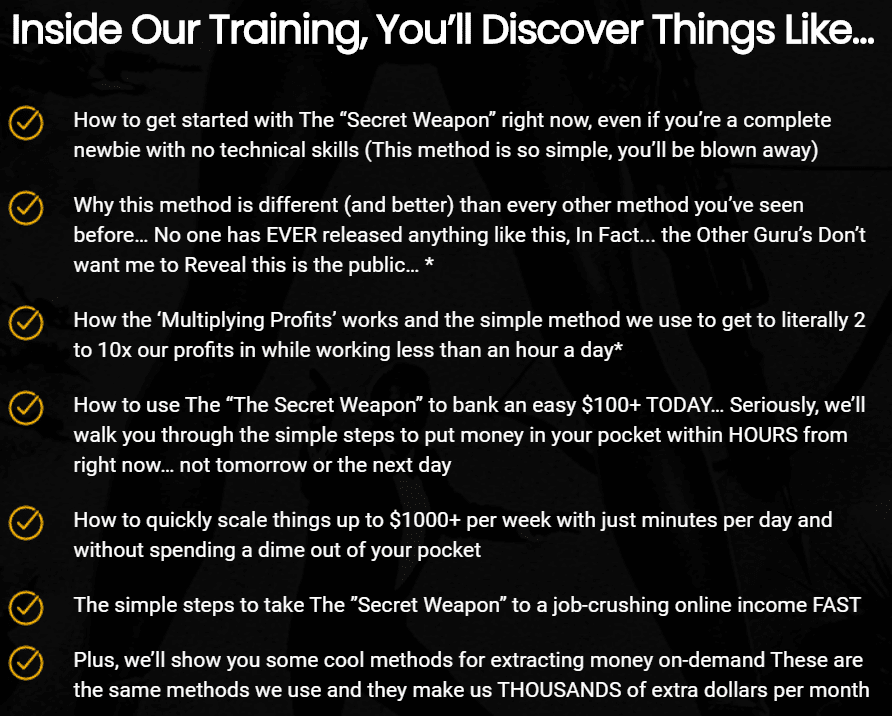 You will learn about affiliate networks like WarriorPlus and Jvzoo which is where you get your promotional offers from.
How to create high-converting landing pages which you will use to promote your offers and how to drive traffic, using free traffic with Facebook and paid traffic using Bing Ads and Solo Ads.
According to the Sales Page, you should be up and running in less than an hour and earning not long after that.
There are 4 steps that you need to take to get this money generating system to work.
Sign in and register to unlock the Secret Weapon.
Follow the steps to activate the system.
Sit back as the money just keeps coming.
Only do this if you want an undisclosed amount of money. Repeat the process 1-3.
That's it, couldn't be any simpler!
If life were only this easy then we'd all be doing it, but in reality, it isn't, and for a newbie to start making money with The Secret Weapon System, you are going to have to do a little more than sit on your backside doing nothing.
---
Who is The Secret Weapon

 

for?
If you are new to affiliate marketing then you are going to get some value out of the system even if you don't buy any of the upsells and you don't make any money.
At least for $12.95 you are at the very least going to learn how affiliate marketing works, to a degree.
However, you are here because you want this system to work but in reality, they very rarely do.
---
The Secret Weapon System
: Red Flags to Watch out For!
The first thing that should get you pressing the back button is this video production where it all starts with a horses head, talking and then we have "Secret Agent" Brendan Mace pretending to be James Bond…
Immediately for me, the whole enchilada screamed "Piss-take"
Just keep purchasing our products so we can enjoy life to the full.
Any mention of the word "SECRET" should instantly raise suspicion because there literally aren't any "SECRETS" online, well not in affiliate marketing anyway.
Just a trigger word for many to hit the buy button.
They'll say you'll start making $217.43 every day on autopilot within hours of signing up and for doing next to nothing.
That's just short of $80k / year and all for $12.95.
If $80,000/plus a year appeals to you then check out this affiliate marketing training platform that is free to join, turning complete novices into affiliate marketers.
---
What I like about The Secret Weapon
Whilst I wouldn't recommend this product there was a few things that I sort of liked about it.
Affiliate Marketing is a proven legit business model
Like any business model, it takes a lot of hard work and dedication which is what most people aren't prepared for.
It is absolutely no good trying for a few weeks or months.
30-day money-back guarantee
This is always a good thing if indeed you managed to get a refund, but you only have 30 days so don't be surprised if your refund goes undetected so that the time limit lapsed.
With regards to the upsells that you may have purchased, if they aren't sold through the WarriorPlus network then you may not be eligible for a refund.
Training 
For the amount that you are paying, as a newbie, you should at least get some value from the training.
---
What I don't like about The Secret Weapon
As I mentioned, there were a few things I liked about this product but there were more things I didn't like.
Sales Page and Promotional video 
You have to watch these with a very open mind and try to see through all the BS, in fact, if you manage to get to the end of this sales page then you are doing well.
Whatever, was that video about?
A Mace/Armstrong production where 007 Mace was chasing a horse. It wasn't even funny!
This is supposed to be serious and they are supposed to be selling you an opportunity that you are hopefully going to make money with.
After seeing that I personally wouldn't entertain anything that they had to offer and the reason why I am reviewing these products to hopefully help guys like you to avoid.
Hidden costs
I hate the fact that they aren't upfront with costs and it's only when you actually buy into this system that those costs unfold themselves leaving a newbie on a tight budget nowhere to go.
These are the products they are recommending and that's before you have started with the system.
Autoresponders $15-$25 / month which increases based on # subscribers
LeadPages $37/month
ClickFunnels $97 – $200 / month
ClickMagic $27 / month
Paid advertising with Bing and Solo Ads that could cost $1,000s
Where are the great reviews
It's great that you are at least doing your research before you give this system a try, but seriously where are the great reviews from people who have tried The secret Weapon and succeeded?
If the product and method were so good, you would be seeing great reviews all over the internet, but you aren't so why is that?
That's because the ones who praise this system are the ones who are trying to sell you it.
Unconfirmed income results 
We see them all the time and remember this, anything can be faked on the internet.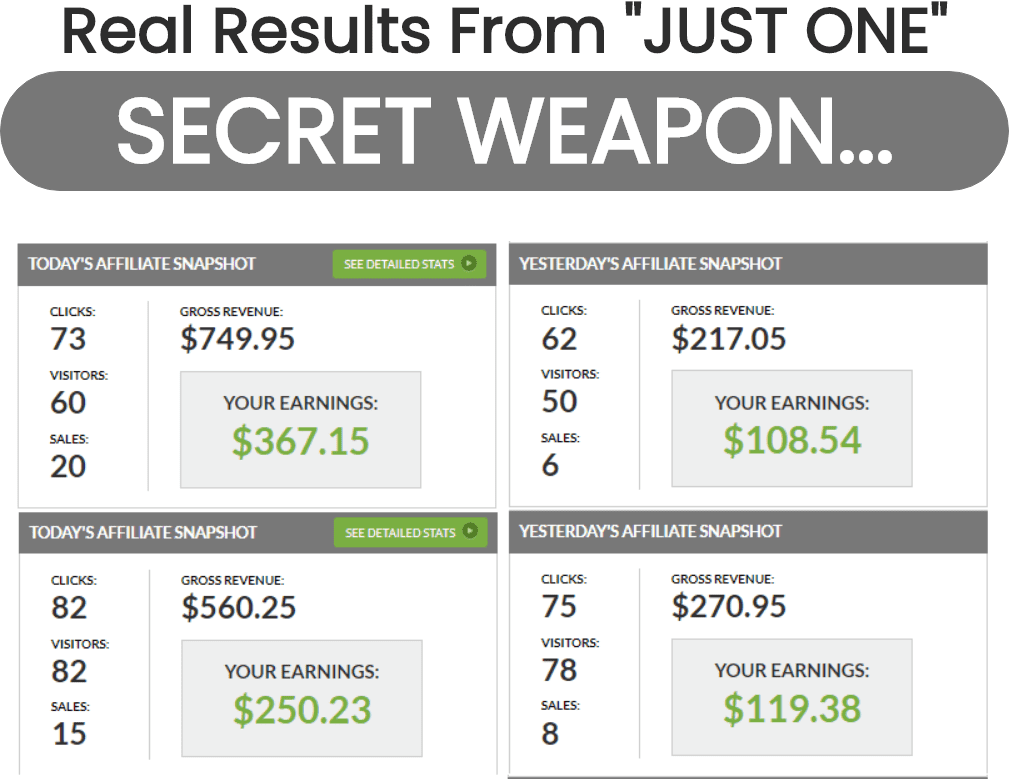 Quite frankly, do you believe these results?
---
Is The Secret Weapon

a SCAM or LEGIT?
I wouldn't call the secret weapon a scam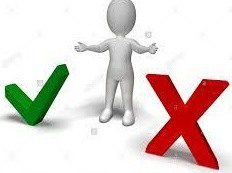 , far from it because you do get value for money with the basic training.
You don't have to purchase the upsells to take benefit of the training but you will be made to believe that without the upsells the system just won't work.
I hate the way they promote their products and this one must be the worst one that I have come across.
Hidden costs all over the place and for anybody looking to get into affiliate marketing this could cost you well into the thousands.

---
The Secret Weapon Review

: Final Thoughts!
Whenever I see the word "SECRET" I switch off because I've seen it so many times before.
I think we can agree that this venture into the affiliate marketing world is going to cost you somewhat more than you initially thought.
The affiliate marketing business model is very straightforward which anybody can learn.
Done the right way, it's all about helping others and creating a bond, a trust but this takes time and isn't going to make you rich overnight. No opportunity will, and I've reviewed many of these products.
Hard work, dedication, persistence and patience and if that is not you then I would stick with the 9 to 5 job.
This will take longer but what you will have is a real business that will give you a passive income and will be running 24/7/365 (on autopilot) and the beauty about this is the traffic won't cost you a dime.
If creating a real online business is something that you are serious about then why not check out this review of Wealthy Affiliate or create a free account and check it out for yourself here, with no credit card details and no upsells.
This training platform has been helping newbies since 2005 to go from complete novices to affiliate marketing professionals.
The exact same training that I have gone through and helped me quit my job.

---
Feedback, Comments and Subscribe
I hope you enjoyed this review and if you did why not spread a little love amongst your friends by sharing this through social media.
If you have any questions about the review or anything for that matter just enter them in the section below.
Until next time, stay safe.