Apical Ecommerce is a company that provides a fully automated business solution through private labelling and Amazon FBA.
This would be ideal for those who haven't got the time or inclination however this type of service comes at a cost.
They will handle everything from the development of the product to rebranding, and marketing and ensure that stocks are replenished.
This could be a great way to start an online business and still keep your current job until the business takes off.
Before we get started we'd just like to mention that we aren't associated with Kodi King or Apical Ecommerce in any way.
So rest assured we will not be pitching or trying to sell you anything but what you can expect is an honest unbiased review.
That way you have all the facts to decide whether this business opportunity could be right for you or not.
---
[Affiliate Disclosure: This review has been thoroughly researched from information and testimonials that are in the public domain. This post may contain affiliate links which means we may earn a small commission, however, this won't affect what you pay!]
---
Apical Ecommerce Review – Summary
Product: Apical E-commerce
Founder: Kodi King, Seneca Hampton
Website: www.apicalamz.com
Product Description: Private labelling automation with Amazon FBA
Cost to join: This is only clear if you are accepted for a scheduled phone call

Recommended: Maybe
Summary: Apical Ecommerce is a private label company providing a fully automated business solution.
The company came to fruition in 2016 with Kodi Brown as the CEO and founder.
Who is currently known as Kodi King due to the conflict with Kody Brown the reality TV star.
Ho claims to be the #1 expert when it comes to automation and Amazon FBA.
So, if you are too busy with other things in life or you just do not want to get involved then this could be something to be looking at.
According to him, all you have to do is pay your fees and just watch the money roll in.
He even claims that within 3 months you can expect to be receiving 5 figure monthly income.
This all seems too good to be true and considering there are no external reviews or testimonials other than what his sales page provides.
Then we are finding it a little difficult to believe.
But, hey we have come across many opportunities like this and we have yet to find one that does exactly what they say they do.
If you don't have tens of thousands of dollars to spare and risk then you might like to take a look at affiliate marketing.
This is where the risks and costs are zero in comparison.
If this might be of interest then please continue to read my Apical Ecommerce review to find out a little later.
But for now, let's take a look at what private labelling through Amazon FBA is.
Apical Ecommerce – Table Of Contents
What is Amazon FBA Private Labeling?
Private labelling with fulfilment by Amazon is a business model which involves you having your own product(s) manufactured or having an existing product modified.
The product will then be given your brand or a name associated with your brand and shipped to the Amazon fulfilment warehouse.
There, the products will be handled by the Amazon FBA team and printed with your unique label and shipped out to the customer.
Amazon handles everything except marketing and replenishment of stocks.
With Apical Ecommerce, they will manage the whole process from creating the product to branding, shipping to Amazon and replenishment of warehouse stocks.
All you do is sit back and wait for the money to come rolling in.
Sounds pretty straightforward, right?
But take it from me it isn't!
Who is Kodi King?
Kodi Brown or Kodi King as he is known today
is the mastermind behind Apical Ecommerce who didn't start life in the traditional way.
He dropped out of college to find himself working in a grocers store with no direction for where he wanted to go in life.
After around a year of struggling to make minimum wage, he saved his money and then decided to start an e-commerce business in his basement.
Where he took his Amazon business to $100K and after that, he scaled the business to $150k  a month.
Brown, has personally helped launch over 300 products since he started in e-commerce and is an 8 figure earner.
He is convinced that private labelling through Amazon is the only real way to make money on Amazon.
The number of years he has worked with Amazon means he has a good rapport with them which makes life a little easier considering Amazon is constantly changing the goalposts and making it impossible for many to succeed.
Who is The Team Behind Kodi King That Will Help You Succeed?
The Apical team all have extensive experience in the Amazon space in various roles that complement each other.
They have launched over 300 products helping their clients to generate over $150 million in revenue in the process.
They claim to be able to get their clients earning at least 5 figures within the first 3 months and have a 95% success rate.
That is between $30K and $150K a month in clear profit.
Keegan Saard who is key to the success of Apical E-commerce was poached from Google in 2020.
Some of the team are even 6,7, and 8-figure earners.
Kristel Mayden, who is the head of customer services has managed over 15 brands and is responsible for looking after 400 stores.
As we have already mentioned they all have a good relationship with Amazon and are therefore well educated on the ways of Amazon.
If you are looking for a business where you don't have to do very much at all and have the investment then maybe Apical Ecommerce could be right for you.
What Comes With This Service?
The service is fully automated meaning that once you have paid a one-off fee then you can literally sit back and watch the money come rolling in.
Apical will along with you, come up with the product idea and where the product will be manufactured.
Once the product is complete, they (Apical) will send the products to their own warehouse in the US where the product will be inspected and the documentation created.
The business is almost 100% passive which means that you don't have to do anything except pay the fees and taxes.
Apical even has its own accountants that specialize in this type of business for any help that you may want.
For you to be accepted you have to have a credit rating of at least 650 and how much funding depends on what level of service you ask for.
Related Business Opportunity: Proven Amazon Course
How to Get Started
You can get started with Apical Ecommerce through either their Facebook Page, Instagram Account or website.
Then you'll have to watch a sales video presented by Kodi King which lasts approximately 30 minutes.
In the sales presentation, there are a few "so-called" testimonials which you have to take with a pinch of salt as there is no way of confirming that these are legit.
There is no mention of the actual fees of the service which will only become available when you schedule a telephone call with their sales team.
The main idea around the call is to find out your intentions about the business and that you are serious.
Depending on how you answer the questions will determine what you will have to pay for the service.
That's if you get on the waiting list because there is a limited number of clients that they take on so this is not guaranteed.
Another thing to remember is that if for any reason you miss the call then you won't get another chance for an additional phone call.
Costing Information
The actual fee for their services is all based on each individual when you schedule a call with one of their sales representatives.
We know through other similar services that we have reviewed in the past that you can expect to pay tens of thousands of dollars.
There will be an upfront capital and inventory cost buy-in.
Can You Pay With Instalments?
No, the full amount will have to be paid upfront.
Are There Any Upsells?
No, what you see is what you pay for.
Is There A Free Trial?
Unfortunately, there is no free trial.
Does Apical E-commerce Come With A Refund?
They offer a 2-year buyback guarantee which means if you aren't making a certain monthly amount they will take the business off your hands.
Just how or if this guarantee works we are unsure as we haven't come across anybody who has tried.
Related Business Opportunity: Savage University
Is Apical E-commerce Really Worth It?

Automated services are becoming more and more popular nowadays but are these legitimate services or are they only to increase the owner's bank accounts?
We have reviewed many of these services in the past and most of them do not work and end up costing the clients thousands of lost investments.
The problem with this type of service is that you haven't a clue about how much it is going to cost you until you have the scheduled phone call with one of the Apical sales representatives.
Other than that you can only go by client reviews and testimonials and since there aren't any third-party reviews or testimonials it's a little offputting.
We know this is going to cost tens of thousands of dollars and the risks for us are far too great.
Related Business Opportunity: AMZ Together
Is Apical E-commerce a Scam?

Technically speaking we don't believe Apical E-commerce is a scam.
However, there isn't a lot of evidence out there from external reviews or testimonials in fact we couldn't find any.
But if you are serious about starting an Amazon FBA business it might be worth researching the subject further and finding out what others have to offer.
I have spoken to a few people who took out similar business opportunities (not Apical E-commerce) and ended up losing their entire investment.
Apical Ecommerce Reviews And Testimonials
The reviews and testimonials can be found on the Apical Ecommerce website but there aren't many and they can't be verified.
For a business like Apical Ecommerce and Kodi King which is all over the internet don't you find it a little strange that we can't find any third-party reviews?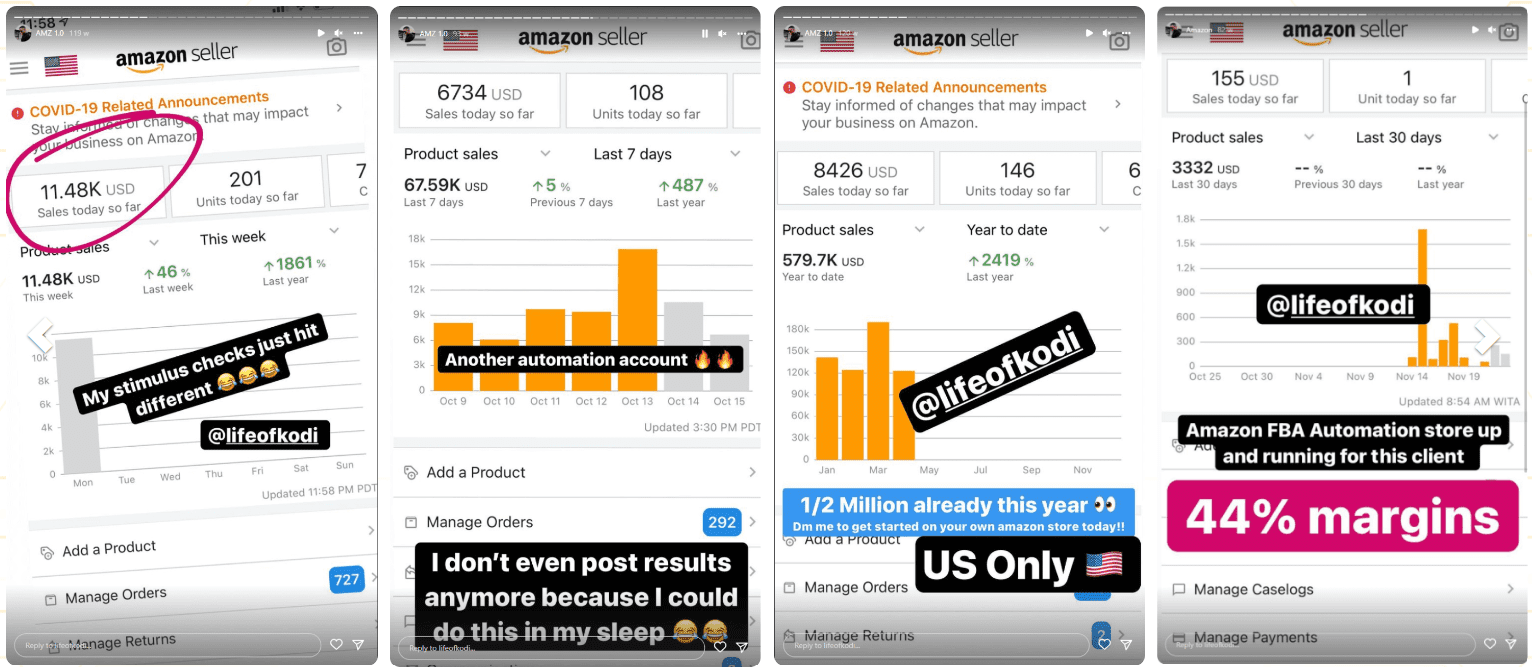 What We Like About Apical Ecommerce
There isn't a lot we liked about this business opportunity and that is basically down to the total lack of information available.
We don't like the fact that to find out what it is going to cost, you have to schedule a telephone call with a salesperson, who is sure to give a high-pressure sales pitch as this will always catch certain people out.
The good thing that we see is the 2-Year Buy Back Guarantee but we are unsure just how this will work.
What We Don't Like About Apical Ecommerce
Total Lack Of Information On The Website:
No External Reviews Or Testimonials:
Paying For A Team To Fully Automate Your Business Is Very Risky:
Conclusion – What we Thought About Apical E-commerce

For us, the negatives far outweigh the positives.
All you have to go on is a sales video with a bunch of testimonials that could be from anybody.
When you Google Kodi King all you find are photos in exotic places which makes you wonder just where he has the time to run his business.
He talks about a 99.99% success rate and nobody can guarantee this.
When you think about the fact that 95% of businesses fail within 5 years then how can they guarantee an almost 100% certainty?
They can't, can they?
As well as the big investment you will be giving away a large percentage of the profits on a monthly basis as well.
But, if you have the money and are prepared to take a big risk then this might work but we wouldn't recommend it.
If money is the issue, then check out affiliate marketing, it's a business model without the risks and costs and you are 100% in control.
Is Affiliate Marketing The Best Way to Make Money Online Right Now
?
Affiliate marketing is a simple business concept that is very easy to learn and the reason why I was able to leave my 9-5 job.
There are no restrictions, you require no stock and it's a business that once you get up and running, is very easy to maintain and 100% passive.
It's a business model that is associated with the "laptop lifestyle"
The company I have been associated with since 2017 is Wealthy Affiliate and they have been teaching affiliate marketing to complete beginners since 2005.
In fact, they have helped over 2 million members.
They can supply all the tools, training and support and it won't cost you a dime to check out.
Just check out the reviews on Trustpilot.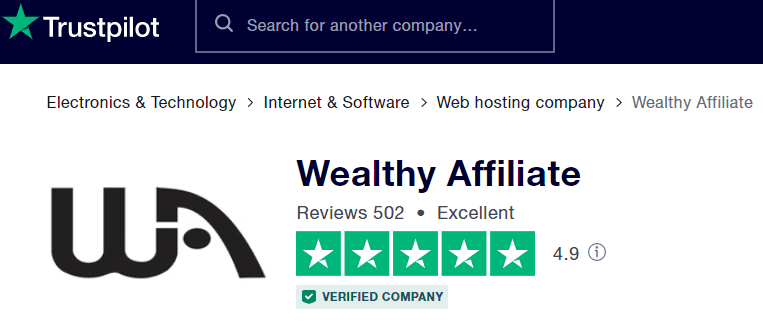 The training platform is a fully integrated one-stop-shop meaning that everything you need to succeed is in one place.
Education and training, Web development, Hosting your website, and a community that cares and is full of experience on many levels…

Feedback, Comments And Subscribe
As we are now coming to the end of this Apical Ecommerce review we hope you enjoyed it and if you have anything to add then please ask away.
Maybe you are or have been a member of Apical and would like to share your experience with our readers. We would love to hear about it.
Thank you for your time, take care and stay safe!