Welcome to this Juuva Review
You are here because you were either been approached by a friend or a Juuva distributor.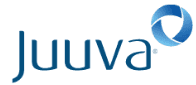 Telling you how wonderful Juuva is and that it is a mind-blowing opportunity that can change your life entirely.
If you have been looking and researching these opportunities long enough like we have.
Then you will know to take whatever claims they make with a pinch of salt.
First and foremost before we get into this Juuva review our disclaimer is that we are not associated with this company in any way.
This basically means we are not getting paid for this review and therefore won't find us pitching or trying to sell you anything.
If your interest in Juuva is primarily because of the home-based opportunity.
Then we might have something that you'd be interested in but that is for later.
For now, we will be digging deep to find everything that you should know, so whether Juuva is a scam or Juuva is a pyramid scheme.
You will have all your answers plus more to hopefully help in deciding whether Juuva is for you or not.
With that said, let's begin.
---
[Affiliate Disclosure: This Juuva Review has been thoroughly researched from information and testimonials that are in the public domain. This post may contain affiliate links which means we may earn a small commission, however, this won't affect what you pay!]
---
Product: Juuva
Founder: Grant Pace and Frankie Kiow
Website: www.juuva.com
Product Description: Nutritional products in the health and wellness industry
Cost to join: Free
Best For: Experienced network marketers
Recommended: Maybe
Summary: Juuva is a multi-level marketing company manufacturing and selling expensive and overpriced nutritional products.
At first glance, it would appear that Juuva does not like to divulge information such as income disclosure or their compensation plan.
They even try to force you into becoming a member when you attempt to shop which incidentally you can bypass if you just hit the buy button.
But you are not to know this and all red flags as far as we are concerned which is certainly not a good start.
Their website is their brand and image and if this isn't professionally developed then what else is there hidden for us to disclose?
Juuva Review – Table of Contents
What is Juuva?
Juuva is a network marketing company selling nutritional products in the health and wellness niche.
They are based in Utah also known as the MLM capital of the United States.
I guess this is probably down to the fact that the laws and regulations are somewhat a little on the lapse side there.
They came onto the scene in 2013 which in MLM terms is a very long time because most just don't survive beyond 5 years.
They have offices in many countries like the Philippines, Taiwan, Vietnam, Belize, Bolivia, El Salvador…
Notice that these countries are where people are struggling to make ends meet.
Bulavita merged with Juuva and didn't last very long because they parted company after a short while and then merged with Mfinity Global.
Whilst they do offer a range of products to help you on an everyday basis there is also a home-based opportunity for anybody who is interested.
Who Are The Founders of Juuva?
Grant Pace and Frankie Kiow are the founding partners of Juuva together.
Bring with them over 56 years of experience in direct sales and network marketing.
Grant has had positions at Shaklee, NuSkin, Sara Lee, and Avon and with plenty of experience in the Asia Pacific and China.
Whereas Frankie's experience lies in bringing the direct sales business model into China with a multitude of business interests.
They met whilst both working as Nu Skin
Is Juuva a Pyramid Scheme?
It is clear that Juuva is not a pyramid scheme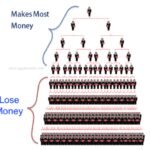 because you don't have to recruit and build a team for you to make money.
You can make money just by purchasing the products wholesale and selling them at retail for a profit.
However, as the products are already expensive at wholesale the margins that you make are going to be minuscule.
Juuva however, does have the traits of them being labelled as a pyramid scheme in disguise.
Just for clarity on what a Pyramid Scheme is…
A pyramid scheme would be when the distributor or affiliate is paid for recruiting other people without a product or service.
We can see that Juuva does have what seem like legit products which tell us they are not a pyramid scheme.
When we say seem, that is because there aren't many reviews out there praising the products other than Juuva distributors.
This is when a company could be recognized as a pyramid scheme in disguise meaning hiding behind products and services.
To disguise what is really going on.
You might like to read a report from the Federal Trade Commission here.
You might like to check out this short video…
Juuva Products Line
Before you consider joining Juuva for the home-based opportunity you have to be sure that the products are legit. 

Some of the best sellers at Juuva…
JuuvaFIT Enrollment Pack – $299 plus 257pv
Super Product Pack – $1,500 plus 1,000pv
Anion Emitter – $180 plus 140pv
BioIntense Nano – $83 plus 70pv
Allwater/Juuva Energy Stick Combo – $115 plus 105pv
Cation Shield – $77 plus 70pv
If you want to check out the full range of products you can here.
Juuva Business Opportunity – What You Need To Know
For the entrepreneurial-minded, if you are considering taking a punt at Juuva's home-based opportunity then this section is for you.
How Much Does it Cost to Become a Juuva Distributor?
It doesn't actually cost you anything to join Juuva although you will have to select a product to proceed with your application.
There is an enrollment pack that they recommend and will cost you $299 which comes with 257PV.
However, you can purchase any one of the enrollment packs.
How to Make Money as a Juuva Distributor
There are 2 ways that you can really make money as a Juuva distributor.
Buy the products at wholesale and sell them retail
Build a team through recruiting and make a commission on their sales
Juuva Compensation Plan
For an MLM to not have a compensation plan is very strange because it is these plans that offer so many perks and bonuses.
So have Juuva missed out or are they legit and offer a plan that is so simple anybody can understand it?
Simple it is which we have to commend because normally they can be so complex you would need to have come from Harvard or Oxford.
There are 4 ways to make money
Retail profits
Fast start bonus
Binary bonus
Leadership bonus
So let's listen to Jeff Bracken who is a Juuva Master Distributor.
Are Juuva Distributors Actually Making Money?
As there is no income disclosure statement on the website then it's a little difficult to know whether distributors are actually making any money.
What we do know based on reviewing hundreds of MLMs is that it all totters around 99.72% that do not earn enough to replace a full-time job.
I know this seems a little far-fetched and if we didn't know then we'd be saying the same.
If you are looking for confirmation then check out what the Federal Trade Commission has to say here.
What About The Hidden Costs at Juuva?
When you are approached by an affiliate or in this case a Juuva distributor then the last thing they are going to talk about are hidden costs.
One thing they do not want to do is put you off joining and it is a few days or weeks that these costs surface.
Most people go into these opportunities blinkered and that is no reflection on you, it's just that you wouldn't know what to ask if you were a newbie.
Costs incurred are…
Have to purchase stock, if you can't sell or recruit and this is just to stay active.
Then you have marketing costs because you are going to want to get the word out there. We would estimate between $50 and $150 a month.
Truth in Advertising
Truth in advertising is a non-profit watchdog organisation that reports on the performance of businesses.
They also keep close ties with the FDA, FTC and the Better Business Bureau.
Any lawsuits, and serious complaints are sure to have an entry on the TIA database.
There was an incident where Juuva made claims that a product of theirs could help to prevent Covid.

Is Juuva a Scam?
We can't really say that Juuva is a scam because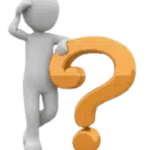 there is no feedback to confirm one way or the other so let's assume their distributors get paid.
There is no income disclosure which is no biggie really because most MLMs do not provide them as they all tend to read the same.
What is not acceptable is the fact that there is no compensation plan to describe how you will get paid other than a short Youtube video.
With regards to the income structure, Juuva does look like a straightforward MLM.
What we couldn't find was any scientific evidence that these products do what they say they will other than reviews on the website.
The problem here is that those reviews are all going to be biased so can you really believe what is been said?
There is no mention of what it will cost to join Juuva or if there is then I can't find it on their website.
A lot of ifs and buts which doesn't instil any confidence at all so I think we would give this a proper wide berth.

What we Like About Juuva
The Company Is Established:
MLMs tend not to stick around very long with many lucky to have lasted the 5-year period but Juuva are about to reach a decade of trading.
What we Don't Like About Juuva
You Will Struggle To Make An Income:
Of course, you will make some money but the ones who do very well are the ones invited before the business launch.
These are the ones who bring massive followings and unless you can build a team then it will be difficult.
The health and wellness industry is a $4+ TRILLION industry, which means there is plenty of competition.
Trying to seek products that are excessively expensive is going to be difficult as well as the fact that many won't even have heard of Juuva.
Not A Member Of The Direct Selling Association:
The DSA is a good place to check whether a company is performing in the right manner or and it is not easy to become a member.
Companies are vetted closely to ensure that everything is above board.
Trending Is On The Decline
Interest from people has never been that great until around 2017-2018 but as you can see now in a steep decline where there isn't any interest at all.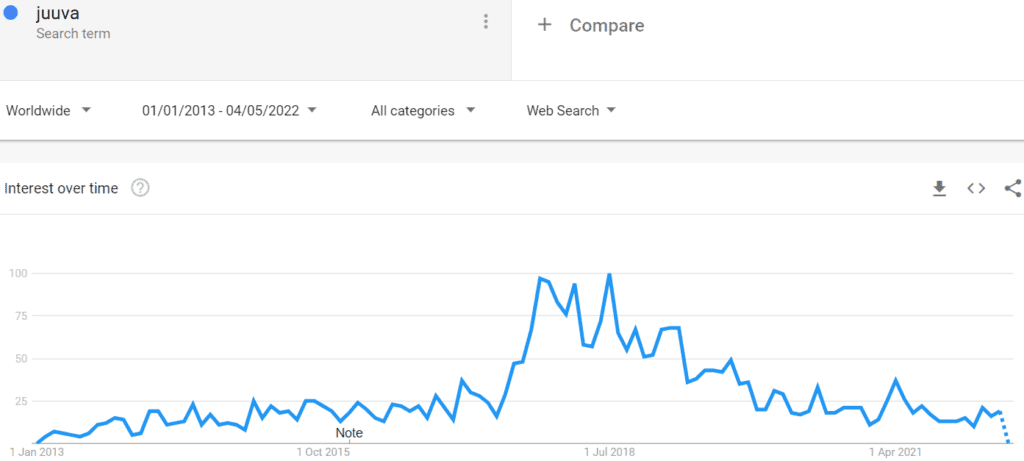 No Income Disclosure And No Compensation Plan:
It is not uncommon for MLMs to not have an income disclosure statement but there is no excuse for them to not have a compensation plan.
Juuva Review – Final Thoughts!
Well, we are just about to wrap things up, so what did you think?
The company is established and run by 2 individuals who have a combined total of almost 6 decades of experience behind them.
That sets the foundation for a company like Juuva to become a success.
However, there are a few issues but the most important one is the income opportunity which is not good.
There are much better work-from-home opportunities that offer so much more and if you would like to know more then please read on.
How we Make Passive Income?
The reason we are not fans of the MLM business model is not that they are illegal or unprofitable because they are for some.
It's because of all the restrictions and costs that come with them.
That is why we think affiliate marketing is the best business model and so simple and straightforward that anybody can prosper.
Where…
You can promote any product or service you like
You do not have to purchase or stock products
You do not have to answer to a sponsors
You do not have to recruit
You do not need to handle customer orders, shipping or returns
If you have a passion or love for something, then why not turn it into a profitable online business?
We can provide you with the tools, the rest is down to you.

Feedback, Comments and Subscribe
Hope you guys enjoyed this Juuva review and that we managed to answer most of your questions.
If we missed out on anything or you'd like to add anything just drop us a line below and we'll get back to you.
Until next time, stay safe