Hey Guys, welcome to the True Trader Review
A relatively new training platform that has been on our radar for a while now and is causing a bit of a stir so we thought we'd take a look.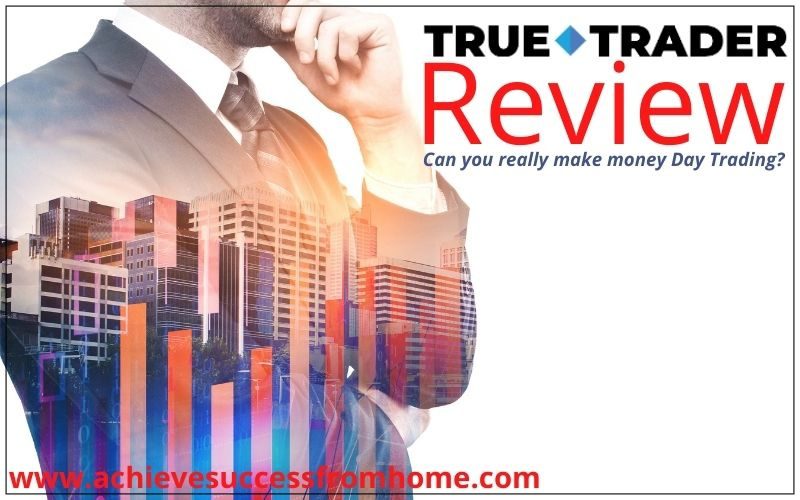 Fancy yourself as a day trader then this might be the answer to getting you started.
It might be that you've seen their marketing campaigns on social media, like Facebook and YouTube and it's triggered something inside.
Fancy yourself as a day trader then this might just be the start you have been looking for.
However, there are a few things you'd need to know about this trading platform first, before you decide to go along and chance your arm, right?
Like… Is True Trader a scam? Is it possible to make money on the advice of Dan Parker? Is Dan Parker even a legit trader?
In the next few minutes, all these questions and more will be answered so that you should be in a better place.
To determine whether to move forward with Dan Parker's True Trader or not.
But, before we get started we would just like to point out that we are not affiliated with Dan Parker or the True Trader in any way.
So, rest assured that what you will get from us, is a true account and unbiased review.
Having said that, let's get started.
---
[Affiliate Disclosure: This Dan Parker True Trader Review has been thoroughly researched from information and testimonials that are in the public domain. This post may contain affiliate links which means we may earn a small commission, however, this won't affect what you pay!] 
---

Product: True Trader
Founder: Dan Parker
Website: https://truetrader.net
Product Description: Trading education platform
Cost to join: $295
Recommended: No
Summary: If people were been truthful to themselves I'd like to bet most people are bored with their 9-5 jobs and would love to try something else.
I know I was and that's why I jacked in a very lucrative career for one as an affiliate marketer.
But you are here because of your interest in the Stock Market.
The internet nowadays makes it very easy to learn pretty much anything you'd like.
But whilst there are some great opportunities online there are a lot more opportunities that are not so great, in fact, most are outright scams.
So, where does True Trader fit into the grand scheme of things?
We think that if the reviews are anything to go by, then we are starting on a pretty decent footing, but don't join just yet.
But it might be a cost issue that stops you from pursuing this career move.
Because you are going to need two or three grand to start according to what the founder Dan Parker says and you have to be prepared to lose it all.
However, if you are looking for something where the risks are zilch in comparison.

---
True Trader Review – Table Of Contents
What is the True Trader?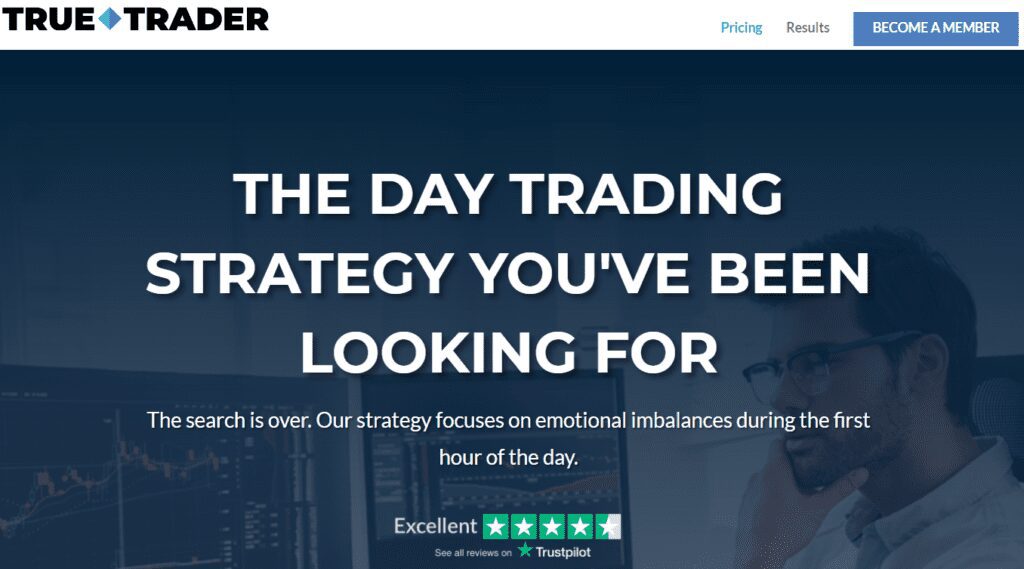 True Trader is primarily an education platform that teaches anyone how to become a day trader.
Basically a day trading community!
Whether you are a complete novice or someone who has a certain amount of experience.
It doesn't really matter, and that's what makes the internet so great because virtually anything can be learned in the comfort of your home.
Mind you, just because you can, doesn't mean it is going to be any easier to crack making a living online.
Something you will need is a certain amount of money, the right mindset, patience, working to a plan and of course plenty of hard work.
Opportunities like True Trader can give you all the tools it's how you use them that matters.
True Trader came onto the scene in late 2019 so they are relatively new to this genre.
However, in that short time, there has been a lot of interest and they have got a pretty good following.
When you become a member of True Trader you can actually watch Dan Parker each morning run his trades live.
Now, if it's your intention to follow suit which you can then you have to be on the ball and extremely quick with those fingers.
Before Dan starts his trading day he will have analysed stocks, to try and find indications that those stocks are going to do well for that particular day.
A simple strategy that Dan uses, he's focused on two or maybe three stocks that he enters, monitors and sells when he thinks it is right to sell but often he will sell too early.
It happens very quickly.
Having said that the next section paints a different story.
Who is the Founder of True Trader?
The founder of True Trader is Dan Parker
but who is he?
We tried long and hard but couldn't find any information about Dan Parker, well nothing that was of any relevance.
There is no mention of him anywhere but I'm sure there must be something written about him somewhere, we just couldn't find any.
We tried news and magazine articles, Facebook, Linkedin, Twitter, and Instagram but to no avail.
It's like he didn't exist.
Surely, before you part with any money at all you are going to check the credentials of the founder at the very least, yes?
Now, if you couldn't find any information then what does that tell you?
It should at the very least tell you to tread carefully!
Let's put it this way.
If you were going to purchase a TV then you would look for reviews and those would have to be great reviews, well they would for me anyway.
Now, if you couldn't find any reviews then would you purchase that tv, because I know I wouldn't.
If you can't verify something like how good a trader Dan Parker is, then you should walk away.
For someone to be almost invisible tells me that he/she is very calculating and they don't want any comebacks.
Mind you Dan Parker may well be a pseudonym but that doesn't make it any better.
With that said, let's continue…
Can you make money with True Trader?
The reason you are here is to find out if you'll be able to make money with True Trader and the simple answer is yes you probably can.
The question is how much?
It's no secret that trading is difficult to succeed in especially from home because you are not in a place where everything is real-time.
It is clearly evident in the public domain that 90% of traders no matter how good they are lose money.
This includes traders on the floor and the big difference here is that they are playing with someone else's money and you aren't.
So, to at least give you some sort of chance you need to be in the 10% and those odds are not great. in fact, they are terrible.
It's all about keeping your emotions in check.
Selling too early and holding onto losers too long.
When you are down on the day and trying to break even most tend to chase the loss and end up losing more.
That's why "Day-Trading" is difficult.
It's just like gambling and I know where I'd rather have my money, on red or black because those odds I can live with.
But, when you are starting out then it's inevitable that you are going to fail, it's all part of the learning curve.
You just have to keep those losses down to a minimum, start small and build slowly which is going to take months rather than weeks
Yes I know it can seem fun and if it's only a hobby because of the 9-5 job then that's ok but you are doing this to hopefully replace the 9-5 job.
That's when it gets real.
We believe the best way is to choose stocks that you are going to hold on to for longer periods not day trading where you have to be constantly on the ball.
Have you ever realised why hedge funds have psychiatrists on their staff?
What you get with the True Trader
There are three main courses as part of the yearly membership with access to over 500 hours of training besides.
You will learn the scalping techniques that Dan Parker uses where he claims that you can profit from 2 to 5 per cent.
There is a proprietary scanner that they developed over three year period that you will learn which claims to help you to pick the right stocks.
True Trader uses Thinkorswim which is the trading platform from TD Ameritrade and it will be assumed that you will too.
Trading psychology program: 
This is probably one of the highlights of the membership if you are serious about trading.
The trading coach Kim Ann Curtin has joined True Trader to handle any mindset issues.
She has her own book, "Transforming Wall Street, a conscious path for a new future"
1-Year Course
True Trader Stocks Masterclass Course
True Trader Options Course
Mastermind Primer Sessions
Trading Psychology Program
Risk Management
Beginner Webinar Sessions
Access To True Trader Content Database With Over 500 Hours
Chatroom Access
True Trader Live Stream 9.30-10.30 Market Days
Access To Chatroom Essentials
3 World-Class Proprietary Stocks Scanners
Daily Stock Reports
High Probability SMS Swing Alerts
How much does it cost to join True Trader? Find out in This True Trader Review
Before you take the plunge there is a 5 day trial period which would cost you as of this review $30.
That way you get a good feel for what the True Trader is all about and whether day trading is for you.
The main course is for 12 months which currently costs $295 but you are going to need to purchase the chat room to expand your knowledge which will cost you $99 a month.
That's a total of $1483 for the first year.
Then of course you will need capital for trading which True Traders state you should be looking at around $2000 but that is not written in stone.
So initially you might be looking at $2,394.
Is True Trader a Scam?
Is True Trader a scam? We don't think it is as we couldn't find any real evidence to suggest otherwise.
If you go by the number of positive reviews that you will come across then it would suggest that True Trader is legit.
Having said that there are some issues regarding members asking for a refund and being charged.
There are issues in the chat room where some members have reported that they had been blocked for saying negative things.
We have always found this a problem in chat rooms but they should allow both sides otherwise how are you going to learn anything.
Not being able to verify anything about Dan Parker didn't sit right with us but it would appear people don't really care one way or the other.
Dan Parker and his team of traders don't show you their profit and loss to members.
Some members of True Trader have even indicated that Dan's performance as a trader was not that good and they preferred other members of his team.
As there is no evidence out there that Dan Parker is in fact a reputable trader then it would suggest his money is coming from True Trader.
If he was so good at trading then wouldn't he stick to what he was good at and focus his attention on trading?
If it's an online business that you are really looking for with no risks at all in comparison then continue reading.

---
True Trader Review -What we like about True Trader
There are a number of positive reviews on Trustpilot that praise True Trader and Dan Parker.
True Trader Review – What we don't like about True Trader
We Couldn't Verify Anything About Dan Parker:
The biggest problem we find when researching a product or service is not being able to verify who the product owner is.
With True Trader, we couldn't find anything of substance online about Dan Parker which was very disappointing.
Problems With Not Been Able To Trade Multiple Stocks:
To be able to trade multiple stocks on a daily basis you need $25k in your account which is only mentioned in the FAQ.
Many members are only finding this out when they have joined.
It's always a good thing to check the BBB because if there are any real issues and people are looking for answers then this is the place.
Whilst they are on here True Trader isn't accredited.
The Morning Watch Report:
Each morning you get a report based on the analysis of either Dan or one of his team that is supposed to highlight stocks that may do well that day.
The problem here is that this report you receive 15 minutes before the markets open which gives you no time to look at.
True Trader Review – Final Thoughts!
Initially, when we started this review we thought that it looked very promising but the more we looked the more issues we found.
The main one has been that we couldn't find anything about Dan Parker which meant we couldn't confirm one way or the other whether he could actually trade or not.
You need to have confidence before you buy into anything and I'm afraid this just does not do it for us.
We aren't saying that True Trader is a scam or anything like that but because of this, we wouldn't recommend True Trader.
What is trending and very popular nowadays is building a digital asset and without doubt the most cost-effective way to build an online business.
I am still part of a training platform that enabled me to earn a mid 4 figure monthly passive income within 12 months.
If you want to know more then please continue to read on…
An Alternative to Trading which creates me a Passive Monthly Income?
It doesn't matter how good an online opportunity is, at the end of the day you have to put in a lot of hard work and dedication to make it work.
How about creating an online business about something that you are very passionate about? Wouldn't that be great?
If that's the type of business you are looking for then there is no better training platform online than Wealthy Affiliate.
I am still part of the training platform that has an amazing community and we have enclosed some resources for you to read.
If this is something that might interest you take a look and see what you think. Nothing ventured and all that stuff!

---
True Trader Review FAQs
Is True Trader Worth The Money?
The course is comprehensive but maybe a little too in-depth for complete beginners.
The membership has altered since it first came onto the market and it's probably at its most reasonable price now.
Is There A Refund Policy?
There are but there are stipulations.
How Much Would I Need To Get Started As A Trader?
The SEC states that active day traders should have at least $25k in their account.
But according to True Trader, you don't need that amount to benefit from their service with some traders growing accounts from 4 to 6 figures.
However, the minimum would be $2,000 but even that is not a requirement.
Is Dan Parker Legit?
This guy is an extremely elusive person when it comes to trying to research his trading experience and even his personal life is hidden.
This is usually a big red flag when we are reviewing products and services.
Is It Possible To Start Trading Part-Time?
It's probably the best way to start trading and many members do have full-time jobs.
The best time to trade is between 9.30 and 10.30 and members who are in full-time jobs enter trades, place live stop orders and then walk away.
Can I Follow Your Trades?
Every morning you can watch the traders in a live situation and see what trades they make and follow their lead, that isn't a problem.
The problem is that you will have to be quick on the trigger when they make a trade otherwise you might miss out.
Saying that though you could get the stock at a lower price.
This will be a good way to get a grip on how everything hangs together until you get some experience and of course confidence.
What Is The Best Advice For A Complete Beginners?
Start off small and work your way up, remember you are not going to make decent returns for weeks and probably months.
You can take a look at some good advice for newbie day traders here.
I Don't Have A Broker Can You Suggest One?
Dan Parker uses Cobra Trading but he suggests these are just fine to go with, E-Trade, TD Ameritrade, Charles Schwab, Interactive Brokers…
Is There A Better Alternative That You Could Suggest?
We do have shares and we have chanced our arm on Forex, Options and Day Trading but they weren't for us.
We eventually settled for affiliate marketing which pays us very handsomely which are currently mid 4 figure months.
This time next year it will be double and the beauty about this is that there are no risks and you can run your business for $1.40/day, see here.
Feedback, Comments and Subscribe
First of all, we would thank you for reading this True Trader review and hope that you got some benefit.
If there is anything you'd like to ask us then feel free to add your comment down below.
Thank you and stay safe.