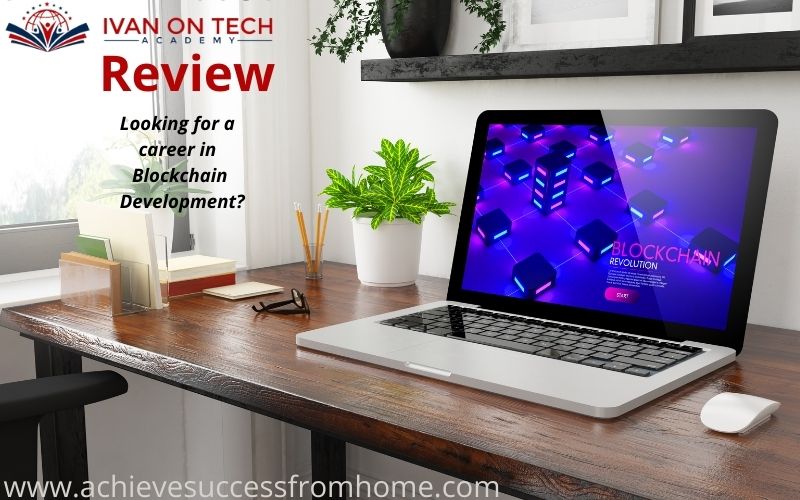 Hey Guys, welcome to the
Ivan On Tech Academy Review
An education platform that teaches anything related to Cryptocurrency and Bitcoin and really creating waves within the online community.
Blockchain developers have been high in demand since 2017 when Bitcoin hit new heights and sent Wallstreet into a frenzy.
If you are currently a software developer and looking for a career change or even new to software development and want to know more.
Then Ivan On Tech Academy might just be what you have been looking for.
First impressions tell us that Ivan On Tech Academy is one of the top education platforms in this particular field.
If not the top one that specializes in Blockchain and Cryptocurrency technologies.
It is our passion to help people like yourself to find legit make money opportunities and to avoid the many scams that are out there.
In this review, we shall look at the courses and the strength of the education that you can hope to find.
We shall also be looking at the founders and the team of experts who teach these courses.
If you are wondering if Ivan On Tech Academy is a scam, let us just put your mind at rest first, it isn't and you will notice this very quickly.
Ok, then let's get started.
---
[Affiliate Disclosure: This Ivan on Tech Academy review has been thoroughly researched from information and testimonials that are in the public domain. This post may contain affiliate links which means we may earn a small commission, however, this won't affect what you pay!] 
---

Product: Ivan On Tech Academy (now Moralis Academy)
Founders: Ivan Liljeqvist and Filip Martinsson
Website: https://academy.moralis.io
Special Offer: Great discounts here!
Product Description: Education platform for cryptocurrency and blockchain
Cost to join: Between $264 – $1404 for the year
Recommended: Yes
Summary: It doesn't seem that long ago when Bitcoin came onto the scene and even now we don't really know who introduced it to us.
Some believe it had something to do with the Fed and who knows but one thing is for certain, it's here to stay.
For software developers or would-be developers, it is clear that this technology is exploding especially with what is happening with Ethereum.
Blockchain developers are in big demand and an average Blockchain developer can earn around $200k+ a year.
Why not check out the ultimate Blockchain quiz and find out how to start in Blockchain development by clicking here.
Ivan On Tech Academy – TOC
What is Ivan On Tech Academy, Now Moralis Academy?

Ivan On Tech Academy or Moralis Academy is an education platform teaching everything about Crypto and Blockchain technologies.
Which stem from software development languages like JavaScript, C++ for Blockchain, Ethereum Dapp plus many more.
Anything you need to know about this technology is available at an affordable price and you would struggle to find better training elsewhere.
Up to now, they have taught over 20,000 students with plenty of success stories that can be found.
It was founded in 2017 by two friends who met whilst at the KTH Royal Institute of Technology in 2014, where they studied computer science together.
Check Trustpilot and as of this review, a 99% excellent rating and that is with 5558 reviews.
Check out this video from the founder
Who Are The Founders of Ivan On Tech Academy, Now Moralis Academy?
The brainchild behind Moralis Academy is 2 Swedish friends who met at university on the same course back in 2014.
Ivan Liljeqvist and Filip Martinsson.
They came to realize in the early days of their meeting that the knowledge available to people regarding Blockchain technology was very poor.
Hence the reason why Moralis Academy was born, is to help educate the people worldwide about these technologies.
Ok, you might say the information is readily available online and it is to some extent but fractionated unless you know what to look for.
Then you are pretty much wasting your time.
So let's take a look at…
Ivan Liljeqvist:  
Ivan is probably the person you would identify with as he is all over the internet and the face of Ivan On Tech Academy.
Here is his YouTube channel which started in 2017 and exploded in such a short time.
As of this review, there are 486,000 subscribers and approaching 900 videos about everything relating to Cryptocurrencies and Blockchain.
He is an international speaker, developer, educator and data scientist, mentioned in Forbes magazine and even awarded by the Swedish government.
Our impression of Ivan is of a genuine person who really wants to help people and this can be seen by the number of videos he creates.
Someone who really wants to share his knowledge of programming and cryptography.
I come from a software development background myself and know just how difficult it can be to pass on the knowledge in a way that others understand easily.
He makes this look very easy and you can see this by his enthusiasm and passion for technology.
Filip Martinsson
Is the other half of this partnership who whilst very talented sort of isn't as popular as his counterpart.
He himself is a Blockchain entrepreneur and CEO of Stockholm Blockchain Group and the co-founder of BLOXPRO.
Like Erik, he has a similar passion and enthusiasm for Blockchain technologies and is a freelance Blockchain consultant who has clients all over the world.
What do You Get With The Ivan On Tech Academy Work, Now Moralis Academy?
There is something for everyone so if you are new to Blockchain and Cryptocurrencies, then you can get up to speed quickly.
There are courses for beginners such as Crypto for beginners, Blockchain and Bitcoin 101.
In total there are 36 different courses and you might say, well that isn't many but they are all related to Blockchain technologies.
There is no other education platform like this that dedicates everything to Blockchain.
There is even a 14-day free trial that you could take advantage of but you would have to select one of the 3 memberships.
Which can be paid for either monthly or for the year but we don't believe that the yearly subscription would be beneficial.
The Basic membership is currently $32 a month or $22 a month if you paid for a year's training.
This however only comes with 6 courses…
Crypto for beginners
2021 Javascript Programming for Blockchain Developers
Blockchain and Bitocin 101
Ethereum 101
Bitcoin Monetary Revolution
Ethereum Smart Contract Programming 101
But for anyone who knows nothing about Blockchain and Crypto a great start.
You can upgrade at any time and we would suggest the Premium membership which would include all the current courses.
The only thing that you wouldn't get is…
Personal Career Advice by Industry Experts
Personal Study Plan
Personal Study Counselor

How does it Compare with its Competitors?

It doesn't really because there is nothing that compares.
The reason why Ivan and Filip started Ivan On Tech Academy or Moralis Academy is because of the total lack of knowledge in this industry.
You have to realise that most people didn't think that Bitcoin would even take off and thought it was just a matter of time before it went away.
That was until around 2017 when things started to go crazy and since then people have accepted Bitcoin as a currency of the future.
Yes, you can find information regarding this technology on platforms like YouTube but most of the information is incorrect.
With a lot of it out of date and besides unless you know what you are looking for then it's a complete waste of time.
Moralis Academy offers everything you would need in one place.
How Much Does it Cost to Join Ivan On Tech Academy, Now Moralis Academy? 
You can start your Blockchain development experience by enrolling for the 14-day free trial which you can find here.
This way you can decide whether a career as a Blockchain developer is something that you would like to do.
But if Blockchain development isn't exactly your thing but you are only after some knowledge on Blockchain and Crypto then you can do that too.
However, once the 14-day free trial is over that's when the paid membership will kick in unless you decide to cancel your subscription.
Having said that you can cancel the membership at any time without any repercussions.
There are 3 memberships, basic, premium and professional but we suggest the professional membership may not be required.
You can take a look at the pricing here, but you can find it heavily discounted here.
Discounts change from time to time, as of this review, there is a 50% discount for the full Crypto experience.
With various discounts ranging from 20% to 50%.

What is Demand Like For Blockchain Developers?
Since Bitcoin hit the $20k mark in 2017 the demand for Blockchain developers has sort of exploded.
According to Linkedin, in 2020 Blockchain developers were the most in-demand skills and it just continues to increase.
In 2019 Hired reported an increase of 517%.
Crypto is here to stay and Bitcoin will continue to dominate the cryptocurrencies.
A quick look on a UK job site tells me that rates for Blockchain developers are at £750/day which equates to around £180,000/year which is $240,000.
That took me 10 seconds to find and a lot more jobs are in the USA and Europe.
Most of the Blockchain roles that you can find do appear to be remote jobs as well.
Listen to what Filip Martinsson has to say…
What Others Say About Ivan On Tech Academy
We picked just a few random reviews to give you an idea of what people are saying about this education platform.
With well over 5,000 reviews that you can find on Trustpilot alone.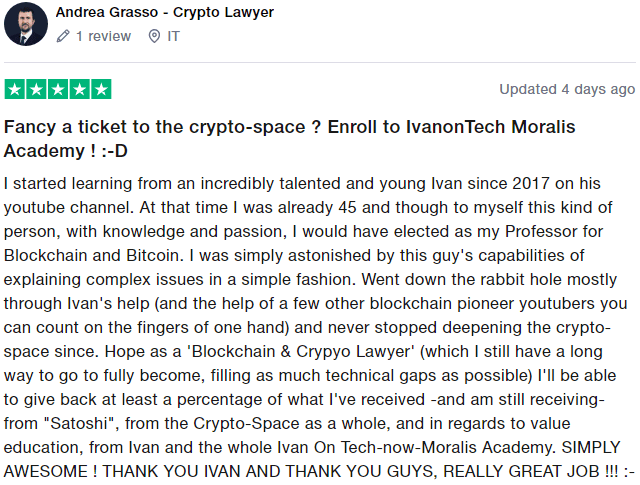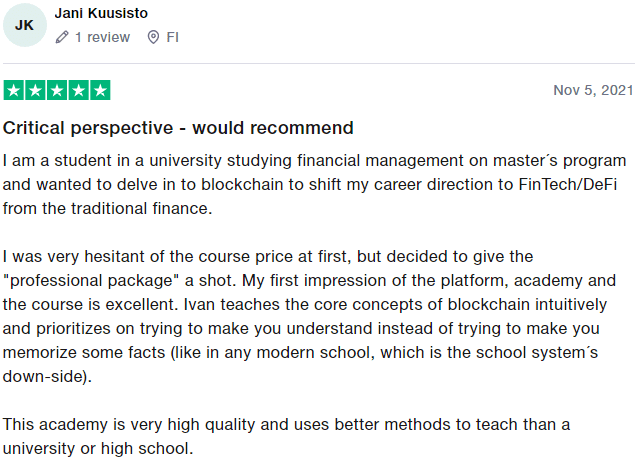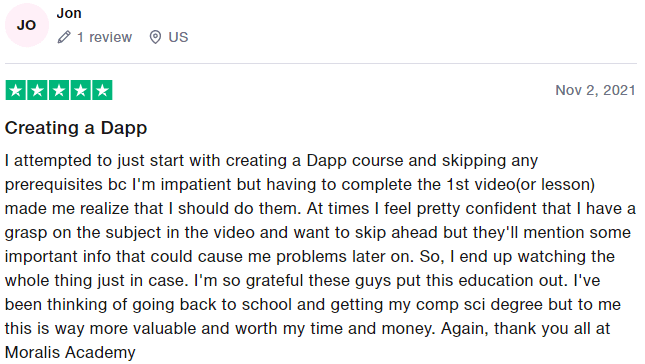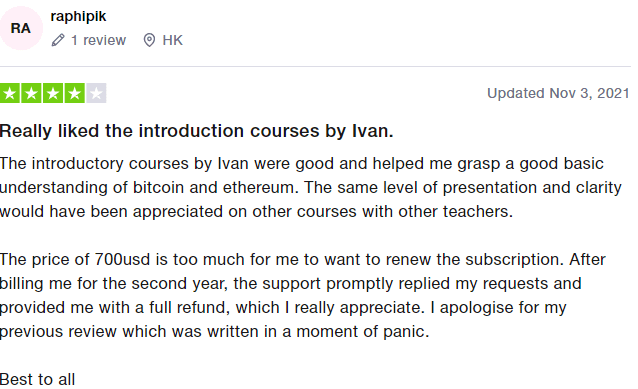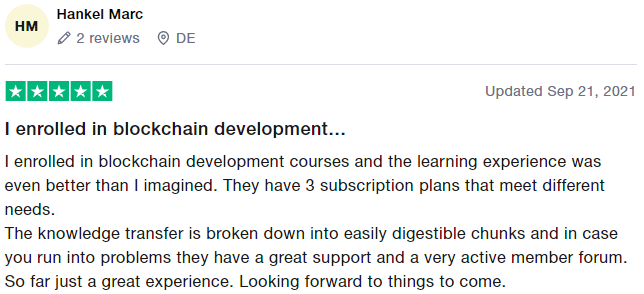 Is Ivan On Tech Academy a Scam?
Ivan On Tech Academy is definitely not a scam but a legit training platform offering exceptional training in Blockchain technologies.
The one thing we noticed with Ivan was his ability to explain a complex subject in a simple way that should be easy for anyone to understand.
That in its own right takes a certain skill set.
There is something for everyone, so if it's just background knowledge that you are looking for then it's here in bucket loads.
However, if you are looking for a new career in Blockchain development then you have everything structured in a way that will support you.
Even down to counsellors and experts to give you career advice.
Once you have become a member there is a large community of students to discuss topics and ask questions.
What we like about Ivan On Tech Academy
The Course Is Very Inexpensive:
You can find many sites offering similar courses for a lot more money and come no way near as comprehensive as Ivan On Tech Academy.
Blockchain Technologies Are Booming:
The one thing that continues to grow is technology, and the cryptology industry just keeps going from strength to strength.
There Is A Money Back Guarantee:
You are not committed to any contract even if you agree to the 12-month membership and therefore can cancel your membership at any time.
We have done extensive research on the 2 founders and couldn't find any negative feedback.
There are more than enough positive reviews around to give you the confidence to move forward with this training platform.

What we Don't Like About Ivan On Tech Academy
As we mentioned earlier we have reviewed many education platforms and most of them just do not live up to expectations.
With Ivan On Tech Academy or Moralis Academy, we found the whole experience to be a very good one so much so we have become members.
Ivan On Tech Academy Review – Final Thoughts!
You would seriously struggle to find an education platform offering this level of training, especially in Blockchain technology.
What we like about Ivan On Tech is that all the courses are related and so easy to create a path to a new career.
After all, you have experts there who can guide you on the right path.
We have joined primarily to get some knowledge about Blockchain and if it wasn't for my switch from being a freelance software developer.
To affiliate marketing then I would be seriously considering a career in Blockchain as it is I don't have the time nowadays.
Where are you going to get 36 courses all related to Blockchain and Cryptocurrencies for 700 bucks?
If you broke each one of those courses down and paid separately for them you would be looking at thousands, maybe tens of thousands.
We are surprised that these courses are so cheap.
It is very clear that Crypto and Blockchain are the future and all you have to do is look at Ethereum to see where things are going to realize this.
This is certainly an investment that you are definitely going to benefit from.

If Blockchain And Crypto Development Aren't For You
Creating a digital asset is probably one of the best ways of making money online.
There are various ways to do this but the one that we would recommend is through affiliate marketing.
Wealthy Affiliate is probably the best affiliate marketing training platform there is online today.
I am still part of the training platform that has an amazing community feel and we have enclosed some resources for you to read.
If this is something that might interest you take a look and see what you think.

Ivan On Tech Academy FAQs
Is Ivan On Tech Worth The Money?
Coming from a software development background I believe you get a lot of value from the different memberships.
In fact for $696 which would be for a full year's membership, you could become an expert on Blockchain and Cryptocurrency technologies.
I know that a 7-day course at IBM would cost in the region of $2000 – $5000 so yes you are getting great value.
That is only 1 course and at Moralis Academy, you are talking about 36.
Is There A Refund Policy?
Yes, there is and this refund policy is not restricted like many products you can see online.
Even though you might have paid for a full year's membership you are not under any contract which means you can cancel at any time.
What Makes Ivan On Tech Academy Different?
We have reviewed many education platforms about Crypto and Blockchain but they very rarely live up to expectations.
IOTA is fully committed to teaching current technologies and the founders, as well as the instructors, are very passionate.
Is Ivan Liljeqvist and Filip Martinsson Legit?
Absolutely they are and this can be seen by the enormous number of 5-star reviews that we can see.
Just check out Ivan's YouTube channel where there are around 900 videos that give free advice on anything related to Blockchain and Crypto.
In fact, we would suggest you check it out first.
Do I Need To Be A Developer To Join The Academy?
No, you can start by joining the programming BootCamp course and getting the basics behind you before continuing with the other courses.
Why Pay When The Information Is On YouTube For Free?
Yes, you can find information on YouTube but most of it is out of date and fragmented.
These courses have been put together by experienced technicians where all the information required is packaged.
Can I Really Make Money From This Education?
We have shown that Blockchain development is in big demand and there isn't the experience out there to fill these positions.
Experience is going to be hard to find especially as it's only in the last few years that things have taken off.
If Blockchain development interests you then you aren't going to do better than Ivan On Tech Academy and certainly not at the cost they are charging.
Try and find a course relevant to the subject at a university and you will struggle, that's if you can find one anyway.
Here you have a series of courses that you can take at your own leisure.
Feedback, Comments and Subscribe
Hope you guys enjoyed this Ivan On tech Academy review and maybe it opened up your mind to other possibilities.
Any questions just jot them down below and we will get back to you.
Thank you for reading and stay safe.