With the vast amount of online survey sites that are available to you nowadays, it must seem like a really daunting task just finding the right ones to invest your time in, so what is opinion outpost like now, and can it deliver as it used to a few years ago?
With the promise of "easy money", "simplicity" and "with no skills required", make it no wonder that these survey websites are the most popular when it comes to earning some extra money online.
But…
Finding the right one that actually pays a reasonable amount is difficult with so many promising that you can earn hundreds a month when in reality this is just a few dollars.
Opinionoutpost.com used to be a good survey site but is it any good nowadays and does your opinion really count?
Let's take a look and see, shall we?
---

Owners: Survey Sampling International
Product: Opinion Outpost
Website: www.OpinionOutpost.com
Price: 100% Free
Based in: US
Summary: You get paid either in cash or vouchers for taking part in surveys.
Recommended: NO
Reasoning: Not a fan of survey sites due to the amount of time you have to spend for very little reward.


---
Internal Summary and Links
---
What is Opinion Outpost?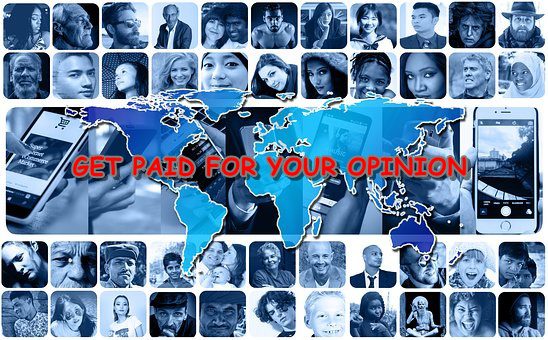 OpinionOutpost.com is a market research company who pays people like you and me who join and become members for taking part and sharing our opinions on products and services.
This helps to better the product and/or service on many levels.
They used to be only available in the US but in recent times have expanded the business to the UK, Canada, Germany, France, Spain and Italy.
They have been around for more than a decade and belong to Survey Sampling International or SSI for short who is a major player and have operated in the market research industry since 1977.
How Does Opinion Outpost Work?
Major corporations approach companies like opinionoutpost.com and employ them to take care of their market research on products and services and to get feedback which enables them to better their products and services.
In order to do that Opinion Outpost match the product and/or services with the demographics of the consumer, which in this case will be you the member, and for your time and input, you will be rewarded with points that you can redeem as cash or through vouchers when you have reached the minimum threshold.
---
How Much Can I Make with Opinion Outpost?
In my experience, it depends on how much time you put into this opportunity, not only that but how much you can earn is controlled by the number of emails you receive and the number of surveys that you will qualify for.
According to what current members are saying and this fluctuates from one member to the other, you should be able to earn between $1 and $3 an hour and that's only if you can qualify for 4+ surveys which is an unrealistic figure, but if you can manage $3 an hour you are doing great.
Of course, trying to sustain this hourly figure you will find extremely difficult, in fact almost impossible, especially as surveys can take anywhere from 5 to 30 minutes.
With the average normal weekly hourly rate around 8 to 10 dollars, you will struggle but hey if a few dollars here and there is what you are happy with then that is ok. I have been there and got the teeshirt!
If you are lucky you might receive 2-3 emails on a daily basis and with these surveys, you should stand a better chance of getting accepted, but be quick because they fill up quickly.
The number of points rewarded for completing a survey is between 1 and 30.
1 point = $0.10
100 points = $10 which is the minimum required for cash through PayPal.
50 points = $5 is what's required for Amazon or iTunes eCards/vouchers.
---
How to Get Started with Opinion Outpost

Opinionoutpost.com is 100% free to join and take part in.
Enter your name and a valid email address.
Just click the link here.
You will then receive an email which you need to reply to activate your account.
You will then be met with a number of questions which are pretty straightforward.
These are your demographics which allows opinionoutpost.com to categorize the various types of surveys which best match your details.
Once you have filled in the necessary data, you'll have access to the Opinion Outpost dashboard.
You should receive emails on a regular basis then. When I say regular I mean maybe 2-3 daily.
Bear in mind these surveys fill up quickly so its a first come first served basis.
Once you have qualified and completed a survey then you will be rewarded by way of points, which can be redeemed for cash or vouchers at a later date.
---
Other Ways to Maximize Points with Opinion Outpost
The main source of generating points at opinion outpost is obviously through taking surveys.
These are either through the website or through emails which are sent out to you.
There are other ways listed below!
Free quarterly competition.
Once you have attempted a survey (that means you don't have to complete it) then you are entered into a quarterly draw where you stand a chance of winning $10,000.
That's $40,000 in cash awarded over a yearly period to 4 lucky members.
Some time ago their referral program was cancelled but re-instated due to popular demand.
For each friend you refer who completes at least 1 survey you are rewarded with $1 with a maximum of $5 that can be earned.
That's a total of 5 friends. Not the best but hey, every little help!
---
How Does Opinion Outpost Pay You?

Once you have reached 100 points which is the minimum threshold you have to meet to redeem those points for cash via PayPal.
50 points are the minimum number of points required for an Amazon or iTunes gift card.
Note:
I wouldn't hang around and try to build your account balance for bigger things as many are having issues when withdrawing their cash!
So minimum threshold and cash out!
---
Opinion Outpost Pros and Cons
When it comes to complaints and of course praise then no company or product is exempt, and here is the section that people are most interested in, and hopefully here you will be able to decide whether Opinion Outpost is for you or not!
Pros
The fact that Opinion Outpost is free to join and take part in is a plus.
By introducing your friends you can earn $1 for every person you introduce, up to a maximum of $5, which isn't great because I'm sure that you'll have more than 5 friends you would like to introduce.
Normally with these opportunities, you will find $20 and upwards as the minimum threshold for cashing out, but here the minimum cash payout when using PayPal is $10 which is only 100 points, and Amazon or iTunes vouchers are even better at $5.
The only way of cashing out and the one we are most familiar.
Cons
Minimum number of referrals
Although I added the fact that they have a referral program in the "Pro" section I don't like that they have a restriction on the amount you can introduce which is currently a maximum of 5.
What you will see with many of these survey sites is that the referral program in many cases is where members can actually earn a decent amount, but here you are held back.
This is a great way of introducing others and spreading the word but your word won't be spread very far!
Disqualified from surveys
Something you will never get away from.
Before you start filling in the actual survey there will be a pre-survey questionnaire that you'd need to complete first, and it's here that you will know whether you have been accepted for the survey or not.
In my experience, you may find that you only qualify for 25% of the surveys that you apply for and that is a conservative estimate.
Don't worry because you will find this annoying factor on all survey websites!
BBB (Better Business Bureau)
If you are like myself who checks for a BBB rating then, unfortunately, you won't find one through Opinionoutpost.com but you can find a BBB rating for their owners who are Survey Sampling International
This is where you will also find members having their say.
Some interesting reading here in the additional information section!
This is where I draw a line when it comes to accessing whether a business is worth investing your time in or not.
Members are screaming out for all sorts of issues and finding it extremely difficult to get replies.
You don't have to look very far either!
Emails are supposed to be sent out to you daily on a regular basis with invitations to surveys and you need to be quick because these surveys fill up pretty quickly. On a first come first served basis!
Lost payments and accounts getting terminated
If you check the various review sites you will see plenty of issues with payments and vouchers getting lost and accounts being terminated, in a lot of cases for no other reason than trying to cash out.
Another reason why you should try to cash out each time you reach the minimum threshold of $10.
Website dropping the line and losing connection
Members complaining of been frozen out of the website for many reasons and not been able to sign back in, in some cases for several days.
What members are saying!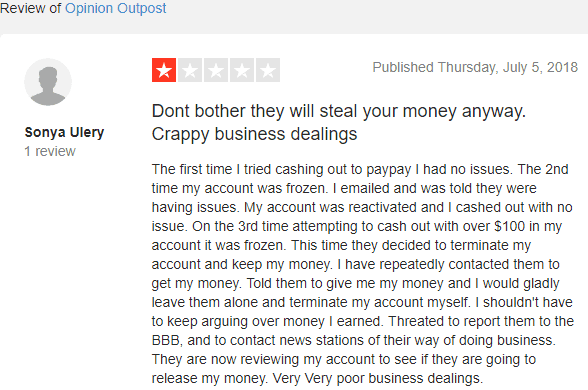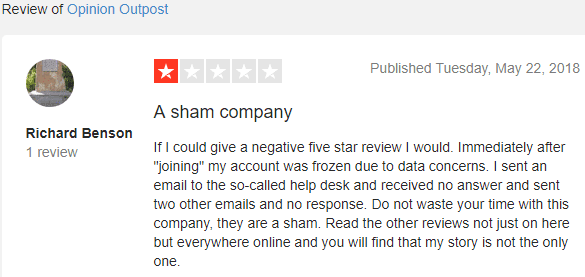 ---
What is Opinion Outpost – Final Thoughts!
A few years ago Opinion Outpost was up there as one of the best online survey websites.
I should know as I am a member, but in the last couple of years, things seem to have taken a nosedive, like they have for many other similar sites and maybe its because they are so many nowadays?
Well is opinion outpost legit?
In my opinion, only just, although if you check the various review sites that are out there, then you might think otherwise.
If you like doing surveys for a little extra money and a bit of fun, then go for it, but if you are looking for a way to make some serious money and make a full-time income online, then I'm afraid then this is not for you.
If you want a survey site with a little difference where you can accumulate cash through other activities, such as watching videos, playing games, shopping, then why not check out SwagBucks as they have a multitude of different ways to earn.
or
Maybe you have had enough of trying to earn a few dollars here and there, and would like to turn the tables and learn how to start your very own online business?
Wealthy Affiliate is a training platform that specializes in Affiliate Marketing. Designed around newbies so it's easy to follow, and it won't cost you a dime.

---
Comments
Congrats, you made it!
Are you a member of Opinion Outpost? Any bad experiences?
Tell me what you thought about this review and if you found it helpful then why not spread the word and share amongst your friends?
Just leave a comment and I will get back to you!
Until next time!