If you are looking for answers, is Mysurvey a scam or is Mysurvey Legit, then you have certainly come to the right place.
A site that had a great "Rep" a few years back, but are they moving in the right direction or are they just getting left behind, in this MySurvey review, I hope to show you all the good and bad so that you can decide for yourself.
The Internet is our best friend and we use it in our everyday lives, literally for everything.
One of the first things we do when we start venturing onto the "internet" is that we look for ways to earn some extra money, right? I know that's exactly what I did! We could all do with a little help nowadays!
How difficult can it be, with thousands of opportunities out there promising "easy money", and one of the most searched for are filling in surveys?
I mean, pretty much all of them are free to join, require no skills whatsoever and are normally available to many countries throughout the world.
When I started my online journey, I remember I had a list and just worked my way through it until I found a site I could trust, let's see if MySurvey lives up to your expectations or not, so without further ado, let's get right into it and see; what is mysurvey about!

Owners: Lightspeed Research – Now part of Lifepoints
Product: MySurvey
Website: www.MySurvey.com
Price: 100% Free
Founder: National Family Opinion or NFO
Founded: 2001
Based in: US
Summary: Filling in surveys
Recommended: NO – On the basis that you have to spend many hours for very little reward.

MySurvey Review 2022 – TOC
What is MySurvey About?
MySurvey.com is an online survey site that can be traced all the way back to the organization, NFO(National Family Organization) which started in 1946, which makes it one of the longest or earliest market research companies.
In 2001, due to the Internet explosion, NFO decided to launch mysurvey.com to expand its audience throughout the world.
In 2010, MySurvey.com was acquired by Lightspeed Research which is a subsidiary of The Kantar Group, a major player in the market research industry, based in the UK with 30,000 employees across around 100 countries.
According to MySurvey there are well over 4 million members across 40 markets throughout the Americas, Europe and Asia and have paid out around $40 million worldwide.
How Does MySurvey Work?
One of the simplest and most straightforward survey websites, with none of the usual additional activities to take part in that you find on many of the other sites.
Once you have registered and activated your account and filled in your demographics then you are ready to start taking part in the surveys.
You may come across some of the surveys that require you to become a product tester which normally means a higher number of points awarded.
Once you have reached the minimum payout threshold which is $10 then you are allowed to convert it to cash or exchange the points for vouchers.
How Much Can I Make with MySurvey?
Typically you can earn anywhere from 10-600 points for each survey completed successfully.
120 points = $1
1200 points = $10 when using PayPal which works out a little more than exchanging points for vouchers.
Did you know?
There are many more ways to earn money online other than taking surveys like  TopCashBack, Ebates and SwagBucks or maybe you are just frustrated with all the disappointments and looking for a new direction?
How to Get Started with MySurvey
MySurvey.com is 100% free to join and participate in and all that is required from you is a valid email address and password.
A series of questions will need to be answered which all go towards your demographics which enables MySurvey to categorize which surveys are sent out to you.
An email will be sent to complete registration and activate your account.
Other Ways to Maximize Points with MySurvey
Obviously, the main source to generate money is through the different types of surveys on offer but there are other ways which are listed below.
Don't forget that there is a mobile app from Google Play that you can download and be kept abreast of any activities such as notifications to participate in surveys whilst out and about shopping.
Another way would be to take advantage of and become a product tester when the opportunity arises.
All variety of products, ranging from household goods to cell phones and once they arrive at your doorstep, you test the product, answer questions, and in return, you are rewarded with points that can be redeemed at a later date.
I would normally say that participating in the referral program was a good way to accumulate in this case points, but here at MySurvey all that's on the table is 150 points which are equal to $1.50 and this is a one-off payment for introducing someone.
There are no recurring points for your referral's continued earnings, which is a  bit of a letdown!
How Does MySurvey Pay You?
Points can be converted to cash through PayPal or you can exchange them for Amazon and various other gift cards or vouchers which are available to you.
Remember, it can take up to 8 weeks for payments to be processed and received which obviously depends on the option you choose.
MySurvey Pros and Cons

MySurvey.com used to be one of the top survey sites around but like many others has made a complete turnaround, and from what I understand, this started around the time that Lightspeed took over in 2010.
I am therefore not going to beat about the bush, but the cons far outweigh the pros here!
Pros
With so many online opportunities most are free to join and take part in, that's a plus here at Mysurvey.
One of the ways where you can really make these online opportunities work for you is through their referral program, and there are a number of ways to promote such a program. This is not one of the better ones though!
Cons
Bad website communication 
There is nothing more annoying than a website that keeps grinding to a halt and dropping the line for no reason.
After activating my account, I was met with an error message when I tried to sign in and 3 hours down the road I was still unable to get access to the website.
I can see from reading many reviews this is a major problem.
Coming from a software background I can't for the life in me understand why problems like these exist. Obviously, the site is dated and needs revamping!
Disqualified from surveys
This appears to be a common problem with many of these sites where they give you access to a particular survey, you select and start filling it in, only to be told several minutes into the survey that you didn't qualify.
When you initially registered you had to fill in your demographics which is "supposed" to ensure they send out the right surveys but I guess I must be wrong!
Too many emails bordering on SPAM
When you register for these survey sites what I would suggest you do would be to use a different email address to your main one.
This is to avoid the endless amounts of emails sent out to you.
Mind you saying that, when I first joined and received an endless supply of emails I thought my number had come in and that I was on my way to untold riches. How far off the mark was I?
I wouldn't mind if a large percentage of them were surveyed that you would be eligible to take, but they aren't.
No Better Business Bureau (BBB) 
I know belonging to the Better Business Bureau doesn't mean that the company is "the bee's knees" but they have to pay to become a member and therefore a step in the right direction, which gives them some street cred.
Don't forget to sign in on a regular basis
If you are not active enough no matter how many points you have accumulated, they will close your account with not so much as an email to indicate what they are doing.
Just think about it, you get up in the morning ready for a heavy day filling in surveys with a steady flow of points accumulated, with no access to the website all because you went away on a 2 weeks holiday. Not good eh?
As far as I am concerned you get an idea of the credibility of a business by their aftersales and in this case support, but many complaints are out there for the lack of support or more to the point that it doesn't even exist.
Surveys fill up quickly so you better be on the ball
Emails are sent out regular away with selected surveys awaiting your participation but don't leave it too long otherwise you'll find that you miss out.
Even if you are quick enough as I mentioned that doesn't mean that you'll qualify for that survey!
I don't agree with these points redeemed to cash systems because you don't see any real value.
Although there is a points-to-cash conversion for PayPal when it comes to vouchers these are varied.
If you have been lucky enough (yes, I did say lucky enough) to be invited to many surveys and escaped being disqualified, what you will find is that once you have started accumulating points and heading to that minimum payout threshold, surveys will be more and more difficult to come by.
As if time wasn't precious enough, you will have to be patient!
Payout and the length of time it takes
I can understand business terms and conditions when it comes to paying suppliers because usually, we are talking about $1000's, but here you can wait anywhere from a couple of weeks right up to 8 weeks and beyond in some cases for that $10 minimum payment.
A mix of reviews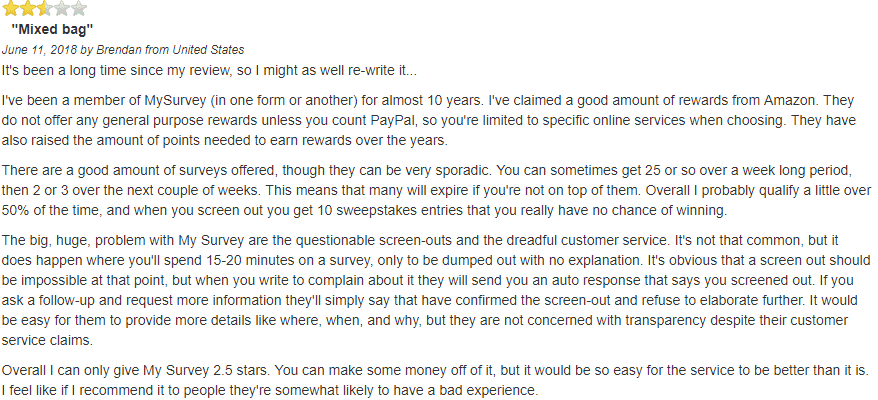 MySurvey Review  – Final Thoughts!
Is MySurvey legit, and on the basis that it is 100% Free and you can earn some pocket change then I believe it is, but all I can do is report the facts and the rest is up to you.
Would I recommend MySurvey.com and the answer to that is a resounding NO I wouldn't, simply because of the length of time it takes to accumulate any reasonable amount!
You will find many reviews indicating the opposite which I can't understand why because the facts are there right in front of you. Not only through my personal experience but checking the likes of TrustPilot and SurveyPolice should be more than enough.
I'd like to say that finding a few of these online opportunities is a good way to accumulate more money but as you can see there aren't enough hours in the day to do just that.
If taking part in surveys is something you still want to pursue, then maybe you could give TopCashBack, Ebates or SwagBucks a try?
Or
Learn how these Affiliate Marketing businesses operate and turn the tables.
That's exactly what I did, nothing ventured and all that and it won't cost you a dime or your credit card details. Check it out, what have you got to lose?

Comments
Are you a member and what do you think or maybe you just have a question for me about MySurvey.com?
Tell me what you thought about this review and if you found it helpful why not spread the word and help others?
I'd love to hear your thoughts, just leave a comment below and I will get back to you.
All comments are welcome and I reply to them all.
All the best
Mick