Welcome to what is the InboxPounds?
There's no getting away from the fact that the internet is full of opportunities to make some money.
The problem is that most of them are just not worth your time or attention.
Online surveys tend to be a place where most of us start and whilst money isn't great.
Joining several of these survey sites can amount to a tidy some but you will have to be dedicated.
So is InboxPounds a site worthy of your attention?
In the next few minutes, you will know all there is to know about InboxPounds so that you can decide one way or the other.
Whether this is a legit online survey site or not.
---
[Affiliate Disclosure: This InboxPounds review has been thoroughly researched from information and testimonials that are in the public domain. This post may contain affiliate links which means we may earn a small commission, however, this won't affect what you pay!]
---

Owners: InboxDollars
Product: InboxPounds
Website: www.inboxpounds.co.uk
Price: 100% Free
Founder: Darren Cotter
Founded: 2012
Based in: Cheshire, UK
Summary: Surveys and taking part in other activities.
Recommended: NO – Only because you have to spend far too much time, for very little reward.

InboxPounds Review – TOC
What is InboxPounds About?
InboxPounds is the sister or brother (whichever way you look at it) of that other popular survey/rewards site InboxDollars and has been around since 2012.
A rewards site that pays its members for taking surveys, answering emails, playing games and a host of other activities which we'll get into a little further on.
How Does InboxPounds Work?
The website works on the premise that it links the advertisers with the consumers which in this case are the InboxPounds members.
The advertisers who partner and pay InboxPounds UK for displaying links to products and or services, and for doing so InboxPounds pays the consumer, in this case, you the member for taking part in offers, surveys and other activities associated with the advertiser.
How Much Can I Make with InboxPounds?
For joining you receive £1 and an additional £0.50 for acknowledging the email sent out to complete registration along with setting up your profile.
The amount paid for taking part in the surveys varies from £0.20 to around £1.50 and can take from a few minutes up to 30.
Like all these survey/rewards sites there is money to be made but in small amounts, and therefore if you are thinking that this could be a great way to start earning online, and maybe replace your weekly job then you may find yourself a little disappointed.
Obviously the more you put into this opportunity the more you will get out of it, but don't expect to be filling in survey after survey because you will find yourself not qualifying for many, which is extremely annoying and very frustrating!
The best way to earn with these sites is to introduce people you know through their referral program.
Great if you have a big enough following, such as an email list or social media following, and there are various ways to promote this online opportunity and if you need a helping hand I will go into that a little later on.
How to Get Started with InboxPounds
Many sites charge a fee whilst InboxPounds is 100% free.
just click here and enter a valid email address and password, and don't forget to accept the terms and privacy policy.
An email will be sent to you to complete the registration. This should only take a few minutes!
Then once you are signed into the site you will be asked a number of questions (these are your demographics) which are important because your answers have a direct bearing on what type and how many surveys you will receive.
Ways to Maximize Cash with InboxPounds
Like many of these sites, they started primarily as a survey site and a few years back you could earn a decent amount, but over the years many similar sites have appeared and made it extremely difficult.
Everybody is fighting for the same business and the way forward was to expand their websites and add additional activities to keep you focused and stop you from signing out.
With InboxPounds surveys, they are the main source when it comes to earning money here at InboxPounds, but trying to get any momentum going will be difficult.
Yes, there will be surveys available but typically what happens is that you will select a  survey and several minutes into the survey you will be thrown out and told that you didn't qualify.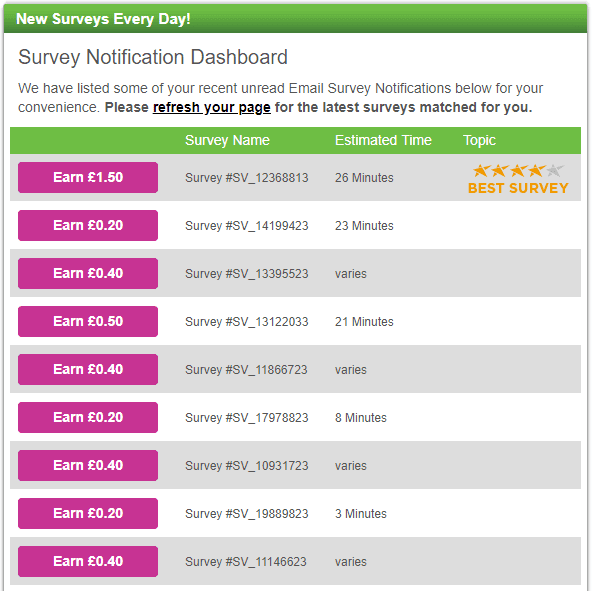 Take for instance the top survey for £1.50
and an estimated time of 26 minutes, I spent 5 minutes filling in this survey only to be thrown out with the below message.

Unfortunately, this happens a lot of the time!
To complement the money you earn with InboxPounds surveys, there are a number of Cash Offers, such as
Becoming a product tester.
Trial offers.
Competitions, with the chance to win £1,000s.
Share your thoughts on what you watch on TV and listen to on the radio.
Playing games.
Playing bingo.
Downloading Apps.
With the chance to earn anything from £0.20 up to £75.00
Some of the offers will be 100% free but some will require your credit card details, and remember that if you do give your card details that there normally will be a trial period, and once that expires unless you have cancelled the offer, then you will be charged.
Another way to make a few pennies would be to use the InboxPounds search bar instead of Google or Bing.
We are always using Google so why not, just bear in mind that the most you can make on a daily basis is £0.70.
The searches have to come naturally and the amount awarded is based on every 4 legitimate searches.
Any earnings that aren't natural will be deducted from your account with the possibility of getting banned.
Reading Emails and acting upon them
The more active you are the more frequent you will receive emails from Inbox Pounds UK. With a maximum of around 3-4 in any one day.
All that is required of you is that you click on the Confirm PaidEmail™ which you can find at the bottom of the email.
Any offers within the emails that you complete will also earn you more money.
I know the amounts will be small but it all adds up, right?
A great way to build your balance is through the InboxPounds referral program.
This works best if you have a big enough following such as friends on social media, such as Instagram, Facebook, YouTube etc.
I have seen some interesting results from members and it pays to look at the many different ways of promoting such a program, from the basic methods such as emails through to more passive ways if you are interested?
By getting others to join you can earn 10% of everything they earn and that is for life or until they decide to cancel their membership.
You can register for World Winner Games which means a totally separate account to your InboxPounds account, and get between 1-4% of every £1 that it costs you for entry into one of the games, a little like the Casino sites that you see knocking about.
Personally, I would stay away from this activity.
The whole point of you even considering sites like InboxPounds UK is to earn yourself a little money and not give it away, right?
How Does InboxPounds Pay You?
Once you have reached the minimum threshold payment which is £20 then you are allowed to withdraw.
You must agree that the most convenient payment method is PayPal, and that's what most people online use and are happy with, but unfortunately, this is not available at InboxPounds.
The only 2 methods are Check and Prepaid Mastercard and/or Merchant eCards.
Checks are the only method of payment for members outside of the UK.
Checks will take around 7 weeks to get processed, posted and cleared at your bank and when we are talking about £20 pounds is it really worth all the hassle.
For countries outside of the UK, it would take longer but not only that you have to take into consideration the currency exchange rate too.
InboxPounds Pros and Cons
Here we are and one of the most important sections of the review where you get to know all the good and the bad, well I'm sorry but there will be more bad than good here.
Pros
With most make money opportunities they are free to join which is a plus here.
This is a great way to earn money for doing nothing other than getting others to join and a way that many don't capitalize on.
To make some reasonable money you would really need to get 100s or even 1000s to join which is not as easy as you may think.
Cons
Disqualified from Surveys
This is a major problem, not only with InboxPounds but many other similar sites where you end up wasting time on a survey only to be told several minutes into it that you didn't qualify.
Payments have gone astray
Members are complaining that they never received their checks and when InboxPounds is confronted nobody seems to know why which leaves the member no alternative but to either ignore this and carry on or cancel their membership. I know what I would do, right?
Can you really get paid £5 for surveys?
I have been a member of InboxPounds for a while now and whilst I have earned small amounts, and I mean small amounts, I have never managed to hit a £5 survey.
The most I have managed is £0.40 so I guess where they indicate £0.20 to £0.70 this is obviously in the right ballpark.
Are these so-called offers really free?
We all like free, right but how many times have you seen an offer that is 100% free?
Many of the free offers require your credit card details, and when you hit the expiry trial offer period unless you have cancelled the offer then charges will apply.
InboxPounds partners with advertisers who send out "Free Stuff" for your participation but to get this a charge will apply for shipping costs and postage, normally inflated. Many will suggest misrepresentation!
The most popular way of handling payments online is through PayPal and everybody has come to accept this method. It's quick and reliable which is what everybody wants.
Checks are slow, they get lost in transit but not only that, but they also take several business working days to clear when they reach your bank.
InboxPounds Review – Final Thoughts!
People are asking the question, "is InboxPounds a scam"?
A term that I don't like, and I wouldn't label this opportunity as such because it is 100% free and you can make some money although in small amounts.
I wouldn't recommend InboxPounds for many reasons which I have tried to highlight and at the end of the day the final decision is up to you.
There are other similar opportunities that are better and ones that you might want to check out such as TopCashBack, Ebates or Swagbucks 
But…
You could learn how these sites operate and turn the tables and be the earner.
Sites like InboxPounds operate in the Affiliate Marketing domain where they get paid for advertising and people taking surveys, plus other activities that they get you to do.
Been there so I know where you are coming from.
I researched affiliate marketing and after a while of losing money, I came across Wealthy Affiliate.
A training platform developed around the newbie but for experienced marketers as well. Anything you need to know about creating and running an online business is taught here.
In fact, it's a one-stop shop. With a community, you will find it very hard to find elsewhere.
So, if you've had enough of sitting there waiting for surveys that will earn you a pittance that's providing you actually get accepted for one, then check this training platform out for yourself.
If you don't like what you see, just call it a day, but you will never know unless you check it out, and remember it is free and you won't be asked for any credit card details either.

Comments
Thinking of joining InboxPounds? Are you a member? Had any bad experiences?
What did you think about the review? Why not share and spread the word among your friends?
I'd love to hear your thoughts or maybe you have a question about InboxPounds or anything for that matter.
All comments are welcome and I reply to them all.
Stay safe