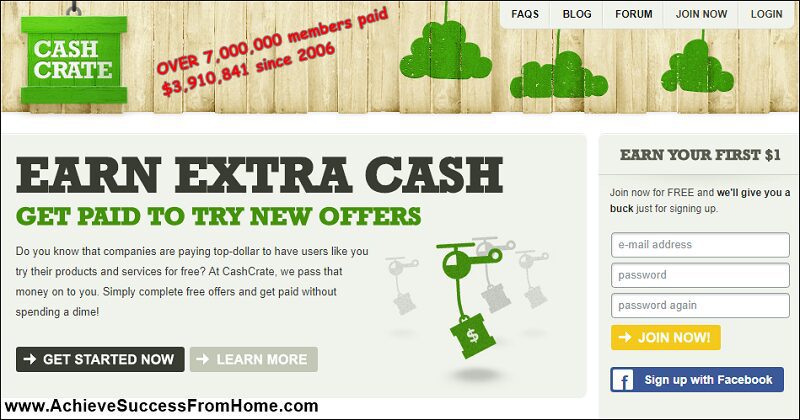 So what is Cashcrate about, and with so many similar sites around, are we looking at a legit business where it is possible to earn some real money or are you just wasting your time?
The Internet is the place "to go to" nowadays for pretty much anything, especially when it comes to searching out ways to make money online, but 2 major factors stand in your way, where do you look and who can you trust?
There are hundreds and thousands of new ways to make a living online but most are just not worth your time and effort, but is Cashcrate one of them?
You are probably here after already reading one or two Cashcrate reviews, and if you are then hopefully this will be the last review you will need to read before making a final judgement call.
---

Product: Cashcrate
Website: www.cashcrate.com
Price: 100% Free
Founders: Patrick Clochesy & Joe Coleman
Founded: 2006
Based in: US
Summary: Market research / Surveys and Rewards
Recommended: NO – Only because you have to spend far too much time, for very little reward.


---
Internal Summary and Links
---
What is Cashcrate About?
Cashcrate is a GPT(Get Paid To) or reward site that was founded in 2006 by Patrick Clochesy and Joe Coleman and based in Las Vegas.
As of this review, there are currently well over 7,000,000 members throughout the world who get paid for completing tasks such as surveys, offers and playing games amongst others things, which I will go into more a little later on.
How Does Cashcrate Work?
You will see major companies associated with market research companies like Cashcrate, which is one of the quickest ways to promote their products and to get customer feedback.
This all comes under affiliate marketing and they pay companies just like Cashcrate to do all this for them.
Cashcrate will then pay their members from the earnings received from their clients for taking part in surveys, promotional offers or even shopping online.
Other activities such as watching videos, playing games, entering contests or answering emails, whilst you can still earn money, albeit small amounts, are really there to keep you active on their website.
---
How Much Can I Make with Cashcrate?
This is entirely up to each individual and how much time and effort you put into this online opportunity. Pretty much like any business venture!
The best way to earn with these sites is through their referral programs if, in fact, they have one, but don't worry because the majority do and they certainly do here at Cashcrate, and a good one it is too!
There is even a "Payment Wall" where members (if you want) can upload their proof.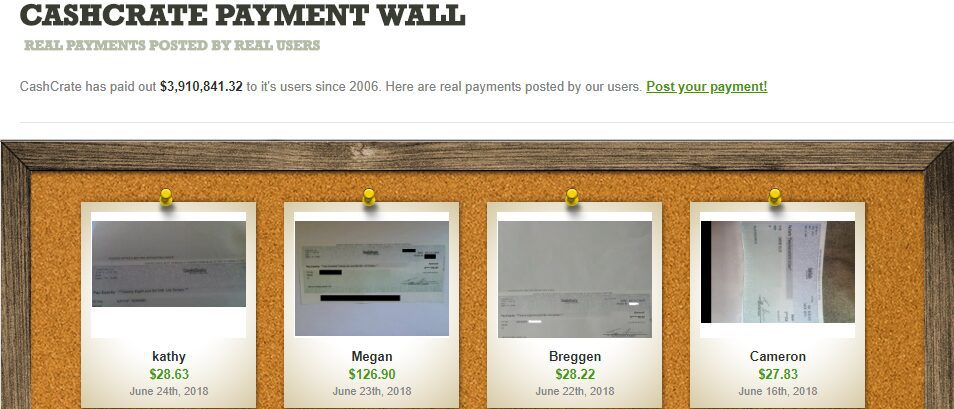 But wait and Check this out!
With currently over 7,000,000 members and paying out $3,910,841 since Cashcrate was founded in 2006.
That equates to each member making $1.79 but hopefully, this hasn't frightened you away, well, not just yet anyway!
I know this is an average and a little unfair because some will be earning and many will have cancelled their membership, but hopefull you see where I am going?
---
How to Get Started with Cashcrate
That's pretty straightforward, just click here and it should take a couple of minutes to complete registration and remember this is 100% free to join and take part in.
Just enter a valid email address along with a password.
You will then receive an email which you will have to acknowledge to confirm and activate your account.
Once you have confirmed who you are then there are a number of questions which have to be filled in. These questions are important and determine what type and how many surveys you receive.
Once you have fully completed registration you are rewarded with $1.50.
---
Ways to Maximize Cash with Cashcrate
Obviously, surveys are the main way to earn here at Cashcrate.com and the number of surveys you receive are down to a few things but mainly demographics, that's the information you gave when you first registered.
I guess like me as a new member you will be hoping to sit at your laptop filling in survey after survey and creating that 2nd income, right?
Wrong, let me explain!
What you will find is that you won't qualify for above 90% of the surveys that you select, and you won't find this out until you are a few minutes into the survey.
Take me, for example; I selected my first 10 surveys and spent 20 minutes only to be told that I didn't qualify. For me, that's 100% that I didn't qualify for! Could it be a fact that I wasn't a US citizen? Maybe!
If you can manage $3 an hour at best you are doing great, but most of the time you will be left scratching your head trying survey after survey after survey. Patience and perseverance here is the key, but I'm afraid I lost the plot very early on.
You will find many offers available where you can sign up for products and/or services.
A very important thing to watch out for here is that many of these offers even though they initially are free will ask for your credit card details,  but what happens then is that once the free offer period expires then you will be charged a fee.
If you have many of these so-called "Free" offers on the go then it is so easy to forget to cancel the membership before the trial offer period expires.
Getting billed for something you didn't want will just eat at your balance!
At Cashcrate they have teamed up with some of the top retailers that you already use when shopping online so why not check them out here at "Get Cash Back"
Just purchase as you would do normally but through the Cashcrate links and once the retailer has verified your purchase, a few weeks later you will see cash back and added to your account balance.
I would still research the product or service elsewhere first because in most cases you will find a better offer!
A great way is to get Cashcrate referrals!
Always a great way to boost that account balance of yours, especially if you have a big enough crowd, such as an email list or a big social media following.
At Cashcrate.com they have 4 different membership levels that you can achieve, Bronze, Silver, Gold and Elite
The higher the level the more you will earn on your referrals earnings which are for life or until the member decides to leave. This starts at 20% for Bronze all the way up to 30% for Elite status!
To find out more and the breakdown of each level just click here.
Create a Free Blog on Cashcrate
A great way to get more referrals is to create a blog or website and at Cashcrate once you have received "Silver" status, which is at least 25 referrals then you have access to a free blog or website.
If you can't wait and would like to get this started first and haven't a clue what is involved then you can check out this training platform, where they teach you everything you would need to know, and it is 100% free too.
No credit card details and no upsells either!
Get a little peeved with filling in surveys or just aren't getting enough of them then why not chill out and play a few games tournaments where you can accumulate points which can be redeemed through vouchers.
Watching videos is another way to accumulate some extra cash or should I say pennies. Yes, we are talking anywhere from 1 cent upwards!
Another way would be to take part in a number of Cashcrate contests to get that balance soaring, with daily, monthly and other types of contests on offer on a regular basis.
---
How Does Cashcrate Pay You?
Once you have reached the payment threshold which is $20 then you are allowed to withdraw.
Any earnings you make for the current month are sent to you either at the beginning or middle of the month, which is dependant on the payment method you select and also your current membership level, which is either Bronze, Silver, Gold or Elite.
Bronze – (Less than 25 referrals)
Only 2 payment methods are allowed.
Dwolla, which is similar to PayPal but only available to US members.
Checks sent to US members should take around a week, and none US can take between 2-3 weeks and of course, remember that it will also take around 5 business working days for the check to clear too.
At this level, non-US members can only be paid by check and don't' forget the currency exchange rate too!
Silver – (25-99 referrals)
Dwolla and Direct Deposit is available to US members only.
Checks and PayPal are available to all members.
Weekly Payments
Are available to Gold and Elite members who have 100+ referrals or lifetime earnings of $250+ with a minimum payment of $100.
---
Cashcrate Pros and Cons
All businesses come with a certain amount of baggage because nobody is perfect. If it sounds too good to be true, you bet it probably is!
Pros
Many opportunities will cost you a fee before you get to know whether it is legit or not, here at Cashcrate.com it is 100% free.
BBB (Better business bureau) 
They are currently showing an A rating
Cons
Disqualified from Surveys
This does appear to be a big problem here where you end up wasting your time taking a survey only to be told that you didn't qualify a few minutes later.
Your demographics should identify whether you qualify or not, therefore there is absolutely no reason why the correct surveys can't be distributed to the right members first.
Have to reach a membership level before you can use PayPal
This is quite annoying, because it sort of forces you into referring people, which isn't a bad thing because that is the way to go to get that balance moving, but you will have to work your arris off to get those 25 referrals unless you have a big enough following who might be interested.
Might be a good thing to create an independent email because you will be bombarded with junk mail on a daily basis.
I have even seen complaints from members where it would appear their personal information had been passed onto third party companies as they were pestered constantly with sales calls.
Are Free offers really Free?
Many offers require your credit card details and once the offer period expires unless you cancel the offer you will be hit with costs.
---
What is Cashcrate About – Final Thoughts!
As you can see, Cashcrate.com is a legit company but one I would not recommend.
The amount of hours you have to put into these survey sites just to get a few extra dollars is just ridiculous and I find my time is just too precious and can be spent in a more constructive way. Yours can be too!
If all you are looking for is some pocket money be rest assured that's exactly what you will be getting taking online surveys, but if you are serious and looking for a real business opportunity, where you are taught everything you would ever need to know, where in 1-2 years time it could very easily replace your current job then check out this review.
I should know because I'm doing just that! Nearly forgot to mention that it is also FREE to join and No Credit Card details will be asked for either and of course a major plus no damn UPSELLS!
But, if you are looking for similar opportunities to Cashcrate.com, then you might like to check out TopCashBack, Ebates or SwagBucks
---
Comments
Are you a member of Cashcrate? Are you happy with the site? Thinking of joining?
I'd love to hear your thoughts and what you thought about the review.
Why not share this review amongst your friends, it could save them a lot of time!
All comments are welcome and I reply to them all, so don't be shy and tell me what you thought.
All the best,
Mick