Welcome to this Injecto Review
A WarriorPlus product that came to the market in late 2021 and caused a bit of a stir, and for all the wrong reasons.
One thing you should know is that most of the products that come from WarriorPlus are extremely dubious and you should tread very carefully.
But we are here today to review Injecto and see if what it claims is true or is it just another scam that you should stay well away from.
Whilst searching for unbiased and honest reviews about Injecto I'm sure you will have come across many Injecto reviews.
These reviews are from affiliates who are trying to make a sale and in the process make a commission.
However, that is not what we are about and before we get started.
We would like to make a disclaimer, that we are not associated with Injecto or the product creators in any way.
Simply put, we are not getting paid for this review, rest assured what you will get from us is an honest unbiased account.
With all the facts, pros and cons and whether Injecto is a scam or not.
In the next few minutes, you will have all your answers.
With that said let's begin.
---
[Affiliate Disclosure: This Injecto review has been thoroughly researched from information and testimonials that are in the public domain. This post may contain affiliate links which means we may earn a small commission, however, this won't affect what you pay!]
---
Product: Injecto
Founder: Seun Ogendele and Jason Fulton
Website: www.grabinjecto.com/injecto-exclusive
Product Description: Push-button get rich quick scheme
Cost to join: $19
Recommended: No
Summary: One thing you will notice when looking at the sales page is that there is no mention of what Injecto will do for you.
This is pretty common with this type of product, considering the background of these 2 which we will be going into a little later.
This type of product is always aimed at the complete newbie who is trying to make money online and because of the low cost, many will give it a go.
But, what you will instantly notice once you have paid your $19 is a bunch of upsells which if you are not careful can cost you several hundred dollars.
The problem here is that you might be convinced that you need these upsells for the system to work.
What we suggest if you are going to try this product is not to pay for any of the upsells.
There is no mention that you would need them and the product should work without them.
Injecto Review – Table of Contents
What is Injecto About?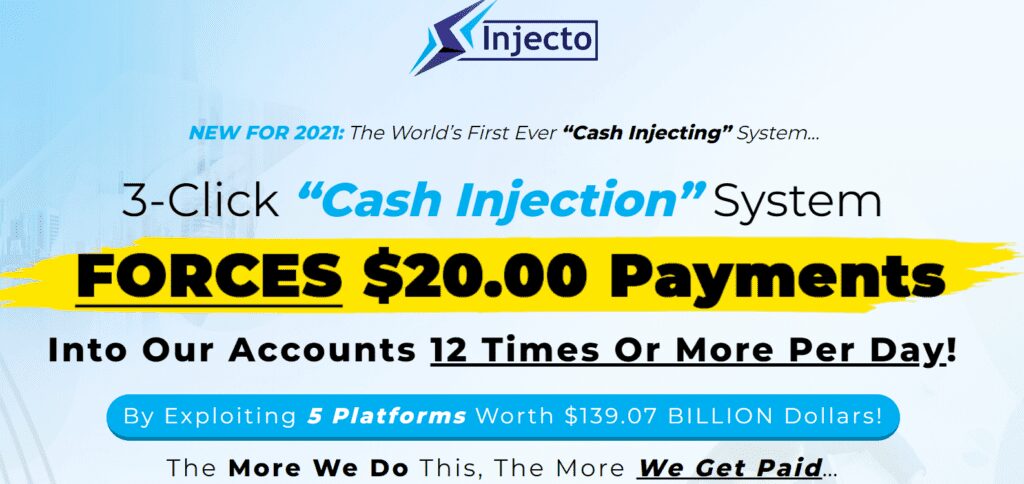 As we already mentioned Injecto is a product that you can find on the affiliate network, WarriorPlus.
The Injecto product creators are Seun Ogundele and Jason Fulton and this is not their first time together.
Injecto is nothing more than an attempt at a get rich quick scheme, nothing more, nothing less.
With just 3 clicks of your mouse, Injecto will automatically generate endless payments of $20.
There is nothing else for you to do except wait for the money to come rolling into your PayPal account.
This is pure BS!
Let me set the record straight, there is no such thing as a "Get-rich-quick-scheme" except for the product creators.
Nowadays, we don't come across many of these programs, or systems, because we choose to not review WarriorPlus products.
But, this one found itself on a list of things to do and thought maybe we'd get surprised, but alas we weren't
Injecto is a system where according to the sales page you can make money from 5 five different platforms where you'll repeatedly make $20.
There isn't much to do except download a few videos that do not belong to you and then upload them to Twitch.
Which is an American live video streaming service.
So, let's continue and see how this unfolds.
Who Are The Founders of Injecto?
This accolade belongs to Seun Ogendele
and Jason Fulton two individuals who have worked together before on several occasions.
You might have even heard of 2 very similar products Loopz and Clicko that use the same method of stealing someone else's videos.
Seun Ogundele often goes by the name of "elitemediaonline" on WarriorPlus and you can find Jason Fulton within that profile too.
After all, Jason Fulton isn't allowed to use his name on WarriorPlus because he is banned.
That should be a red flag!
What do You Get With Injecto?
When you come across Injecto because of the price it is so easy to say, "Why not give it a go".
But the excitement, when you join, will diminish pretty quickly, as you'll be hit with many upsells that could cost you a few hundred dollars.
There are 6 upsells to watch out for which could end up costing you $574 if you decided to go ahead and purchase them all.
You might be asking, why so many upsells when the actual product only costs $19 and $17 if you get the discount.
Once you have "hopefully" discarded those upsells and just paid the normal price.
You are ready to start earning with 3 easy steps…
Click 1 – Get Injecto
Click 2 – Activate the Injecto system to start exploiting 5 platforms
Step 3 – Hit the inject button
That's the short version now let's look a little deeper…
 How does Inject really work?
You would scour Youtube for the right type of video to steal, yes it does belong to someone else and if you are alright with that then so be it.
Once you find the videos, you then have to upload them to Twitch which we mentioned earlier is a video broadcasting service.
If you know anything about video marketing then you will know it can take a long time for your videos to be seen.
Yet they tell you this takes no effort at all.
[This can have consequences as it isn't your property and if you are found out you could be banned…Why do you think they don't use Youtube?]
You get access to a very poor video creator and what they call a thumbnail creator.
All of which can be found for free online and if you want to create anything fancy.
Just head over to Canva and this is free and only $10 a month for a paid membership. Nothing comes close!
Can you make money with Injecto?
We can't tell whether past or present members have made any money because like we find with these products.
There is no feedback, but we do know that people have purchased the product as you can see here.
With over 5,000 sales and no feedback seems a little strange, right?
If you take a look at Twitch, the streaming service that they use.
This is mainly for people who like gaming.
So the audience is very niche and people who are using this service are using it mainly for entertainment.
Not the type of audience that is ready to get out their credit card and purchase anything that you may have to sell.
That means you'll be promoting whatever it is you are offering to a crowd that most will not be interested in.
Now, to sell anything to someone the most important factor is finding the right crowd wouldn't you agree?
With that said, like any product, sure you might make some money but you are likely to just get peeved off and give it a wide berth.
Prove me wrong but please come back and tell me how you got on.
Who is Injecto For?
The sales page claims Injecto is for everyone but the only ones you'll find purchasing this.
Are people who are complete beginners looking for ways to make money online.
If you are serious about making money online then you need to stay away from this type of product.
Unless you like trying to make money by stealing other people's property.
There is nothing to this system if you want to try it, but don't fall into the trap of purchasing the upsells.
How Much Does Injecto Cost?
The sales page indicates that Injecto should cost you $495 a month which is a staggering $5,940 for a full year.
But for today you can get it for a bargain one-time price of $19, but wait, you could actually get it for the discounted price of $17.
But that $17 could quite easily turn into over $500 with the upsells.
Just look at what they have valued Injecto at and they were so generous as to knock off $5,923.
That alone is a "Big Red Flag"
Is Injecto a Scam?
Straight off the bat, if you can't find out what a product or system actually does within the first few minutes.
You should be very careful and this is what you get with Injecto.
It keeps repeating itself over and over and never actually tells you how or what is involved for your money.
Another big red flag is that you can't find any feedback from people who have actually used this product.
Now, don't you find that a little strange?
You would expect everybody to be hitting the network praising Injecto for making them rich but you don't and why is that?
Simply because people aren't making any money with this system.
The sales page if you know what to look for is full of hints that what you may be buying is a complete waste of time.
That's what Injecto is, a complete waste of time and something that we just wouldn't put our name to.
Whenever you are looking at products like this from WarriorPlus, Jvzoo or Clickbank please do your research thoroughly like you are doing here.
There is "supposed" to be a full refund that will cover you for a full year but I wouldn't pay too much attention to that.

What we Like About Injecto
There is absolutely nothing that we liked about Injecto and we hope that we have convinced you not to go ahead and purchase this product.
What we Don't Like About Injecto
The sales page is where it all starts and if you just spent a little time reading through.
Then you would see all the triggers that something just might not be right.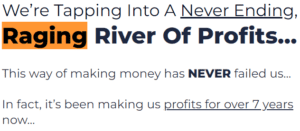 Making profits for over 7 years when the product came to market in 2021.
Injecto Is Just A Rehashed Product:
If you took a look at WarriorPlus you will see that many of the products that have been sold all take on a similar theme.
This is the reason why they can bring so many of these products to the marketplace as quickly as they do.
Take a look for yourself.
As always with this type of product or system, the way that product creators make their money is through small sales hence the $19 price tag.
Some will, but most won't go ahead and purchase any of the upsells, not if you have done your research properly first.
If you are not careful Injecto could easily cost you over $500.
Over Exaggeration Of Income Claims:
These claims you have to take with a pinch of sale because if you look at previous products like Loopz and Clicko.
You will see that the sales page shows exactly the same figures.
The income claims that they make are probably on sales from selling this product to people.
Injecto Review – Final Thoughts!
The short of it is, we don't recommend Injecto to anybody but if you want to give it a go then please do but forget about the upsells.
We would be seriously interested to know how you got on, so drop us a line.
One thing to bear in mind when you are looking for a make money opportunity is that there is no such thing as…
A get rich quick scheme
A done for you ready system
A push-button system
They just don't exist and we can save you a lot of wasted time here because eventually, you will realise this.
Don't worry because we have been down the same rabbit holes and it took us a while to realise this because we wouldn't believe what people were saying.
It is possible to make a very good living online.
Meanwhile, if you would like to know how then we would love to share with you what we do in the next section.
How we Make Passive Income Online?
It is ok going down this route and being conned and nothing to be ashamed of because it happens to us all.
Especially when we come to the internet looking for make money opportunities.
It doesn't seem like too long ago that I was that person and I suppose it's just something we all have to go through.
Before we take a step back and say, "If I continue down this path I'm never going to make any money, am I?"
We did and found a way, but it isn't a get rich quick or point and click system.
This is a serious training platform that teaches affiliate marketing to people who want to take full control of their lives.
The training is from Wealthy Affiliate and since 2005 they have trained over 2 million members.
With thousands of success stories who are earning 4, 5 and 6-figure monthly incomes.
This is serious and you will have to work, if this isn't you then don't click the link below.

Feedback, Comments and Subscribe
Ok, guys, sorry we didn't have a lot of good things to say about Injecto and that we might have upset your day.
But the reality of it all is that most of this type of product just doesn't work.
Thanks for reading and stay safe.