Hey guys, welcome to this website and the Liv Labs review 2022.
A multi-level marketing company that manufactures and sells its own range of Hemp CBD products.
In recent times MLMs like Liv Labs have flooded the internet all trying to dominate the supplement industry.
It depends on what you are looking for though!
Is it a particular CBD product or is it the make money opportunity that they provide that interests you?
First and foremost you have to be confident that what you are about to promote is the real deal and this is the first step towards that.
There has been a lot of talk and confusion about just what is legal and what isn't and governments are relaxing their positions somewhat.
But before we get stuck into this review, we would just like to mention that we are not associated with Liv Labs in any way.
That means we are not getting paid for this review but what it also means is that we will provide you with an honest unbiased review.
Giving you all the facts so that you are better informed and can make a decision whether to pursue this company further or not.
In the next few minutes, you will have all the facts, so let's begin.
---
[Affiliate Disclosure: This Liv Labs Review has been thoroughly researched from information and testimonials that are in the public domain. This post may contain affiliate links which means we may earn a small commission, however, this won't affect what you pay!]
---
Product: Liv Labs
Founder: David and Debbie Reeder
Website: www.livlabsnow.com
Product Description: CBD supplements MLM
Cost to join: $23.94 + ($373.14 – $1,319.94)
Recommended: Maybe
Summary: Liv Labs is just one of the hundreds of companies out there manufacturing and selling CBD products.
The problem with all MLMs is that the products are always overpriced and unless you were joining to try their business opportunity then why would you buy their products?
What you can't do with CBD products is rely on what others say as we are all different and some products work for some whilst some don't.
So you have to try them yourself first but why would you spend $100 when you can pay $25 for a similar product elsewhere?

Liv Labs Review – Table Of Contents
What do you know about CBD?
Before we get started, CBD is not present in large quantities in either the Marijuana or Hemp plant.
It has to go through a process to get to that stage.
CBDA is the source of where CBD comes from, which is more potent than CBD.
In fact, there are some companies that are manufacturing products not with CBD but CBDA.
But we are not there with using CBDA but that should be where this industry is going.
In the last decade, the CBD industry has really taken off, particularly in the US, where prior to the 2018 Farm Bill, CBD oil was federally illegal.
As of 2020, in the US alone, the sales of CBD have reached around the $4.6 billion mark.
Forecasts project a market estimated between $15 and $20 billion by the year 2024.
CBD is produced from both the Marijuana and Hemp plants but there are big differences when it comes to legalities and this is all based on THC.
THC or Tetrahydrocannabinol is the psychoactive element that gives you the high which is what anybody who smokes it is looking for.
The THC from the Marijuana plant is a lot stronger than in the Hemp plant and difficult to control.
Whereas THC in the Hemp plant is hardly present which is why CBD laws have been relaxed for products coming from the Hemp plant.
In the US the THC level can not exceed 0.3% in the product whether it comes from the Marijuana or Hemp plants.
However, in the UK, the THC level has to be .0%
But we know in the UK after a random check that they found around 47% not as they were described on the label with hardly any CBD.
There are various reports showing how you can benefit from using CBD oil with just a few listed below
MS
Any form of nerve pain
Parkinson's
Nausea
But it is illegal to market a CBD product for medical terms claiming this or that.
What is Liv Labs About?
Liv Labs came onto the scene in August 2018 producing a small range of CBD products.
The CBD products that are manufactured at Liv Labs all come from the Hemp plant which pretty much eradicates the presence of THC.
Remember the THC level can not exceed 0.3% and with CBD coming from the Marijuana plant this is difficult to control.
Founded by David and Debbie Reeder and is based in Texas in the US.
Who was one of the top earners at another multi-level marketing company called Vemma?
Which was shut down in 2015 by the FTC for running a $200 million pyramid scheme?
However, Veema did come to an agreement after settling $238 million with the FTC and can still be seen operating today.
Obviously, David and Debbie Reeder knew about how Vemma was been run at the time and would have stood to make millions.
But did they learn from there?
Is Liv Labs a Pyramid Scheme?
Well, from what we can see Liv Labs is not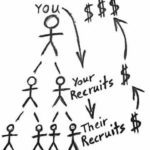 a pyramid scheme, but David and Debbie would already have triggered interest from the FTC.
After their stay with Vemma.
Consequently, they would have been silly to go down a similar path as Vemma.
But, MLMs, in general, will always carry that stigma around with them because of the compensation plan.
Just for clarity on what a Pyramid Scheme is…
This is a business that operates in a manner where the affiliate or distributor is paid for recruitment only.
This would be declared illegal.
Sometimes these companies operate using a product or service, however, they don't have any real intrinsic value.
This could be deemed as a pyramid scheme in disguise!
Those products and services are there to hide the fact that they are operating illegally but many companies do get away with it.
In most countries this type of business is illegal and many people go to prison for many years.
The  Federal Trade Commission has compiled a report on the way MLMs operate which you can read about here.
Why aren't these MLMs getting closed down?
There are so many MLMs that operate as a pyramid scheme and because there are so many it takes time for the FTC to get their act together.
After all, they only have a limited resource of people to investigate and by the time they get around to doing anything about it.
The company under investigation usually closes down and reopens as some other company probably doing the same thing but using a different name.
You might like to check out this short video…
Liv Labs Product Line

The number of products available at Liv Labs is limited to only 9 as of this review.
Which, as you can see there are 2 price points, a one-time fee or auto-ship.
Liv Platinum 2000 – 2,000mg, $136.80 one time or $121.80 autoship
HydroPRO 750 Drops – $136.80 one time or $121.80 autoship
LivEssence Revewal Serum – $154.80 one time or $139.20 autoship
Ashwagandha Hemp Gummies – $118.80 one time or $106.80 autoship
Flame -$82.80 one time or $75.60 autoship
DurtTM Black -$98.50 one time or $88.80 autoship
Hemp Balm – $117.60 one time or $105.60 autoship
Liv Balance BBC – $96.00 one time or $86.40 autoship
Liv Labs Business Opportunity – What You Need To Know
If the interest in Liv Labs is primarily for the business opportunity then this section is for you.
How much does it cost to join Liv Labs?
At Liv Labs, there is a yearly membership fee to pay which is currently $23.94 and will be automatically renewed each year.
Members at Liv Labs are called "Active Brand Partners"
New members will have to purchase 1 of the 3 packs below…
Starter Pack
You can choose the selected starter pack or build your own at a currently discounted price of $373.14 which is normally $448.68.
New members can also sign up if they purchase any Brand Partner Pack:
Builder's Pack
The builder's pack is the second in the range which is currently $711.54 that comes with 5 products.
3 * Liv Platinum 2,000 MG
1 * Hydro Pro 750
2 * Hemp Balm 1,000 MG
Founder's Pack
This pack comes with 10 products at a cost of $1,319.94.
5 * Liv Platinum 2,000 MG
2 * Hydro Pro 750
3 * Hemp Barm 1,000 MG
These are the 3 bundles that are currently on offer which from time to time are discounted.
How to make money with Liv Labs
There are 2 ways that you make money with Liv Labs…
Commissions from the retail sales that you make
Recruit and build a team and make commissions from what they sell
Liv Labs Compensation Plan
The compensation plan is how you get paid at Liv Labs and these are usually complicated for people like you and me to understand.
However, the one at Liv Labs appears to be straightforward and built in such a way as to avoid pyramid style growth.
Another good thing is that you will get paid weekly.
There are 12 ranking levels that you would need to climb which are dependent on monthly sales volume…
Partner
Active Partner
VIP Partner
3K VIP Partner
9K VIP Partner
15K VIP Partner
30K VIP Partner
60K VIP Partner
Diamond Partner
Double Diamond Partner
Triple Diamond Partner
Black Diamond Partner
The document here will explain things a little clearer or you can listen to the co-founder Debbie Reeder explain it in the video below.
Are Liv Labs Active Brand Partners Actually Making Any Money?
For starters, Liv Labs do not provide an income disclaimer so this question is a little hard, if not impossible to answer.
What we do know and this is based across all MLMs is that as much as 97% do not earn enough to replace a full-time job.
While between 50 and 65 per cent do not complete their first year.
If you want confirmation of this and more there is a document that the FTC compiled which can be found here.
However, those facts aren't an exact science and you could very well succeed but it will take you a lot of hard work.
Is Liv Labs a SCAM?
No, we don't think Liv Labs is a scam.
They manufacture and sell products that are legit and they do come from the Hemp plant.
Which is another good thing for keeping THC levels below .3%.
As far as compensation plans go this does appear to be a decent one.
All the same, building a business through Liv Labs is going to take a lot of hard work and determination.
If you want to make a success of this.
These are not for everyone but if you are looking for a much better business opportunity without the restrictions check this link out.

What we like about Liv Labs
Products Come From The Hemp Plant: 
Hemp has been used for thousands of years and has many applications such as rope, clothing, textiles, bioplastics and many more…
The CBD when produced is of a higher strength than the Marijuana plant and the THC levels are almost zero which is the important issue here.
What we don't like about Liv Labs
The CBD Is A Very Competitive Industry:
Whilst the CBD industry is constantly growing it is still a competitive marketplace.
There is so much choice, whilst costs play a big deciding factor and we can't see anything special about the products at Liv Labs.
We can't stress enough that turning Liv Labs into a successful business is going to be difficult.
The reason why we know this is because we have tried not once but twice in MLMs and failed miserably.
But our main reason for failing was that we hated cold-calling and recruiting, it just doesn't work.
To benefit from discounts you have to be in the auto-ship program which means.
That unless you cancel the order before the end of the month.
Then you are going to be inundated with stock that you may not want.
Not Accredited With The BBB:
They aren't even registered with the Better Business Bureau.
Liv Labs Review – Final Thoughts!
Liv Labs is no different to the hundreds of MLMs that we have reviewed but if you are prepared to learn and work hard then anything is possible.
We just wouldn't recommend Liv Labs because we know just how difficult they are.
If you go ahead then good luck and we wish you all the best.
But if it's a business opportunity that you are looking for, and you would like to know what we do for a living online then please continue to read.
How we make Passive Income Online?
We are not fans of the multi-level marketing business model,  not because it is illegal (many aren't) or because they are not profitable.
It's all the restrictions and the expenses that are involved.
That's why we believe, hands down, that affiliate marketing is the best business model for making money online.
There is no better way to make multiple passive income streams that will generate revenue 24/7.
It's not rocket science and it's easy to see why…
Promote any product or service you like
No business conventions to attend
No pressure to maintain your ranking status
Nobody looking over your shoulder like a sponsor would be doing
Extremely cost-effective to start and run
Zero advertising costs
No products to buy
No orders to manage which includes shipping, returns

The list could go on…
If you want to be a 4 or 5 figure monthly earner within 18 months then check out the link below.
Don't worry this is free to look and no credit cards will be asked for.
But, if you don't at least look then you could be missing a great opportunity.

Feedback, Comments and Subscribe
Ok, guys, we hope that you got some benefit from this review and that we helped to answer some of your questions.
If you would like to add anything, feel free to ask away and we will get back to you.
Until next time, stay safe