Welcome to the Talk Fusion review.
This is a company that provides an innovative video communication solution for individuals and businesses.
So if you are looking for a way to view videos in a different format then Talk Fusion might just have the answers.
Yet another multi-level marketing business that promotes a lifestyle we are all looking for.
The problem here is that there are so many MLMs that are coming on stream and in the last few years this seems to have exploded.
As there are so many, the problem can be, which ones are legit and which ones you should stay away from.
That's why you are here and hopefully, in the next few minutes we can address all the important points.
To make your life a lot easier in deciding whether to pursue this further or not, so let's begin.
---
[Affiliate Disclosure: This Talk Fusion Review has been thoroughly researched from information and testimonials that are in the public domain. This post may contain affiliate links which means we may earn a small commission, however, this won't affect what you pay! ]
---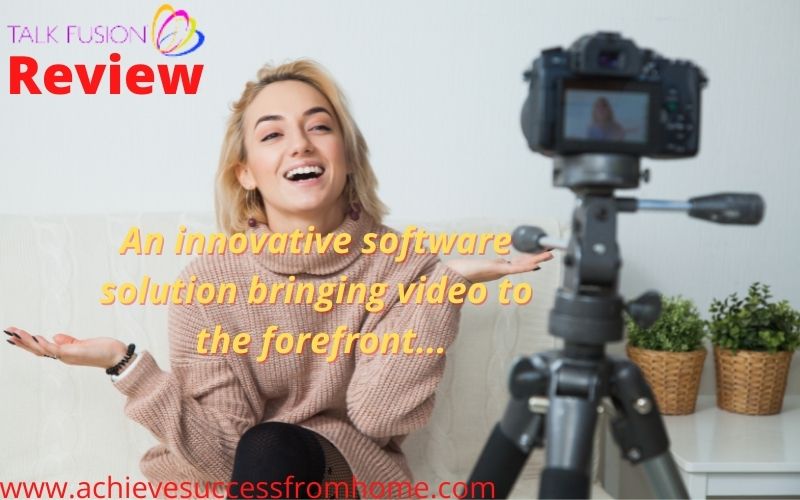 Product: Talk Fusion
Founder: Bob Reina
Website: www.talkfusion.com
Product Description: Video communications MLM
Cost to join: $99 – $1499
Recommended: Maybe
Summary: Video over the last few years has come on tremendously and is probably the top media that people prefer and love.
You just have to look at YouTube to confirm this and it is so much easier to portray something on video than in a blog post.
But before you consider this business you have to be careful and consider the legitimacy which is what we hope to do here.
Talk Fusion Review – Table Of Contents
What is Talk Fusion About?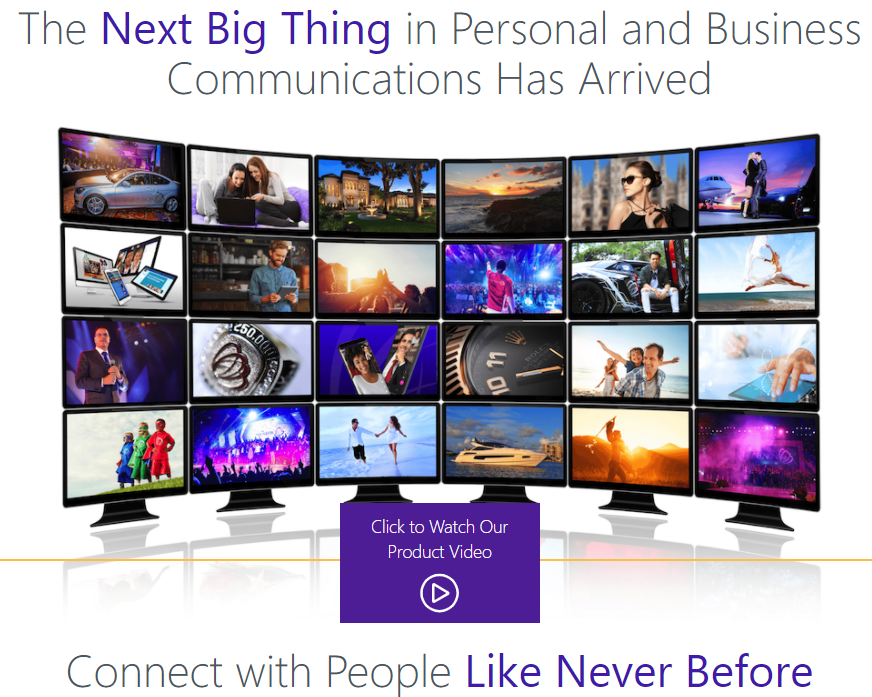 Talk Fusion was established in 2007 by Bob Reina, to meet a demand for sending out emails with videos which nobody did at the time.
This all came about in 2004 due to him wanting to send a video in an email to his mother.
Even the big internet company AOL said it couldn't be done at the time.
Nowadays you would probably be asking what is the big deal, with social media and mobile phones that do just about anything.
Over the years Talk Fusion has created many products and tools to increase the productivity of video emails, live meetings and video chats.
Just take a look at these stats…
70% of consumers prefer video to learn about a service or product
Videos in emails lead to an increase in click-through rates by 200-300%
Over 90% say that video is key to making a decision
Over a year video can increase sales by 66%+
Furthermore, as these products became popular amongst people Bob decided to include a way to make some money.
Which we will be covering a little later.
What we always like to see is giving back to communities that are less fortunate.
Providing aid to victims of the Japanese tsunami and the recent earthquake in Nepal and donating money to orphanages.
Who is The Founder of Talk Fusion?
Bob Reina is the CEO and founder of Talk Fusion.
Additionally, Bob is also the CEO and founder of the company QUIARI which promotes healthy drinks.
Based around the well talked about superfruit Maqui Berry, which also comes with a business opportunity.
Bob originally got involved with network marketing when working as a police officer back in the early 90s.
Since then has developed himself as an entrepreneur and a person who people can trust.
Is Talk Fusion a Pyramid Scheme?
The multi-level marketing industry is often associated with pyramid schemes and for good purposes sometimes.
But the only relationship between Talk Fusion and a pyramid is that the business end is shaped like one.
Which incidentally all companies are anyway.
Just for clarity on what a Pyramid Scheme is…
This is a business that operates in a manner where the affiliate or distributors are paid for recruitment only.
This would be declared illegal.
Sometimes these companies operate using a product or service, however, they don't have any real intrinsic value.
Those products and services are there to hide the fact that they are operating illegally but many companies do get away with it.
In most countries this type of business is illegal and many people go to prison for many years.
The  Federal Trade Commission has compiled a report on the way MLMs operate which you can read about here.
Why aren't these MLMs getting closed down?
There are so many MLMs that operate as a pyramid scheme and because there are so many it takes time for the FTC to get their act together.
After all, they only have a limited resource of people to investigate and by the time they get around to doing anything about it.
The company under investigation usually closes down and reopens as some other company probably doing the same thing but using a different name.
You might like to check out this short video…
Talk Fusion Product Line
There are currently 4 products that Talk Fusion provide which we have listed below with a brief description.
Video Email
There are literally thousands of video templates to choose from for any occasion.
If for some reason one of the templates doesn't fit your requirements then Talk Fusion have an art department that can create one for you.
Check it out here.
Video Newsletters
When you are building your brand having a facility to create eye-catching newsletters will give your business an enormous boost.
Just click on the template, drag and drop and customize to your requirements.
Live Meetings
Ready to launch in just seconds and you can have up to 500 attendees and share your desktop, files and browser.
Video Chat 
Get your video chat up and running on any device in just seconds.
Countless features and unlimited possibilities… Group chat, audio call, 1 on 1 messaging, private video call…
Use the real-time stats to see who watched or forwarded your welcome message.
Some of the features that come with this product…
Lightning-fast screen sharing
Secure share files
Chat face to face with a max of 8 others
Send photos, videos and more
Make free voice calls instantly
Stay in the know with notifications
Store your message history
Lock your chat room
Sign Up Forms
Create customer sign up forms for your website or video newsletter to help build your email list.
Talk Fusion Business Opportunity – What You Need To Know
We all want to make money so I guess the biz opportunity is what you are going to want to know about which is what we are covering in this section.
How much does it cost to join Talk Fusion?
There are 3 packages you can choose from which are the same for all global markets except for Indonesia.
Video Email Only – $99 one-off + $10/month 
This is what started it all off which will get you a video email and 1 customer video email template.
That comes with 100GB of storage
Video Suite – $249 one-off + $25/month
All products plus 1 customer video email template.
Comes with 250GB of storage
PRO – $1499 one-off + $50/month
This package comes with all the products plus an unlimited number of custom video email templates and unlimited storage.
You can save 10% by paying upfront for the entire year.
How to make money with Talk Fusion
The 2 main ways for making money with Talk Fusion are…
Selling the products yourself
Recruiting people into your team and making commissions on what they sell.
To excel in this business you have to be good at recruiting
Talk Fusion Compensation Plan
The compensation plan is how you get paid and the reason why it is shaped in the style of a pyramid and the reason why people jump to conclusions.
They are often complex in nature and can confuse the hell out of people but that doesn't appear to be the case with Talk Fusion.
Also, they can change at any time and the reason why we don't go into great detail, but, you have 2 ways to get a feel for this plan.
Either check it out here or you can listen to it explained in this short video below.
Are Talk Fusion Associates Actually Making Any Money?
If the image is not too clear then click on the image and the actual pdf will display.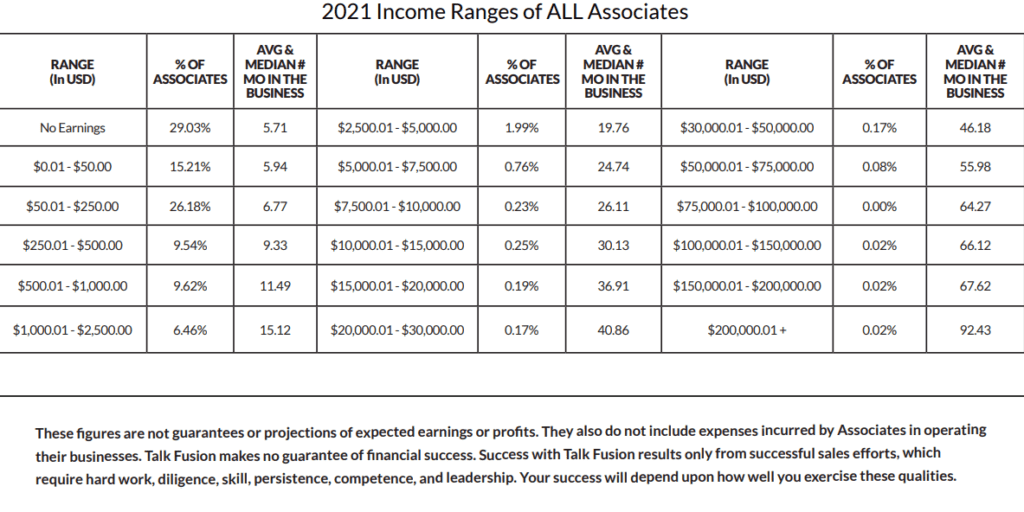 This is the most recent income declaration from Talk Fusion and the figures should make anybody run to the hills.
However, it is a business and you should know that to be successful in any business takes a lot of hard work.
Nevertheless, 96.04% of people who join Talk Fusion make less than $2,500 a year with an average of 7-9 months before leaving.
Is Talk Fusion a SCAM?
Is Talk Fusion a Scam? Absolutely not!
But, people do have a tendency to jump to conclusions pretty quickly without any real clarity or research.
Those damning accusations can hurt a business like Talk Fusion.
The product looks great, all the same, if I wanted to send an email or newsletter with a video I could without using Talk Fusions software.
Without even looking, a quick search on Google came up with several companies that offer this solution and some are even free too.
I'm sure when Talk Fusion came on stream that those companies didn't exist but you know what, it doesn't take long for someone to replicate.
Something that probably was and is a great software solution.
So if you are considering joining Talk Fusion for the business opportunity then think again because you will struggle to get people involved.
All the same, they are a legitimate business but something we just couldn't recommend for the reason we have just mentioned.
But if you have set your sites on Talk Fusion then test the waters first but time is precious and we don't want you to be wasting your time.

What we Like About Talk Fusion
This Business Is Well Established:
The business has been going since 2007 which in MLMs terms is a good thing as the life expectancy is usually between 5 and 10 years.
The Business Founder Is Legit:
Bob Reina does come across as a likeable person and one you can trust.
The Products Do Look Very Professional:
When we assessed the products we found them to be very sleek and professional represented.
With many people praising them if you headed over to the Google Apps store.
Income Disclosure Present:
Something that we usually have difficulty in finding simply because they don't instil confidence in wanting to attempt such a business.
Member Of The Direct Selling Association:
They are a member of the DSA which is a good thing.
What we Don't Like About Talk Fusion
Competitive Industry:
When Talk Fusion first came onto the scene in 2007 adding video to emails may not have been an easy task to do.
But like everything new, people cotton on quickly and come up with their own solutions.
Whether their solution is as good or even better does it really matter?
We have briefly discussed the potential income at Talk Fusion and it wasn't pretty, not unless you have a big enough following and know how to recruit.
Not Accredited With The BBB:
Always a good sign to head over to the Better Business Bureau for clarification of how a business is performing.
It is also a place where you will find complaints because it forces the company to do something about them.
Talk Fusion Review – Final Thoughts!
Just before we wrap up this Talk Fusion review we would just like to say a few things.
Overall, we thought Talk Fusion had a great product which at the time did serve a purpose, after all, AOL said it couldn't be done.
Times move on especially in the video streaming marketplace and so does technology.
Video is key nowadays when you are trying to get whatever it is over to someone.
Talk Fusion might have a great software solution that we are sure many will love and people will purchase.
There will be a few who take that extra step and try and turn this opportunity into a business but be careful.
We know how difficult MLMs are, simply because we have tried them in the past and obviously we didn't succeed.
In fact, we failed miserably but that doesn't mean you will, we just hated trying to recruit people and we hate cold-calling.
What we did do though was find a legitimate make-money opportunity through affiliate marketing and if you want to know more please read on.
How we Make Passive Income Online?
Creating a business where you can have multiple income streams generating revenue 24/7 is what we all want.
Affiliate marketing is the best business model for creating passive income streams.
The benefits far outweigh an MLM's…
Promote any product or service you like
No business conventions to attend
No pressure to maintain your ranking status
No pestering from a sponsor
No recruiting
Extremely cost-effective to start and run
No advertising costs
This business is yours and something you could pass on
No order management to handle which means no stocks
No delivery or returns to handle
All you have to do is basically connect the customer with the merchant and your job is done. They make a purchase and you get paid.
If you want to know where you can learn all this, it's provided by Wealthy Affiliate.
Who is responsible for thousands of 5 and 6-figure monthly earners.
Don't worry we are not trying to sell you anything as it's free to look with no credit card details and no commitment, so what have you got to lose?
If this is not for you then just call it a day but you won't know unless you try.

Feedback, Comments and Subscribe
Ok, guys, we hope that you got some benefit from this review and that we helped to answer some of your questions.
However, if would like to add anything, feel free to add whatever it is in the section below and we will get back to you.
Until next time, stay safe