Welcome to the Park Lane Jewelry Review
A company that has been around the block for a few years now, over 6 decades to be more precise.
A direct selling company that manufactures and sells fashion jewelry for both men and women.
In fact first impressions and the products do look great and unique and should appeal to both men and women.
A company that started in a 4-room apartment way back in 1955 and for anybody who is interested, there is a business opportunity as well.
Before we get started though we'd just like to mention that we are not associated with Park Lane in any way.
That means we aren't getting paid for this review and what you can expect from us is an honest review with all the facts.
That way you should have enough information to make a decision on whether to pursue this company further or not.
In the next few minutes, you will know all there is to know so let's get started.
---
[Affiliate Disclosure: This Park Lane Jewelry Review has been thoroughly researched from information and testimonials that are in the public domain. This post may contain affiliate links which means we may earn a small commission, however, this won't affect what you pay!] 
---
Park Lane Jewelry Review – Summary
Product: Park Lane Jewelry
Founder: Arthur and Shirley LeVin
Website: www.parklanejewelry.com
Product Description: Direct sales Jewelry party planning company
Cost to join: $5 – $39 plus kits
Recommended: Maybe
Summary: Park Lane is one of the longest-serving MLMs that we have reviewed and there don't appear to be any real issues that stand out.
You have to commend the owners for the business lasting so long and whilst there is plenty of positive feedback.
These businesses aren't for everyone because you have to be good at hosting parties as well as recruiting.
Having said that though, getting people to the party is half the battle because that means they will be interested.
You might like to check out these similar businesses…
Park Lane Jewelry – Table of Contents
What is Park Lane Jewelry About?
Park Lane Jewelry is a multi-level marketing business that started life in Chicago in 1955 by Arthur and Shirley Levin.
A family-run business that prides itself, on showing commitment, passion and dedication since they have been operating for over 6 decades.
In the world of MLM where the life expectancy is between 5 and 10 years with many not achieving the 5 years period, this is something to be proud of.
It is clear now that their son Scott Levin has taken over the reins as Park Lanes CEO since the death of his father in 2013.
The company operates in 11 countries throughout the world…
Australia, Canada, Germany, the UK, Mexico, the US, Greece, New Zealand, Philipines, Puerto Rica, and Switzerland.
The jewelry offered is of exceptional quality and comes with an unconditional guarantee.
If you joined and became part of the affiliate program there are many incentives, such as the Mercedes car plan.
Plus dream vacations, free jewelry and cash bonuses.
Who Are The Founders of Park Lane Jewelry?
Arthur and Shirley Levin started the business in their apartment and they have kept the business as a family-run business.
Arthur is unfortunately not with us anymore but his 3 sons play active roles within the company.
As for Shirley she is still with us but takes a back seat role nowadays.
One thing that seems to have maybe dampened the true spirit of the company is their son Ryan who is one of the CEOs.
He apparently was racing his Porsche and lost control and hit 2 British guys and unfortunately killed them in a hit-and-run.
Is Park Lane Jewelry a Pyramid Scheme?
I think we can safely say that Park Lane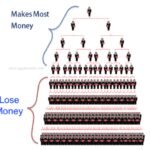 Jewelry is definitely not a pyramid scheme.
They manufacture legit products that people love and have been operating as a business that has eluded any such claims.
Just for clarity on what a Pyramid Scheme is…
A company that was declared as running a pyramid scheme would have to be operating where they pay their distributors for recruitment only.
That means that there would be no product or service to show.
Although they might be a product or service that they use that has no intrinsic value.
Then that could be deemed as running a pyramid in disguise.
In most countries this is illegal and people can go to prison for years.
The Federal Trade Commission produced an in-depth report covering the MLM business model which makes for interesting reading.
Why aren't these MLMs getting closed down?
There are so many multi-level marketing companies out there that come and go on a regular basis.
That it takes time for the FTC to get around to the ones operating in a manner
You might like to check out this short video…
Park Lane Jewelry Products Line
There do have an extensive range of exquisite fashion jewelry which does look great.
Looking at the Park Lane Jewelry catalogue and the way they are modelled tells us that they shouldn't be a hard sell.
The products are spread across categories…
Earrings, Bracelets, Rings, Necklaces, Men's, Style Drops, Sparkle boxes, Gift Cards.
Here are some of the best-sellers that are on offer at Park Lane…
Kahlua Earrings priced at $42
Garden Bracelet priced at $80
Treasure Charm priced at $44
Canyon Earrings priced at $64
Flirt Ring priced at $54
Nixon Necklace priced at $98
Mod Necklace priced at $82
Trinket Charm priced at $44
For a look at the entire range of products take a look here.
Park Lane Business Opportunity – What You Need To Know
For the ones who might be interested in the business opportunity, this section is for you.
How Much Does it Cost to Become a Park Lane Stylist?
The normal membership price is $39 but from time to time we see it discounted to as much as $5.
Plus you would have to purchase a starter kit which…
The basic Kit costs $99 which comes with a $500 value in goods that come packaged in Park Lane logo boxes.
Business Kit costs you $229 which is for $1,000 in jewelry that comes packaged in Park Lane logo rollers.
Boss Kit is the top of the line and $2,000 worth of jewelry will cost you $439.
What you also get when you join Park Lane…

How to Make Money With Park Lane Jewelry…
Organizing and hosting parties is something that Park Lane prides itself on and would be the easiest way to recruit and build a team.
Getting the ball rolling as a customer with hosting a party would require finding a local fashion director in your area.
You could also purchase the products yourself and sell them to family and friends.
But because these aren't consumable then there is only so much jewelry someone is going to want to buy.
Park Lane Compensation Plan
The compensation plan at Park Lane is one of the simplest that we have come across and the easiest to understand.
There are only 7 ranks to climb with some great commissions…
Fashion Director – 30%
Branch Director – 35%
Region Manager – 35%
Area Manager – 40% – 45%
Division Manager – 45%
SR Division Manager – 45% – 50%
Sales Vice President – 45% – 50%
Are Park Lane Stylists Actually Making Money?
Unfortunately, there doesn't appear to be an income disclosure statement.
Which we find a little strange with the amount of time they have been operating.
The commissions that you can make are pretty high but you have to keep the momentum going with building a team.
Unfortunately and these are realistic statistics, well over 90% do not earn enough to replace a full-time job.
If you are looking for confirmation then check out what the Federal Trade Commission has to say here.
Refund Policy
At Park Lane Jewelry you can get a full refund within 30 days of the original receipt of the products.
There is also a 120 days exchange and replace policy.
What Others Have To Say About Park Lane Jewelry
I don't wear the jewelry so we've had to dig around to see what other people think.
As we have already mentioned you can have the best company in the world but something is going to go wrong.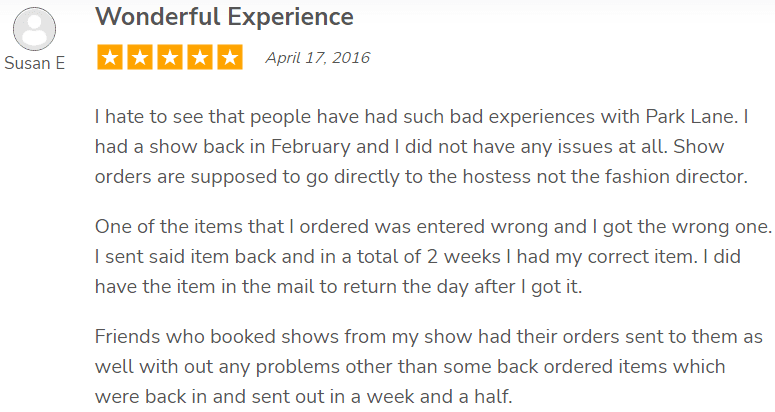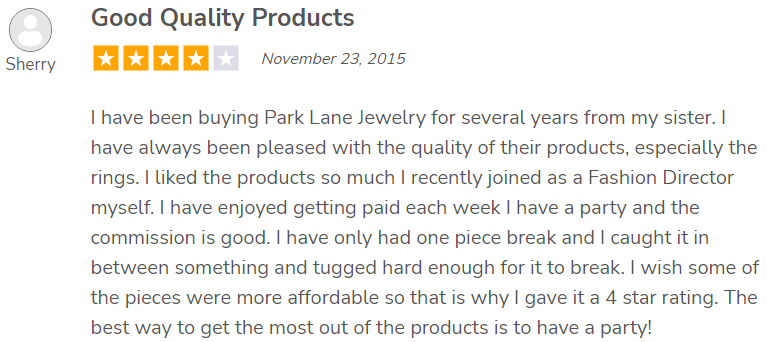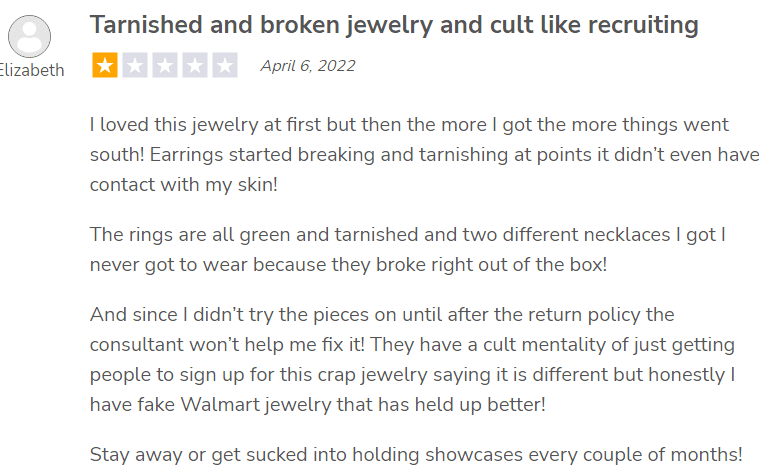 Is Park Lane Jewelry a SCAM?
Park Lane Jewelry is definitely not a scam.
There are mixed feelings among some people who are not happy with the products or service but this comes with the territory.
After all, it is fashion jewelry that they manufacture and not high-end jewelry.
People are happy with the overall package and Park Lane has existed for over 60 years so that must stand for something.
As Park Lane prides itself on hosting parties as a way of finding interest, this could be a problem nowadays in getting people into enclosed spaces.
Since the pandemic, you should have noticed people are reluctant to go out as they might have done prior to the pandemic.
Besides, these parties would have to be local and there are so many of these parties that you'd have to arrange.
Think about the competition as well.
Remember that to succeed in any business takes a lot of hard work and starting and running a network marketing business is no different.
The key to success is having a big enough following and knowing how to recruit; crack those two and anything is possible.
We have tried this business model before and hated the cold-calling and people saying NO.
You have to be prepared for rejection and that is why we would not recommend this business.
As we found a much better way where we are in control and not the business.

What we Like About Park Lane Jewelry
Park Lane Jewelry Is Well Established:
It doesn't get more established than over 6 decades and through our research, we couldn't really find anything untoward.
You Get A Personal Website For Promoting Park Lane:
The age of the internet has been with us since the early 90s and is certainly the way to go when it comes to promoting your brand or business.
There is so much more to know about building a website because you have to learn how to get your message out there.
Things like SEO and keyword research otherwise you can have the best-looking website on the planet.
But without any traffic, you might as well not have one.
What We Don't Like About Park Lane Jewelry
No Income Disclosure:
Income disclosures never paint a great picture and we often wonder why they show them in the first place.
As they can't be good for recruiting purposes, however when they do show them it shows willingness.
Not as we see here with hiding the true facts.
Not Rated At The Better Business Bureau:
After 60 years of trading, you would have thought that Park Lane would have a better rating than they currently have.
To excel within an MLM you have to be exceptional at recruiting and it just isn't for everyone because cold-calling is difficult.
First off, you have to ensure that your sponsor is experienced and prepared to share their experience with the team.
Otherwise, you will leave and this appears to be the big problem with between 50 and 65 per cent who leave before completing 12 months.
Hosting Parties Maybe A Thing Of The Past:
They recommend hosting around 5 parties a month and where are you going to host these, surely not in your own home?
A bar, or restaurant maybe which is going to take a lot of work but hopefully if you can get people there the jewelry should sell itself.
We have mentioned earlier about people not liking to be in enclosed places anymore, this could be an issue.
Final Thoughts! of Park Lane Jewelry Reviews
If it ain't broken then don't fix it is the normal term and of course, Park Lane could improve things somewhat.
But after sticking around for so long, seriously is that really going to happen? Probably not!
Overall, the company certainly seems to be maintaining growth with around $130 million in revenue across all countries.
The products look great and it's the products that drive the company.
You know, we always say that MLMs are a tough nut to crack and they are but there are some people who do very well.
These people usually have big followings and believe it or not some network marketers are paid to join and these always do well.
Remember if you want to really succeed at the highest level with Park Lane Jewelry then you'd need to really work hard.
To climb those rankings because it is the very top 1% where all the money is.
So if you choose to go ahead and join Park Lane, then that's great and we hope it works out for you.
However, if you want an opportunity that will blow the MLM business model out of the water then please read on
How we Make Passive Income?
It doesn't seem that long ago that we were involved in an MLM business opportunity but recruiting and cold-calling just weren't our thing.
We understand you are on this website because of the products at Park Lane Jewelry.
But more importantly, it's probably the business opportunity that has piqued your interest.
If I told you that a better business opportunity is affiliate marketing then you probably don't believe me.
Possibly because I am pitching another opportunity but that really isn't the case here, we don't want you to be disappointed 1,2 year down the road.
All you are doing is taking a passion of yours and turning it into a business, except this business belongs to you!
Remember, the website that is given to you doesn't belong to you and is only on loan.
These are just a few reasons why affiliate marketing is much better…
Extremely cost-effective
No hosting parties, no recruiting and no cold-calling
The business is your own to do whatever you want
You can promote any products or services you like
No having to go to events which you will have to if you want to advance
Not having to answer to a sponsor and be told you have to improve sales
No products to purchase and no ranking levels to maintain
Work when you want, anywhere you want which you can't hosting parties
If the MLM business closed down (unlikely) you do not have a business
You are under no obligation and it will not cost you a dime and you won't even have to get out your credit card either.
See what you think and if this isn't for you then just leave but I believe you could be missing out on something special here!

Park Lane Jewelry FAQs
How Can I Become A Park Lane Hostess?
If you don't know of a local representative then you can email or call Park Lane and they link you up with an experienced director.
My House Isn't Big Enough, Can I Have This Party Elsewhere?
The choice is yours so you could use an office, bar, restaurant, clubhouse, or pretty much anywhere you can get a group of people.
Remember additional costs maybe be incurred to rent those premises as well as food and drinks they you may have to supply.
Do I Have To Pay Anything To Host A Party?
Park Lane suggests it doesn't have to cost you anything but if you want this to be a success then we would suggest otherwise.
Premises to rent, food, this could cost you $200 and there would be no help from Park Lane.
How Are The Products Delivered?
Hostesses don't have to sort or package the products as this is done for you which are individually packaged and come in gift boxes.
Customers have the choice of where they want the products shipped.
How Long Is The Length Of The Party Normally? 
It all depends, but if it's a small party then this might take less than an hour.
However, large get-togethers can go on a bit longer because people like to get to know each other too.
After all, the longer your party goes on would indicate more interest in the products and the business opportunity.
What Is The Refund Policy Like?
There is a 120 days exchange and returns policy that is available to you with a 30 full money-back guarantee.
Feedback, Comments and Subscribe
Ok, guys, that's about it for this review and hope you enjoyed it and that we managed to cover most of your concerns.
If you have anything to add please don't hesitate to drop us a line below and we will get back to you.
Until next time, stay safe