Welcome to the WhatsApp Ninja Marketing Review
Trying to find your way in the world of internet marketing can be a daunting task, especially if you are all new to this.
There are so many different avenues that you could go down, some good and some bad but the big thing is the time it takes to learn the basics.
Never mind trying to master a particular method!
WhatsApp is just another social media platform that you can use to your advantage.
Which you should seriously consider as part of your marketing strategy.
So, what can this PLR product, WhatsApp Ninja Marketing do for you or is it just another poor WarriorPlus scam that has hit the market?
Before we get into this review, we'd just like to mention that we are not affiliated with this product, rest assured we are not going to pitch you.
So let's get started.
---
[Affiliate Disclosure: This WhatsApp Ninja Marketing review has been thoroughly researched from information and testimonials that are in the public domain. This post may contain affiliate links which means we may earn a small commission, however, this won't affect what you pay!]
---
Product: WhatsApp Ninja Marketing
Founder: Sajan Elanthoor and Justin Opay
Website: https://plrhouse.net/whatsapp-ninja-marketing/jv/
Product Description: Affiliate Marketing – WhatsApp
Cost of Product: $8.20 + Upsells totalling $1k+
Recommended: No
Summary: Knowledge is key when it comes to trying to outperform other marketers so you have to try and take advantage of certain areas.
WhatsApp is a social messaging platform that has been around since 2009 and has been part of the Facebook empire since 2015.
Probably the biggest and most popular messaging platform and therefore when it comes to your marketing strategy something you should look into.
However, we are not sure just what this $9 PLR guide is going to do when everything that you need to know is there for free.
WhatsApp Ninja Marketing Review – TOC
What is WhatsApp Ninja Marketing?
WhatsApp Ninja Marketing is a guide to help you master the social messaging platform WhatsApp.
It comes in the way of a 10,000-page book with PLR rights which means you can use this book yourself to help in your marketing.
Sell it, alter the wording and pretty much anything else except you are not allowed to pass on those rights to a customer.
There is a bunch of upsells that come with this product which you shouldn't need so do not convince yourself that you do.
Who Are The Founders of WhatsApp Ninja Marketing?
This accolade is bestowed upon Sajan Elanthoor and Justin Opay who have been creating what appear to be helpful products for some time now.
Sajan can be found creating many of these PLR products covering all business terms.
Products like Clubhouse Social Media PLR and Tiktok Marketing PLR.
Whilst Justin can be found on WarriorPlus under one of the profiles that he uses namely, NextLevelPreneur.
You can also check out the other profile that he uses, OnlineBizGiant.
I guess he could be termed as a serial product creator where he brings out products on a regular basis and aimed at the complete newbie.
Who is trying to find their way in this internet marketing minefield?
This is something that I don't agree with and doesn't hold credence with us, sort of jack of all trades and master of none.
What do You Get With WhatsApp Ninja Marketing?
The WhatsApp Ninja Marketing comes with 11 modules with a retail value of $3,129 so you would think that you are getting a lot of value, right?
Let's briefly take a look…
Module #1 -The 10k word training guide for success with WhatsApp
Module #2 -Cheatsheet
Module #3 – Mind map, the steps you need to follow
Module #4 – Niche resource report
Module #5 – Ready made sales page plus thank you page
Module #6 – Hypnotic sales video promo
Module #7 – Legal pages to go with the sales page
Module #8 – Designed graphics for you to use in your marketing campaigns
Module #9 – 10 quality articles to use as part of your marketing
Module #10 – Professionally designed banners
Module #11 – 5 converting email swipes
Module #12 – 10 quality eCovers
Module #13 – Social media images pack
Module #14 – License to sell pack
Plus there are several bonuses…
Bonus #1 – PLR master class
Bonus #2 – PLR sales funnel training
Bonus #3 – Private label money-making machine
Who is WhatsApp Ninja Marketing For?
WhatsApp Ninja is for anyone who is looking to expand their knowledge using WhatsApp as a part of their marketing strategies.
WhatsApp, whilst has been going for some time isn't a way that we would recommend for building an email list.
This will take you far too much time and is more complex than you may think.
However, if your knowledge of WhatsApp isn't as advanced as you might like then we are sure you would benefit from this guide.
How Much Does WhatsApp Ninja Marketing Cost?
Like with many WarriorPlus products you ain't going to break the bank if you are going to purchase WhatsApp Ninja Marketing.
In fact, you'll get change for 10 bucks.
It normally retails for $37 but today you can purchase this product for only $8.20.
For that amount you might as well take a stab, right?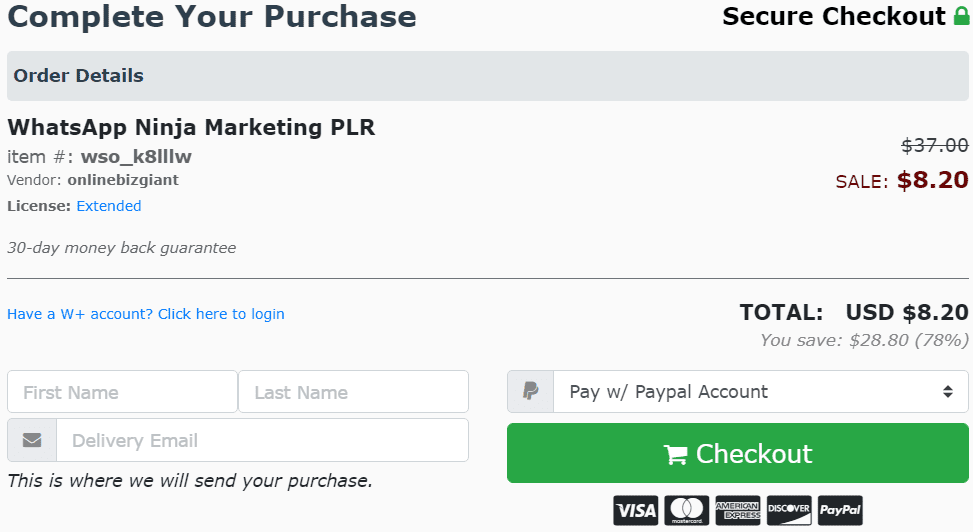 Whilst you may get value for your $8 just stay away from the upsells that are there lurking in the background.
Otherwise, your $8 could quite easily turn into $1k+.
Is WhatsApp Ninja Marketing a Scam?
WhatsApp Ninja Marketing is not a scam but are you going to get value?
For $8, of course, you will, but not sure just how much, I mean you have to know that what has been written is legit and coming from a good source.
For sure they haven't written this book from scratch and the information will have been sourced from other people.
Copy and paste, but you are not able to confirm this.
Unfortunately for us, we don't know that much about the product creators as they have only recently come onto our radar.
If you want to skip picking up bits of information here and there then you might like to check out the link below.

What we Like About WhatsApp Ninja Marketing
Money-Back Guarantee:
There is a full money-back guarantee that covers you for the first 30 days.
Further, if you want to take advantage of this make sure you ask for a refund in plenty of time.
Check the small print as well for whether you are covered for purchasing the upsells as they are often excluded.
Apparently, You Can Get Reimbursed:
They also claim that if you don't make any money then they will pay you $300 but not sure how this would work.
In this case, because there is no training then you might think paying $19 and then going for the $300 refund would be a great deal.
However, this $300 you will probably find doesn't exist either.
What we Don't Like About WhatsApp Ninja Marketing
Misleading Sales Hype:
Sales pages are full of hype and they all follow the same path to pull you in and take as much money as they can.
They repeat themselves over and over with trigger words to get you ready to buy.
Can You Trust The Product Creators:
At the end of the day, they are trying to make a living through affiliate marketing which is exactly what we do for a living.
The difference is that we warn you about the enormous number of crap products and systems that you can find online.
Trusted can mean so many things, but do they care about whether WhatsApp Ninja will provide you with the answers is another thing.
Low-cost products with multiple upgrades or upsells are all the rage and it's only a sales technique that works for some whilst doesn't for many.
Just be careful with any product that you are thinking of purchasing because you can bet your bottom dollar they will be some ready to pounce.
Where Are All The Great Comments:
One thing that you'll notice is the exemption from any verifiable feedback other than what they put on the sales page.
That alone should tell you to be cautious.
But a quick look over at WarriorPlus will tell you just how popular this WhatsApp Ninja Marketing product is.
WhatsApp Ninja Marketing Review – Final Thoughts!
Ok, we are sure if you know absolutely nothing about WhatsApp that you will get some benefits.
Whilst this is true, it would be just as easy to head over to Udemy and check out the courses there, where you can see legit student feedback.
What really annoys us is the number of reviews that you will find for products like this where affiliates are trying to cash in.
They do nothing but copy the sales page and regardless of whether the product is good or bad, they will tell you it is good.
We have been down this road since we first started trying to make money online so there is nothing to be ashamed of.
Just use these experiences as something to learn from.
If you really want to learn how to make money online then continue reading as we'd love to share with you what we do.
How we Make Passive Income Online?
Learning from past experiences and plenty of research is the only way to succeed not only as an affiliate marketer but in life itself.
I was very sceptical even up to the point of finding what it was that I was looking for and this is only human nature.
Wealthy Affiliate can provide you with all the answers and stop you from bouncing from one product to the other product.
They offer all the training and tools for you to succeed providing you are prepared to work hard.
Only you can fail, but building a business is not for everyone, we understand this but the opportunity is there if you want it!
Take a look and see what you think, if you don't like what you see then just leave and we wish you all the best.

WhatsApp Ninja Marketing FAQs
How Much Is WhatsApp Ninja Marketing?
The product price actually started at $7 but as this is a new product that has hit the market we expect it to increase.
According to the product creators, they say that you can expect the product to hit the $27 – $37 mark but even at that price good value.
What Are PLR Rights?
That is when the product creators allow you to use the product as your own and are free to sell to your audience.
The only thing you can't do is pass those rights to one of your buyers.
Are There Any Upsells That Come With This Purchase?
Well, like always they come with a bunch of upsells which you wouldn't need according to the sales page.
I mean, what you are actually paying for is a WhatsApp guide so in theory, you don't need any of the upsells.
However, be aware that the upsells could end up costing you over $1,000 if you decided to purchase them all.
Is There A Guarantee?
Yes, there is a 30-day money-back guarantee but you need to be careful here because there are usually stipulations that you have to abide by.
What you can find is the money-back guarantee is usually only for your initial purchase.
So if you pay $7 then that is the refund you get which also means that any upsells that you may have purchased may not be covered.
You would have to clear that with the product creators because there is no mention of this on the sales page.
What Does This WhatsApp Guide Focus On?
WhatsApp Ninja Marketing provides training in how to master the social media messaging platform WhatsApp.
It's all about helping you build an email list which if you didn't know is just another passive income stream that you can use.
However, building an email list takes time and can't be done overnight, more importantly…
When you do have a sizeable email list you can't straight away start selling to that list because you have to nurture those subscribers.
They need to trust you and that takes time.
PLR Products Have A Bad Rep… What Makes This Product Any Different?
We can see that a lot of money has been invested in this WhatsApp Ninja guide but at the end of the day, you are getting a book.
What tends to happen with books is they are put on a shelf and left to collect dust, is that what is going to happen here?
Feedback, Comments and Subscribe
Hope you guys enjoyed this review and that you found this beneficial in what it is that you are trying to achieve.
Any questions about this review or what we do then just drop us a line in the section below.
Thanks for reading and stay safe.