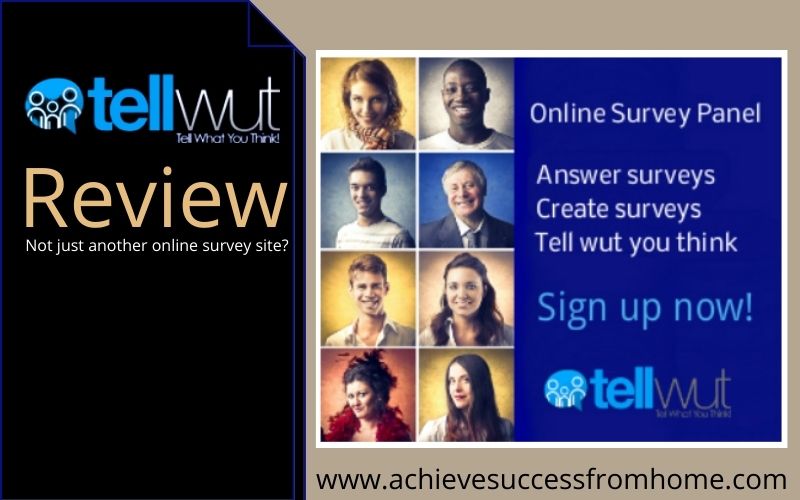 Hi, I'm Mick and welcome to this
Tellwut Review
Looking for a way to earn a few bucks then you are definitely in the right place as this website was created for people like you.
Tellwut is a make money opportunity that was only brought to our attention just recently and we thought it was about time that we checked them out.
After all, that is why you are here in the first place, right?
The internet is full of opportunities claiming this and claiming that with most of them just not worth the time of day.
We can't stress enough that the only way to avoid scams is to spend time doing thorough research and not stop at the one review.
Make sure that you check out several more before making a decision whether to join or not.
Before we continue, we'd like to point out that we are in no way associated with Tellwut and you won't find us pitching to you.
With that said, let's continue.
---
[Affiliate Disclosure: This post may contain affiliate links which means I may earn a small commission if you purchase anything through one of the links. However, this will not affect what you pay!]
---

Product: Tellwut
Founder: Judy Morson, Acquired by Paradigm Sample in 2020
Product Description: Market research and online paid surveys
Website: www.tellwut.com
Price of product: Free to join
Recommended: No
Summary: Online surveys are a very popular way of earning a few bucks but you have to be careful who you decide to go with due to the vast number of scams.
They tend to take up far too much of your time and for very little reward.
However, you will find many reviews indicating that they are a great way to earn extra money.
Great, they are not; because most of the time you will end up waiting about for surveys to be sent out to you.
You are going to find that you will not qualify for around 80% of the surveys offered to you.
That means, out of 100 surveys that are offered you are going to complete around 20 of them.
Yes, I know, a ridiculous percentage but that is the reality of doing online surveys that's why we stopped doing them and found a much better way.

---
If you are sick and tired of SCAMS, Pyramid schemes, MLMs, recruiting, having to purchase stocks, haggling family, friends and customers. Looking for a proven method of making money online, then check out my #1 recommendation. 
---
Internal Summary and Navigation
---
What is Tellwut about and who are the Founders?
Tellwut is an online market research company that offers a way of making some money through partaking in surveys and other activities.
They are open to residents in the US and Canada and boasts a panel of around 1 million.
They are a private company who were founded in 2011 by Judy Morson and are based in Toronto, Canada.
As of 2020 Tellwut belong to Paradigm Sample.
The domain, however, was registered in August 2009 which indicates that they had decided upon the name and registered it before anyone else did.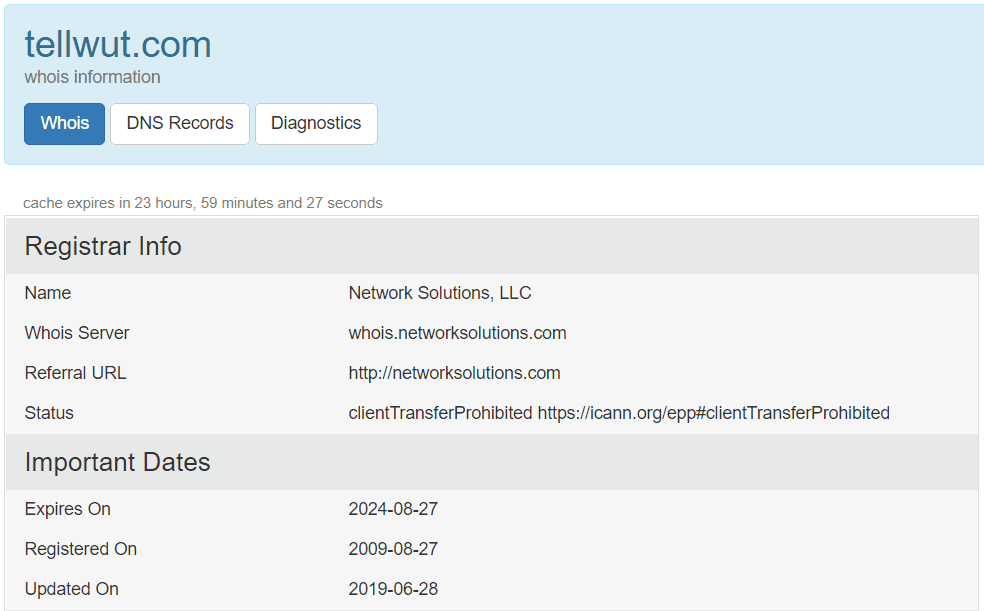 The name you might ask, but why?
Tellwut may sound like a strange name until you understand why it was called so.
You see Tellwut stands for "Tell us what you think" which is ingenious when you think about it especially in the online survey world.
However ingenious the name might be, is it a way to earn more than just a few bucks, we are not so sure it is?
---
How does Tellwut Make Money?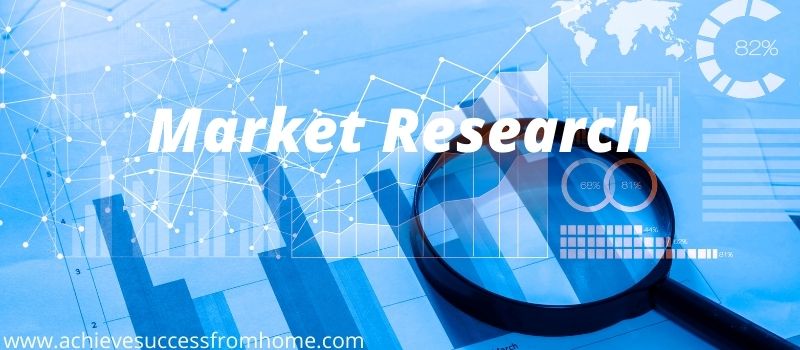 Market research plays a very important role in establishing the way forward for local businesses which allows them to compete at a certain level.
Companies require your input and opinions, which helps to influence how products are brought to market.
Tellwut act as a middle person who connects their members sometimes to their own surveys but mainly through 3rd party survey providers.
Once a survey is completed then Tellwut is paid a fee of which part is shared with the survey taker.
Which is all done through the affiliate marketing business model.
Pretty much like this website that you are currently on now!
---
How does Tellwut

W

ork?
As we have mentioned, Tellwut is only open at this time to residents in Canada and the US.
It is straightforward to join, you can either use your Facebook details which we suggest you don't.
Therefore, just enter your email address, a nickname and a password and agree to the terms and conditions and just hit the submit button.
Just go to your inbox (possibly junk mail inbox) and click on the email to activate your account and that's it.
Just for signing up, you will be rewarded with 150 points and providing other information related to your profile an additional number of points up to 200.
A point to note, as of this review there is no PayPal which means gift cards are the only way of redeeming points.
Tellwut uses a points system 
10,000 points = $25
4,000 points = $10
2,000 points = $5
1,000 points = $2.50
4 points = $0.01
However, the same value of gift cards might be different slightly.
Such as a $25 normal gift card might be 10,000 points whereas a $25 Visa Debit Card will be 13,000 points.
Paid Surveys 
There are 3 different types of surveys that are available to you which you might find interesting and fun.
Whilst we see GPT sites that have other activities to keep on their site this is Tellwut's version of it
Surveys from other members you can partake in
Allowing its members to create surveys is not something we have seen before except for maybe at Toluna.
This allows you to take part in the community forward-thinking where taking part can earn you a few points and something I wouldn't get too excited about.
These surveys generally are very short and expect to earn between 5 and 15 points.
Therefore you can create surveys yourself
Creating a survey of your own could be a way of making a few points providing the survey was approved.
Be original and make sure the content isn't offensive and inappropriate and make sure that these questions haven't been asked before which is going to be difficult to know.
With these survey's providing they got approved you can expect to earn around 10 – 20 points per survey.
There is a restriction on the number of surveys you are allowed to create which I believe is 2 surveys a week.
Take part in external surveys
Ensure that you have taken all the profile surveys to give you a better chance of receiving the right surveys.
External surveys are just that and you will be directed to the 3rd party survey provider.
Please ensure that you do not try to hit the back button when you are taking the survey otherwise that time will be wasted.
If you are familiar with online surveys then you will know when they are external as you often find the same questions.
You can find these surveys in the "available surveys" tab or Tellwut may inform you by email.
Demographics play an important part in how many surveys you will be allocated but don't expect there to a be stream of surveys coming your way.
Normally you can expect 1-4 days daily which doesn't mean that you will qualify for them all.
These surveys can take a few minutes to as long as 30 minutes and the longer the survey doesn't necessarily mean more points.
Expect these surveys to range from 25 – 2000 points or cash equivalent of $0.06 – $5.
Interact with the community
What you will notice at Tellwut is that the platform is designed to make it less boring with a community feel to it.
Take part in the discussions and see what works and what doesn't.
But, was the reason for joining to make a little money or to spend time not making money by communicating within the community?
Refer a friend
Other than surveys, there is an affiliate program for all members to take part in.
Where you can get paid for referring other people like your family and friends and for every person who joins you will be rewarded with 25 points or $0.06.
Which is probably the lowest reward we have seen when we are talking about the affiliate referral program.
Redeem your rewards
Once you have accumulated 4,000 or $10 then you are able to redeem your points for gift cards.
We have mentioned that as of this review there is no PayPal method of payment which we don't believe is fair.
You can various gift cards such as…
Visa, Amazon, Walmart, Target and many more.
If you would like to redeem cash other than gift cards there is a Visa Debit Card as we have mentioned but the minimum amount you can transfer as cash is $25 but this will cost you 13,000 instead of 10,000 for gift cards.
Some gift cards may take 2-3 weeks through the post whilst some that are sent via email can be quicker.
---
How much can you make with Tellwut?
An important question and one that everybody should be looking into before you even think of joining.
This is a 2-way thing, where it all depends on how dedicated you are and how much time you spend on the site.
Although, you ain't going to be earning much anyway if Tellwut isn't sending you surveys to take part in.
In our experience with online surveys, we find that the amount you get is all based on geographics and coming from the US puts you in good stead.
That said, if you take this rule of thumb then you won't be far off the mark.
Expect to qualify for around 20% of the surveys that are sent to you, which means out of 20 surveys then expect to complete maybe 4.
Now we know that 20 surveys a day are not going to happen because this figure will more than likely be around 5 or 6 which means that you may be able to complete 1 survey a day.
With external surveys ranging from 25 – 2,000 points or $0.06 and $5.
If we take an average of let's say 1,000 points or $2.50 and this is a conservative estimate then you might be able to earn around $50 – $100 a month.
Of course, there are other ways of accumulating points such as…
Refer a friend = 25 points
Answer a members survey = 5-15 points
Create your own survey if approved 10-20 points
Overall, for an online paid survey site this is very poor for the amount of time that you will have to dedicate to the site.
---
Who is Tellwut

 F

or?
Tellwut is only available for US and Canadian residents although they don't tell you this when you are signing up to become a member.
You have to look on their website to find this out by looking at the terms and conditions.
This is a very important point about Tellwut and something that can save you from wasting a lot of your time.
---
What we liked about Tellwut
Unfortunately, there wasn't much we liked about Tellwut.

There is no mobile app however the website is mobile friendly and easy to use.
Accredited with the Better Business Bureau

---
What we don't like about Tellwut

There were a lot of problems we thought with a lot of negative things which we have managed to highlight.
Restricted cash payment methods with gift cards being the main way to redeem your points.
You can however use Visa to credit cash but as you have seen $25 is 13,000 points as opposed to 10,000 points for gift cards.
The main problem is that there is no PayPal, and looking at the internal surveys we can see the members have been trying to get this method installed since a few years back.
Not qualifying for surveys is a problem with these online survey sites and based on our findings, through talking to others as well as our own experience of doing online surveys.
Expect to not qualify for 80% of the surveys that are sent to you.
Very low earning potential as is always with online surveys and we see Tellwut as been one of the lowest-paying that we have come across.
However, people seem to enjoy the community there.
Very poor referral program which is hardly worth using with a reward of 25 points for every person who joins through your link.
That works out at $0.06 for each referral which is the worst we have ever come across.
Trustpilot has a pretty good rating for Tellwut which does surprise us but that as you can see is based on only 67 reviews.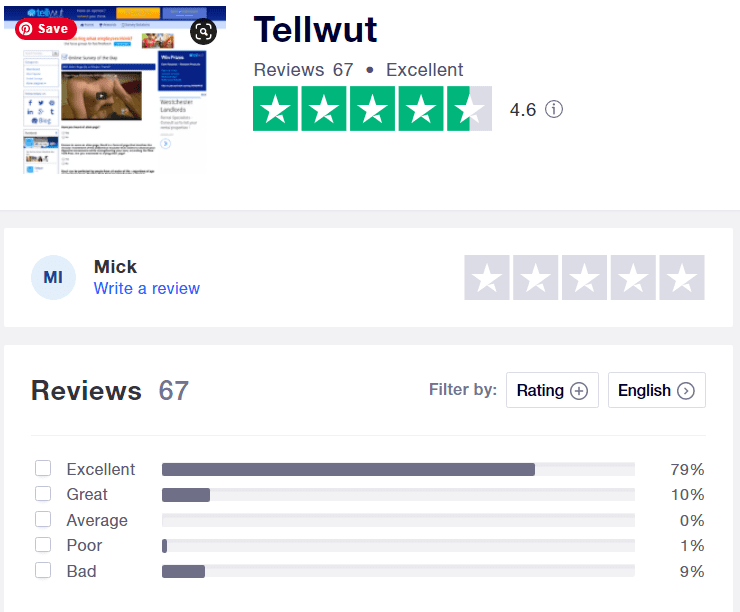 ---
Is Tellwut

a SCAM or is Tellwut LEGIT?
In our opinion, Tellwut is not a scam because it is free to join and most people seem to be ok about the low earning potential.
So it must then be a legitimate make money opportunity and whilst it may be just that we wouldn't recommend this on principle.
For us to even contemplate recommending an opportunity we have to be 100% ok with it and unfortunately, we are way off that mark.
If you enjoy doing online surveys then you might like to check these out…
Idle Empire, Freeskins, Swagbucks, or even Branded Surveys.
They have a big following and there are many more ways to boost your earning potential.
---
Tellwut Review

: Final Thoughts!
Tellwut might have a point to gift card cash equivalent but you aren't actually seeing the money side unless you redeem your points into a Visa card.
Then that is going to cost you an additional $7.50 which is a little on the extreme side.
There has to come a time when enough is enough because there are much better ways of using that precious time because we only have one crack at this life.

---
Feedback, Comments and Subscribe
Ok guys, well we are at that point of the review where we ask whether you have enjoyed this Tellwut review or not?
If you did enjoy it, then please share this on social media amongst your family and friends.
If you have anything for us then please enter your questions below and we'll get back to you.
Until next time, stay safe!