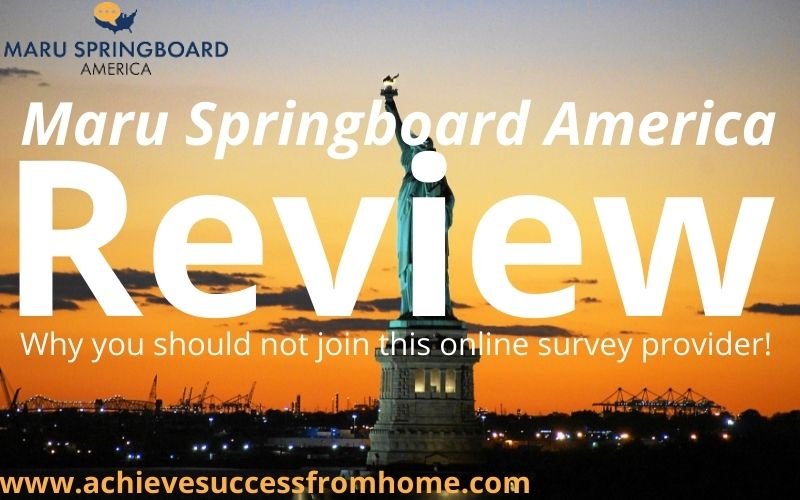 Hi, I'm Mick and welcome to this
Springboard America Review
There doesn't appear to be a day go by when we don't receive an email in our inbox informing us of some new make money opportunity.
There are literally thousands of them and most of them are just not worth your time.
The top of the list does appear to be online surveys, especially since the pandemic.
We know that Maru Springboard America isn't a new make money opportunity and that they have been going for some time now.
That is obviously why you are here to ask the question is Springboard America a scam or is it a legit make money opportunity?
However, before we start, we'd like to declare that we are not associated with Maru Springboard America in any way.
This means they'll be no pitching or trying to sell you anything, but what we will provide is an honest unbiased review with all the facts.
That way you can decide on your own merits whether this opportunity is worth you investing your time in or not.
That said, let's see what this Maru Springboard America review can unravel.
---
[Affiliate Disclosure: This post may contain affiliate links which means I may earn a small commission if you purchase anything through one of the links. However, this will not affect what you pay!]
---

Product: Maru Springboard America
Founder: Maru/Blue which is part of the Maru Group
Product Description: Dedicated online survey site
Website: www.springboardamerica.com
Price of product: Free to join
Recommended: No
Summary: Online surveys have mixed feelings amongst people who partake in them and quite honestly this has a lot to do with them not doing thorough enough research before joining.
Nowadays, there are so many so-called opportunities that it's hard to find the right one, even with the vast number of reviews you can find.
As we created this website to help people like you find the right opportunity we also offer guidance to show you there are better opportunities.
The reason why we stopped doing online surveys and found a much better way to make some real money…

---
If you are sick and tired of SCAMS, Pyramid schemes, MLMs, recruiting, having to purchase stocks, haggling family, friends and customers. Looking for a proven method of making money online, then check out my #1 recommendation. 
---
Internal Summary and Navigation
---
What is Springboard America about and who are the Founders?
Springboard America or Maru Springboard America as some like to refer them to is a dedicated market research survey provider.
Where you can join, become a member and offer your opinions and in the process make a little money for your efforts.
Launched in 2009 and the domain was registered in 2008 as can be seen in the below image.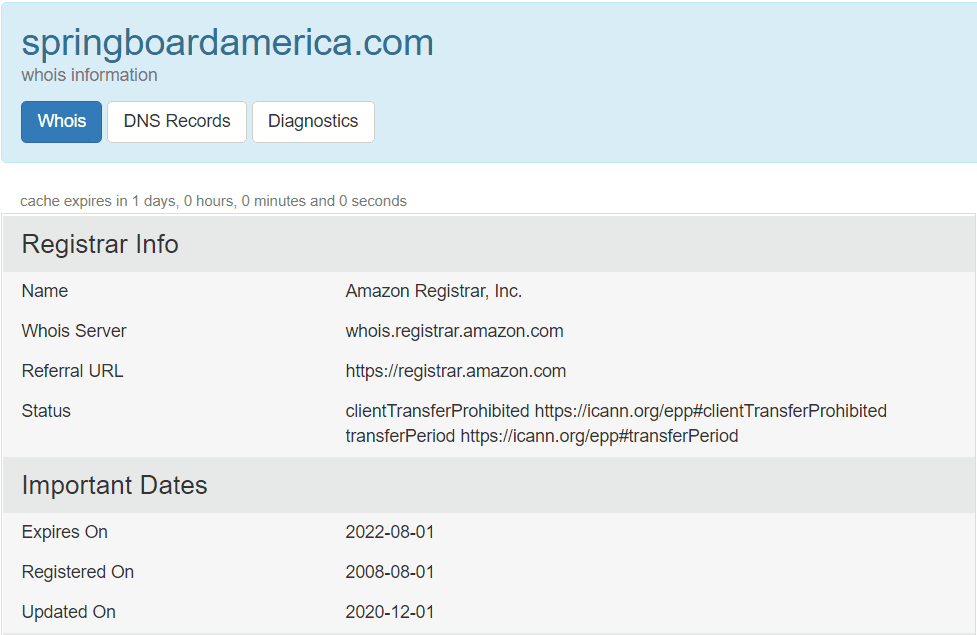 Maru Springboard America was acquired by Maru/Blue in around 2019 which are owned by the Maru Group.
They are 1 of 3 dedicated survey sites that belong to the Maru Group, which include Maru Voice UK and Maru Voice Canada.
---
How does Springboard America Make Money?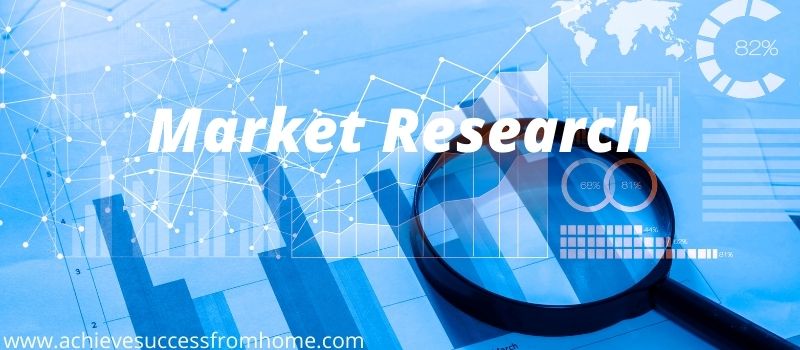 We are sometimes asked how come Maru Springboard America can afford to pay Springboard members when it costs nothing to join?
The short answer is market research; which is a business strategy used to find out how current markets are performing along with consumer behaviour and current trends.
These are areas which when analyzed help businesses compete at a profitable level.
Springboard operates within the affiliate marketing arena where it is the job of the affiliate to connect people to products and services.
For doing so and providing the survey panel takers complete the surveys then Springboard America is paid a commission of which part is paid to the member.
---
How does Springboard America

W

ork?
It is fairly straightforward to becoming a member of Maru Springboard America.
Once you have entered your personal details and submitted them, you will be sent an email to which you need to respond to in order to activate your account.
Once you sign in to the member's area there you can find several profile surveys which you need to fill in. I think there are 6 or 7!
The data you enter allows Maru Springboard America to match the appropriate surveys to your profile.
Of course, if you do not complete these profile surveys then the number of surveys that you receive will be even less than they already currently send out.
You will be compensated for answering these profiles surveys by way of an automatic entry into the monthly sweepstake where you could win a prize.
So if there are 7 surveys then you will receive 7 sweepstake entries.
For joining and becoming a member of Maru Springboard American they will enter you into a new members sweepstake where you could win $1000.
Springboard America uses a points system 
1 Maru point = $0.01
100 Maru points = $1
1000 Maru points = $10
5000 Maru points = $50 (Minimum cashout threshold)
Paid Surveys 
Paid surveys are the main source of income at Maru Springboard America but you can also make some money through the affiliate program which we will discuss later.
The surveys range from 50 – 500 points or $0.50 – $5 with them taking between just a few minutes to around 25 minutes.
However, through our experience we have found that $5 surveys will be hard to come by, in fact, what we suggest is an average of 50 -200 points per survey is more reasonable.
Even if you were allocated $5 surveys, based on Springboard America's claims then it would take you two and half months to achieve the cash out threshold.
Something else you need to be aware of and that is some of the surveys that you take are not rewarded with points but entries into sweepstakes.
The chance of winning any of these sweepstakes, that's if at all they do exist are very remote and not something you can rely on and certainly not a reason for joining Maru Springboard America in the first place.
Entering draws or sweepstakes
For each survey you complete, you are entered into a sweepstake which is drawn each month and where 6 winners will receive a share of $800.
For each profile survey you complete once again you are entered into a monthly sweepstake and stand a chance of winning a share of $900.
Refer a friend
You can use your unique affiliate link to invite other people to join Maru Springboard America.
For every person who joins through your affiliate link, you'll receive 200 points or $2.
Usually, the refer a friend allows you to get paid a percentage of what your referral earns, unfortunately at Springboard America this is not the case.
How you get paid
Once you have eventually accumulated 5000 points or $50 then you can request redemption and this can come through the various methods.
PayPal
Google play gift cards
iTunes gift cards
Physical or virtual Visa cards
Plus, many more gift cards are available


---
How much can you make with Springboard America?
According to the claims on the Maru Springboard America website then you are not going to be able to make much with a maximum of 4 surveys a month.
Now, I don't know about you but 4 surveys a month is hardly worth joining this site for.
Especially with the cashout threshold so high.
Like we have already mentioned, to achieve the $50 with a maximum of $5 a survey is going to take you 10 weeks, but we know that $5 a survey is highly unlikely with it nearer to $2.50 or even less.
This means then that it will take twice as long before you get paid with it being closer to 20 weeks.
In an entire year then you should be looking at earning around $250.
There are much better alternatives out there such as Idle Empire, Freeskins, Swagbucks, Reward XP or even Branded Surveys.
In anyway due to the lack of surveys that you'll be recommended for, it makes more sense to join some additional sites if you want to earn a few extra bucks.
You could, however, stop wasting your time with online surveys and really learn how to earn a lot more but that is entirely up to you.
---
Who is Springboard America

 F

or?
Maru Springboard America is for American residents only which makes it sort of exclusive.
One thing to notice is at Maru Springboard America, they often close their doors to new members which indicate that there aren't that many surveys to go around. We might be wrong though! 
There are a number of ways that you can join…
You could receive an invitation by Maru Springboard America themselves
An affiliate link from a Springboard member
Directly
---
What we liked about Springboard America
We thought the biggest issue with Maru Springboard American was how difficult it was to achieve the cashout threshold,  however, we did notice a few positives that we have listed.

A simple website that is very easy and straightforward to find your way around, not like some, where it can get a little confusing.
Earn points when you don't qualify for a survey which is good because you are not going to qualify for many of the surveys that are sent out to you.
---
What we don't like about Springboard America

The negative things did stack up though which we have highlighted.
Lack of surveys is always an issue with these online survey sites.
That's why there are so many GPT sites around to keep you occupied and to stop you from moving to other sites.
Maybe Springboard America should think of this!
Not qualifying for surveys happens all the time, and we personally do not accept some of the answers that come back when this happens.
If you know anything about online surveys, then you will know that they are a place where your personal details are sold onto 3rd party sites and we think this happens most of the time.
You have to take into consideration that on average you are only going to qualify for 20% of the surveys that are allocated to you, meaning out of 10 surveys expect to "maybe" complete 2.
Very low earning potential and this stands out more at Maru Springboard America.
With a minimum cashout threshold of $50 and with a maximum number of 4 surveys each month at a maximum of $5 a survey then you do the math.
Issues with closing accounts and for no apparent reason which I guess you can take with a pinch of salt as people do abuse the rules often.
However, if their claims are justified then this is not acceptable especially as it can take you months to achieve the $50, only for it to be taken away is just not good at all.
The cashout threshold is too high which we have mentioned several times in this review and which we very rarely see.
---
Is Springboard America

a SCAM or LEGIT?
Is Maru Springboard America a scam?
Well, many people would suggest it is but at the end of the day it doesn't cost you anything to join.
Whilst people are complaining that their accounts are getting closed down, there could be good enough reasons for this happening.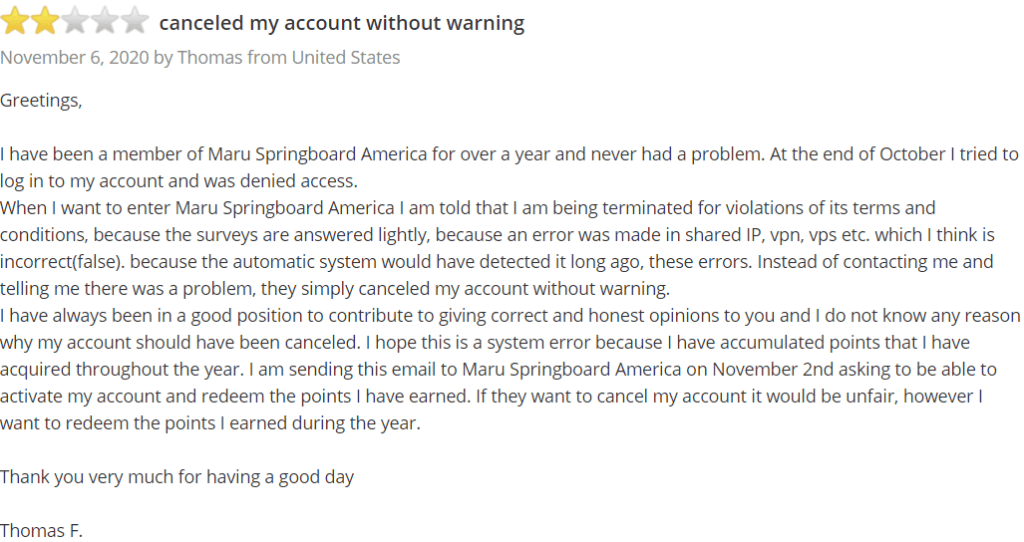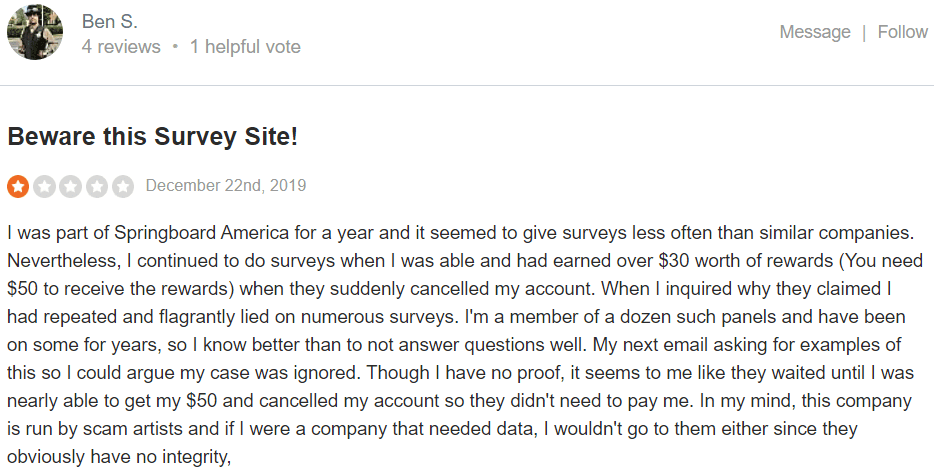 Whilst we would say that Maru Springboard America is not a scam, we certainly would not recommend them either and I think you can see why.
---
Springboard America Review

: Final Thoughts!
Exclusivity whilst it might sound a good thing, that you belong to something that other people can't join, at the end of the day you want to earn some money.
As you can see, Springboard America is not the place to achieve this but then again all these sites are the same but some are better than others.
We have suggested some alternatives which we think you should be looking at if you want a chance of making some money.
However, if you want to learn how to make some real money then…

---
Feedback, Comments and Subscribe
Ok, guys, we hope you enjoyed this review and that we answered most of your questions.
If you did like it then please share it with your family and friends on social media.
As always, if you have any questions then feel free to add them below in the comments section and we'll get back to you.
Until next time, stay safe.