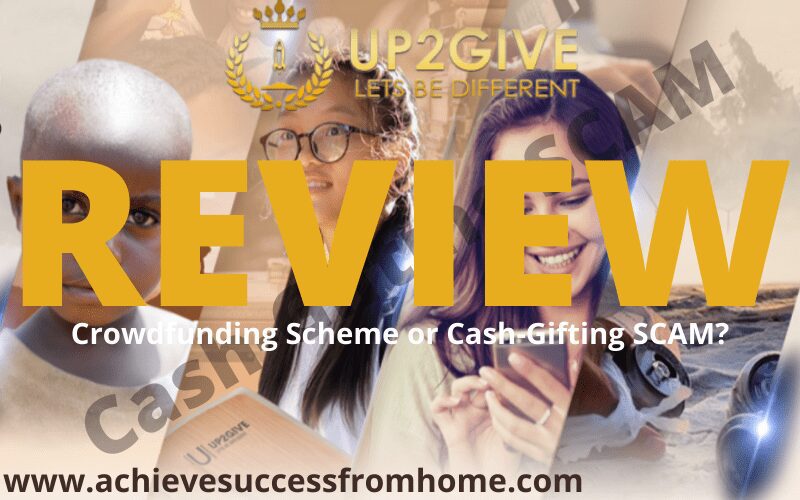 Welcome to this
Up2Give Review
.
Crowdfunding is a term that we see often and is legal, with TV advertisements appearing all the time for various charities.
However, cash-gifting isn't legal and for many reasons too.
We are seeing more and more MLM companies stepping into this territory under the guise of crowdfunding, when in fact, it is nothing more than a cash gifting scheme.
What I'd like to point out before we go any further is that I am in no way associated with Up2Give and therefore you won't find me trying to pitch or sell you anything.
But what I will do is give you all the facts both negative and positive to give you a better handle of what you might be getting yourself involved with.
So rest assured when you have read this review you will be able to come to your own conclusion as to whether Up2Give is a Crowdfunding opportunity or a cash-gifting scam.
So without further ado, let's get right into it.
---
[Affiliate Disclosure: This post may contain affiliate links which means I may earn a small commission if you purchase anything through one of the links. However, this will not affect what you pay!]
---

Product: Up2Give
Location: Guatemala, Central America
Founders: Jerry Lopez, Andreas Kartrud
Founded: 2019
Website: www.up2Give.com
Product Description: Cash gifting operating under the guise of a Crowdfunding opportunity.
Cost to join:  .005 BTC or $173 as of this review
Best For: Nobody
Recommended: No
Summary: Up2Give is a cash-gifting scheme disguised as a crowdfunding venture and makes you believe that your hard-earned money is going to help worthwhile charities across the globe.
In return you will be rewarded through Bitcoin investments and considering Cryptocurrencies are a volatile investment strategy then this is highly unlikely.
Have you not noticed that nowadays any mention of the word Bitcoin and people are all over it?
---
If you are sick and tired of SCAMS, Pyramid schemes, MLMs, recruiting, having to purchase stocks, haggling family, friends and customers. Looking for a proven method of making money online, then check out my #1 recommendation. 
---
Internal Summary and Navigation
---
What is Up2Give about and who are the Founders?
Up2Give is a multi-level-marketing business operating as a cash gifting scheme trying to disguise itself as a crowdfunding opportunity.
Founded in 2019 and located in Guatemala which is in Central America and a Tax Haven which we see many of these businesses operating from.
A very shading business and can be clearly seen with a little research.
There is no real information on their website of the business, the founders or how they operate, with no mention of the charitable organisations that they are supposed to help.
In fact, most of the links on their website seem to be under development which suggestions that Up2Give have moved on although I can't really find this out.
When it comes to any mention of anthropology I tend to be suspect especially when it comes to an MLM business and besides its a known fact that no more than 10% actually reaches the charity anyway.
Through a little digging, I found that Jerry Lopez and Andreas Kartrud claim to be the founders.
Check out this short promotional video…
So who is Jerry Lopez and Andreas Kartrud?
Well, Jerry claims to be a public speaker, international team builder, and personal coach.
Prior to Up2Give, he spent a short term with another MLM called Lyfestart International and this company closed its doors six months after opening in 2014.
He then moved onto Savi Health International before moving onto Dunamis Global Tech which was a cryptocurrency MLM that got bought out by Onyx Lifestyle.
Andreas claims to have similar experiences, as a network marketer, coach and mentor
The other partner, Kartrud, introduces himself as a professional network marketer, success coach, and mentor.
The founder of a flea market in Malmo and then worked with a Cryptocurrency program called Wo Token Wallet, which turned out to be a scam.
---
Red Flags that you should be aware of
Research is key when looking for a business opportunity and don't be taken in by the desperation and BS that you are going come up against with affiliates trying to recruit you.
Do your own research thoroughly and that is coming from somebody who learned the hard way.
Everything you need to know should be on their website and if it isn't then you have to ask the question why?
Things that I hate about the Up2Give website…
No information about the company
No mention of the owners
Nothing about how this business works
No mention of the charities
No income disclosure
No compensation plan
If you have to start looking elsewhere for this information then forget about this company.
Just what is U2GiveAcademy?
Supposed to be a training platform, with a small amount of what they are calling courses. What I see here is an afterthought to enhance the Up2Give website and make it more real than it actually is.

Not sure just what "The Giving Box" is about and if it was so amazing which is what they claim, they why isn't there more information about it?
A revolutionary service that will benefit everyone is what they are claiming, well the only ones who are going to benefit are the top 1%, just like all other MLMs.
---
Is Up2Give a Pyramid Scheme?
Many companies, especially MLMs are always treading close to the threshold of becoming a pyramid scheme and it takes me a lot to come out and disclose a company as one.
There is nothing about Up2Give that tells me they are not operating in such a manner, based on what we have found out through our research.
Any multi-level-marketing business could not succeed if it wasn't for recruiting and that's fine providing there is a service or product of some value.
With Up2Give, there is no service and no products so in the eyes of the government this is a classic pyramid scheme.
You can take a look at what Pyramid Schemes are all about in this short video.
---
Let's look at the Up2Give products
Most MLMs will at least try to hide behind a service or product of some description but Up2Give have neither and all they offer is an affiliate membership.
---
Up2Give Business Opportunity – What you need to know
Giving and helping others is a great way to go through life, but promising good returns as a reward just doesn't sit with me.
That been said, let's continue…
---
How to become a Up2Give Affiliate
In order to become a member of Up2Give, you have to seek out a sponsor which you can do through their Facebook page.
Then you would need to pay 0.005 minimum a month of whatever the current value of Bitcoin is which as of this review is $173.00
To become a full participant in Up2Give's income scheme would cost you 1.345 BTC a month, which currently works out @ $48,615.
Let's face it who is going to risk something like this?
---
How to Make Money with Up2Give
There is only one way of earning money and that's through recruiting others into the scheme, so you'd better bring your A-game when it comes to recruitment.
---
Up2Give Compensation Plan
Compensation plans are generally complex in nature like they do not want you to work it all out, so if you've got a little time then I'd suggest watching this video, although you should still do further research before contemplating joining.
---
Are Up2Give affiliates actually making money?
With no income disclosure or income results to show then this question is in the lap of the gods.
I can tell you something though, and that's if you wanted to participate in their income stream then you'd have to pay $48,615 every month, and the ones getting rich are the ones at the top of the pyramid or the top .1%.
---
What Others Say About Up2Give
There's a lot of bad feeling going around this venture and even a Facebook page dedicated to warning people not to join.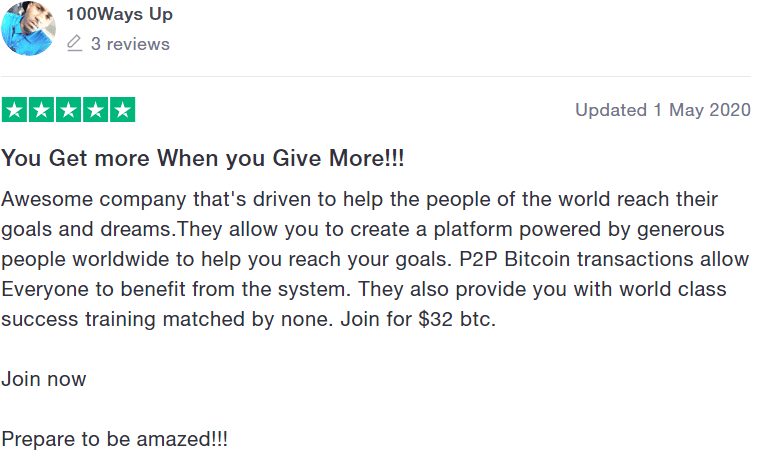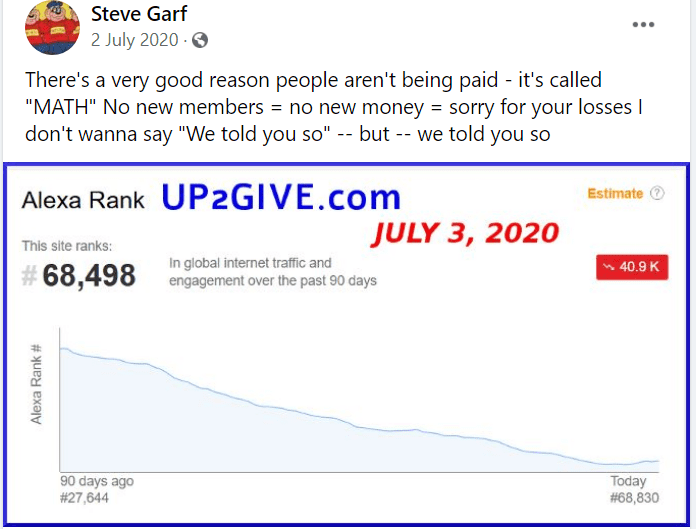 ---
What I like about Up2Give
There is absolutely nothing I like about Up2Give.
---
What I don't like about Up2Give
Far too many things wrong with this business and I had to hold back on the number of issues I came across.
Lack of transparency
The website should display all the relevant information for anybody who would be interested in joining and I just find it ridiculous that it just isn't lacking, it's totally void of business information.
However, you still see people joining these ventures.
Head offices are in Guatemala, Central America
Well, that's what it says on their website. Another Tax Haven and it should be obvious to you why this is so.
With no or little in the way of regulations, when the bottom falls out and it will, there will be many left with no money.
Pyramid Scheme
It is an out and out pyramid scheme that should not be operating.
Cryptocurrencies are volatile
There is absolutely no explanation of how members are paid or how any investment is done.
I asked the question on a Facebook page and was told to seek out a sponsor first before they answered any of my questions.
Really, you must think I am stupid!
Google trending

As you can see by the above image since Aug 2020 there has been no activity which sort of implies that something major has happened.
Owners come with baggage
Mentioned right at the beginning of this review, both come with dodgy backgrounds and I can't see that changing here.
Neither come with any previous success and jumping from one opportunity to the next certainly doesn't instil any confidence with me and it shouldn't with you either.
False claims
Crowdfunding is a legit way of funding charities because you donate without thinking of returns but Up2Give is nothing but a cash gifting scheme which is illegal.
All you are doing here is paying into a scheme and that wealth just moves around until people stop joining and then everything collapses with people losing money.
Then because the business is registered in a Tax Haven, in this case, Central America where regulations don't apply like in the US, UK or other like countries then there will be no comebacks.
---
Is Up2Give a SCAM?
There are far too many red flags and this very rarely happens to me where I have no problem in labelling Up2Give as a blatant scam.
Claiming to be a crowdfunding scheme when they reward you (or so they say) for paying into a charity is nothing more than a Cash-Gifting scam which is illegal.
They don't have any products or services and the only way of making any money is by recruiting others which is a pyramid scheme which we have disclosed earlier.
The owners come from shady businesses that were closed down.
This business is everything a business shouldn't be and everyone should stay away from.
---
Up2Give Review – Final Analysis
Up2Give claim their business is based on the crowdfunding model which is legal but in reality, it is a cash gifting which is illegal.
These so-called businesses are propped up on recruiting others to join which tend to work in the early days but when members get to see the whole process in motion they very quickly leave.
Therefore, when the recruiting dries up then the business will collapse leaving members with nothing, but the top 1% with be left with all the wealth.
Tax Haven countries which is what Up2Give operate through, lack any type of regulatory system and therefore there will be no comebacks.
If a business is what you are really looking for then I would recommend affiliate marketing.
You are in full control from the very beginning with very little in the way of restrictions.
What better way than to create a business around something that you love, an interest or a hobby.
With hundreds of millions of products to promote and nearly 5 billion internet users.
Around 4.5 billion are searching in Google alone with over 7.5 billion keyword searches every single day. Those are your potential customers.
All you have to do is find out what they are searching for using a keyword research tool like Jaaxy and create amazing content.
This is not a get rich quick scheme as there aren't any, ask Bill Gates or Mark Zuckerberg.
Hard work, dedication, patience and consistency with of course the right mindset.
You need to invest in yourself and not some other business.
Yes, you can spend time trying to work it all out on Youtube but a quicker way would be to find a successful training platform, like Wealthy Affiliate which you can read about here.
All the tools and training you would ever need.
---
How I make a Living Online
I have tried MLMs and know what they are about but never been a fan.
It's not to say that you can't make some money, but what money you do make will be minuscule unless you are one of the top earners and to be honest even if you could get there it would take many years with no guarantees.
Just a few things I do not like about MLMs
Recruiting
Getting family and friends involved, which is what they teach you
Cold calling
Pressures from sponsors to meet targets
Mounting costs
Not being in control
No real business to show of
If you want to progress you have to attend events
Why not take a look at some success stories for yourself…
If you are ready for this amazing journey then you can join here for free.
See you on the inside!
---
Feedback, Comments and Subscribe
I hope I covered the questions you have been asking yourself and that you enjoyed this review.
If you did, why not show some love by sharing amongst your friends and family in social media.
Until next time, stay safe.