Welcome to
The ShareToEarn Review
If you spend time on social media platforms like Facebook and Instagram, then maybe you have heard of ShareToEarn?
After all, they claim to be the number one social media influencer on the internet, whatever that is supposed to mean.
However, it is good that you are doing your due diligence as this is the only way to weed out the scams and to find legit make money opportunities.
But, before we go any further I would like to point out that we are not associated with ShareToEarn in any way.
What you will get from us is an unbiased review which will hopefully put you in a better decision making position.
So less of the chit-chat and let's dive right in.
---
[Affiliate Disclosure: This post may contain affiliate links which means I may earn a small commission if you purchase anything through one of the links. However, this will not affect what you pay!]
---
Product:
ShareToEarn
Founder: Unknown
Product Description: GPT (Get Paid To) site
Website: www.sharetoearn.co
Price of product: Free
Recommended: No
Summary: ShareToEarn is a GPT website that pays you for performing some simple tasks, like taking surveys and downloading various apps.
But before we go any further with this review you should know first that ShareToEarn is a data harvesting site.
This means ShareToEarn get paid for passing on your personal data to 3rd party companies. Data that you enter when doing these surveys!
I'm sure you have wondered how that person on the phone got your number or the amount of mail you receive in your inbox, well now you know.
We see many complaints from people just not getting paid for all sorts of reasons and even getting their account blocked and deleted in many cases.
So, we will be highlighting a whole host of things that are wrong, like fake testimonials, fake payments, fake company details etc
However, is this really the company you want to be associated with or do you want to know how to build a passive income?
---
If you are sick and tired of SCAMS, Pyramid schemes, MLMs, recruiting, having to purchase stocks, haggling family, friends and customers. Looking for a proven method of making money online, then check out my #1 recommendation. 
---
Internal Summary and Navigation
---
What is ShareToEarn about and who are the Founders?

ShareToEarn is a get paid to website, which means that you are supposed to get paid for completing simple tasks.
Such as filling in questionnaires for market research and other tasks like posting on social media and downloading apps.
ShareToEarn, according to their website is based in Amsterdam and was founded in 2015.
Although we couldn't find any information to back up their claims.
What we did find through the website WHo.is is a registration date of April 2020.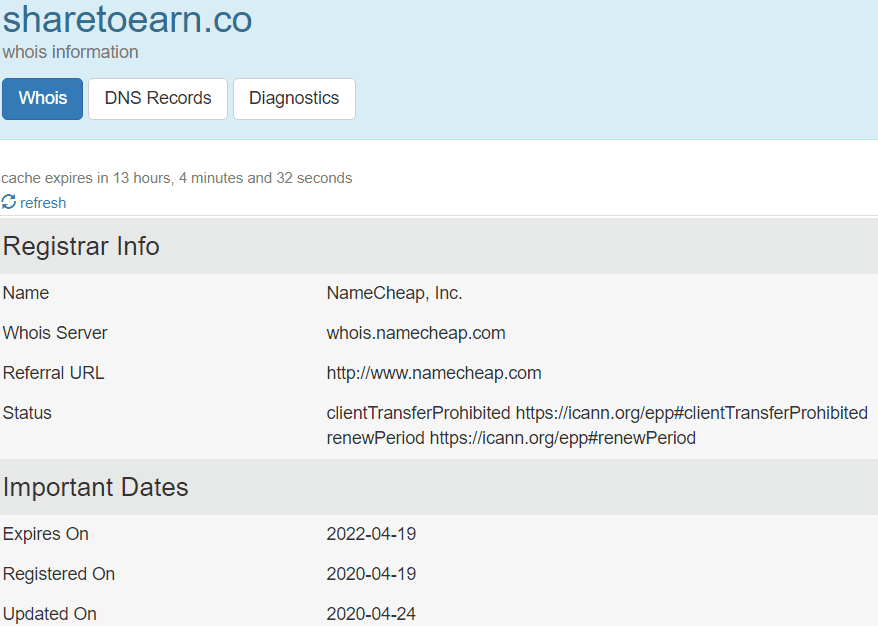 The company states
that they are based in Los Angeles as can be seen in their "About Page"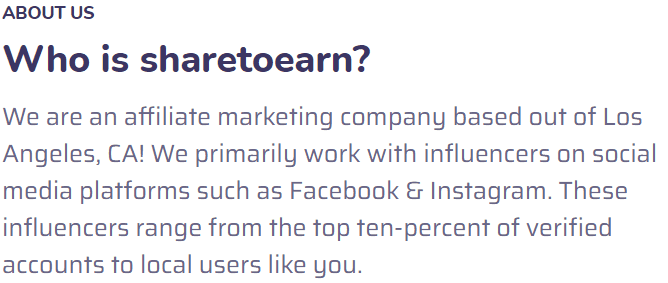 Yet, on the frequently asked questions page, it states otherwise as can be seen below.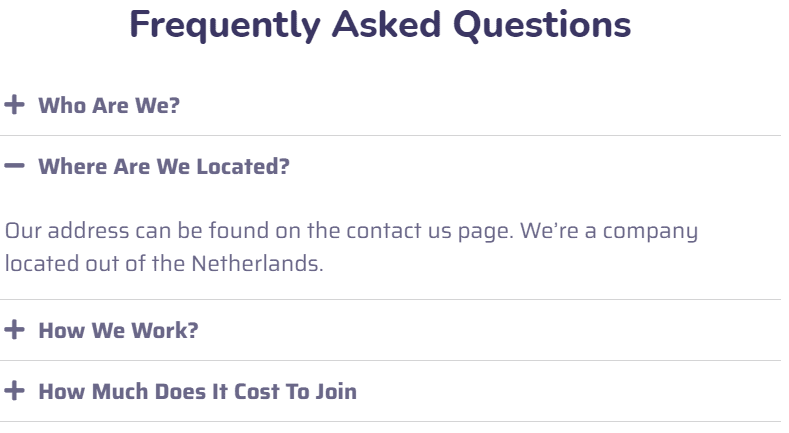 So who is behind ShareToEarn?
Like we normally find with these make money opportunities nobody wants to make claim to owning ShareToEarn.
I mean, would you once people realize what you were up to?
My reasoning behind this is simple, I feel that the same people responsible for ShareToEarn are the exact same people responsible for many of these sites.
We have just recently reviewed a similar site, CloutShout and I'm not giving you this link to promote them, it's just to show you the similarities.
---
How does ShareToEarn

 W

ork?

It's pretty straight forward really.
After you have joined and signed into your dashboard, down the left-side is where all the tasks are.
The image above gives a few ways that ShareToEarn say that you can make money from.
Let's highlight all the tasks that you have available for making money within the ShareToEarn platform.
Where you have your own affiliate link which you can share on social media platforms.
If someone clicks on the link then you get $.5 each time regardless of whether the person joins or not.
If someone takes you up on your offer and actually joins then you are supposed to get $10.
Select a survey and once fully completed you will get $35.
Remember what I said earlier, to complete the task you will have to join one of the offers, which means handing out your card details.
Viber is a messaging app that is used by over 1 billion people worldwide.
So, download the app and share your affiliate link with your friends to earn up to $35.
You can earn $30 for every video you submit to YouTube, mind you read the small print below.

Just by copy and pasting the below link will get you $20
? I just made $50.00 on sharetoearn!! ? and YOU can too!
? Sign up today for a $50 bonus! ?
‼️ https://refer.sharetoearn.co/memberID ‼️
Just copy and paste the link below with your affiliate link and they will pay you $15 each time.

Sign up and make a video on TikTok about ShareToEarn and they will pay you $25 each time.
What's the catch…
Well, all these different ways to make money for many will seem great, in fact, you will probably feel like you have hit the jackpot.
It might start off ok, you do a few tasks and then you see your account been credited, but to get paid you have to reach a threshold and you will find this difficult.
What they want you to do is promote ShareToEarn all over the place on social media as we have highlighted above.
The ones that ShareToEarn want to keep are the ones who are bringing more people into this scheme.
If they don't see you doing this then they'll make up any story just to avoid paying you.
---
ShareToEarn

Pricing 
The best thing about ShareToEarn is that it is free for anybody to try but whilst it is free you need to be aware of something first.
In order to be paid, it is important that you complete the task at hand that ShareToEarn allocates to you.
The final part of the task is to join one of the offers that are displayed in front of you, which means giving your card details.
Now, these offers usually come with a trial period which is ok providing you remember to cancel your subscription before the trial period ends.
Otherwise, this free membership site is going to start costing you and guess what, ShareToEarn will get a commission from your misfortune.
How is this, you might ask yourself?
Well, it does state that ShareToEarn is in fact a company that operates in the affiliate marketing industry.
This basically means they are a middle-man so to speak that get paid commissions for connecting people (like you and me) to other peoples products.
If you are not familiar with the affiliate marketing concept, you might like to read a review I wrote recently here.
It is an industry that I work in through this website that you are on here.
---
Can you make money with ShareToEarn?
I'm sure people are making something but it is certainly not going to be what they have indicated.
According to what ShareToEarn claim there is the potential to earn several hundred dollars each day but the most we ever see these sites paying out is a few bucks and if you can earn $100 in a month then you are doing ok.
---
Who is ShareToEarn

 F

or?
Majority of people when they see the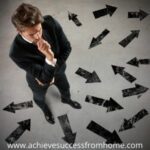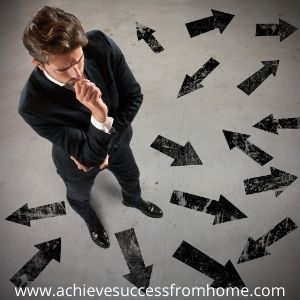 numbers that ShareToEarn claim to payout are obviously going to join and give it a go.
It's only when you have wasted a considerable amount of time that you realize they are not what you were told or expected.
You have to remember the real money is with the customer paying out to ShareToEarn for advertising and for you filling in their surveys.
If it wasn't for you and me then there would be no ShareToEarn.
These types of opportunities attract people who are just testing the water and seeing if there are some legitimate ways to make money online.
After you have bounced from a few of these supposed opportunities you will eventually, either stop trying or you will research legitimate ways to make money online.
If you want to turn an opportunity into a money-making business then you have to learn and do it yourself, because you simply are not going to make any real money with sites like ShareToEarn.
Looking at the potential money according to ShareToEarn and that could be into the several hundred a day.
Just look at the monthly leader board, ninja09 as earned more than what the president of the USA gets paid a year and it didn't cost him anything.
You seriously aren't going to believe this are you?
---
What I like about ShareToEarn
OK, I would like to say that because it is free, but you are going to waste a lot of your time only to find out that you couldn't reach the payout threshold or worse still. they made up some stupid reason to not pay you.
---
What I don't like about ShareToEarn
We had to restrict this list otherwise it might have got out of hand, so we choose which we thought were the most important.
Fake Contact Details
Conflicting information regarding where ShareToEarn is based.
The "About Page" says Los Angeles and the frequently asked questions page states the Netherlands.
Data Harvesting
This is something that you weren't aware of or maybe you don't think it matters much.
Nowadays you can't do anything without someone quoting the data protection act.
The world is full of crooks out there stealing personal information and you even have them sifting through your rubbish to see how they can scam you.
With sites like ShareToEarn, you are freely giving away your personal information to the point that you have to give out your card details.
With all the red flags that we have pointed out, is this the type of site that you can trust?
Fake Testimonials
This happens often where companies hire the services of people from sites like Fiverr.

There are 9 additional video testimonials along with the one above and if one is false the rest are too.
Unrealistic Expectations
Potentially you could be earning some serious money, well according to ShareToEarn anyway.
Refer a friend – $10
Per survey – $35
Use Viber to post your affiliate link – $35
Adding YouTube videos – $30
Adding a post to Facebook – $20
Adding a post to Instagram – $15
Adding a video to TikTok – $25
Just think, do one of each task listed above and you'd be earning $170 a day, which is $1,190 for a 7-day week.
That's $61,880 a year and all you have to do is double those tasks and you would be earning $123,760.
The reality of it all is that if people were earning this type of money don't you think that they would be bragging about it all over the internet?
Payment Threshold
In order to withdraw money from your account, you will have to reach the payment threshold.
What you are going to find is that you'll find it extremely difficult to reach that threshold.
I know this because I have tried.
Terms And Conditions
According to the terms, anybody under 100 years of age is not allowed to use ShareToEarn sites.
Not sure just what this is about but it just goes to show that they don't care.

---
Is ShareToEarn

a SCAM or LEGIT?
There are more than enough problems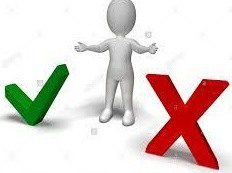 with ShareToEarn to warrant me stating that ShareToEarn is a scam.
These sites aren't around for long, even though they claim they have been around since 2015 which we have proved is a lie.
They follow a pattern and that can be seen across many of these sites which indicates to us that they all belong to probably the same bunch of scammers just out to get what they can.
Everything is fake about ShareToEarn and the sad thing about it is that they don't even care because they don't even try to cover their tracks.
My advice to anybody is to stop wasting your time with these sites and learn how to build an online passive business which isn't difficult.
Just take a look at these success stories and incidentally they have all been down the road that you are on now, so don't think this is about you.
It really isn't and it's never too late to change because with some hard graft you could be earning 5-figures consistently each month and that is not BS.
---
ShareToEarn Review

: Final Thoughts!
There are far too many problems with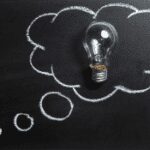 ShareToEarn that you should stay well away from.
ShareToEarn is nothing more than a Data Harvesting site that sells your personal information to 3rd party sites.
The internet is full of online money-making opportunities but most of them are not worth your time or effort.
But, if you are still looking for legit opportunities then you might like to check out Swagbucks as they have a big following.
Or maybe Squadhelp might be worth looking at especially if you are a creative person, with the chance of earning up to $500.
ShareToEarn, as we've mentioned earlier work within the affiliate marketing industry which is a simple concept.

---
Feedback, Comments and Subscribe
Ok Guys, hope you enjoyed this ShareToEarn review and that you got something out of it.
If you did enjoy this review then please feel free to share it amongst your friends on social media to better inform them of ShareToEarn.
Have you been a member or maybe you still are, then why not share your experience with our readers?
As always, if you have any questions at all, whether about this review or anything in general then let me know in the comments section below.
Until next time, stay safe.