Hey Guys, welcome and you are here wondering Is Zurvita a Scam?
Before we start, let's set the record straight, Zurvita is not a scam but a legit nutritional supplement network marketing company.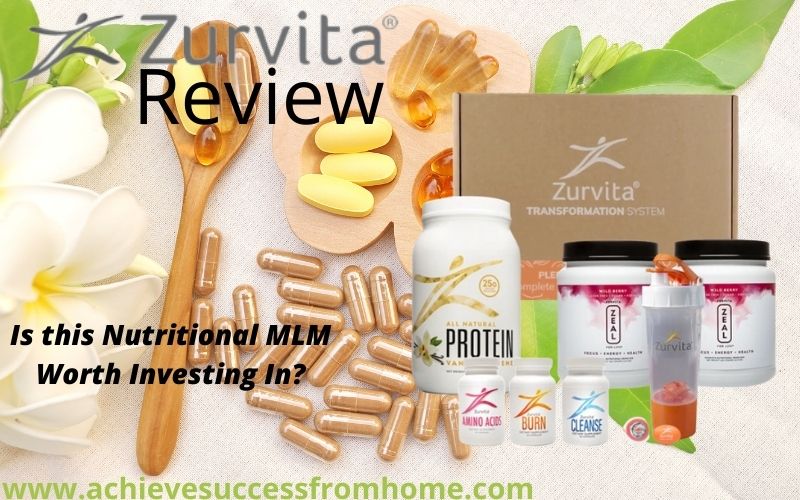 A company in the Health and Wellness industry that has been on our radar for some time now and thought it was about time we took a look.
A business that prides itself on its nutritional products such as supplements, energy drinks and protein shakes.
Maybe you have been approached by one of their distributors promising you the world, or maybe you came across Zurvita quite by chance.
There is no getting away from the fact that there is an abundance of businesses in this industry all promoting similar products.
Some good, some ok, some bad and some really bad.
So where does Zurvita fit into those categories which is what you are here to find out?
We created this website to help people just like you find their way in what can be a very stressful process.
But before we get started, we'd just like to declare that we are in no way associated with this business.
This means that we are not getting paid for this review.
However, what we will provide is an honest, unbiased no holds barred thorough account of the products and the business opportunity.
That way you will know whether this is a legit business or one to avoid.
So without further ado, let's get started.
---
[Affiliate Disclosure: This Zurvita Review has been thoroughly researched from information and testimonials that are in the public domain. This post may contain affiliate links which means we may earn a small commission, however, this won't affect what you pay! 
---

Product:
Zurvita
Founder: Jay Shafer, Mark and Tracy Jarvis
Website: www.zurvita.com
Product Description: Health and Wellness MLM
Cost to join: $39
Recommended: No
Summary: Before you invest in any business first and foremost you need to know that the products are legit and do what they say on the label.
That's why around 80% of people showing interest in Zurvita usually start as a preferred customer to test out the products first.
Then and only then if you are happy with the products then maybe you might like to invest in their business opportunity.
Mind you, that is a step too far for many due to the amount of hard work that is required to succeed but we will be going into that a little later on.
One thing you will not get away from is having to work hard if you want to succeed in any business, not just an MLM.
If it's a business opportunity without the stress and expense then we might have something you could be interested in below.
Mind you, you will still have to work hard to succeed.
Zurvita Reviews – Table Of Contents
What is Zurvita All About?
Zurvita is a multi-level marketing company in the health and wellness industry manufacturing and selling nutritional products.
Launched in 2008 by Jay Shafer, Mark and Tracy Jarvis and is based in Houston, Texas.
Zurvita is a subsidiary of The Amacore Group which is a membership site in the health industry, mainly eye care and eyewear plan.
If you take a look at the financials of Zurvita it is clear that they are struggling and whether this is just a blip or things to come, who knows.
According to MacroAxis they have negative working capital and may not be able to pay their financial obligations.
Anyway set that aside for the moment because what will be will be something to seriously consider before getting thinking about investing.
You have to look after your body from a very early age which we tend not to do because at that age we all think we are going to live forever.
So the next best thing would be to turn to nutritional supplements for a quick fix but often continue due to the positive results.
That's what Zurvita can provide but there are a few issues that we will be looking at such as costs being the main one.
Here's a short YouTube video that might interest you…
Who is the Founder of Zurvita?
This accolade is down to 3 individuals, Jay Shafer who is the current CEO and Mark and Tracy Jarvis.
Mark Jarvis was employed by the Amacore Group when he founded Zurvita and brings to the table many years of experience.
Working for businesses like Ameriplan, Reliv Nutritional, Primerica Financial Services and Amway.
Tracy Jarvis who is the wife of Mark, as well as her role at Zurvita is also an independent Certified Life Coach.
Jay Shafer has a similar route to Zurvita being the CEO of The Amacore Group and prior to his involvement, he was also CEO of Protective Marketing Inc.
He's experienced in social media marketing, marketing strategies and strategic planning.
Is Zurvita a Pyramid Scheme?
Technically speaking, Zurvita is not a pyramid or Ponzi scheme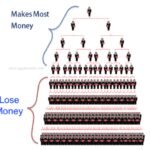 because you can make money just by selling the products yourself.
They are a well-established business that manufactures and sell legit products that have some rave reviews.
Just because the payment structure is designed as a pyramid doesn't necessarily mean they are operating a pyramid scheme.
No not at all, but if a distributor is getting paid solely for recruiting other people to join then that is a pyramid scheme.
Just for clarity on what a Pyramid Scheme is…
A company that operates in a manner where the affiliates or representatives are paid for recruitment only would be declared illegal.
Sometimes these companies operate where there is some form of training, a product or services in place however they don't have any real value.
It is just a way to hide the fact that they are operating illegally and these companies do get away with it because there are so many doing the same thing.
In most countries this type of behaviour is illegal and some go to prison for many years.
The  Federal Trade Commission has compiled a report on the way MLMs operate which you can read about here.
Why aren't these MLMs getting closed down?
There are so many MLMs that operate as a pyramid scheme and because there are so many it takes time for the FTC to get their act together.
After all, they only have a limited resource of people to investigate and by the time they get around to doing anything about it.
The company under investigation usually closes down and reopens as some other company probably doing the same thing but using a different name.
You might like to check out this short video…
Zurvita Products Line
The key to any success that you may have with Zurvita is the products and whether they really are as good as they say they are.
With so many of these types of businesses selling very similar products, there are many factors to take into consideration.
In this section, we will briefly cover the products so you have a better idea although the only real way is to purchase them and try them out yourself.
The product range is categorized under the following…
Nutrition and supplements – $12.50 – $159.90
Health and weight – $219.95 – $254.95
Performance and fitness – $42.95 – $64.95
Merchandise
Apparel
Their flag-ship and top-selling product appear to be Zeal which you can see by the number of reviews that you can find on Amazon.
This just reinforces the fact that Zurvita is not a scam!
They reckon that around 1% of people write a review so if you take the number 934 and multiply that by 100 that's over 93,000 products sold.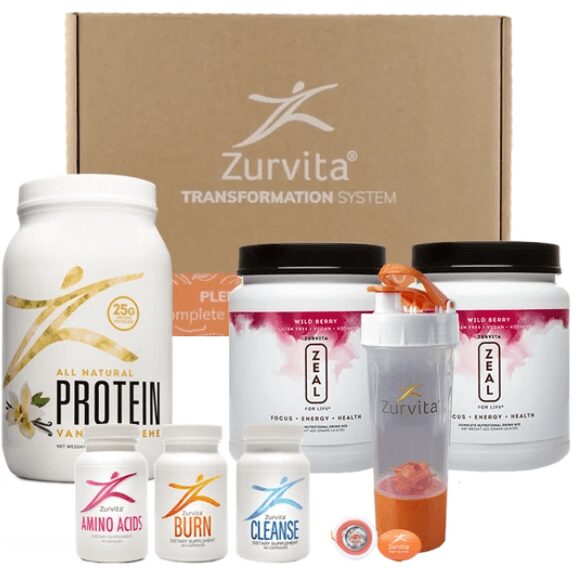 This product contains 120 superfoods, minerals and vitamins to help maintain a healthy body which helps towards losing weight.
A 30 day supply of the Zeal Transformation System will set you back $219.95 that's works out at $2,639.40 so it better work that that amount.
This comes in 4 flavours, Wild Berry, Bold Grape, Mango and Tropic Dream
For a look at the entire product range, we suggest heading over to the Zurvita website here.
Zurvita Business Opportunity – What You Need To Know
For the entrepreneurial types, this will be the section that should interest you the most.
How much does it cost to join Zurvita?
It will cost you $39.95 to become an independent consultant at Zurvita which comes with a starter kit.

Obviously, you will have to purchase some of the products otherwise you won't have anything to show your prospective customer.
How to make money with Zurvita
There are only 2 ways to make money with Zurvita…
Purchase the products yourself and sell them on
Recruit others to join your team and make commissions from their sales
As part of the affiliate program which is what you become part of there are a further 5 ways to make money through bonuses.
This is all based on performance which basically means recruiting and building a massive team.
Doesn't that seem like it may be what they call a pyramid scheme in disguise which we talked about earlier?
That is why there is a grey area, but hey all these MLMs are doing the exact same thing but there are far too many for the FTC to get around.
Zurvita Compensation Plan
There are 14 ranking levels to climb which are based on performance and how committed you are to building a team.
Training and motivating that team so that they don't lose interest and leave as most do.
No different to any other business you could think of.
You would also have to attend shows and conferences at your own expense, that is if you are really serious about the business side.
The compensation plan is how you get paid and they are often complex in nature.
The one used at Zurvita is pretty straightforward which you can see here in pdf format, or you could just sit back and relax and let someone go through the whole process for you.
Are Zurvita Affiliates Actually Making Money?
It's extremely difficult for distributors to make reasonable money at Zurvita not unless you were invited at launch day and one of the select few.
That's right, when they launch the business they invite experienced network marketers and friends.
In the hopes that they bring a large following which set's the business up for those select few and the business owners.
If you listen to the sales pitch in their presentation they indicate that you can become wealthy doing this part-time.
Well, that is a lie because you will have to work your socks off if you are looking to succeed and replace an existing job.
Here's an income disclosure statement going back to 2016 that we managed to find which you often can't. Sorry, you might have to blow the image up.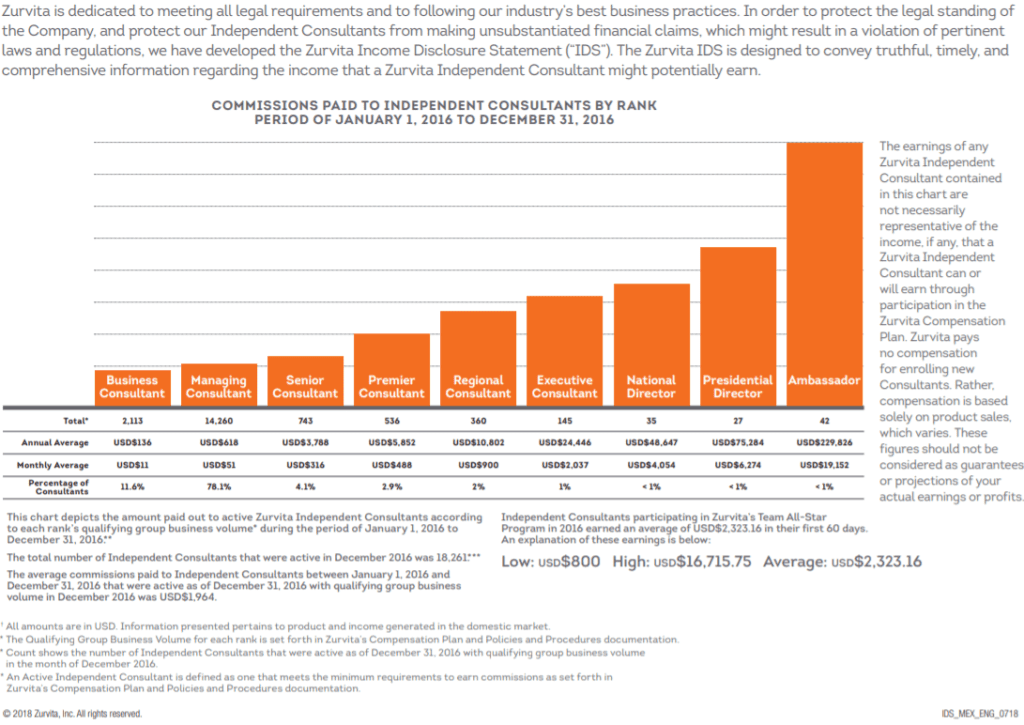 We are not saying that it can't be done because many are succeeding in this business, you just have to want it and work extremely hard.
Remember this, they encourage you to invite all your family and friends and if this doesn't work out you are going to have a large number of annoyed people.
You can take a look at what the Federal Trade Commission has to say in a report they compiled about MLMs here.
Is Zurvita a SCAM?
Zurvita is not a scam as the business is established and has some great looking products.
But there are a few things we don't like such as the expense of the products which seem high in comparison with similar businesses out there.
We'd just like to reiterate the fact that Zurvita does seem to be sitting on borrowed time.
Where according to MacroAxis are functioning on negative working capital.
With a good chance, they won't be able to meet their financial obligations so what does that mean for Zurvita distributors.
This is certainly something to hinder before risking your savings, right?
Here are some similar businesses you might consider…
MLMs are very risky because most of them shut down without any warning and with many losing fortunes.
If you are looking for a business where there are no risks involved and the benefits are far greater then take a look at the link below.

Zurvita PROS and CONS
We are at the point of this Zurvita review where we are about to wrap things up and below we have highlighted what we think are the important points.
Which hopefully helps you in your decision making.
PROS
This Business Is Well Established:
The business has been operating for well over a decade which is a lifetime for a multi-level marketing business.
The Business Founders Are Legit:
They appear to have a good combination with all 3 founders complimenting each other with their various experiences.
Especially with many years working with similar companies in the past.
Product Reviews Are Good:
Everybody should be looking at reviews when researching anything but finding genuine ones are often not easy to come by.
Especially if those reviews are on the business website.
That's why when we find legit reviews like we have mentioned already on Amazon it all goes towards strengthening the cause that the company is believable.
CONS
Products Are Expensive:
All multi-level marketing business products seem to be let's say over the top on price which implies that they have the best products.
Yes, you can find much cheaper products everywhere and you don't have to look very far but in a lot of cases cheap usually means poor quality.
It is, after all, an MLM business model and they are all difficult to succeed in but then again so is any other business too.
Network marketing is a specialized business model and requires a skill that not many have and that is sales and recruiting.
Get that cracked and you could be onto something.
Zurvita Financials Are Not Looking Healthy:
We have already mentioned that as of this review Zurvita is running a negative working capital.
That means that there could be problems paying you and this is something you should seriously.
Taking into consideration, in fact, to be on the safe side we would suggest not going ahead with this opportunity on that basis.
But that was now and things might change.
Trending Has Dropped Somewhat In Recent Times:
As you can see in the diagram below Zurvita peaked around 2016 but ever since has had a downward spiral.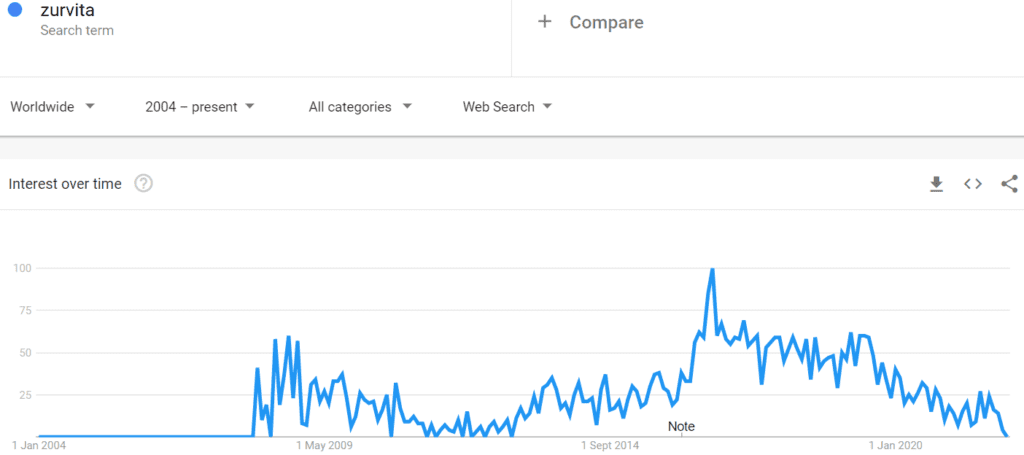 Zurvita Reviews – Final Thoughts!
There are a few issues that we have with Zurvita such as overpriced products which leads to competition.
Competition is good to a certain degree but when there are hundreds, maybe thousands of businesses doing the same thing which aren't MLM.
Then you will have your work cut out.
It is obvious that people do like the products and that is ok if you decide to go down the preferred customer route and leave the business side alone.
It's the business side that should concern you if indeed that is the route that you are going to take.
Remember that Zurvita is currently running the business as negative working capital which could mean not getting paid.
That alone would be a good enough reason for not getting involved.
If you approach the owners they are definitely not going to tell you because at the end of the day they don't want members leaving and making matters worse.
If the reason for your interest in Zurvita was primarily a business opportunity.
Then what about a business where the risks are zero in comparison and so much more cost-effective then please continue to read on.
How we Make Passive Income Online?
You must agree everybody would love to have a business that runs 24/7, with very little intervention.
That produces as many income streams as you'd like.
Probably the best way to achieve this is through affiliate marketing and it's what is called "Passive Income".
The benefits far outweigh what an MLM provides…Such as…
Promote any product or service you like
No business conventions to attend
No pressure to maintain the ranking status
No pestering from a sponsor
Extremely cost-effective to start and run
No advertising costs
This business is yours and something you could pass on
No order management to handle
All you have to do is basically connect the customer with the merchant and your job is done. They make a purchase and you get paid.
If you want to know where you can learn all this, it's provided by Wealthy Affiliate.
Who is responsible for thousands of 5 and 6 figure monthly earners.
Don't worry we are not trying to sell you anything as it's free to look with no credit card details and no commitment, so what have you got to lose?
If this is not for you then just call it a day but you won't know unless you try.

Feedback, Comments and Subscribe
Hope you guys enjoyed this Zurvita review and that you got some benefit from it.
Any questions please feel free to put them down in the section below.
Until next time, stay safe