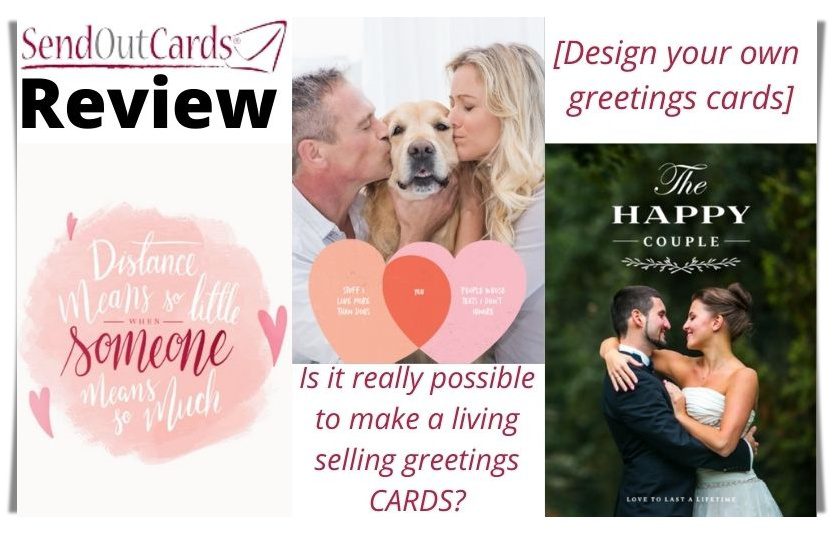 Hey Guys, welcome to this Send Out Cards Review
Most of us live busy lifestyles and often don't have the time to search out greeting cards for our friends and loved ones.
Even when you make the time how often can you just not find the right greeting card because that happens to me all the time?
Well, Send out Cards might just have the answer that you have been looking for.
So if you are here trying to find out whether Send Out Cards is a scam or pyramid scheme, then you are definitely in the right place.
But before we get started, we would just like to mention that we are not associated with Send Out Cards in any way, shape or form.
So, what does that mean?
It means that you will get an honest unbiased account of who this company really is and whether you should pursue it further.
With so many scams out there, research (like you are doing) is the only way to avoid them and to find legit make money opportunities.
With that said, let's get right into it.
---
[Affiliate Disclosure: This post may contain affiliate links which means I may earn a small commission if you purchase anything through one of the links. However, this will not affect what you pay! 
---

Product: Send Out Cards
Founder: Kody Bateman
Website: www.sendoutcards.com
Product Description: MLM Greeting cards business
Cost to join: $37 – $247
Recommended: No
Summary: SendOutCards is first and foremost an app that allows you to create your very own messages on greeting cards.
What about sending your loved one a personal message not only once but how about every day.
One thing is for certain and that is there aren't many businesses competing in this greeting cards niche which is great.
But in this day and age new generations are opting for mobile and social media messaging.
Which is only going to make this type of business all the harder to succeed in.
There is a business opportunity that you could take part in but the income potential is low but as a side hustle, then it might work.
Like always, with this type of business, recruitment is key to any success and this is not for everyone.
However, this is a great site to build relationships and is certainly worth a look.
That said if what you are looking for is a make money opportunity where recruitment isn't the focus then you might like to take a look at the link below.
My #1 recommendation for making money online.
With that said let's continue…
---
Internal Summary and Navigation
---
What is Send Out Cards about and who is the founder?
Send Out Cards is a network marketing or multi-level marketing company that was founded in 2003 by Kody Bateman.
The vision of Send Out Cards is to bring people together one card at a time!
This business has been going for a number of years tells us that this is a legit business which often isn't the case with an MLM company.
The company operates out of Utah in the US employing around 120 people
With over 150 million greeting cards that have been sent worldwide and with over ten million gifts.
Since 2003, generated $100s of millions of dollars not only for the business and affiliates but a number of charities.
Send Out Cards operates as a print on demand business where the cards can be printed and posted at an additional cost.
Here's a short promotional video…
So, who is the founder of Send Out Cards?
Kody Bateman is the CEO and founder of Send Out Cards and also the author of several books.
MLM Blueprint, Promptings, and The power of human connections.
So you could say that he's an authority to
some degree on relationship building in some shape or form.
His system has been used by over 700k people which has helped to strengthen relationships.
What is interesting to note is that he doesn't use his personal website to promote Send Out Cards which we find commendable.
---
Is Send Out Cards a Pyramid Scheme?
It doesn't matter which MLM business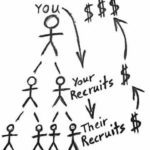 we are talking about they all come under the same scrutiny.
This is unfortunate because some MLM businesses operate in a manner that could be acceptable.
Recruitment is the main focus here because without it the business would not survive.
With between 50% and 65% of members not sticking around for longer than 12 months those ones leaving need to be replaced.
So it's a constant battle.
The whole purpose is to create a team which means passing on your knowledge and keeping them motivated.
So recruitment becomes the main focus and often the products and services that they sell have no real value.
This is what you might call a pyramid in disguise.
So is Send Out Cards a pyramid scheme in disguise?
Absolutely not!
Send Out Cards has been operating for a considerable amount of time, is well regarded and has a product catalogue that is extensive and legit.
Just for clarity on what a Pyramid Scheme is…
The consensus is that a company may be declared a pyramid scheme where the affiliates or representatives are paid a commission for recruitment only.
Where there isn't a product or service with an intrinsic value, which is a product that is useless and has no meaning.
In most countries this is illegal and in some countries, people go to prison for a very long time, an example would be China.
What normally happens nowadays is that companies hide behind products which makes it all the more difficult for the FTC to prosecute.
Why aren't these MLMs getting closed down?
There are so many MLMs that operate as a pyramid scheme and because there are so many it takes time for the FTC to get their act together.
After all, they only have a limited resource of people to investigate and by the time they get around to doing anything about it.
The company under investigation usually closes down and reopens as some other company probably doing the same thing but using a different name.
You might like to check out this short video…
---
Send Out Cards products
There are a number of memberships option available to you which we will be discussing in the next section.
What you need to know is that Send Out Cards has 2 different categories.
Automated send
Heartfelt cards
Automated send cards are where you can set up a batch of cards to be automatically sent out throughout the year.
These are the type of cards that you could have set up to send to a loved one on a daily basis if needed.
Either via the internet or with a more personal touch and through the mailing system.
Heartfelt cards are sort of special cards that you would send out to individual persons at fixed dates and times.
With the Heartfelt category because these are not sent out too often the postage is included in memberships  2, 3, and 4.
The different categories that the cards are placed in…
Holiday
Thank you
Well wishes
Build your own card
Love
Celebrations
Birthday
Just because
Please Note: Postage is to be paid for the "Send Cards" category.
---
Send Out Cards Business Opportunity – What you need to know
We have briefly discussed what Send Out Cards is and a little about the founder but I'm sure it's the business end of it that interests you more.
How much does it cost to become a member?
To become an affiliate of Send Out Cards it will cost you $59/year and you will need to find a sponsor.
If you don't know a sponsor one will be provided.
There are 4 different membership.
Membership #1 ($37/month) which includes…

Relationship Manager System
30 monthly card send, including both Heartfelt and System send
$1.75 for each card sent over 30
20% discount on gifts
Enhanced storage
Postage not included on any card sends
Membership #2 ($97/month) which includes…

Relationship Manager System
Unlimited Heartfelt Prompting cards (postage included)
30 System Sends
$1.50 per additional System Send
Premium discounted shipping on top-selling gifts
30% on gifts
Premium storage
Membership #3 ($147/month) which includes…

Relationship Manager System
Unlimited Heartfelt Prompting cards (postage included)
100 System Sends
$1.25 per additional System Send
Premium discounted shipping on top-selling gifts
30% on gifts
Premium storage
Unlimited Campaign Store downloads
Postage not included on and System Sends
Expense account required on this membership plan
Membership #4 ($247/month) which includes…

Relationship Manager System
Unlimited Heartfelt Prompting cards (postage included)
250 System Sends
$1 per additional Automated Send
Premium discounted shipping on top-selling gifts
30% discount on gifts
Premium storage
Unlimited Campaign Store downloads
Postage not included on and System Sends
Expense account required on this membership plan
The most popular membership as of this review is membership #2.
Something to take into consideration is the postage
How to make money with Send Out Cards…
There are 2 ways that you can make money with Send Out Cards.
Purchase the stock for yourself and sell onto family and friends
Recruit others into your team and make a commission from their sales
If you want to excel in a business like this then recruitment is key.
Send Out Cards Compensation Plan
Are Send Out Cards affiliates actually making money?
The greeting cards business is still a big market even though most people would rather use social media.
As for are Send Out Cards affiliate making money, then you would think for a business operating nearly 2 decades.
That there would be evidence everywhere but there isn't.
In fact, Send Out Cards had an income disclosure on their website but it was taken down because the numbers are extremely depressing.
Anyway, a little bit of digging and I found this income disclosure.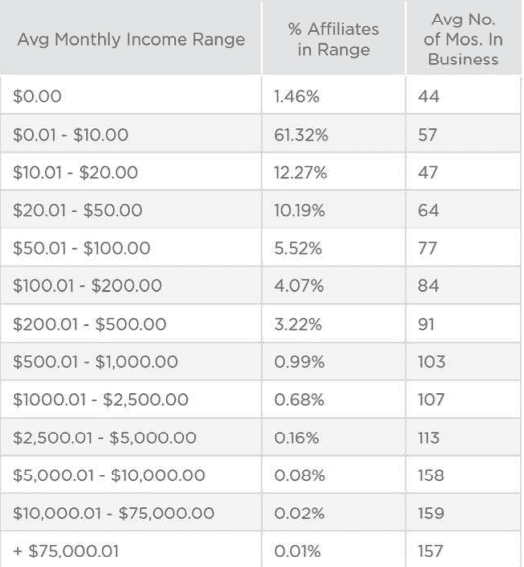 0.03% earns between $10k and $75+k, now if that doesn't make you run to the hills then I don't know what will.
Like I just mentioned this chart has now been removed from their website!
They obviously felt the need to take it down.
These are not some figures that we have pulled from the thin air, these are facts that come straight from the Federal Trade Commission.
---
What others have to say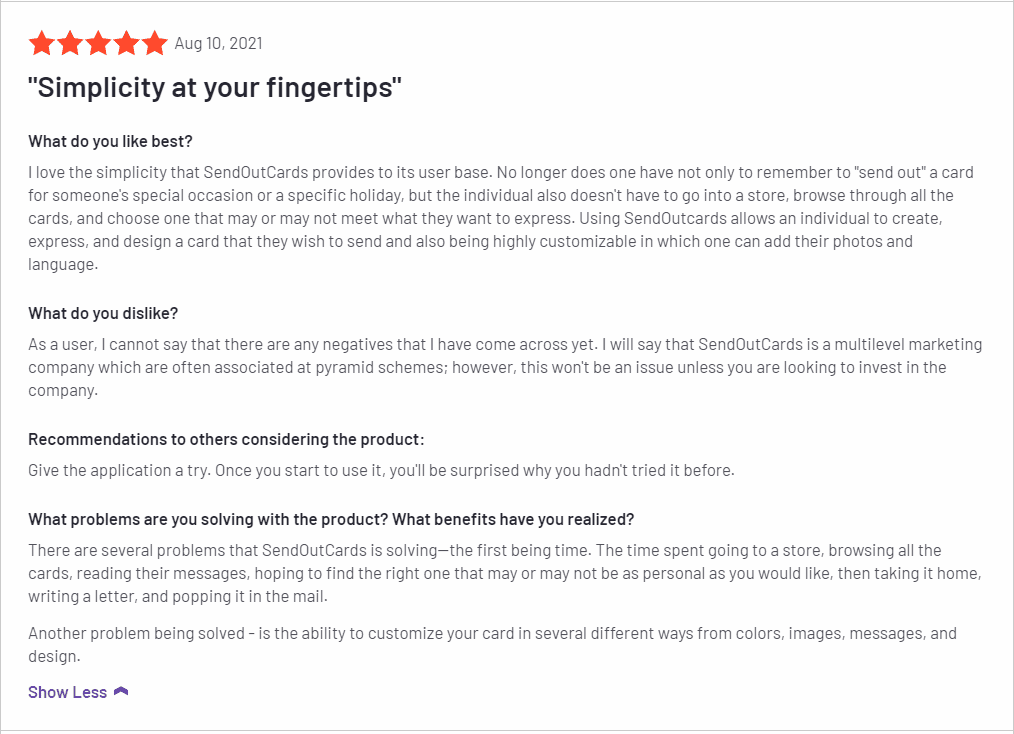 ---
What we like about Send Out Cards
A legitimate company that has been operating for near on 2 decades.
Very niche, meaning that there are not that many MLM companies operating in the greeting card industry.
This is normally a good thing but many people nowadays would rather use their mobile phone or social media which is a little sad.
In fact the last count we found just 2 companies, this company and Flamingo Paperie.
Better Business Bureau is a place that you should check for clarity of a company especially if they are based in the US.
As of 2020, Send Out Cards is accredited but it has taken them 17 years to get to that point.
---
What we don't like about Send Out Cards
People who join an MLM have a tendency to fail. In fact, those figures are quite alarming at around 98%.
These numbers are not set by us but by the Federal Trade Commission who is a US governing body.
Recruitment is key here and trying to get friends and families involved like what they will teach you is just not going to be enough.
You will need a constant stream of new people coming into your team and quite frankly because the products are cheap then this you will find hard.
People are looking for a quick return and selling $2 products is just not going to cut it.
The products are not cheap when you compare them against the high street retailer.
Granted paying a little more gives you that all-important personal touch.
---
Is Send Out Cards a SCAM?
Send Out Cards is definitely not a scam.
They are a legitimate multi-level marketing company that has been operating for well over a decade.
The products are genuine and the reviews that we see are positive.
Whilst everything you might say is positive we still wouldn't recommend this business.
We are not MLM haters, far from it because we do have a couple of years of experience in that business model.
However, we didn't have a large following and recruitment just wasn't our thing.
Cold calling is no fun and the number of rejections can really get to a person. You have to be able to take rejection!
In this current climate, generations dictate how a business like Send Out Cards perform.
Sending greeting cards for many is just not there especially as more and more people use mobiles and social media to express their opinions.
You have to weigh up the cost of the goods which are minimal and will take a hell of a lot of cards to sell.
That's the problem here because people don't send out many cards, do they? Think about it, how many cards do you send in a year?
---
Send Out Cards Review – Final Thoughts!
I know you are probably here because of your interest in Send Out Cards and prior to reading reviews like this, you might have joined.
We won't apologise for this because we wouldn't be doing our job if we didn't give you the facts.
On the surface, you probably thought this was a great opportunity but it's always the business end that lets it down.
Send Out Cards is not a scam but a legit multi-level marketing company.
All the same, we won't recommend this as a way to earn money online because there simply is no money there, well not enough to make a living from.
If it's an online business that you are looking for where there are no restrictions with 100% flexibility.
Which is extremely cost-effective where you are 100% in control then we'd love to share with you an opportunity in the next section.
You are under no obligations but something to seriously consider.
---
What next?
After a couple of years of trying to succeed and failing with MLM businesses, we decided that affiliate marketing was best suited for us.
Where…
You don't have to recruit
You aren't constantly pestered by your sponsor
You don't have to go to events which you will be expected to at cost
You don't have to purchase any stocks
You don't handle any order management at all
You don't handle shipping
You don't handle returns
You can market any product or service you like
You own the business which you don't in an MLM
If you are looking for a cost-effective solution then I would seriously consider Wealthy Affiliate or at least take a look.
A fully integrated training platform that I would recommend above all others with which I have personally had nothing but a positive experience.
Here you can join and check out the system for FREE, with no credit card details. If it isn't for you then just walk away, but you won't know until you have tried!
---
Feedback, Comments and Subscribe
Hope you guys enjoyed this Send Out Cards review and that we answered most of your questions.
Maybe you have or are still a member of Send Out Cards in which case we'd love to hear about your experience.
Until next time, stay safe