Hey Guys, welcome to  What is Tranont
You have to agree, that the internet is a great tool for pretty much anything but when it comes to finding a home-based business you have to be careful.
Tranont is a company that has been on our radar for a while now and thought it was about time we checked them out.
We can't stress enough, that do your own thorough research because it's the only way to avoid scams and to help you find legit opportunities.
Before we get started, we'd like to declare that we are not associated with Tranont in any way which means we won't be selling or pitching to you.
What you will get from us is an honest account giving you all the facts, that way you can decide for yourself if this is right for you or not.
So, let's jump right in.
---
[Affiliate Disclosure: This Tranont Review has been thoroughly researched from information and testimonials that are in the public domain. This post may contain affiliate links which means we may earn a small commission, however, this won't affect what you pay!] 
---
Product: Tranont
Founder: Lorne Berry
Website: www.tranont.com
Product Description: Health and wellness MLM company
Cost to join: The joining fee is $99, Plus a product bundle ($340-$999) Plus a minimum of $140/month to maintain PV.
Recommended: Maybe
Summary: Tranont offers a wide range of products and services to the consumer from health-related products to financial products.
Along with a business incentive for anybody who is looking for a home-based business incentive.
However, the business opportunity is not for everybody unless you have a big enough following and are exceptional at recruitment.
But we will be going deep into the business opportunity a little later on in this Tranont MLM review.
With that said, if it's a home-based business opportunity that you are really looking for, which is extremely cost-effective compared to Tranont.
Tranont Review – Table Of Contents
What is Tranont About And Who is The Founder?
Tranont is a multi-level marketing business operating within the Health, Wellness, and Wealth niche.
It is unusual to see all three niches linked into one.
Tranont means "Change life" and according to their claims, they want to impact 1 billion people within the first 2 decades.
Well, they have a very long way to go!
Which was founded in 2013 by Lorne Berry and is based in Utah, the USA.
The business is available to US, Canada and Porto Rican residents however, they have recently added India to the list as the first overseas country.
The range of products and services is quite extensive.
With products in health and personal care including financial products and services along with a business opportunity.
Here's a Tranont presentation you might like to watch…
So, who is the founder of Tranont?
It's clear that Lorne Berry doesn't have any previous experience in network marketing but does that really matter much?
Lorne Berry spent many years working in real estate prior to founding Tranont.
He has even partnered in restaurant ventures as well as helping to promote businesses in the Asian markets.
If you dig far enough there is always something of interest like when he filed for bankruptcy in around 2013 which was I believe for $1 million.
This was at the time that he founded Tranont.
Which is a little amusing considering that Tranont offers financial products and services.
But hey, everybody deserves a second chance, right?
Is Tranont a Pyramid Scheme?
All multi-level marketing businesses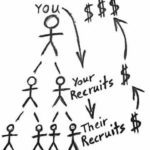 fall into this category and for good reason sometimes.
Technically speaking Tranont isn't a pyramid scheme because the products are legit and you can make money by selling them.
However, selling the products alone is not going to improve your financial status, it is recruiting that you have to excel at.
Just for clarity on what a Pyramid Scheme is…
The consensus is that a company may be declared a pyramid scheme where the affiliates or representatives are paid a commission for recruitment only.
Where there isn't a product or service with an intrinsic value, which is a product that is useless and has no meaning.
In most countries this is illegal and in some countries, people go to prison for a very long time, an example would be China.
What normally happens nowadays is that companies hide behind products which makes it all the more difficult for the FTC to prosecute.
Why aren't these MLMs getting closed down?
There are so many MLMs that operate as a pyramid scheme and because there are so many it takes time for the FTC to get their act together.
After all, they only have a limited resource of people to investigate and by the time they get around to doing anything about it.
The company under investigation usually closes down and reopens as some other company probably doing the same thing but using a different name.
You might like to check out this short video…
Tranont Products Line
We have mentioned earlier that Tranont has an extensive array of products covering Health. Wellness, and Wealth.
Product bundles…
Silver pack – Health core – $340
Silver pack – wellness – $345
Silver pack – CBD – $373
Gold pack – $599
Platinum – $999
Health products…
CORE

Enrich – $45
Balance – $50
Optimize – $50
BEAUTY

Renew – $45
Glow – $45
Nourish – $50
STAMINA

Focus – $45
Enhance – $49
Mojo – $59
Boost – $50
Zest – $59
CBD

Suthe – $109
Relieve – $45
PERSONAL CARE

Illuminate – $25
Refresh – $21
Oral care collection – $59
Wealth…
PERSONAL SERVICES

Uqual loan readiness –  Boost your credit file – Starting @ $99
Hurdlr – Manage your tax affairs – Starting @ $10
Tranont defend – Protect your ID, privacy and money – Starting @ 26.95
Business smart pack – Starting @ $59/month
Tax pack – No more trouble with taxes – Starting @ $45
RETAIL SERVICES

Merchant processing
Jive business phones
Tranont defend business
Tranont energy
Equal loan readiness
You can check out the details of each product and service below…
Tranont Business Opportunity – What You Need to Know
Here we have broken down the business side that you would want to know about if you were considering joining.
How much does it cost to become a Tranont associate?
When you go through the joining process there are various things to take into consideration.
Such as finding a sponsor and if you don't know one then one will be provided.
There are various bundles that you will need to purchase if you are taking this business seriously.
These range from $340 – $999
There is a one-off fee of $99 that has to be paid.
You have to also take into consideration that those products will need to be replaced as well whether by additional bundles or individual products.
To maintain your personal monthly volume then you will need to spend at least $150 a month.
If you become an associate of Tranont then you will get your own personalized website to promote the business.
How to make money with Tranont…
There are 2 ways that you can make money as a Tranont associate.
Purchase the stock for yourself and sell it to family and friends
Recruit others into your team and make a commission from their sales
Recruiting is key here if you want to make an impact as a business owner.
Recruitment and teaching your team are paramount because you don't want them to leave.
However, leaving is what they will do anyway after a short spell which means you have to be recruiting more into your team.
This is a constant battle!
Tranont Compensation Plan
Compensation plans, in general, are complex which sort of lead you to believe that you are getting a better deal than what you really are.
Here's the pdf version which you can look at here or click on the link below for the video presentation.
Are Tranont affiliates actually making money?
For a company that has been operating since 2013, you would expect there to be a large number of reviews but there aren't that many.
The same with the products and services that they sell there is very little in the way of positive feedback.
Tranont doesn't include an income disclosure on their website either.
All seems a little sketchy if you ask me.
Just how is anybody to make a decision whether to join or not if the data isn't there.
Check out what the Federal Trade Commission has to say.
Is Tranont a SCAM?
Considering the amount of information that you now have what do you think?
The word gets passed around a lot without a second thought.
Mind you reading some of the negative reviews where members have lost money in one way or another could be bordering on that term.
Overall we wouldn't class Tranont as a scam, it's just a bad business opportunity.
What you often find happening is the unethical way of promoting the business with suggestions that are totally untrue.
The Federal Trade Commission sent out a warning letter about some affiliates stating that some of the products could help or even prevent Covid-19.

What we Like About Tranont
There have an extensive array of products and services that you can promote and sell.
What we Don't Like About Tranont
Products are expensive compared to similar products that can be bought at retail shops.
Not accredited with the Better Business Bureau.
The lack of product reviews which we find strange. If the products were so good then we'd expect there to be reviews all over the internet.
No income disclosure and there are no Tranont associates shouting from the top of the roofs bragging about how much they are earning.
Multi-level marketing businesses are extremely difficult with around 99% that don't make any money with most who leave in debt.
The founder of Tranont comes with some history regarding declaring bankruptcy and owing $1 million.
Expensive costs are ongoing meaning that you are going to have to purchase a set number of products just to maintain your personal volume.
You are even going to have to replace products that you will be using as testers for your customers.
My Tranont Review – Final Thoughts!
There are far too many reasons why we wouldn't recommend this as a viable business opportunity and hopefully, we have highlighted most of them.
The problem with any business venture is that most people do not give it time and expect too much too quickly.
To achieve success in any MLM requires a lot of dedication, excellent recruiting and excellent training skills.
Even attending Tranont events that they have from time to time where it will cost you more money.
The ones who are earning the big bucks are the ones who are invited at pre-launch and who come with big followings.
In fact, some of these top earners are even paid to join because the only way an MLM business will function is with a big crowd.
To become a top earner requires many years of working 7-day weeks.
What happens if/when the company folds?
The business you had no longer exists and what about all those years that you gave to Tranont? You have nothing to show for your hard work!
How would you like to start an online business that would belong to you where you can promote whatever you want with absolutely no restrictions?
We would love to share with you how we make a mid-5-figure monthly income that is growing exponentially as we speak.
Read on for more details…
Here is a Better Solution For Making Money Online
Where…
You don't have to recruit
You aren't constantly pestered by your sponsor
You don't have to go to events which you will be expected to at cost
You don't have to purchase any stocks
You don't handle any order management at all
You don't handle shipping
You don't handle returns
You can market any product or service you like
You own the business which you don't in an MLM
If you are looking for a cost-effective solution then I would seriously consider Wealthy Affiliate or at least take a look.
A fully integrated training platform that I would recommend above all others with which I have personally had nothing but a positive experience.
Here you can join and check out the system for FREE, with no credit card details. If it isn't for you then just walk away, but you won't know until you have tried!

Tranont FAQs
Can I purchase Tranont products without becoming a member?
Yes, you can purchase Tranont products without becoming an associate but you will be paying a premium for the products.
How much does it cost to become a Tranont associate?
If you want to become a Tranont associate then you are obliged to choose one of the 5 packages.
Which will cost you anywhere from $200 – $999
Plus a $99 one-off joining fee.
What is the minimum age to become an associate?
To become a member of Tranont you have to be a minimum age of 18.
Which countries are allowed to join as members?
Up until recently, you could only join if you were resident in the US or Canada, but since then they have added Porto Rica and India to the list.
As an associate do I have to meet targets?
If you want to take advantage of the bonuses and commissions then of course you will need to achieve certain targets.
What is the likelihood that I will be able to make an income?
It is a known fact that people who join an MLM are unlikely to earn enough to replace a full-time job.
In fact, the numbers are extremely depressing.
50% – 65% of members do not stay longer than 12 months which means those have to be replaced for the business to grow.
Less than .20% which is a fifth of 1 per cent is where the money goes leaving 99% who don't earn enough to replace a job.
Here, see for yourself what the FTC has to say.
Is there an alternative way of making money that you recommend? 
There are many make money opportunities but if you are looking for a home-based business to replace a full-time job it isn't going to be an MLM.
Maybe as a side hustle!
A better extremely cost-effective way is through affiliate marketing which you can take a look at here.
Feedback, Comments and Subscribe
Hope you guys enjoyed this Tranont review and that it answered most of the questions you had.
Maybe you have experience with Tranont and would like to share this with us.
Any questions please add them in the section below and we will get back to you.
Until next time, stay safe