Welcome to What is Power MBA
An in-depth look at a business training school where you are taught by top CEOs from businesses like Tesla, and Netflix…
Online learning has become extremely popular nowadays and we can see why because of the costs and the flexibility it gives you.
So what will the Power MBA give you and is it going to be compatible with the traditional MBA that will cost you 1000s and mean a year off work?
Before we get started we'd like to mention that we are not associated with ThePowerMBA and therefore won't be pitching to you.
But what you will get is the full lowdown on this training website and whether something you should maybe consider.
So, let's get started.
---
[Affiliate Disclosure: This Power MBA Review has been thoroughly researched from information and testimonials that are in the public domain. This post may contain affiliate links which means we may earn a small commission, however, this won't affect what you pay!]
---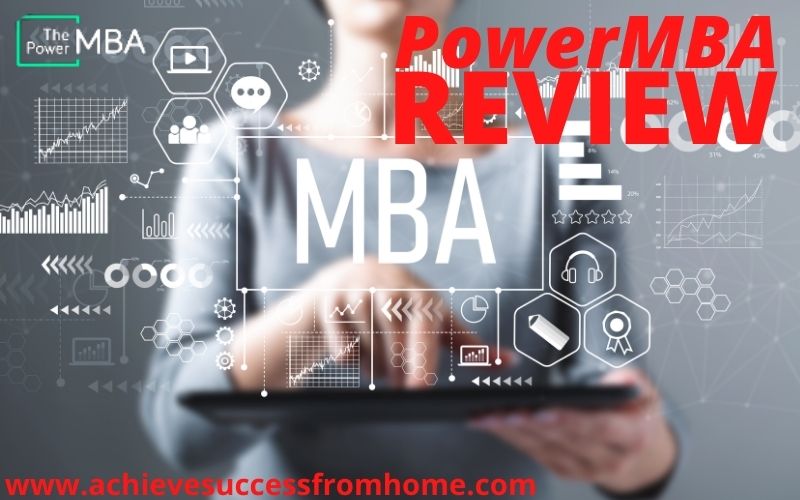 Product: The Power MBA
Founder: Uri Levine, Borja Adanero Guinea, Rafael Gozalo Corral, Hugo Arevalo Alveraz-Arenas
Product Description: Online business course
Price of product: $995
Recommended: Maybe
Summary: eLearning has become very popular in recent times and allows everybody no matter who you are to educate themselves.
With a student debt near $1.6 trillion in the US alone is it no wonder why traditional training methods are changing.
MBA's alone can cost upwards of $100k and unless this is funded by your employer then they are pretty much out of everybody's reach.
That's why training platforms like PowerMBA are becoming so popular.
You might like to check out this training platform that was developed by ex-Harvard graduates where it is possible to study for an MBA online.
The PowerMBA Review – TOC
What is The PowerMBA?
The PowerMBA is a training platform that was founded in 2017 for the Spanish-speaking community and is based in Madrid.
It wasn't until June 2020 that they decided to bring out an English version.
You will notice there are a few people responsible for TPMBA which is headed by an Israeli entrepreneur by the name of Uri Levine.
For further clarification, you can read an article in Forbes magazine here.
PowerMBA or TPMBA bases the strength of this course on top executives who are giving their time to explain what is required in the real business world.
They teach you all about digital marketing and the various steps it would take to start your very own online business.
The course is marketed as a traditional MBA but in reality, there are no comparisons.
So, as long as you are aware of this then let's continue.
PowerMBA Versus Traditional MBA
The course fees are within everybody's reach and whilst it is a self-study course you have a limited time for completing the course.
PowerMBA is put together by real business people in the real business world which should appeal to people.
Which is a far cry from professors and teachers who normally come to the table with little or no real-world business experience.
A traditional MBA usually takes 12 months to complete in most cases taking a leave of absence from work means a loss of pay to add to costs.
The PowerMBA course is split into 15-minute classes and therefore should be easy enough to fit into anybody's working week.
The downside with the PowerMBA course is the certification will not be recognised as a traditional MBA.
What You Get With The Power MBA
The course is spread across 15 months with a 15-20 minute lesson 5 days a week, Monday to Friday.
In its entirety, the actual course is something like 50 hours long which in the grand scheme of things is not that long for a course.
A summary of what you get with the PowerMBA program…
Over 300 classes from top business people from major companies
The curriculum has similarities to a traditional MBA
The course is constantly updated
The course is non-accredited
It works on a self-assessment after each class
Available through many devices
Able to download the course documentation from each class
There are discussion forums within each class
Support through the live chat facility
Theoretical classes from some of the best instructors
Many business cases are available from the top executives
The actual course curriculum is spread across 9 modules…
Module #1 – Business Model Innovation – This module goes into the various business models and stages that exist which are covered by…
Busine model analysis
Engines of growth
The power of platforms
Understanding customers
Value propositions
Blue ocean strategy
Module #2 – The Lean Startup – Where you are taught that it doesn't have cost the earth to start a business
The lean startup method
The lean startup in practice
Module #3 – Business Fundamentals and Strategies – Learn the various marketing strategies, competition and business growth.
Industry analysis
Competitive strategies
Marketing basics
Corporate growth strategies
Module #4 – What it Takes to Become a Real Marketer – The steps it takes to become a true leader.
Power selling
Digital marketing
Customer experience
Module #5 – Entrepreneurship – Learn everything you need to know about how and what it takes to become an entrepreneur and fundraising.
Real life-changing
Who's who in the ecosystem
Fundraising and investment
Module #6 – Leadership – 
Leading yourself
leadership and culture
Module #7 – Management Skills and Tools – What it takes to become management and the tools that are available to help you achieve this.
Agile and project management
Managing people and teams
Module #8 – Finance and Accounting – A taboo subject for many but something you are going to have to get to grips with.
Accounting fundamentals
Financial statements analysis
Valuation, investments and companies
Module #9 – Disruptive Tech in Business 
What you hope to get out of the course on completion…
Understand the present-day digital world better than an MBA graduate
Fully understand business and management in the real world
Discover the business models that work across all industries
Learn what it takes to start a business from the grassroots up
Get the most metamorphic knowledge for business owners
Develop the skills further to lead, inspire and scale teams
Is The Power MBA

a SCAM?
The PowerMBA course is a legitimate course that business professionals will benefit from but this is not to be confused with a traditional MBA.
Traditional MBA's are where you are going to find top executives, whereas PowerMBA will be suitable and available to anybody.
The training comes from high-flying executives at the top of their game but we are not sure just what a 15-minute course will offer.
We don't like how they market this course and the use of the term "MBA".
Other than that, the PowerMBA is not a scam and if you needed further recognition of this just check TrustPilot.
They have a 98% 4.7 out of 5-star rating based on over 2.5k reviews
Power MBA Review – PROs
TPMBA brings to the table a lot of extremely successful executives at the top of their game.
Who is willing to share with you their real-life working experience which you ain't going to get from a traditional MBA.
Low costs compared to the traditional MBA course however the course is not an MBA.
Full refund which is redeemable no longer than the 15th day of starting the course.
PowerMBA Review – CONs
The course is not accredited and therefore not the right choice if you are looking to add this to your resume to improve your career prospects.
Marketing of the PowerMBA we didn't agree with which implied that the course is equivalent to a traditional MBA.
The Power MBA Review

: Final Thoughts!
We thought the course offered good value for money as long as you are not going into this course thinking you are going to be getting an equivalent MBA.
At the end of the day, the PowerMBA will give you a certificate that most companies aren't going to recognize.
However, the certificate will be coming from Harvard so maybe businesses will look at that more favourably.
We can understand people wanting to better themselves by educating themselves but at the end of the day, you'll be working for someone else.
We crossed that bridge a number of years ago now and decided that working from home and being with the family was so much better for our health.
If you want to know more just continue to read.
How we Make Passive Income Online
It's called affiliate marketing, a simple concept and the beauty about this is you can build your online business whilst you are still working full-time.
Once you have the business up and running and let's say 12 months down the road guess what?
It's time to hand in your notice and tell the boss where to go!
The company that provides the training is Wealthy Affiliate and they have been teaching this method since 2005 and have seen over 2 million students.
Check it out and see what you think but if you don't, then you'll forever have that niggling thought, what if!

The PowerMBA Review FAQs
What Is The PowerMBA Business School?
The Power Business School is a worldwide business school that goes against the traditional way of studying.
The normal for taking an MBA would be to take out 1 or maybe 2 years and go back to university which means losing out on salary.
Plus what the course would cost plus 12 months of living expenses.
With probably no job to go back to and that's where something like the PowerMBA comes in.
Not having to risk your job and being able to take the course at your own pace that could be fitted easily into your daily routine.
What Programs Do They Offer At The Power Business School?
There are three courses available…
The PowerMBA is a more complete MBA alternative that covers innovation, startups, leadership, marketing, accounting and finance…
The Power Digital Marketing, where you would learn the basics in marketing leading up to becoming a digital marketing expert.
The PowerMBA advance incorporates both the MBA and Digital Marketing certificates.
Are These Programs Official?
No, they aren't and maybe it mattered a few years ago but times change.
Besides, the courses are from Harvard business school and a certificate from them is certainly going to hold its weight.
How Do I Apply For The Course And Are There Any Prerequisites?
There is no application as such, you just join the waiting list and pay your fee and there are no prerequisites as you would expect on a traditional MBA course.
How Long Are The Courses?
The course length providing you follow the training 5 days a week could last around 15 months.
You are of course only able to continue with the course as the classes appear meaning you can't speed up the training and complete the course sooner.
What Is Included With My Fee?
For your payment of $995, you get access to the 9 modules, all the videos, all the downloadable resources, forums, and job boards, become part of the community plus much more.
Do I Have To Pay The Full Amount Of The Course Upfront?
No, you don't if you are on a budget.
There are several payment options that you can take advantage of.
Two instalments of $518 totalling $1,016
Three instalments of $354.67 totalling $1,064.01
Six instalments of $184.50 totalling $1,107
Does The PowerMBA Come With A Refund?
You have up until the 15th day of joining to decide whether the PowerMBA is the right course or not.
Make sure you don't leave it till the final day and to exercise your right you will have to email hello@thepowermba.com.
Is There A Better Alternative? 
There are many alternative courses out there that can teach you how to build a business.
Here's one that we would recommend and you can check it out here.
Feedback, Comments and Subscribe
Hope you enjoyed this review and that we answered most if not all of your questions.
If you have questions at all please add them below and we will get back to you.
Until next time, stay safe.