If you are looking for the lowdown on what is Automatic Clients then you have come to the right place.
When it comes to making money online it can be a bit of a minefield with so many products just not worthy of your attention.
That's why we created this website, to help people like you find the right opportunity and avoid scams.
Before we get started we'd like to declare that we are not associated with Automatic Clients in any way and you won't find us pitching to you.
But what you will get from us is an unbiased review giving you all the facts so that you can decide whether to try this or not.
With that said, let's get right into it.
---
[Affiliate Disclosure: This Automatic Clients Review has been thoroughly researched from information and testimonials that are in the public domain. This post may contain affiliate links which means we may earn a small commission, however, this won't affect what you pay!]
---
Product: Automatics Clients
Founder: Robert Neckelius
Product Description: Affiliate marketing
Price of product: $27
Recommended: No
Summary: Automatic Clients is all about turning a small ticket item which is, in this case, a $27 ebook into a $25k product.
Although Robert tries to imply that this business model is a new one, it really isn't.
The only thing new about this model is the terminology that he attaches to Automatic Clients to make it seem like it is which we will go into shortly.
You might think how am I going to get someone to go from a $27 ebook to a high-ticket product that costs thousands.
With extreme difficulty let me tell you.
What you are going to get with this product is a lot of upsells which you may or may not want.
A Better Alternative: You will not get any upsells with this product and this 4-step formula is helping thousands to change their lifestyles.
Automatic Clients Review – TOC
What is the Automatic Clients About?
Automatic Clients essentially is an ebook that describes how this business model works.
If you want to speed up the process and can't be bothered to read the 340-page ebook then there is the video series that you could watch.
However, the ebook is worth reading because if you are new to making money online then this process will be alien to you.
It's about how to turn a low-end product into a high-ticket product and the various steps that you have to go through to achieve this.
We have looked at the ebook and it does offer a lot of value but there is nothing new in the book.
That tells us this business model is a new process.
Who is Robert Neckelius?
According to what we could find out,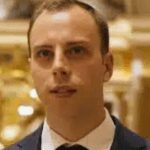 Robert started his online journey in 2012 and in the 5 years that he'd set had achieved his goals at the time.
He travelled the world working a few hours a week and achieved what some people call the laptop lifestyle.
Like everybody there comes a point in your life where you need more because of marriage and wanting to bring up a family.
Affiliate marketers strive to become product vendors where the big money is so Robert created a product and struggled to get sales.
You see if nobody knows who you are then it doesn't matter what product you create, you simply aren't going to get people to buy from you.
So Robert failed and was about to give it all up.
That was until he found a consultant that offered his services at a cost to show him where he was going wrong and the rest is history.
Other than that there isn't much more about Robert except for his Youtube channel which you can find here.
However, there has been no activity on there for over a year.
What You Get With Automatic Clients
The 340-page eBook gives you a full overview of what you can expect to learn through the Automatic Clients business model.
7-day quick start video series that hopes to get you up and running fast.
Almost 3,000 profitable niches
The automatic Clients calculator will help to show you how your offer is going to perform with a 90% accuracy.
Their Facebook ad campaign generated over $200k for you to do whatever you want with.
7-figure sales funnel script that they used.
Automatic Clients Pricing
If you have been looking at other reviews then you might notice that Automatic Clients sold for $5 but is currently at $27.
Not that this should matter because we believe you are still getting value.
If you are new to these types of products or selling methods.
There are always hidden costs and Automatic Clients is no different but to find out what they are you will have to pay the initial fee.
You have to ask the question, "Why don't they be upfront about all these upsells?".
Quite simply if they did then nobody would buy anything from these vendors.
That's what we hate about this sales process because what started off a few dollars often ends up costing a fortune.
How Does Automatic Clients Work?
They explain the whole process as a framework that is split into the acquisition phase followed by the profit phase.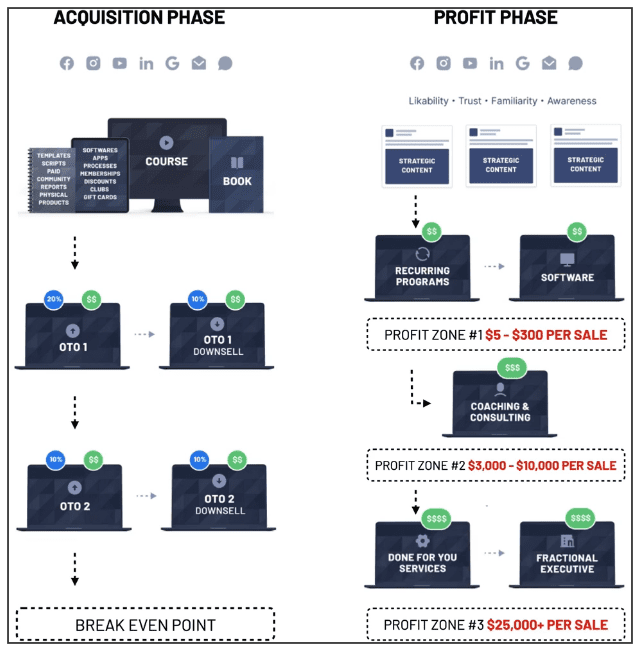 Acquisition Phase
If you take a look at the acquisition phase then this is where they are trying to capture the respective customer details also known as your subscriber.
Sometimes people just offer a "freebie" but here they offer an ebook for a small fee.
Once you have purchased the product then you will be offered a product or upsell of around $197 which when you decline will be offered a lesser valued product but more than often its the same product but cheaper.
The same process with the 2nd product but the main goal of this phase is just to capture your customer's details.
According to Robert they are not that bothered about making money at this stage but expect to maybe break even.
Profit Phase
This is the phase where you hope to make the big bucks.
The idea is to get a rapport going with your subscriber so that they get a good feeling about you.
Your subscribers need to trust you and this takes time so if you expect this process to produce results quickly then think again.
The goal is to convince your subscriber that you are a trustable and likeable person so that they can eventually start selling high-ticket products.
If you watch the sales presentation then you will hear Robert talking about "BOMBARDING" his subscribers.
In other words, how it reads to us is that he will be spamming you offers all the time.
If you look at the diagram it mentions getting their subscribers to hand over anywhere from a few thousand all the way up to $25k.
Will this work? Maybe but highly unlikely!
Maybe the reason why he has increased the value of the course from $5 to $27.
Is Automatic Clients

a SCAM?
There is not a lot of data to be going on to help us deduce whether Automatic Clients is a scam or not.
What we do know is that this method has been used for many years and if adopted with the right approach will work.
What product vendors tend to do is hit you with a load of upsells and work on a percentage.
That it is highly probable that you will purchase at least one of the upsells.
The way Automatic Clients is designed is to work through the use of paid ads which can be very costly.
To give you some sort of idea.
I came across this affiliate marketer who posts a blog titled "Made $140,000 in 36 hours"
Yes, he did make $140,000 but $120,000 he paid out for ads.
OK, he did end up making $20k which is a lot of money but the costs can very quickly spiral out of control if you don't know what you are doing.
Marketing costs are something that these marketers tend to leave out because they would scare a person away.
This course doesn't cover free traffic strategies which is what we use which means we are saving a ton of money.
Not only that but with paid ads you have to be there all the time watching how your campaigns are performing and adding more and more money.
Whereas we don't and we can leave them 24/7/365.

Recommended reading:
What's the future of affiliate marketing in 2022
What's the best affiliate marketing course for beginners
What we Like About Automatic Clients
The initial fee of $27 is very reasonable and even if you did just purchase the product just for the ebook we are sure you will find value here.
There is a full refund policy that lasts for 30 days from the date of purchase and they give you the 340-page ebook for free.
A method that is tried and tested and makes a lot of people some serious money but if you are starting out then creating your own product is not going to be what you are going to want to do first.
What we Don't Like About Automatic Clients
This method is not new like Robert tries to make you believe by adding terms like Ascencion Framework.
All the same, it is a method that has been going for years just rewrapped in a different package.
Upsells after upsells as you always are met with through this type of product and we are not sure how he is going to go from $27 to $25k.
To get anywhere near that figure you will need a lot of experience with a big following and the first product just doesn't give you that.
We don't like videos attached to sales pages with supposed people having success using this product.
They could be anybody just being paid to say whatever they are told to say.
Picture of the owner travelling the world does not give the person any credibility and just dampens any good feelings that we might have had.
They give a false impression
Automatic Clients Review

: Final Thoughts!
Automatic Clients is not some new system that nobody knows about but a method that has been used for many years.
We are not saying that you won't get some benefit from the ebook alone but you have to question why he has increased the purchase price.
If you are interested in an alternative cost-effective way to make money online where your ad costs are zero.
Then we'd love to share with you an opportunity where we are earning a mid-4-figure monthly income within 18 months.
How we Make Passive Income Online
This is not some secret method but a training platform I would recommend 100% to anyone.
It comes from Wealthy Affiliate and has been going since 2005 and has seen over 2 million members.
The beauty about this is it won't cost you a dime to look at and with no credit card details either.
See for yourself here. If it doesn't appeal to you then just walk away but you won't know until you have tried.

Automatic Clients Review FAQs
Why is Automatic Clients now $27 as opposed to $5?
The cost of this product did use to be $5 but currently is sold for $27 so you can read what you want into this.
Could it be that the Automatic Clients system is not performing as it should?
Maybe it is and he just wants to boost the price, who knows?
What exactly do I get for my money and is it really worth it?
You will get a 340-page ebook, spreadsheet with thousands of profitable niches and a 7-day fast track video course plus their best sales campaign.
Access to their private Facebook group and the sales funnel they used to accumulate thousands of dollars.
On top of this, (if you want it) they'll be additional costs that come with this type of product such as upsells and coaching which can run into thousands.
What is the Ascension Framework?
This is basically a fancy terminology that they added to the Automatic Clients model.
Which is nothing new although they try to get you to believe it is.
The process of selling a cheap product with plenty of value to capture the attention of prospective customers and their contact details.
Which they call the "Acquisition Phase"!
Then they try and sell you a bunch of other stuff which you may or may not want but they aren't really bothered at this stage if they make a profit.
That comes in the next stage which is called the "Profit Phase"!
Then as Robert called it they "bombard" you with content to get trust, familiarity and likeability before they try and sell you additional offers.
Here we are talking about high-ticket products as much as $25k
Is Robert Neckelius someone you can trust?
To be honest we can't really say simply because of the lack of information that is available.
Vendors like Robert have often brought on previous products but it looks like Automatic Clients is his first product brought to market.
There is a lot of work gone into this product which doesn't come cheap but whether he has been successful with this system or not we can't really tell.
Is there a refund policy?
Yes, there is and you have 30 days from the date of purchase to decide whether Automatic Clients is for you or not.
You also get the 340-page book to keep as well.
Is there a better alternative? 
There are many better alternative courses out there that can teach you how to build a business that doesn't come with a bunch of upsells.
Here's one that we would recommend and you can check it out here.
Feedback, Comments and Subscribe
Ok guys, what did you think?
We hope you got some benefit from this Automatic Clients review and if you did, feel free to share.
Any questions don't hesitate to ask and we will get back to you.
Until next time, stay safe.