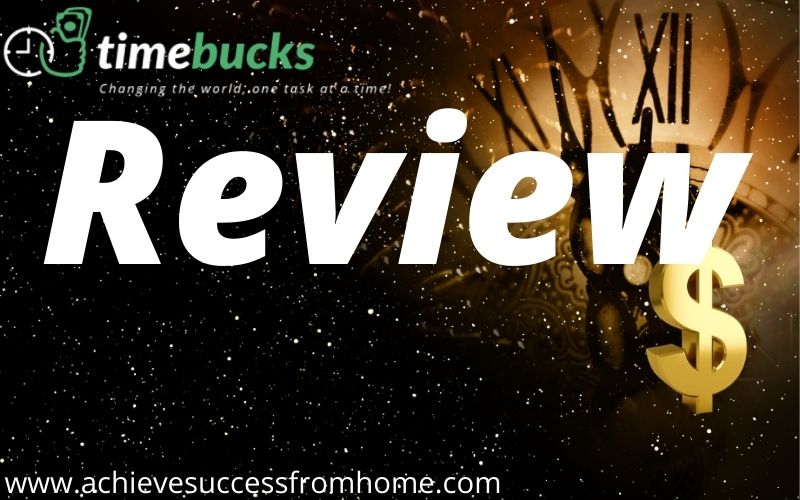 Welcome to the
TimeBucks Review
For anybody who is looking for a little help on the financial side, the internet is the place people tend to go.
For some strange reason, people believe that the internet has all the answers, well to some degree it has.
Although learning how to make money online can be difficult with so many scams.
Probably the reason why so many people seek out survey sites whether they are dedicated or as they are mostly now GPT sites.
Thorough research is the key to finding legit make money opportunities like you are doing here but don't stop here, check out many more and then make your decision.
What you'll find with many reviews is that they are one-sided but you won't get that from us.
What you will get from us, is an honest unbiased review with all the facts, pros and cons so that you can go away and make the decision yourself as to whether you should try this site or not.
Let's dive and see, shall we?
---
[Affiliate Disclosure: This post may contain affiliate links which means I may earn a small commission if you purchase anything through one of the links. However, this will not affect what you pay!]
---

Product: TimeBucks
Founder: Australian Clearing Pty Limited
Product Description: GPT site
Website: www.timebucks.com
Price of product: Free to join
Recommended: No
Summary: If it's your first time looking for ways to make money online then you should know that reward sites like TimeBucks are not be used as a replacement for a job.
People go to these sites because there isn't a learning curve and the tasks are very simple and straightforward.
They are also very frustrating and extremely time-consuming as they can take over your life if you let them.
Let me explain.
We have just completed a review on a site where they have a leader board for the current month which showed a member earning between $400 and $500.
Now, this is quite extraordinary for online surveys but they had completed over 450 surveys to get to that point which meant they averaged 15 surveys a day.
The rule of thumb with online surveys is that you can expect to not qualify for 80% of them, which includes the ones you might get thrown out of as well.
So do the maths.
I know online surveys are a place to start because that was how I started but I knew I wasn't going to be able to do the things I wanted to do in life.
This I realized very early on and decided to do something about it.

---
If you are sick and tired of SCAMS, Pyramid schemes, MLMs, recruiting, having to purchase stocks, haggling family, friends and customers. Looking for a proven method of making money online, then check out my #1 recommendation. 
---
Internal Summary and Navigation
---
What is TimeBucks about and who are the Founders?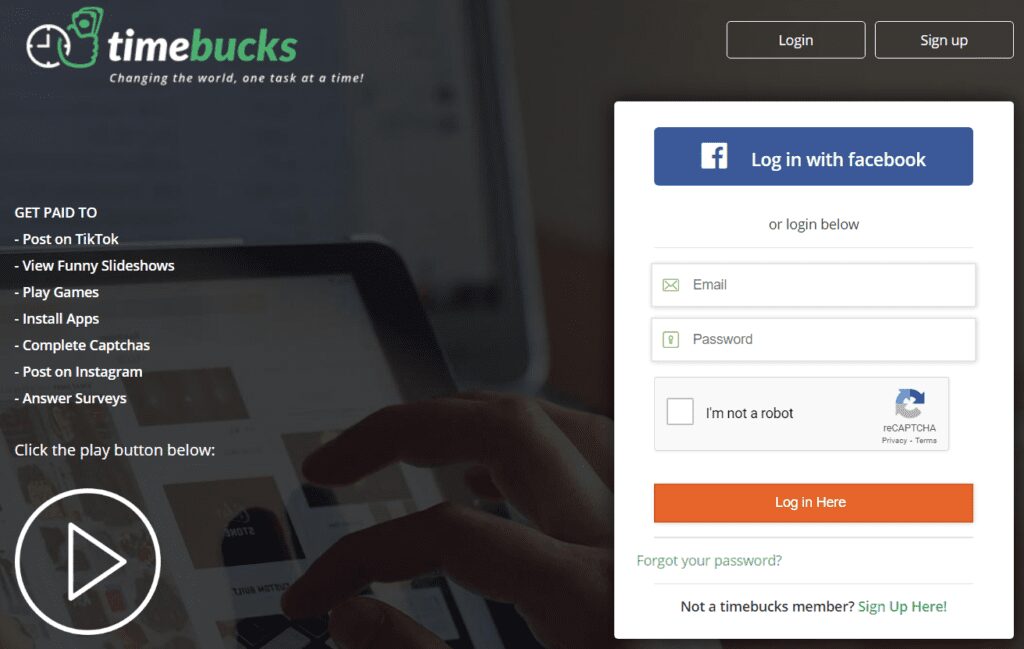 TimeBucks is a GPT or get-paid-to site where members are rewarded for taking part in online surveys and other tasks like watching videos, downloading apps, playing games and many others.
Founded in April 2014 and based in the US.
The reason why GPT sites have all the additional tasks is to keep you on the website for prolonged periods and whilst they may seem a little fun at first.
Let me tell you that after a few hours they become laborious and very frustrating answering the same questions over and over again and again.
But, for people in countries where there is no employment or help on the financial front these GPT sites are a godsend.
You might like to watch a TimeBucks presentation here
So who is responsible for TimeBucks?
Finding the owners of any business is important and says a lot about who they are and their credibility.
Often with these GPT sites, we are unable to find the actual owners or they seem to not want to be associated for some reason.
We couldn't find the actual founder of TimeBucks but we did find that they are owned by the Australian Clearing Pty Ltd.
---
How does TimeBucks Make Money? 
You might wonder how TimeBucks can afford to pay its members when it costs nothing to become a member.
Well, that is all down to market research, which companies, especially big companies need to help them compete at the very top.
A business strategy that helps to find markets and to expand existing markets, along with current trends and consumer behaviour.
It is the job of companies like TimeBucks to connect people, in this case, TimeBucks members to 3rd party companies.
For doing so TimeBucks are paid a commission which is shared amongst the members who participate in the research.
This is all done through a very popular and proven method which is called affiliate marketing.
Pretty much like how this website that you are currently on operates.
---
How does TimeBucks

W

ork?

Becoming a member of TimeBucks is a straightforward process.
You can either signup using your Facebook account or you can enter your email and password.
You are required to reply to an email to activate your account then you are ready to go.
The first thing you need to do when you sign in is to complete your registration by updating your profile.
This will give you access to some of the other features.
With TimeBucks you will notice a considerable amount of ways to make money but surveys are the main way of earning.
Surveys
Content
Tasks
Referring others to join
Offerwalls
Ali Express
Links
Sweepstakes
Premium

Surveys
One thing you will note is the number of different survey routers available so in theory, so there shouldn't be a lack of surveys.
However, you might find a restriction on the amount available to you based on geographics.
The amount of time these surveys can take is anywhere from 1 or 2 minutes to just over 30 minutes.
A tip here would be to try and not select the longer surveys because there is a very good chance that you could spend 30 minutes on a survey only to be thrown out.
Most surveys are in the lower amounts with some as high as $.90
Something else to be aware of is that you will probably only qualify for 20% of the surveys that you go for.
For instance, select 20 surveys and you will not qualify for 16 which can be very frustrating.
Content
Here you can get paid for clicking on adverts and watching an advertisement and these will pay around $0.004 and they last around 60 seconds.
That works out at $0.24 an hour and that is providing there are enough of these videos to watch, which isn't a good use of your time.
You can also get paid for searching, just like in Google but their own search engine.
Watching videos is another way but these only pay $0.001.
Tasks
There are a number of tasks available by the advertiser that you have to complete and send proof.
These could be website signup, writing content, creating videos, downloading and installing apps plus many more.
Referring others to join 
You could use your unique affiliate link to promote TimeBucks on social media and get people like family and friends to join.
As of this review, TimeBucks offer a 15% commission for everybody who joins.
So when your referral becomes a member they get a $1 bonus of which you will make $0.15.
Anything your referral makes throughout the time they are a member you will earn 15%.
If your referral reaches the minimum threshold which is $10 then you will make $1.50
Just think if you were able to master how to promote TimeBucks (the right way) then you could be onto a little earner.
100 referrals each make $10 a week which equals $1,000.
That means your commission would be $150.
$150 * 4 = $600 for the month.
Offerwalls
Subscribe to offers which could be anything from surveys through to playing games, entering competitions, watching videos and a host of other activities.
Ali Express
Shopping through TimeBucks to Ali Express allows you to make cashback discounts which you would be able to do going direct.
Any cashback that you have coming your way will be held for 30 days, that's just an agreement taking into consideration any refunds.
Links
You can even get paid for getting traffic to links that you create through the TimeBucks content click generator.
Just find any URL link that people would be interested in, just create the link and promote it.
Any unique clicks on the link and you will be paid.
US = $0.016
GB,CA,AU,DE = $0.009
Rest of the world = $0.0015
Sweepstakes
There is a weekly sweepstake given out in the way of $500 for 30lucky individuals.
$250
$50
$30
to 10th = $10
11th to 30th = $5
Premium
There is a paid membership at TimeBucks which allows you to increase your earnings by 25%.
So, earn $1 and this will be increased to $1.25
All this can be had for $4.95 per week.
How you get paid
The main and only method of payment is through Paypal which is safe and quick.
There was an alternative method which was Bitcoin but this has been removed.
Payments are done automatically and happen when you reach the $10 threshold and are every Thursday.
---
How much can you Realistically make with TimeBucks?
This all depends on how dedicated you are and how much time you spend on the site.
Most people will spend a couple of hours on an evening after they have finished work, whereas some people who don't have jobs will dedicate all their spare time.
Taking into consideration that you will fail to qualify for around 80% of the surveys then spending a couple of hours a day, expect to earn around $50 to $100 a month.
---
Who is TimeBucks

 F

or?
TimeBucks is for anybody who enjoys spending time completing online surveys and wanting to make a little extra money.
Regardless of what some people will tell you, they are not a recommended way to replace a 9 to 5 job and you ain't getting rich doing them either.
If you are really looking for a way to improve your lifestyle dramatically then I would suggest looking at affiliate marketing.
---
What we liked about TimeBucks
The cash-out threshold is low at $10 which is good and you should be able to reach this pretty quickly.
TimeBucks is available throughout the world however there will be restrictions on the number of surveys and tasks that are dependent on your geographics.
It's 100% free to join, although there is a premium membership that allows you to increase earnings by 25%.
There are many other ways to earn with TimeBucks other than surveys which are great and should keep you occupied.
Support seems to be pretty good as we did email them and got a reply within 1-2 hours.
They have 90% positive feedback coming from TrustPilot.
---
What we don't like about TimeBucks
Low earning potential – Expect to earn between $20 and $50 a month unless you really dedicate a lot of time.
It is highly likely that you will receive a lot of letters from TimeBucks or spam as you know it, which can be a problem.
There is no mobile app which means it will be more challenging.
You can only cash out once a week on a Thursday.
Paypal is the only payment method and that may be a problem coming from certain countries.
---
Is TimeBucks

a SCAM or LEGIT?
It all depends on what you class as a scam, but our research certainly hasn't been able to highlight TimeBucks as such.
Our feelings towards GPT sites, in general, are that they do not allow you to make a decent amount of money.
They are notoriously hard work that requires a lot of dedication just to make a few bucks but that doesn't mean that businesses like TimeBucks are scams.
We certainly wouldn't go out of our way and recommend an opportunity like this although different people have different needs.
These opportunities are simple and straightforward and that's the reason why so many people get involved with them.
I myself included, but I realized very early on that my lifestyle was not going to change and that I really needed to find a better way.
---
TimeBucks Review

: Final Thoughts!
TimeBucks may not be a life-changing opportunity but at least you will be able to make a few bucks here and there.
At the end of the day, the choice is yours and like we have mentioned earlier earning a few bucks no matter how small the amount can help many people in countries where times are hard.
TimeBucks is a legitimate rewards site and you will earn some money however, it is all down to what you want out of life.
Are you happy just earning a few bucks or do you really want to learn something that will make a massive impact on your life?

---
Feedback, Comments and Subscribe
Ok, guys, well that is it for this TimeBucks.com review and we hope you enjoyed it and if you did feel free to share this review on social media.
Any questions that you'd like to ask us they remember to add them in the comments section below.
Until next time, stay safe.
#PaidSurveys, #onlinesurveys, #MakeMoney, #MakeMoneyFromHome, #Money, #FreeMoney, #FreeGiftCards, #TimeBucks, #TimeBucks.com