Welcome to the
Rewards1 Review
With so many of these reward sites around it is often difficult to find the right one to spend the time on.
Rewards1 is a site that we had never heard of before, until just the other day when we received an email in our inbox.
We know through extensive research that reward sites can be very laborious and often only allow you to earn a few extra bucks.
The most you will ever make with these sites is maybe $50 a month with spending an hour a day.
However, some do earn more money and that is with devoting many hours but is that what you want to be really doing or are you looking for something better?
In this Rewards1 review, we are going to give you all the facts so that you can decide for yourself whether this is a site worthy of your time.
So let's dive right in.
---
[Affiliate Disclosure: This post may contain affiliate links which means I may earn a small commission if you purchase anything through one of the links. However, this will not affect what you pay!]
---

Product: Rewards1
Founder: Jason Chen
Product Description: GPT site
Website: www.rewards1.com
Price of product: Free to join
Recommended: No
Summary: At Rewards1 there are mixed reviews with some of the members who have been there a number of years stating that the site is not as good as it once was.
We noticed that the number of points per task is not as good as let's say Swagbucks or Idle Empire.
Quite a few people are making claims about having their accounts suspended but that could be down to a number of reasons.
The problem that you are always going to encounter with GPT sites is that you are only going to qualify for 20% of the surveys.
I remember those day's myself but decided to move on and find a better way to earn money online.

---
If you are sick and tired of SCAMS, Pyramid schemes, MLMs, recruiting, having to purchase stocks, haggling family, friends and customers. Looking for a proven method of making money online, then check out my #1 recommendation. 
---
Internal Summary and Navigation
---
What is Rewards1 about and who are the Founders?

Rewards1 is a rewards site that provides a way to connect users, in this case, Rewards1 members with 3rd party companies for market research.
This is all done normally through online surveys but there are other tasks like watching promotional videos, downloading and testing products and signing up for offers.
They were founded in 2007 and therefore been around the block a bit so you would think that they must have been doing something right for them to have been around so long, right?
According to their site, they have had over 4 million members, is free to join and open to other countries throughout the world.
However, we have found that it all depends on whether you come from a tier 1 country or not which will determine the number of surveys and offers available to you.
So who is responsible for Rewards1?
Jason Chen is the person who founded
Rewards1 in 2007 and based out of British Columbia.
Jason started Rewards1 straight from the university after getting his degree in Computer Science.
---
How does Rewards1 Make Money? 
Ever wondered how rewards sites like Rewards1 actually make their money, especially as it doesn't cost you anything to join?
Market research is big business and helps major companies compete at the highest level.
Through helping to find new markets to exploit and expanding existing ones.
They also take into consideration current trends and consumer behaviour amongst many other things.
Rewards1 acts as the affiliate whose only job is to connect people, in this case, Rewards1 members to 3rd party partners.
In return, Rewards1 is paid a commission from the 3rd party partner and this is shared amongst the members.
---
How does Rewards1

W

ork?
It's very easy to become a member of Rewards1.
Just enter your email address and a user name and reply to the email sent by Rewards1 to activate your account.
Then once you are in the member's area, the first thing you should do is fill in the questionnaire regarding personal information.
This will ensure that the right surveys are matched to your account.
The points to cash relationship are very straightforward.
1 point = $0.01 or 100 points = $1
There are a host of different activities that a member can take part in with some listed below…
Surveys
Watching videos
Offer wall
Daily quest
Playing games
Entering free contest
Referring others to join
Surveys
At first glance, there does appear to be plenty of survey providers and if you are familiar with online surveys then you should be familiar with some.
Dynata
Peanutlabs
Theorem Reach
Opionionetwork
CPX Research
SaySo Rewards
Paneland
Opinion Capital
Ampario
Innovate
Even though there are plenty of survey providers this doesn't necessarily mean you will qualify for many surveys, unless you come from a tier 1 country like the US, Canada or the UK.
Qualifying for surveys no matter which site we are talking about can be a problem no matter whether you are from the US or another.
According to the Rewards1 website, the qualifying success rate for surveys is around 20%.
That means for every 100 surveys, you will fail to qualify for 80 surveys.
Now I don't know about you but those stats are pretty awful!
Watching Videos
Another way of earning points is through watching videos but this can be mind-numbing, bearing in mind that these pay around 6 points and with 100 points making $1 that's a lot of videos to watch.
To redeem your points you have to watch the advertisements between the videos, well at least let them play out anyway.
You know the advertisements that you normally skip when watching Youtube videos, so remember not to do that if you want to earn points,
There are a few categories that you could choose from like sports, music, food, comedy etc.
So you should be able to find something of interest that is not going to bore the pants off you.
Offer Wall
There are a number of partners in this section that provide paid offers, free trials and downloading and playing games.
You can also find more surveys in this category.
Daily Quest
The daily quest is another way of earning some extra points by way of reaching a certain amount earned in one day.
Like a challenge, you reach a certain amount and for that, you are rewarded.
Playing Games
For people who enjoy playing games, there are some high points to be earned here.
All that is required with some of the games is for you to open the app, whilst some of the bigger earning games require that you achieve a certain level before you are rewarded.
There are some games that require payment from you so just be aware of those.
Entering Free Contests
There are 2 leader boards, one for the US members and the other is for international members.
These contests reward the members who have been most active and earned the most throughout the week.
The first 20 from both leaderboards will get a percentage of their current weeks earnings which is ok for doing nothing.
This is currently between 2 and 10 per cent.
With 10% being for coming first.
Referring others to join Rewards1
Each member has their own unique referral link which most tend to use to invite friends and family.
Remember, it wouldn't be wise to invite people you know if this make money opportunity was not that good, otherwise you might upset a few.
This can be a lucrative way of making some extra cash as Rewards1 offer between 30 and 40 per cent commission for anything your referral makes and this is for life.
Just think about it!
Invite 100 people to join Rewards1 and they each make let's say $10 a week.
That's 100 * $10 = $1,000 for the week.
On the lowest percentage of 30% means your commission would be $300, which is a $1,200 commission for the month.
Not bad for doing nothing, right, but you need to learn how to promote Rewards1 the right way.
Posting your affiliate link everywhere just does not work and it can get you into trouble with getting banned. There is a right and a wrong way to do this.
There are 7 ranking levels at Rewards1 that you can take advantage of and each level opens up certain perks.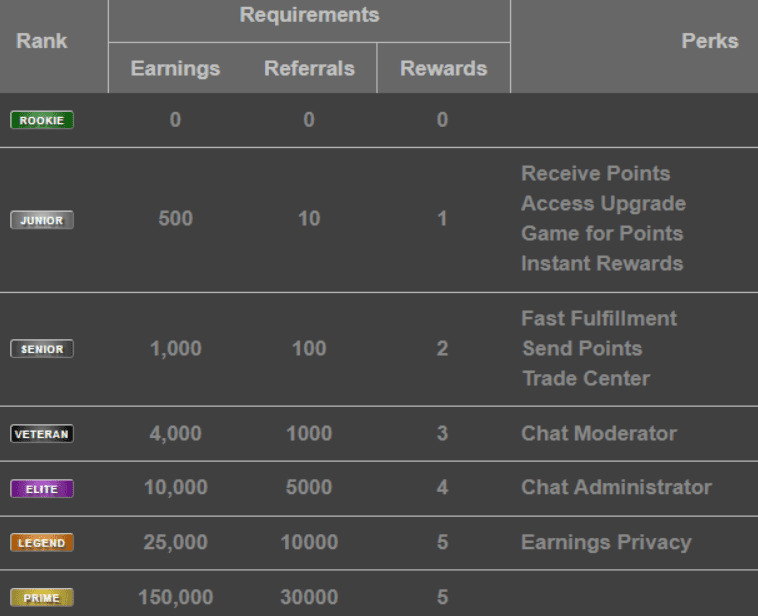 These levels are dependent on your earnings or the number of referrals you get to join, but not both.
How you would get paid
There are a number of ways to redeem your points with PayPal been the most popular.
Other than that there are a number of gift cards you can use as well.
The minimum number of points you can redeem is 500 or $5.
One thing to point out is the higher you are ranked the quicker you can get paid.
---
How much can you Realistically make with Rewards1?
Rewards1 is like all the other GPT and dedicated survey sites and that is you ain't going to be earning enough to replace your day job.
At the end of the day, it all depends on how much time you dedicate to the site.
If you are a person who isn't working then you could earn somewhere between $100 and $200 a month but you have to be prepared to spend a lot of your time on the site.
But, instead of earning $200 a month, what about $200 a day or more, would that interest you?
Most reviews you will see, claim that there is big money to be earned, but seriously this just isn't going to happen.
If you use the site 1 to 2 hours a day then expect to earn between $50 and $100 a month.
That works out at $0.63 an hour.
Not great considering the minimum wage is around $12/hour.
---
Who is Rewards1

 F

or?
Rewards1 is for anybody who would like to earn a few bucks in their spare time.
However, the number of surveys and offers that will be available to you will be dependent on which country you come from.
The leaderboard shows many coming from the US so I guess then that people coming from that location will have precedence.
---
What we liked about Rewards1
Rewards1 has been around for well over a decade and must have been doing something right to have lasted so long.
It's free to join

Surveys are forthcoming but this all depends on the country you reside in
Plenty of additional way's other than surveys to earn points
Support seems to be pretty good
Been around since 2007
Great referral commission between 30%-40%
---
What we don't like about Rewards1
We did find a number of things that we didn't like about Rewards1 and we have tried to highlight the most important ones.
The website is confusing and hard to see

Members are claiming that they aren't been paid and accounts suspended

Some countries are going to struggle with surveys and offers available to them

Problems with qualifying for surveys

Earning potential is very poor
Points that are rewarded are on the low side compared to many other GPT sites.
---
Is Rewards1

a SCAM or LEGIT?
Although we wouldn't put Rewards1 into the scam category it does come pretty close and whilst it may not be as such we certainly wouldn't recommend Rewards1 either.
Rewards1 according to some members used to be a reputable rewards site but in recent times things seem to have gone downhill a little.
---
Rewards1 Review

: Final Thoughts!
At the end of the day, the decision is down to yourself as to whether you go ahead and try this rewards site.
If you are happy with just making a few bucks here and there then maybe Rewards1 might be worth trying.
However, there are much better sites like Swagbucks, Idle Empire, ySense or Free Skins all worth a shout.
That said if surveys are just a stop-gap and you really want to learn how to make some real money…

---
Feedback, Comments and Subscribe
If you are currently a member or have been a member in the past, we'd love to hear about your experiences with Rewards1
If you enjoyed this Rewards1 review then feel free to share it on social media.
Any questions at all don't forget to put them down in the comments section and we will get back to you.
Until next time, stay safe.
#PaidSurveys, #onlinesurveys, #MakeMoney, #FreeMoney, #FreeGiftCards, #Rewards1