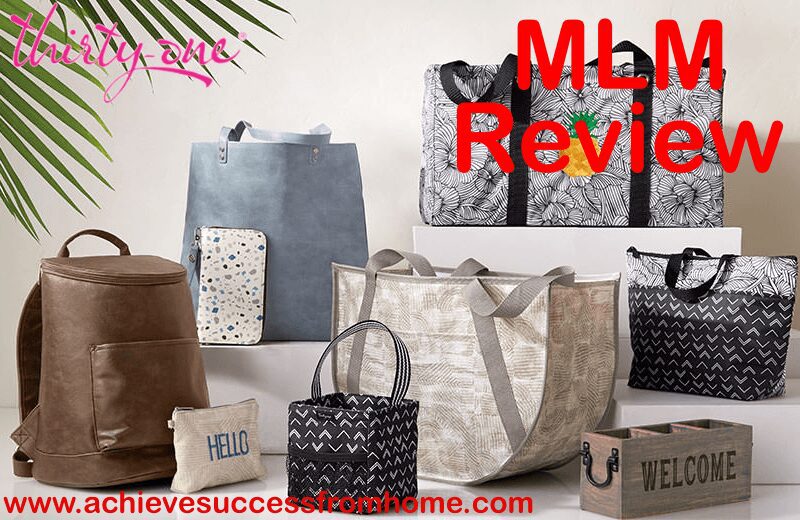 Welcome to this Thirty One Gifts MLM review.
So many multi-level marketing businesses fall short on expectations, not always because of the product but the business opportunity that comes with them.
At Thirty One Gifts, the products do look appealing and many are raving about them, although the business side for anyone interested tells a different story.
Whilst most MLM businesses hide any proof of income disclosure, at Thirty One Gifts they are happy to disclose their Thirty One consultant's incomes, even though it doesn't do them any justices, but I'll leave that up to you to decide.
I am in no way associated with Thirty OneGifts and only here to produce the facts so that you can make an educated decision whether this is a viable business opportunity or not.
So, let's get into this Thirty One Gifts review and see what you think.
---
[Affiliate Disclosure: This post may contain affiliate links which means I may earn a small commission if you purchase anything through one of the links. However, this will not affect what you pay!]
---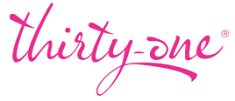 Product: Thirty One Gifts LLC
Location: New Albany, Columbus, Ohio, US
Founder: Cindy Monroe
Founded: 2003
Website: www.mythirtyone.com
Product description: Selling a large range of women's fashion accessories such as ladies purses, bags, Gifts, and home items, as well as a business opportunity for anyone interested.
Best For: Experienced network marketers with a big following (email list).
Cost to join: $99 or $130 which includes custom signature kits worth $231.
There is also a monthly fee of $16.95 which is for the business package, website, emails, landing page, etc.
That's the first-year cost of $302.40 followed by $230.40
Price of products: As far as women's bags go they are reasonably priced, up to around the $150 mark with many in the lower tens.
Recommended: NO – The product range may look great even though they are made in China, but a little let down because I thought this business would be US, through and through.
With regards to a business opportunity, looking at their income disclosure I really don't see a business opportunity there but all will be revealed a little later on.
Synopsis: Thirty One Gifts is a party planning type business where consultants are encouraged to sell and market their products through organised home parties, which is not limited to Thirty One consultants.
---
Internal Summary and Navigation
---
What is Thirty One Gifts about and who are the founders?
Thirty-One Gifts is the brainchild of Cindy Monroe,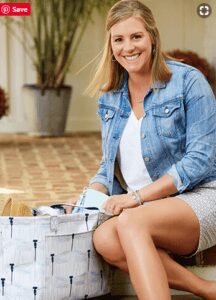 which was started in 2003 in the basement of her Chattanooga home and now based in New Albany, Ohio.
With one thing in mind and that was to help women with an opportunity to run their own businesses from home and help support their families, which still remains her number one goal today.
Thirty-One Gifts was primarily set up as a "Party Planning" business where consultants invite friends and family to their homes, pretty much like Avon and Amway.
Over the last 17 years, Thirty-One consultants have held well over 6 million parties in homes, bars, restaurants, with many nowadays taking advantage of the internet and social media.
Primarily aimed at the women's market, with bags the main product, along with purses, jewellery and many other giftable items and even the inclusion of men's products.
One thing Cindy noticed was that nobody was offering monogrammed products for sale and saw an opening there.
The company has grown from strength to strength with revenue peaking in 2015 to $700 million.
Nowadays, at Thirty-One Gifts, the revenue as somewhat levelled out to around $400 million in yearly sales.
They currently have around 1,000 employees and over 100,000  sales consultants playing actives roles, covering all the US states and Canada.
According to the CEO, the name "Thirty-One" is a reference to an old bible exert that refers highly towards women.
Her husband Scott who is/was a minister and end up switching careers and taking up an executive position at Thirty-One Gifts.
What I have noticed through the speed and growth of the company, is that they have not been able to keep up with demand from its customers and this is noticeable through the reviews I see scattered about.
Check out what the owner has to say in this short promotional video.
With Thirty-One Gifts, their heart is in the right place 
Whenever any business gives back to the community then it has to be a great thing and at Thirty-One Gifts they are doing just that.
The organisation "Thirty One Gives" was born in 2012 to help less fortunate families like our own and has donated over $100 million in cash and products to non-charitable organisations throughout the US and Canada.
Focused on helping girls, women and families, whilst supporting life-changing research where children are suffering from mental difficulties.
---
Is Thirty One Gifts a Pyramid Scheme?
Many people have an understanding that any business associated with an MLM business model is a pyramid scheme and that just isn't the case.
All businesses operate in a pyramid style fashion and this is something you just can't get away from.
However, because of the way that an MLM business model works, many see this as an opportunity and a way to abuse the system.
The focus of all businesses should be the product or products that they have to offer and not just recruiting others to join.
The product has to be a genuine product and not something to hide behind like what happens sometimes.
Thirty One Gifts has an extremely extensive product range here so I think we can safely say that this is not a pyramid scheme.
---
Let's look at the Thirty One Gifts products range
Thirty-One Gifts has an extensive product range and they just keep adding more to it.
I lost count at 500 products on the official Thirty One Gifts website!
The product range is mainly based around the everyday women's bag, whether a handbag, thermal bags, or travel bags, with additional categories added to include household goods and gifts.
What helps make Thirty One Gifts unique is that their competitors don't offer a monogrammed option whereas Thirty One does and allows most of the items to have that personal touch.
---
Thirty-One Gifts most popular product range
Thirty One Fresh Market Thermal
A great looking thermal just right for those scorching days out on family picnics and trips to the beach, made in water-resistant material.
The sides snap open to extending the space inside, with long handles to carry over the shoulder.
Comes in a total of 9 different styles
Thirty One All Packed Duffle
A bag suitable for the gym, camping or week-ends away with an outside pocket to keep shoes away from your clothes.
Comes in 4 different styles
Thirty One Close To Home Caddy
A very chic looking handcrafted caddy in Mango wood, with 3 compartments for storage items that would look great anywhere in the home.
Thirty One Zip Top Organizing Utility Tote
A very handy bag that comes with 7 exterior pockets and comes in 11 different styles.
For that night on the town that comes in 3 different colours.
Thirty One Large Utility Tote
One of Thirty Ones most popular products that are large enough to accommodate many larger items and come in a sturdy wireframe.
Can be bought in 19 different styles.
Please to note that…
All the above items can be monogrammed to give you that personal touch.
---
The Thirty One Gifts product range can be found within the categories listed below…
Everyday type of bag for every eventuality. Shoulder, Totes, Backpacks, Work bags, Diaper bags.
Wallets, Pouches, Travel, Techie, Straps, Small accessories.
Weekender and overnight bags with accompanying accessories.
Cooler bags for those really hot days. Kiddies lunch, Work, Sports, Beach and Pool, Small thermals, Large Thermals.
Utility on the go, Storage and Organisation, Family Room Organisation, Playroom Organisation, Pillars and Home Decorations.
Personal gifts, for him and here. Weddings, Graduation, Birthdays etc.
---
For a closer look at the extensive Thirty One products range with current prices…
Check out the full range of products on their website by clicking here.
To get a better idea of what's on offer before you decide to purchase and whether this could be a good business opportunity for you.
You can also find reviews against the individual products there and whilst I expected only positive reviews you can also find negatives reviews there too.
---
Thirty-One Gifts Business Opportunity – What you need to know
Like all MLMs, there is a business opportunity and it all depends on whether the products are something you believe in and can trust.
I think you will agree there are more than enough products at Thirty One Gifts and something for everyone. That's women really, although I gather that more men's products are been added.
With well over 100,000 Thirty-One Gifts consultants out there then many obviously do think that there is a lucrative business here.
Many are only too happy to be able to make a few dollars here and there to help pay bills, and if it's just a few dollars you are looking for then look no further and all will be revealed a little later in this section.
---
How to Make Money With Thirty-One Gifts
Like with all MLMs businesses you can make money by…
Purchasing the products yourself.
Selling to interested customers.
Recruiting others and building a sales team.
It's all about building your PV (Personal Volume) and your GPV (groups personal volume), which all goes to your ranking within the business so building a team is paramount if you want to have any chance of success.
---
As you can see by the image below, commissions start at 25% and increase to 35% for monthly sales that achieve $500 and more.
At first glance, this does look extremely lucrative and you're probably thinking I can do this.
Just sell $10,000 worth of products and you would receive $2,500 in commissions along with a $1,000 personal sales bonus.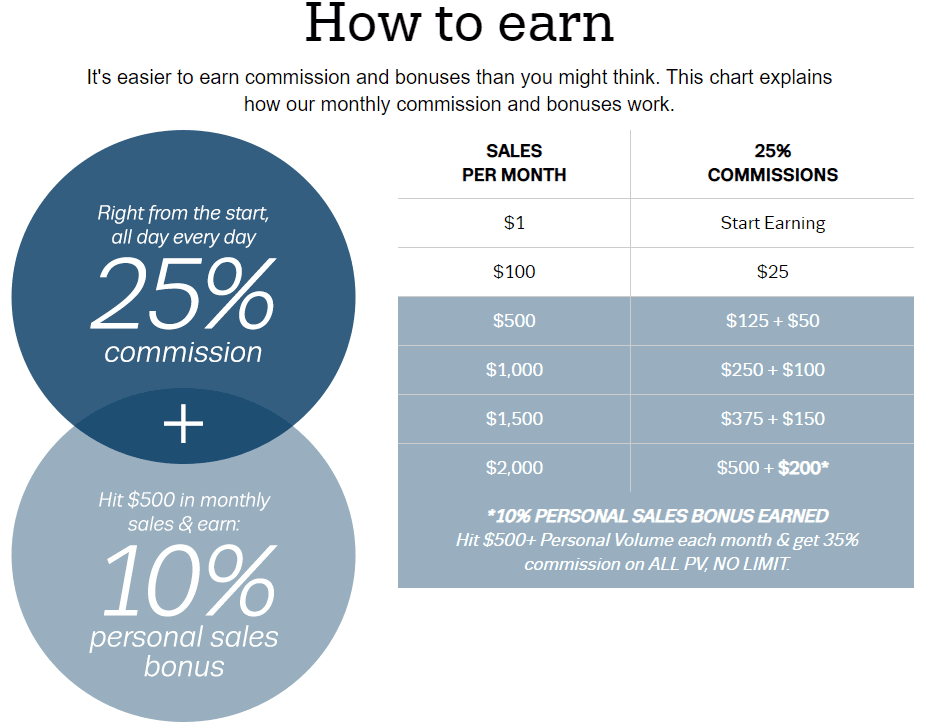 ---
Here you can check out the Thirty One Gifts Compensation Plan for yourself
This is a pretty straight forward compensation plan so I'm not going to get into the figures and let somebody else do this for me.
---
Are Thirty One Gifts Consultants actually making money?
As you can see in the image below as a business opportunity it doesn't look good at all, but I suppose it all depends on what you are looking for.
Just like any business if you are prepared to get your head down and work hard who knows where this venture could take you but we have to be realistic here, don't we?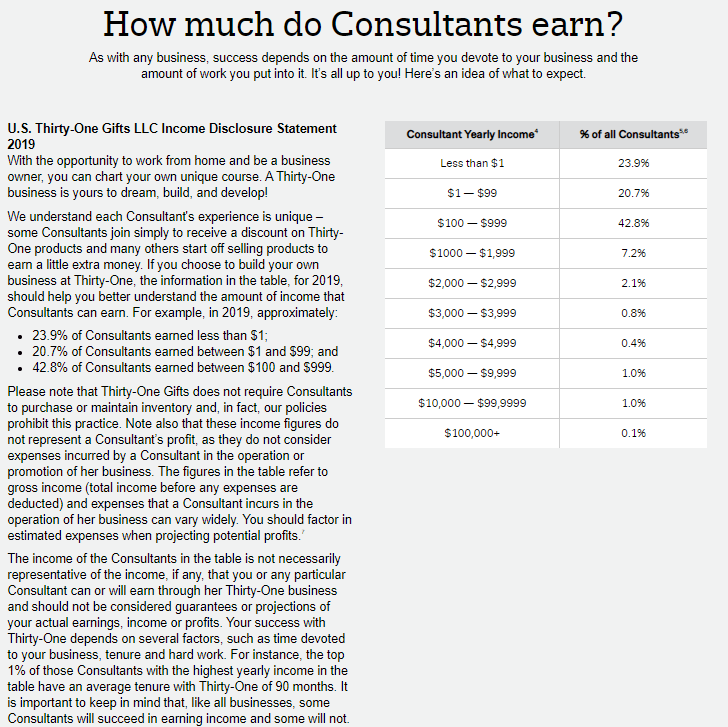 Whilst you have to praise Thirty-One Gifts for actually disclosing these figures you can understand why many MLMs are not for the fainthearted.
Just looking at these figures should be enough for you to run a mile, but you might choose to ignore and decide to go ahead anyway.
As you can see its the top 1-2 per cent who make the real money. In fact, it is just over 1% according to the above income disclosure.
Thirty One Gifts consultants hard facts on a yearly basis!
87.4% alone earn less than $1,000
98.9% of all consultants make less than $10,000 a year
Would you call this a good business to get involved with?
These figures are pretty much what to expect with all MLMs so don't think because Thirty One Gifts figures look bad that you are going to find a better business opportunity somewhere else because you won't.
---
What others say about Thirty One Gifts
There are plenty of Thirty One Gifts reviews to be found on their website against individual products, along with their Facebook Page as well as their Google My Business Platform.
I chose to dig out a few mixed ones.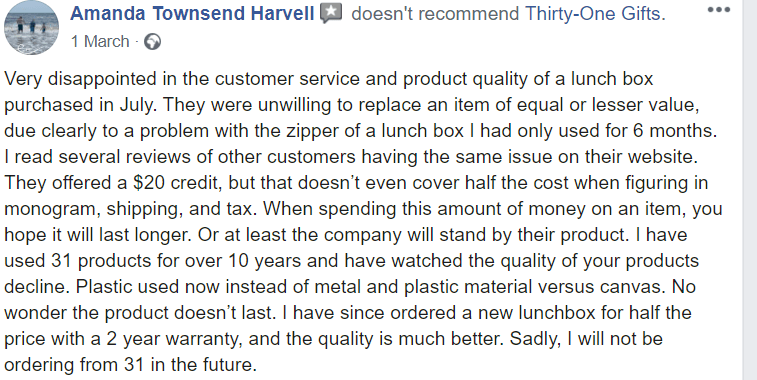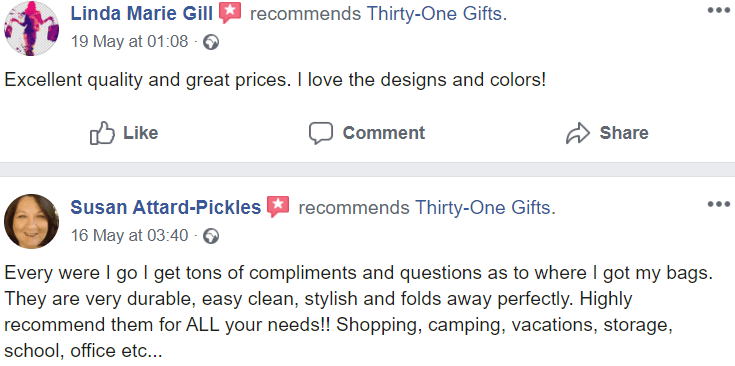 You are always going to get a few issues no matter how good the products appear to be.
Overall, Thirty-One Gifts get 4.5+/5.0 stars which in my book is pretty good, to say the least.
---
What I like about Thirty One Gifts
It's not all bad because there are a few things I actually liked about Thirty One Gifts.
Accredited with the Better Business Bureau since 2013.
Extensive product range with many popular items.
The compensation plan is straight forward.
Reviews are positive.
They donate to charities.
I like the fact that there is an income disclosure which is pretty rare amongst MLMs.
What is unique at Thirty One, is that most of the products can be monogrammed to give it that personal touch.
---
What I don't like about Thirty One Gifts
I could have gone a little overboard here with the dislikes but the business as a whole did look OK, it's always the business opportunity that lets the side down.
98.9% of all Thirty One consultants earn less than $10,000 a year.
As much as 65% will have left the business by the time their year is up.
Not for beginners trying to make a living online.
Supply doesn't appear to be able to keep up with demand.
Customer support is not very good.
Getting family and friends involved.
This is the first thing they teach you and I can assure you it does not work.
---
Is Thirty One Gifts a SCAM?
Thirty One Gifts is a legitimate MLM business that offers a large range of women's products at reasonable prices.
You don't need to recruit others to make money although you do if you want to progress and build your business.
However, there are over 100,000 Thirty One consultants promoting the same products with the same Thirty One Gifts website.
---
Is Thirty One Gifts a Worthy Business to get involved with?
OK, the product range does look hip and trendy and whilst I did like the style of many products I felt that the extensive range came with flaws.
For a woman who's vision is to help families and charities, I found it a little disappointing that the products weren't made in the US.
Obviously to save on costs, but saving on costs usually means inferior materials, which ultimately mean poor quality products.
I think you can see that as a business venture this is certainly not a good one and that is not me, but Thirty One Gifts and their income disclosure that tells you this.
It is not often that an MLM business will disclose incomes, but as we can see here Thirty One Gifts do but this doesn't work in their favour.
Many MLMs will not disclose incomes and that should be obvious to anyone when researching a business opportunity.
If you are still interested in "actually" making money online
Then affiliate marketing is the place to be and I can recommend Wealthy Affiliate who teach you everything you would need to know.
A training platform designed with the newbie in mind and the beauty about this is that it's free!
I can see you are looking for a business opportunity so why not learn from the best or at least check them out to see what all the fuss is about.

---
Feedback, Comments and Subscribe
OK, what did you think of the review and did I hit all the important points?
Any questions, please add them in the comments section below and I will get back to you at my earliest convenience.
Until next time, stay safe.