Hi, I'm Mick and welcome to this
Survey Junkie Review 2021
Nowadays everybody heads for the Internet to make some extra cash but the big problem is finding the right make money opportunity.
There are literally thousands of ways online to make money but most of them are just not worth your trouble, that's why you are here doing your own research first.
For sure we could all do with some easy cash and paid online surveys tend to attract more people because they are so easy and you could be doing something else at the same time.
So how does Survey Junkie fit into your plans?
Well for starters they have a big following and have excellent feedback on TrustPilot so that's something I suppose but are they a right fit for you?
Before we start we'd just like to mention that we are not affiliated with Survey Junkie and therefore you won't find us pitching to you.
What you will get from us is an honest unbiased review so that you can decide for yourself whether to join or not, along with some recommendations to help you out.
So, without further ado, let's see what Survey Junkie has to offer.
---
[Affiliate Disclosure: This post may contain affiliate links which means I may earn a small commission if you purchase anything through one of the links. However, this will not affect what you pay!]
---
Product: Survey Junkie
Founder: CISQO, parent company
Product Description: Dedicated paid online surveys
Website: www.surveyjunkie.com
Price of product: Free to join
Recommended: No
Summary: Survey Junkie is one of the better paid online survey sites which can be seen by the vast number of positive reviews that you can find online.
However, it all depends on how much money you are hoping to earn.
Yes, you will earn some money with Survey Junkie but you ain't going to be making very much and you will have to dedicate a lot of your time.
If $50 to $100 a month is ok with you then go for it but we suggest you join two or three similar sites to increase your earning potential.
Such as Swagbucks, Idle Empire, or Branded Surveys
However, if you are tired of online surveys because we know how frustrating they can be and you want to earn some real money then…

---
If you are sick and tired of SCAMS, Pyramid schemes, MLMs, recruiting, having to purchase stocks, haggling family, friends and customers. Looking for a proven method of making money online, then check out my #1 recommendation. 
---
Internal Summary and Navigation
---
What is SurveyJunkie about and who are the Founders?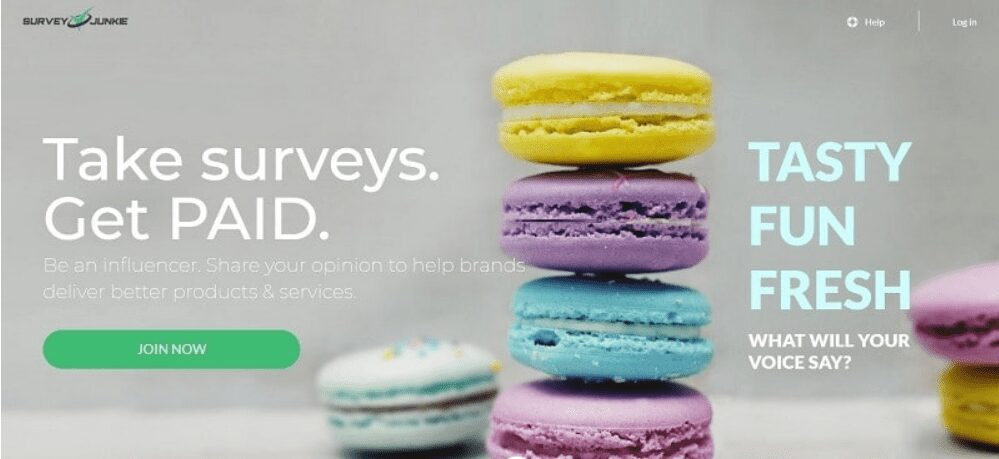 Survey Junkie according to the Better Business Bureau was founded in 2011 but our research tells us they started trading in August 2013 and under the ownership at the time of  Blue Media Ventures.
Up until January 2016 when Blue Media Ventures closed and became DISQO inc.
They work within the market research industry where they offer a way that people from the US, Canada and Australia can earn money by joining and becoming members.
In recent times Survey Junkie has had problems with other people trying to replicate their site and act as Survey Junkie and due to this their site can only be accessible from people in those countries.
---
How does SurveyJunkie Make Money?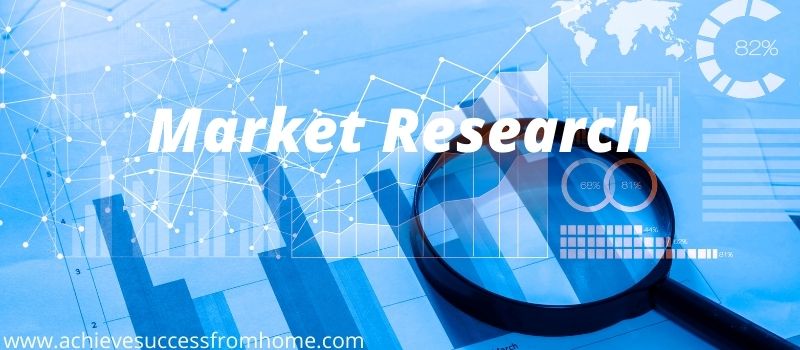 Many people ask us how these online survey providers can afford to pay their members when it doesn't cost anything to join?
The short answer is market research, which is an important business strategy that all companies should be taking advantage of but due to budgets, this is normally exercised by the bigger companies.
It's a way to accumulate data and to explore current markets and possibly new ones along with consumer behaviour to help businesses compete in those market areas.
Survey Junkies role in all this is to connect people like you and me to 1st and 3rd party survey providers and once a survey is completed then Survey Junkie is paid and a share of those proceeds go to the participant.
This all operates under the affiliate marketing business model, just like the website you are currently on now.
Nowadays with the number of users on the internet extending to 4.7 billion, businesses are looking more to Google and Social Media as the information is already there.
---
How does Survey Junkie

W

ork?
Registration is free and the signing up process is pretty straightforward.
Once you have joined and signed into the system the first thing you should do is take the profile surveys, which are there to supposedly help Survey Junkie to match you with the right survey.
For your time in doing these profile surveys, along with the other start-up surveys you are rewarded with 130 points.
Survey Junkie operates a points system
1 point = 1 cent
100 points = $1
500 points = $5
1,000 points = $10
Paid Surveys
At Survey Junkie you will find surveys from 1st and 3rd party survey providers.
Taking between 3 minutes to around 25 minutes with some taking even longer but you won't see many of those.
Don't expect the longer the survey the more you will get paid because that doesn't happen.
You could be taking a 25-minute survey for let's say 50 points whilst a survey taking 10 minutes you might get 100 points.
What you will find annoying is when you are redirected to 3rd party surveys that you find yourself answering the same questions.
Don't expect to qualify for every survey you are invited to but this happens on all these survey sites.
Expect to qualify for around 20% which means for every 10 surveys you are invited to expect to complete 2 to 3.
Very often you can find yourself qualifying for a survey and after 10 or even 20 minutes when you think that you have completed the survey, bang you are disqualified which frustrates the heck out of us.
However, if this does happen you are rewarded with points so not all is lost.
Testing products
From time to time Survey Junkie may get directly in touch with you with an opportunity to test products.
There will be a brief survey that you will have to take and providing you were successful then they will send you a product to keep.
After a few weeks, Survey Junkie will get back in touch with a more in-depth survey that you will have to complete.
This could earn you as much as $50 but they don't come around too often and you'll find they are on a first-come basis.
Focus groups
This could be a nice little earner if you are invited.
Once again you will have to go through a qualification process pretty much like the product tester.
This is where you become part of a panel to discuss products and services amongst other panellists.
If you qualify this could pay you anything up to $150 but once again these come around too often.
Redeem your rewards
The minimum cashout threshold is 500 points or $5.
When you redeem your points to cash through PayPal as of this review you have to redeem the full amount of points, so if you have 2300 points then you would have to cash out the full $23.
There are plenty of e-gift cards which are pretty much sent to you instantly whilst normal gift cards will take time as they have to be posted to you.
---
How much can you make with Survey Junkie?
To be honest and this is based on researching many of these online survey sites, and with testing them all too; not very much.
The problem we have here is conflicting interests.
Many reviews that are written by affiliates claim that online surveys are a great source of income and tell you they are a great way to earn.
Which sort of implies that this could be a good money spinner and you could be earning the big bucks.
However, this is not the case at all and the best you are going to manage to earn is between $50 and $100 a month.
That said some affiliates are doing pretty ok with online surveys because if you signup through their referral link they are paid a one-off fee but often a percentage of whatever you earn for life.
Sometimes this could be 10% or even 20% which doesn't sound much but just think if you recruited 100 new members and they each earned $10 a week.
At 10% that equates to $100/week, and $400/month
At 20% that equates to $200/week, and $800/month
For this to work correctly you would need to create a website and create content in this case reviews of survey sites.
Need to know more then check out this training platform here.
---
Who is Survey Junkie

 F

or?
Survey Junkie is open to residents in the US, Canada and Australia and we have already mentioned that unless you come from those countries you will not be able to access their website.
A security measure that Survey Junkie put in place due to some unscrupulous people trying to pretend to be Survey Junkie and stealing Survey Junkie members.
So, Survey Junkie is for anybody who is looking to earn a few bucks online for doing simple tasks and when we say a few bucks we mean a few bucks.
That is the reason why we always recommend that you join several similar survey sites to improve your earning potential.
Such as Swagbucks, Idle Empire, or Branded Surveys
---
What we liked about Survey Junkie
Survey Junkie has a big following as you can see and whilst there were a few things that we liked and here we managed to highlight what we thought were the most important.

There is a mobile app which is a good thing and we normally find with mobile apps are plenty of problems due to comms issues.
Although Survey Junkie isn't without their issues, overall people do appear to be happy and with nearly 30k downloads that's sure a good sign.
There is a browser extension which is called the Survey Junkie Pulse app which you can add to your chrome browser which should increase the volume of surveys that you are invited to as you will be instantly notified.
Great reviews and you can see this by checking TrustPilot which shows 93% positive feedback.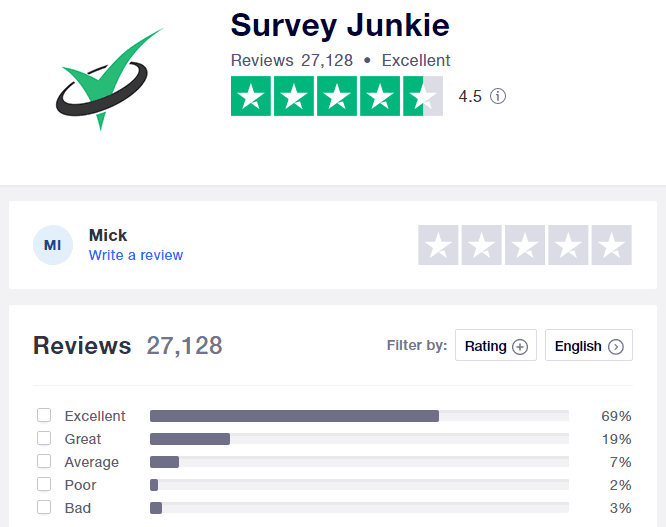 ---
What we don't like about Survey Junkie
Even though Survey Junkie has a good rating we still found a few things that we didn't like with what we think are the most

important listed below.
Very poor earning potential which there is no getting away from when it comes to taking online surveys.
Expect to qualify and complete around 20% of the surveys that you are invited to.
Getting disqualified happens more often than you would think, where you actually qualify for a survey and partway through after maybe as long as 20 minutes and for no reason, they just disqualify you.
Now, this is very frustrating but it's something that you are going to have to put up with.
---
Is Survey Junkie

a SCAM or LEGIT?
Survey Junkie is definitely not a scam as it costs you nothing to join and with around 93% giving back positive feedback then that's a safe bet in our eyes that Survey Junkie may be worth trying.
No matter how good an online survey is you are always going to find something that you are not happy with.
Even though as you can see Survey Junkie is a legit way of earning a few bucks, it's those few bucks the very reason why we wouldn't recommend Survey Junkie.
---
Survey Junkie Review

: Final Thoughts!
Overall we thought Survey Junkie as far as survey sites go lived up to expectations and we couldn't find anything major to report.
However, you are not going to earn enough to replace a full-time job and they are notoriously time-consuming and frustrating.
That said if you want to know how to earn some real money then…

---
Feedback, Comments and Subscribe
Well, guys hope you enjoyed this Survey Junkie review 2021 and if you did why not show a little love by spreading the word and sharing it on social media.
If you are a member of Survey Junkie, we'd love to hear about your experience.
If you have anything for us please add any comments you have below in the comments section and someone will get back to you.
Until next time, stay safe!