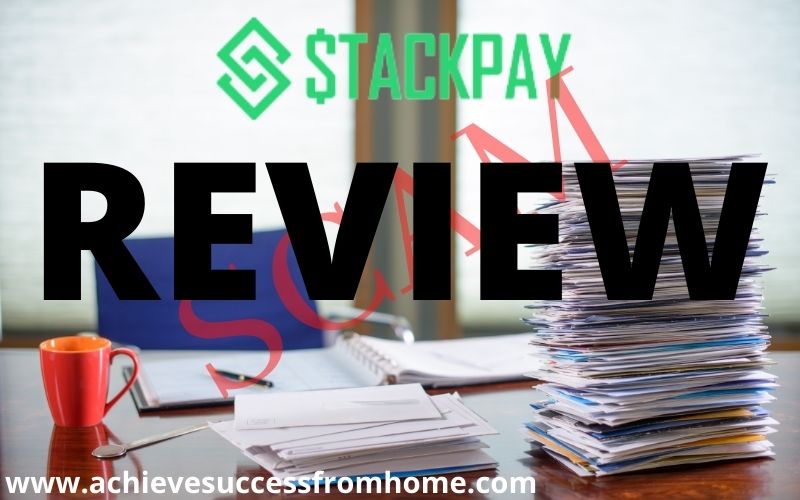 Welcome to the
Stackpay Review
Yet, another so-called make money opportunity that claims to be the #1 influencer in the world.
Recently we have reviewed many of these GPT sites and they all follow a similar pattern and that is they do not payout.
I'm sure you have seen their marketing campaigns on social media making claims that you can earn between $500 and $1000 a day.
Obviously, this has sparked your curiosity and the reason why you are here hoping to find out if there is any credence to their claim.
Having said that, it's good that you are doing your due diligence as this is the only way to save time and find legit make money opportunities online.
So, let's crack on and see what this site has to offer.
---
[Affiliate Disclosure: This post may contain affiliate links which means I may earn a small commission if you purchase anything through one of the links. However, this will not affect what you pay!]
---
Product: Stackpay
Founder: Unknown
Product Description: GPT Site
Website: www.stackpay.org
Price of product: Free
Recommended: No
Summary: Stackpay is another Get-Paid-To do all sorts of activities, such as filling in surveys, watching videos, clicking on ads etc.
They make ridiculous claims that you can earn between 500 and 1000 dollars a day, but that is only to attract the attention of people.
You even get a signing-up bonus of $35.00 which will show straight away in your account.
However, this account is only there to try and convince you that when the time comes to try and withdraw that you will have problems.
Which is all a fugazi or fake, with the real intention to sell your private details to 3rd party companies.
Yes, you heard that right, Stackpay harvests your private personal information, which is re-wrapped put into lists and sold on.
They trick you into signing up with their ridiculous joining fee of $35.00 and then they want you to do their dirty work with getting others to join.
When the time comes and you think about that nice holiday that you want to pay for, you'll find your account was just a bunch of numbers and not real money.
If you really are looking for a legit opportunity then check out what these individuals have to say.
Who incidentally started their journey how to make money online, down a similar route as what you are doing now.

---
If you are sick and tired of SCAMS, Pyramid schemes, MLMs, recruiting, having to purchase stocks, haggling family, friends and customers. Looking for a proven method of making money online, then check out my #1 recommendation. 
---
Internal Summary and Navigation
---
What is Stackpay about and who are the Founders?

Stackpay is a site where you are supposed to get paid for doing activities that range from filling in surveys to posting on social media to submitting videos.
They make big claims that you can earn as much as $1,000 a day but for any free site, this is just ridiculous.
Stackpay we believe is one of many similar sites that are from the same crowd of people although we can't prove this.
If you take a look at Cloutshout, Sharetoearn, Earnbucks and Moneyguru, they all seemed to be cloned sites.
They all are using the same people to give their fake testimonials which is why we believe them all to be from the same group of people.
Stackpay.org not to be confused with Stackpay.com which is a legitimate company.
So who is responsible for Stackpay?
The first thing you should be looking for when researching make money opportunities like Stackpay is to find the owners responsible.
If you can't then that is a big red flag and this should be enough information to get you to move onto something else.
We looked everywhere and tried all avenues but to no avail, we just could not find a link to anybody claiming to be the owner.
---
How does Stackpay

 W

ork?

Stackpay work under the guise of affiliate marketing where they are the affiliate marketer connecting you and me to surveys and other tasks.
These come from their clients and every time you click on one of the tasks Stackpay will get paid.
That is probably why when you are filling in a survey that you'll be thrown out more times than you will complete one.
They will also get paid when you actually complete the task as well.
The icing on the cake is that if you haven't a good virus protection software, something like Malwarebytes.
You will find a Trojan virus downloaded on to your device, looking for personal information.
How it works for you as a member
When you sign up as a member straight away they give you a signup fee of $35.00 which you will think is cool for doing nothing.
That goes straight into your account.
Then when you sign into the system dashboard which you can see down the left side of your display, there are activities for you to choose from.
Listed below are the different types of activities at your disposal.
Refer and Earn
The first option on the dashboard is to try and convince other people to join by spamming social media.
Stackpay claim they will pay you $15.00 for every person who joins through your affiliate link.
You can also earn $2 whenever anybody just clicks on your affiliate link.
However, no free site is going to pay you for somebody clicking on your link, it just wouldn't happen.
Task Wall ($50.00 – $100.00)
What you will find here are invitations to subscribe to things Amazon Prime for a trial period and in return, you will receive points.
There are also surveys to complete but when I tried the first one my virus software blocked the redirect with a warning of a Trojan.
If you didn't know what a Trojan was then I will tell you in layman's terms.
In this instance, they search your hard drive for any type of personal information whether it is telephone numbers, emails or even banking information.
I mentioned earlier that part of who Stackpay are is to harvest your personal information and this is proof of that.
Do you really think that Stackpay is going to pay you $150.00 just to subscribe to Amazon Prime?
You will think they are when you see that amount been credited to your account.
So, in just a few minutes from signing up to completing one task, we have just earned ourselves $185.00. Really?
Post on Social Media and Earn $40.00 each time
What Stackpay want you to do here is create a number of videos and posts telling people how well you are doing and how much you are making.
Each time you create a video or post and upload it Stackpay will credit your account with $40.00
YouTube
Facebook Posts
Facebook Videos
Instagram Posts
Post on TikTok and Snapchat, Earn as much as $80.00
As above but this time Stackpay will pay you $50.00 for uploading a video to TikTok and $80.00 for Snapchat.
---
Stackpay

Pricing 
Stackpay is 100% free to join but there is a twist to this because it could end up costing you.
Let me explain!
Some of the tasks require that you subscribe to the various offers and in return, Stackpay will credit your account.
These offers mainly come with a trial period, like Amazon Prime, for instance, which is a 30 day trial period.
It could be that you are happy with the trial period and want to keep the membership going which is fine.
But, it is most likely that you subscribed just to be paid what Stackpay say they will pay you.
In which case you need to remember to cancel the subscription otherwise you will end up been charged for at least the first months' membership.
In both circumstances, if you go ahead for whatever reason with the subscription, Stackpay will be paid a commission.
---
Can you make money with Stackpay?
This is what happens when you try to get paid, they will make up excuses and delay payments.
When you get back in touch to query why you haven't been paid yet, they will make up some BS excuse and delete your account.
---
Who is Stackpay

F

or?
Stackpay is literally for nobody, do not waste your time and energy on this scam.
I have seen many reviews where people have really believed what they were been told, built their account up to $1,000s which has taken them some time to do.
Referred many friends in the process only to be told there has been some fraudulent activity on their account and had their account deleted.
---
What I like about Home Profit System
There is absolutely nothing we liked about Stackpay and would not recommend this to anybody.
---
What I don't like about Stackpay
Stackpay is one of the many "cloned" sites that we are seeing at the moment and probably as many as 30 possibly more.
All they do when they eventually get closed down, which they will, is copy the system, modify it slightly and change the name.
Below we have highlighted what we think are the main issues.
Fake Testimonials
Up until recently, you could see the fake testimonials which are basically people from the Fiverr website.
You can find the same people on many of these similar sites.
Just tried the link today and the testimonials are no longer there as the link you are sent to doesn't exist.
It Could End Up Costing Money
As I have mentioned earlier some of the tasks require that you signup for a trial offer.
If you forget to cancel the subscription, you will be charged at least the first months membership fee.
They Do Not Pay Out
If you think that a free site is going to pay you $35.00 just for signing up then you need to give your head a shake.
Even some of the tasks say that they will pay as much as $150.00 just for filling in a questionnaire.
Even the best survey sites pay nothing like that and you'd be very lucky if you managed to get that by spending hours over a monthly period.
Data Harvesting 
We have covered this in the review but a very important issue because these people will stop at nothing.
Stealing peoples personal information is big business nowadays and your data through Stackpay goes to a company in Cyprus.
A renowned country for doing underhanded things like this.
They repackage your details and sell them to other marketing companies to send you mail offers and the dodgy phone calls that you receive.
You know the ones where you wonder how they got hold of your mobile number, well this is just one way.
Trojan Viruses
I have also covered this topic earlier but once again this is serious stuff.
Obviously, I have had to join as a member to review Stackpay thoroughly.
What I found when I selected one of the tasks was that they were trying to download a Trojan Virus onto my laptop.
Which if it hadn't been for my anti-virus software that blocked it then who knows what damage it could have done.
This is all to do with Data Harvesting which we have already covered.
Passwords
Now, this is why you shouldn't use the same passwords.
Sites like Stackpay as we have mentioned steal your personal private information and they use Trojan viruses to help.
Cookies, and what are they and why you shouldn't allow them.
These are text files that companies use to hold your private information, such as sign up details, user and password.
These are stored on your device to help the next time you sign in to let's say your Amazon account or Personal Banking.
If you are using the same user-profiles and passwords as you use in sites like Stackpay then well you should know the rest.
---
Is Stackpay

a SCAM or LEGIT?
Using the term "scam" is not something that sits with me right because it can mean so many things to so many people.
People just tend to use the term freely without really knowing exactly what it means.
However, I do not have a problem telling you that Stackpay is a scam and with all the overwhelming evidence I'm sure you will agree too.
They don't even try to cover their tracks as can be seen below although you might have to zoom in a little.

Do you really think that if there were so many members that they would be using fake testimonials?

We mentioned earlier, if you decide to try these sites out for whatever reason, then do not use profiles and passwords you use elsewhere.
---
Stackpay Review

: Final Thoughts!
We really have nothing more to say on Stackpay except that you should have more than enough information for you to make the right decision.
That decision should be to not signup to Stackpay or any of the other sites we mentioned earlier.
If it is a little extra money then you might like to give Swagbucks a try as they have a big following and they do payout.
You might even find Squadhelp an interesting proposition as you could earn as much as $500 but at least you will have to use your brain.
However, if you are really serious and want to make a big impact on your life then I would recommend affiliate marketing.
If you'd like to click on the link below you can see what 30 individuals have to say as they all started their online journey just like you are doing now.

---
Feedback, Comments and Subscribe
Hey Guys, hope you enjoyed this Stackpay review and that it didn't burst your bubble, but better to be safe than sorry.
If you did enjoy the review then why not share amongst your friends on social media so that they are better informed of sites like Stackpay.
As always, if you want to add anything or ask me anything in general then just add them in the comments section below.
We read and reply to all our reader's comments
Until next time, stay safe.