Welcome to this Scentsy MLM review.
Fragrances are a part of our life and one thing is for sure, almost every household will have some form of scented device, whether its a scented candle or scented diffuser.
Yankee Candles, we are all familiar with but maybe not so much Scentsy.
All the same, Scentsy offer a vast range of products that I'm sure will accommodate whatever your desire, but are the products any good and is there a business opportunity worth getting involved with?
Rest reassured I am in no way associated with Scentsy and therefore not here to pressure you into buying their products or to get you involved with the Scentsy business opportunity either.
I am here to give you the rundown on Scentsy and whether their products are what they say they are and whether there is a business that might be of interest to you.
So without further ado, let's dive in and see what we can find out in this Scentsy review.
---
[Affiliate Disclosure: This post may contain affiliate links which means I may earn a small commission if you purchase anything through one of the links. However, this will not affect what you pay!]
---

Product: Scentsy
Founders: Kara Egan, Colette Gunnell
Location: Salt Lake City, Utah, US
Founded: 2003
Website: www.scentsy.com
Product description:  A multi-level-marketing, Party planning business selling scented products mainly for the home.
Cost to join:  $99
Price of products: $6 – $90
Best For: Experienced network marketing individuals who love scented products. So one for the ladies here!
Recommended: Not for newbies coming into the make money online space.
---
Internal Summary and Navigation
---
What is Scentsy about and who are the founders?
Scentsy is a multi-level-marketing business,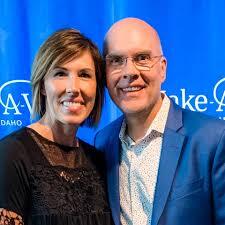 selling scented products such as scented wax bars, sprays, diffusers and home products like all-purpose cleaners, fabric conditioner and even products for your pets, all through a network of Scentsy independent consultants.
Scentsy was an original idea from Kara Egan and Colette Gunnell in 2003, which came about watching Oprah's "Millionaire Mom's" show.
The business hadn't really taken off when an offer of money was too good to miss up because in 2004 they sold the company to the present owners, Orville and Heidi Thompson.
The current owners moved the headquarters to Meridian, Idaho and re-launched Scentsy as an MLM business model.
The previous owner Kara Egan obviously had a head for business because after the sale of the business she stayed on as an independent consultant and in 2012 it was announced that her team was well over 42,000 members.
Considering in 2018 there was an estimated 120,000 Scentsy consultants.
That alone is a massive chunk of members associated with Scentsy.
Now you can see how only the very top 1% make the real money.
Scentsy have even been mentioned in the Forbes magazine for debuting at #35 for America's best midsize employers list
Check out this short promotional video.
Giving back to communities is always a great thing
Especially to someone who is less fortunate than yourself and therefore "The Scentsy Family Foundation" was born in around 2010.
A saying from the present owners, "Contribute more than you take"
They are partnered with over 36 charities and supported nearly 200 with donations heading north of $15 million.
---
Is Scentsy a Pyramid Scheme?
As a member of the Direct Selling Association (DSA), this should tell you they are a legit company.
Even so, they along with all MLMs are usually associated with a Ponzi or Pyramid scheme.
This is mainly down to a few unscrupulous businesses that give the rest of the side a bad name.
However, Scentsy does have a massive array of products and money can be made without recruiting.
But,
To climb the ladder in this business you have to recruit others (and plenty of them) and train and guide them to ensure they stay around.
I have reviewed many MLM businesses and they all fall short, extremely short in the business opportunity department and the reason why I very rarely recommend this type of business.
---
Let's look at the Scentsy product range
Normally with MLMs, the product prices are inflated somewhat which makes it extremely difficult for you to sell the products and make a living from.
Scentsy's prices are compatible with other similar businesses selling similar products, so I take my hat off to them for keeping their prices down.
At Scentsy, the product range is pretty extensive to keep the consumer interested and besides for an MLM business pretty unique in the niche they choose.
---
Scentsy most popular product range
Scentsy Wax Bars are their flagship product and come in over 100 different fragrances.

Which will require you to purchase one of their warmers? Well, that's not exactly true as these Wax Bars can go into any warmer!
They will cost you somewhere between $20 and $85 and a vast number to choose from.

---
The Scentsy product range can be found within the categories listed below…
Scent
Warmers and Wax
Diffusers and Oils
Fan Diffusers
Unplugged
Laundry and Clean
Body
Kids
Pets
Collections
Gift Guide
Specials
---
For a closer look at the extensive Scentsy products range with current prices…
You can check out the full range of products on the Scentsy official website by clicking the link here.
---
Scentsy Business Opportunity – What you need to know
I guess we are at the point of this review that you are most interested in, so let's break it down a little and see whether you think there is a business opportunity worth taking on.
---
How to become a Scentsy Consultant
First off, you will have to find a sponsor, either one you know or Scentsy will designate one for you.
Then you will have to purchase a Scentsy starter kit at a cost of $99 which will come with a bunch of stuff to get you going.
Once enrolled you will receive your own Scentsy website which every consultant uses to connect with the customer and to promote their business.
You have access to your Scentsy website for the first 3 months then it will cost you $10/month thereafter.
Access to the Scentsy back office for ordering and tracking finances.


---
There are a few incentives to kick-start your business
One of those is to earn yourself the Scentsy Shooting Star Award.
Quite simply, sell 500 in Personal Retail Volume (PRV) which is approximately $500 in your first 15 days and become eligible for the "Scentsy Shooting Star Kit"
That's over $300 Scentsy products for only $200 which will help when showcasing a home party or event.
---
How to Make Money With Scentsy
Like with all MLM type businesses there are 3 main ways to earn money from
Purchase the products yourself with discounts which are between 20 and 25 percentage.
Sell the products to your customers.
Recruit others into your team and make a commission on anything your team member sells.
You are only restricted by your own imagination with some other incentives below. It all depends on how much you want this business to grow!
Home parties.
Email marketing.
Email your catalogue and wait for the orders to come in.
Through social media like Facebook, Youtube, Instagram…
What about a Scentsy online party.
At events.
Host a fundraiser.
Rent a space at a fair.
A great way to market Scentsy would be to have your own dedicated website which would be separate to the Scentsy website, and write content related to the products and anything Scentsy related.
You would, of course, have to learn how to do this and if you are interested then I have something for you at the end of this Scentsy review.
---
THE ONE GOOD THING YOU WOULD HAVE GOING FOR YOU is the fact that many of the products are consumables and therefore once your customer is happy with the product then expect repeat orders, and if you are lucky they might even join your team.
---
Here you can check out the Scentsy Compensation Plan for yourself
As you can see by the image below there are 8 levels starting with the ESSENTIAL CONSULTANT all the way up to SUPERSTAR DIRECTOR.
To really make this work as a business would take a lot of hard work, just like it would any business venture.
Don't expect overnight success because it just isn't going to happen.
To get anywhere near the top level is going to take many years of hard work building a massive team, and to keep them requires guidance, training plus you'll be attending all the Scentsy events, etc
Remember all this is at a cost to you, not Scentsy!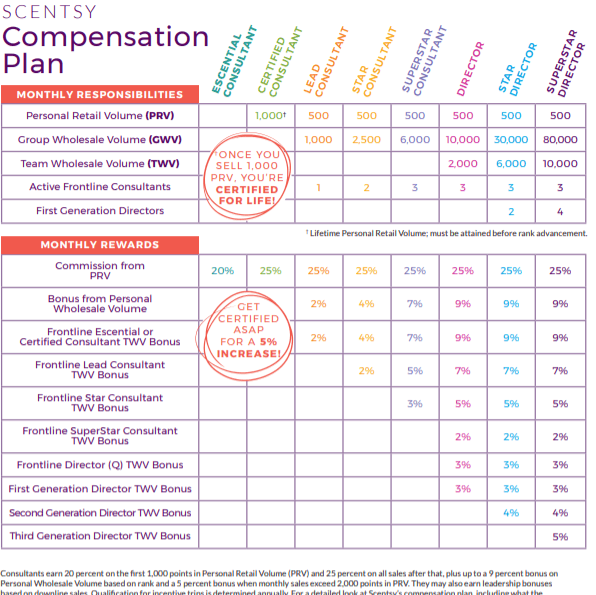 Why not check out this video for a more detailed explanation.
---
Are Scentsy consultants actually making money?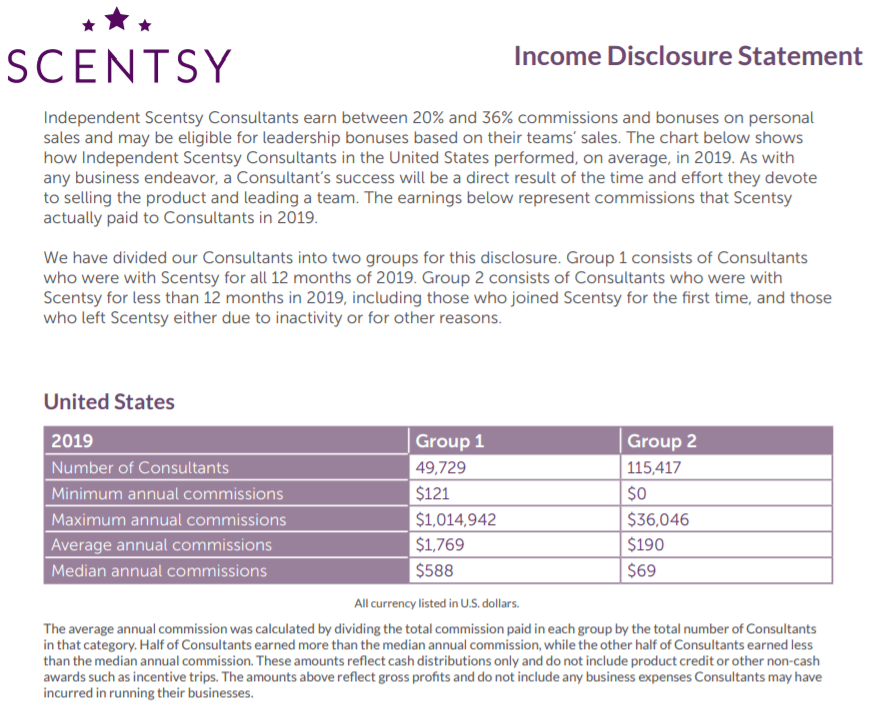 These statistics you are looking at above are typical of an MLM type business.
You are always going to find the Scentsy business owners with a select few who are usually earning all the money.
In fact, analysis completed by a well-known source claims that 99.45% of all independent Scentsy consultants weren't able to earn a full-time income. Those figures are seriously disturbing!
---
What others say about Scentsy
There are plenty of reviews about with a mix of complaints so I have managed to dig out a few, but I would certainly research this area thoroughly before taking a stab at this business.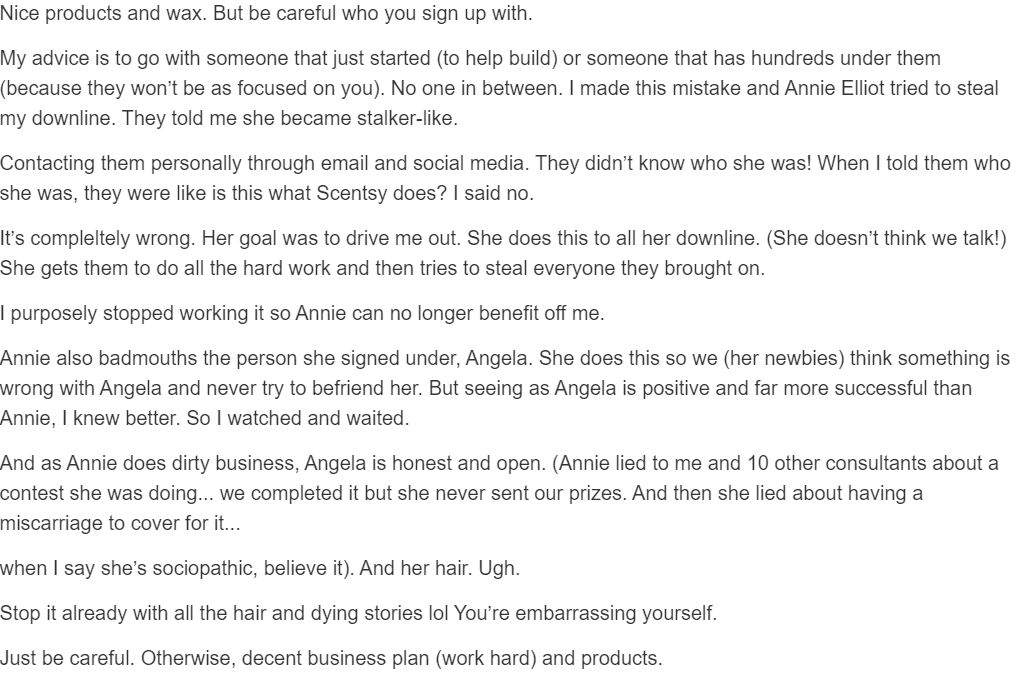 ---
What I like about Scentsy
If you are seriously thinking about becoming a Scentsy Independent Consultant you might like to take these positive points on board.
Extensive range of products that won't break the bank.
Discounts between 20 and 25 per cent.
Products come with a 30-day money-back guarantee.
Compensation plan pretty straightforward.
All the products are manufactured in the USA and distributed throughout their network centres in Texas, Kentucky, Mexico, Netherland and Australia.
Available in many countries across the globe. Such as Canada, Mexico, Australia and a few countries in Europe.
---
What I don't like about Scentsy
You can't just listen to all the positive points which is what you will get talking one-on-one with a Scentsy Independent Consultant, you have to weigh up everything before making that all-important decision.
Chemicals that they use are known to be dangerous.
The demand outstrips the supply which shows in the number of complaints.
Some of the products are known to burst into flames such as the Wax warmers.
Customer support not very good.
Over 99% do not make a full-time income. Alone that should seriously make you not consider this business. It's more of a hobby!
---
Is Scentsy a SCAM?
Overall the products appear to be good and the company appears to not come with a bunch of investigations and lawsuits.
Organizing and hosting parties is time-consuming and can be costly.
Joining under the right sponsor is essential as they have to be prepared to train and guide you, which is hard to come by.
I see many just operate this business for family and friends and are happy just purchasing the discounted products themselves.
So "Is Scentsy a SCAM"? Absolutely not!
What do you think?
---
Is Scentsy a Worthy Business to get involved with?
Well, I  have given you more than enough information for you to make an educated decision as to whether Scentsy is a worthy business or not.
The product has to be great, and they do have some great products, but as we can see it's not all about the product.
Coming into this type of business with no knowledge at all is not going to cut it because there are too many obstacles for you to overcome.
If Scentsy is not for you and you are looking to build an online business that you can pass down to your kids, then affiliate marketing as to be the way forward.
After wasting a few years with MLMs, I almost decided to call it a day trying to make a living online until I came across Wealthy Affiliate and been there ever since.
The best decision I made, but you don't have to listen to me, just check it out for yourself.

---
Feedback, Comments and Subscribe
OK, so what did you think?
Did I cover all the angles and give you enough information or did I miss something out?
I would love to hear from you if you are considering not just Scentsy but other MLM businesses? Maybe you are already a consultant and want to share your story.
Please leave feedback and remember this will help out others who are researching this company.
If you got value from this Scentsy review please leave your comment in the section below and share on social media.
Until next time, stay safe.