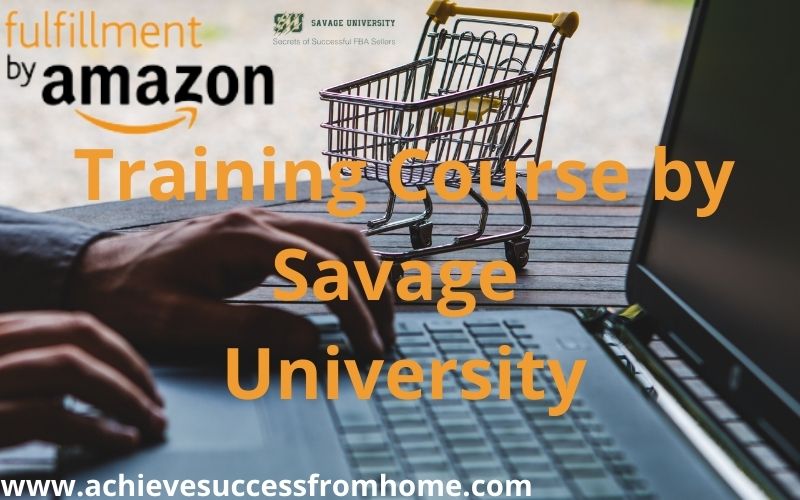 Hey Guys, welcome to my
Savage University Review
A course dedicated to teaching you how to build an online business through Amazon FBA.
A legit business model that many are using to build themselves lucrative lifestyles but requires a lot of hard work and is expensive.
Before we get started we'd just like to declare that we are not associated with Savage University and won't find us pitching or trying to sell you anything.
Meaning what you are going to get from us is an honest unbiased account of Savage University and whether to pursue further or not.
You have to be very careful nowadays and thorough research is the only way to avoid the vast number of scams that are out there and to find legit opportunities.
We hope to provide all the facts about this course so that you can decide whether this is the type of business opportunity for you or not.
So, let's get started.
---
[Affiliate Disclosure: This Savage University Review has been thoroughly researched from information and testimonials that are in the public domain. This post may contain affiliate links which means we may earn a small commission, however, this won't affect what you pay!]
---
Product: Savage University
Founder: Paul Savage
Website: www.savageuniversity.com
Product Description: Amazon FBA course
Cost to join: $997
Recommended: Maybe
Summary: Savage University is a comprehensive course teaching you how to run an online business through Amazon.
This is a legitimate business model that is very competitive and very expensive to get started.
This is not a business for the faint-hearted and requires a massive commitment on your behalf.
So, if you are looking for some push-button system where you don't have to work then think again because this is not for you.
If it's a cost-effective business that you are looking for then you might like to take a look at this opportunity here.
Savage University Review – TOC
What is Savage University And Who is The Founder?
Savage University is a training course teaching Fulfilment by Amazon and came onto market in late 2020.
For anybody who doesn't know, Amazon FBA came about in 2006 and basically is a designated area within Amazon.
Where anybody is allowed to build an online business and use Amazon as the go-between the warehouse and customer.
You keep the stocks replenished and the orders coming through and Amazon handles the rest.
The training course was developed by Paul Savage and whilst he is a young guy does come across as though he knows what he is talking about.
Here's a promotional video from Paul Savage…
So, who is the founder of Savage University?
Paul Savage, he's the person in the above video.
Paul is the creator of Savage University who isn't your normal guru like you see all over the internet.
You know, the ones standing in front of their rented mansions with their borrowed super-cars waving wads of money.
They love to promote the millionaire lifestyle while there is none of that here with Paul Savage.
What you see is what you get with him!
That can be seen by looking at his YouTube channel with over 25k subscribers and over 400 videos of free information.
In fact, most of the videos are related to Amazon and definitely a place to check out first before pursuing Savage University further.
You could even subscribe to the free courses that Paul provides to get a feel for Amazon FBA before you spend your $1000.
Check the site out here.
What You Get With Savage University
Savage University provides over 25 hours of training in both video and text format.
With over 160 videos which are added to periodically
5 product resource downloads
3 expert interviews
2 live monthly answer and question sessions
Private community group
Freight forwarder discounts
Professional list agency discounts
Some might say that you are paying an awful lot of money for just 25 hours of training but we think there is a quality here.
What Savage University Teaches You
Savage University teaches you what is required to start and run a successful business online through Amazon FBA.
Paul Savage even discloses the products that he has used which are something that we haven't seen before.
Obviously, these products are no longer viable, all the same, you get to know what worked for him.
For a fulfilment by Amazon business to work there are a lot of things that you have to get right and you have to be prepared for failure.
Just a few things to take into consideration…
Deciding on the right product?
Whether to purchase the product and where?
Whether the product can be manufactured and where?
Manufacturing costs?
Shipping costs?
Advertising costs?
Amazon FBA costs?
Choosing the right product is the most important thing, get this wrong and it can turn out to be very expensive.
Many business owners use China for manufacturing their products which adds to further issues, like language barrier and negotiating skills.
So how does FBA work?
Amazon provide the warehouse, order management, picking, packing, shipping, returns
You provide the products which you need to replenish stocks as and when.
Therefore, if the products are coming from overseas lead times are very important to keep the orders flowing.
You would also handle advertising which can be expensive if you don't know what you are doing.
Remember as a rule of thumb, Amazon would take approximately 15%.
Many people are making a ton of money through this business model but these people have been doing it for a number of years.
With plenty of failures along the route.
We have reviewed many courses like Amazon FBA and the figure we come up with is between $5,000 and $10,000 that you will need to start.
This is a very risky business to take on but get it right and this could be life-changing.
However, there is another method where the risks are zero in comparison and you wouldn't need to worry about the products either.
This business model is called affiliate marketing.
Is Savage University a SCAM?
Savage University is not a scam although some might think it is due to having a no returns policy.
Anybody looking at Amazon FBA we would assume has done plenty of research prior to even thinking about taking this course.
Remember that there are many courses teaching Amazon FBA and you could seek out alternative ones like on Udemy, where you could save yourself a ton of money.
We are not trying to dissuade you from going ahead with this course but showing you that there are other options.

What we Like About Savage University
You are inundated with courses that are sold online with most of them just not worth bothering with.
But Savage University is a refreshing change.
The course cost is quite reasonable and a one-off cost which gives you access to all the training for life and includes any additional training or updates that may be added.
We thought Paul Savage was a genuine person who could be trusted which is nice to see when it comes to online courses.
Just checking the response he gets from his subscribers to his YouTube channel is a good indication.
Amazon FBA is a legitimate business model which many are using to create amazing lifestyles.
Great kindness by donating 10% of all profits to the charity organisation "Give Well".
What we Don't Like About Savage University
There are no refunds which many people will not be happy with but who is really going to spend $997 who isn't serious about this type of business?
However, for many people, a refund policy just adds to credibility.
Difficult business model to succeed in due to many things that can go wrong and the fact that several thousand dollars would be required as a starting point.
This business is not going to take off overnight and would require plenty of hard work.
Low-cost items are not going to work with this business model due to the fees and therefore you need to be selective with the products that you choose.
That would require a lot of research on your part bearing in mind that your product will already be sold through Amazon at various costs.
Savage University Review – Final Thoughts!
We think you should have more than enough information to decide whether Amazon FBA would be right for you or not.
However, use this review as a stepping stone to research everything further.
Bear in mind that starting a business like this is going to cost you several thousand.
Not to mention the costs that you are going to have to pay for the fees at Amazon and your advertising and this will be before you see any returns.
So looking at $10,000 doesn't seem too far off the mark and remember there are no guarantees whether this business will work for you or not.
Is There a Better Alternative?
Running an online business through Amazon Fulfilment can be an extremely prosperous one but it can also be a costly one too.
There are so many things that can go wrong.
Any business is difficult because you have to work at it no matter what business it is and success doesn't happen overnight.
In this case, you might be talking years rather than months to see a profit but you should be looking long-term anyway.
The only thing we don't like about this business model is the costs that are involved not to mention the risks are too high.
That's why we found affiliate marketing the best solution for us and the most cost-effective.
Just think, no products to manufacture or stock, no order management to handle, which means no returns, no product changes, and no shipping.
Check it out, what do you have to lose especially as it won't cost you a dime to look and with no credit card details either.

 Savage University FAQs
Can you pay for the course with instalments?
Unfortunately not, so you are going to have to find the full $997 but anybody thinking about starting an Amazon FBA business should already have enough spare cash available anyway.
Can Paul Savage be trusted? 
We believe he is a genuine, trustable person.
Just look at all the free information that he is already giving out on his YouTube channel.
With well over 400 videos on his YouTube channel and most are about Amazon and he continues to create new stuff regularly.
Not to mention, he has a website where there are 2 free courses which you could take to get a better feel for him.
How much money will I need to get started?
This type of business is not for the fainthearted and would require a large amount of stock to keep things moving.
But, not in the interim because you are going to have to test the waters to see if the products are going to sell.
Advertising costs can be expensive because there will be a lot of tweaking to get it right.
We estimate that you would need somewhere in the region of $5,000 – $10,000 and you have to be prepared to lose that amount as well.
Is the course worth the money?
We believe it is for the amount of training that is involved and remember this is a one-off fee.
Paul is also prepared to show you exactly how his business works and even show you the products that he uses which is unheard of.
How long will it take to succeed in this business? 
The million-dollar question all depends on how hard you work and whether you can follow instructions or not.
Paul is not your typical internet guru that promises that everyone who takes the course is going to be successful.
He tells it how it is and that success is going to take time.

Is there a better alternative?
If it's costs that are holding you back with this type of business then you might like to check out affiliate marketing.
You can almost illuminate all the costs that it would take to start and run an Amazon FBA business.
Take a look at what it costs me yearly and this is to create an income that generates a mid to high 4-figure monthly income.
Feedback, Comments and Subscribe
Hope you enjoyed this Savage University review and that you got some benefit from it.
Any questions please don't hesitate to add them in the section below and someone will get back to you.
Until next time, stay safe